Bacon-smothered BBQ Glaze
What makes this recipe so indulgent is the fact that the bourbon, bacon and BBQ sauce are all intermingled to create a flavor explosion.
Bland baked chicken is boring, but this is perfect baked BBQ bourbon chicken right at home in the oven.
The glaze is perfect for grilled chicken, bbq chicken oven skewers, or cookouts.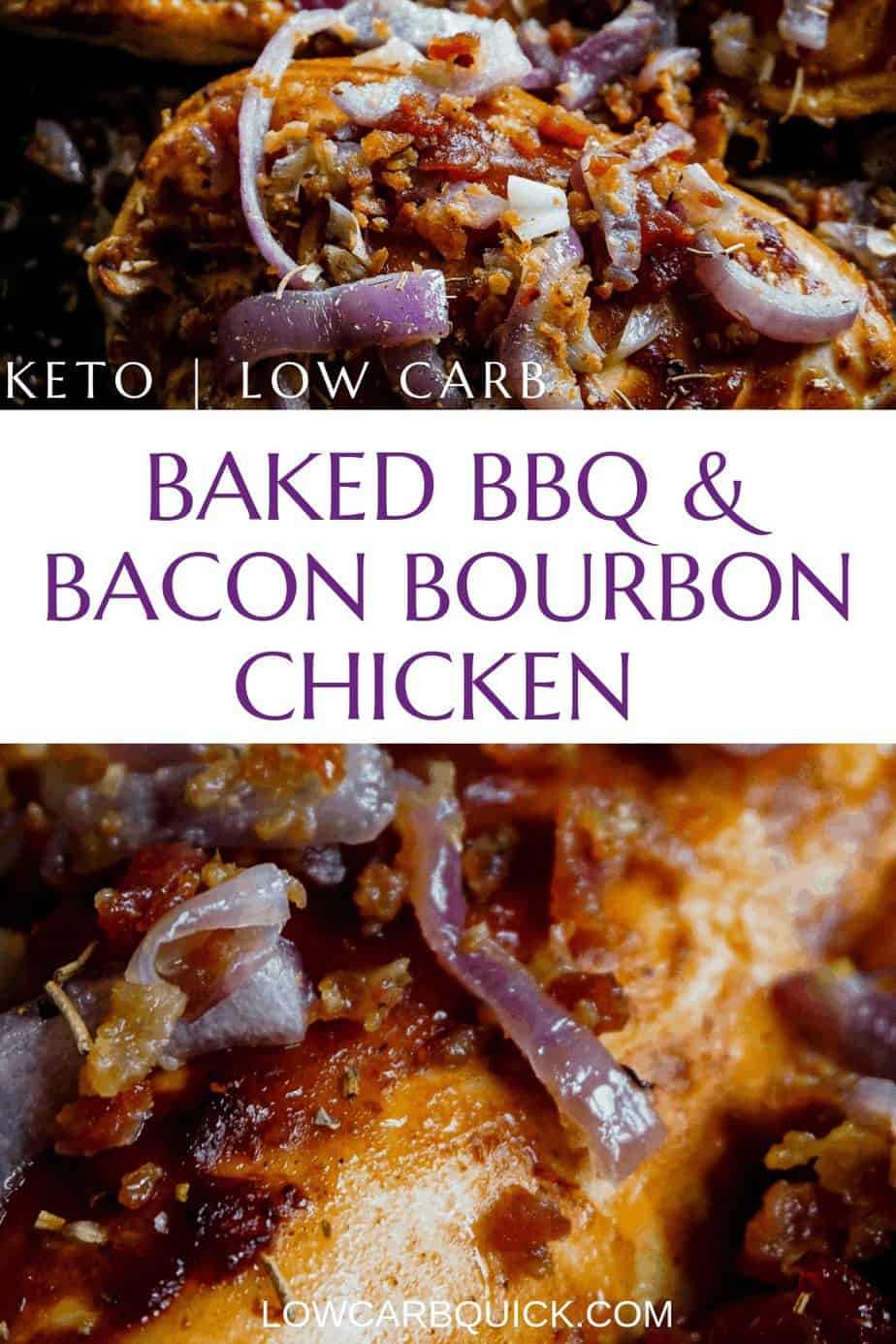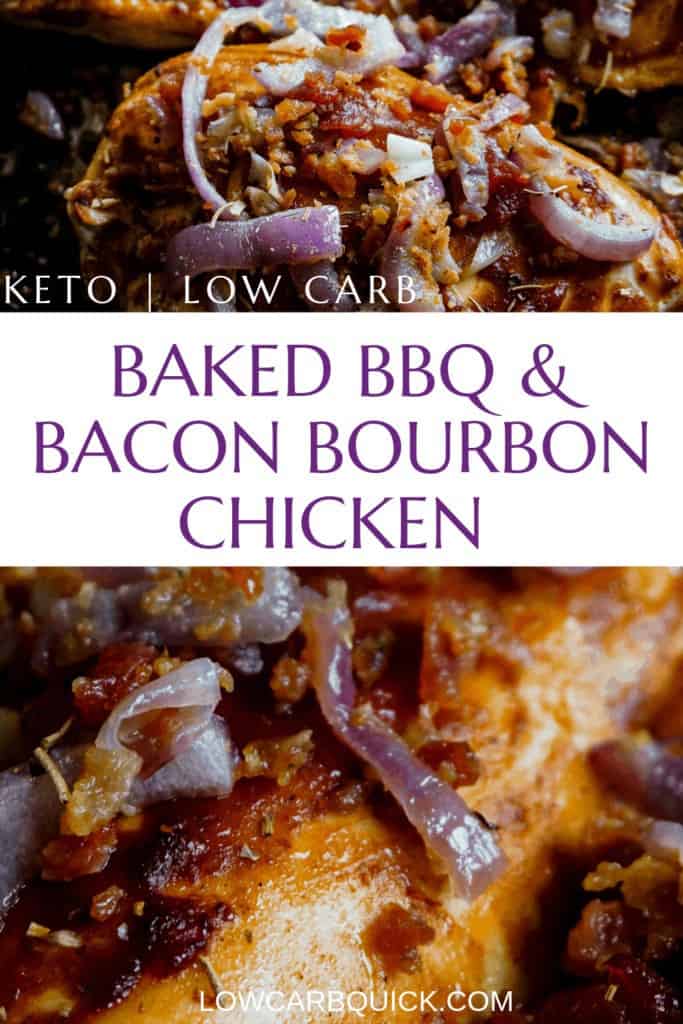 Which BBQ sauce is best for low-carb diets?
The best BBQ sauce I have found is by G Hughes Smokehouse and the best part is I can find it in my local Kroger or Wal-Mart. If you prefer to do your shopping online, it's also available on Amazon.
If you can find it under $5, that's a great deal.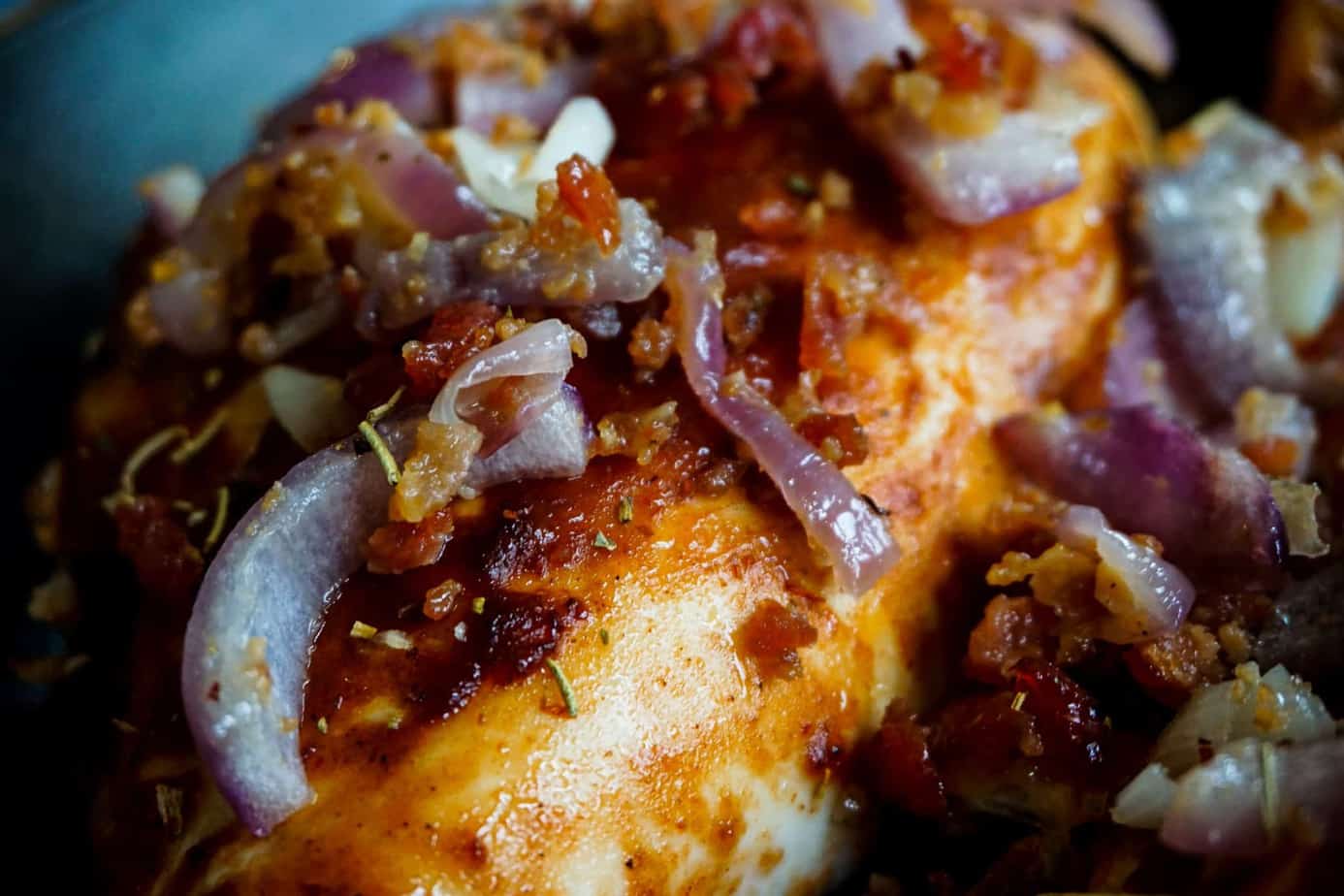 Can I use Bourbon BBQ sauce with other dishes?
I don't see why not- BBQ and bourbon go great together on burgers (see our bourbon, bacon, Swiss burger).
You may also want to liven up a baked salmon with this scrumptious glaze.
This sweet and smoky bourbon glaze is also delicious on a nice, juicy steak.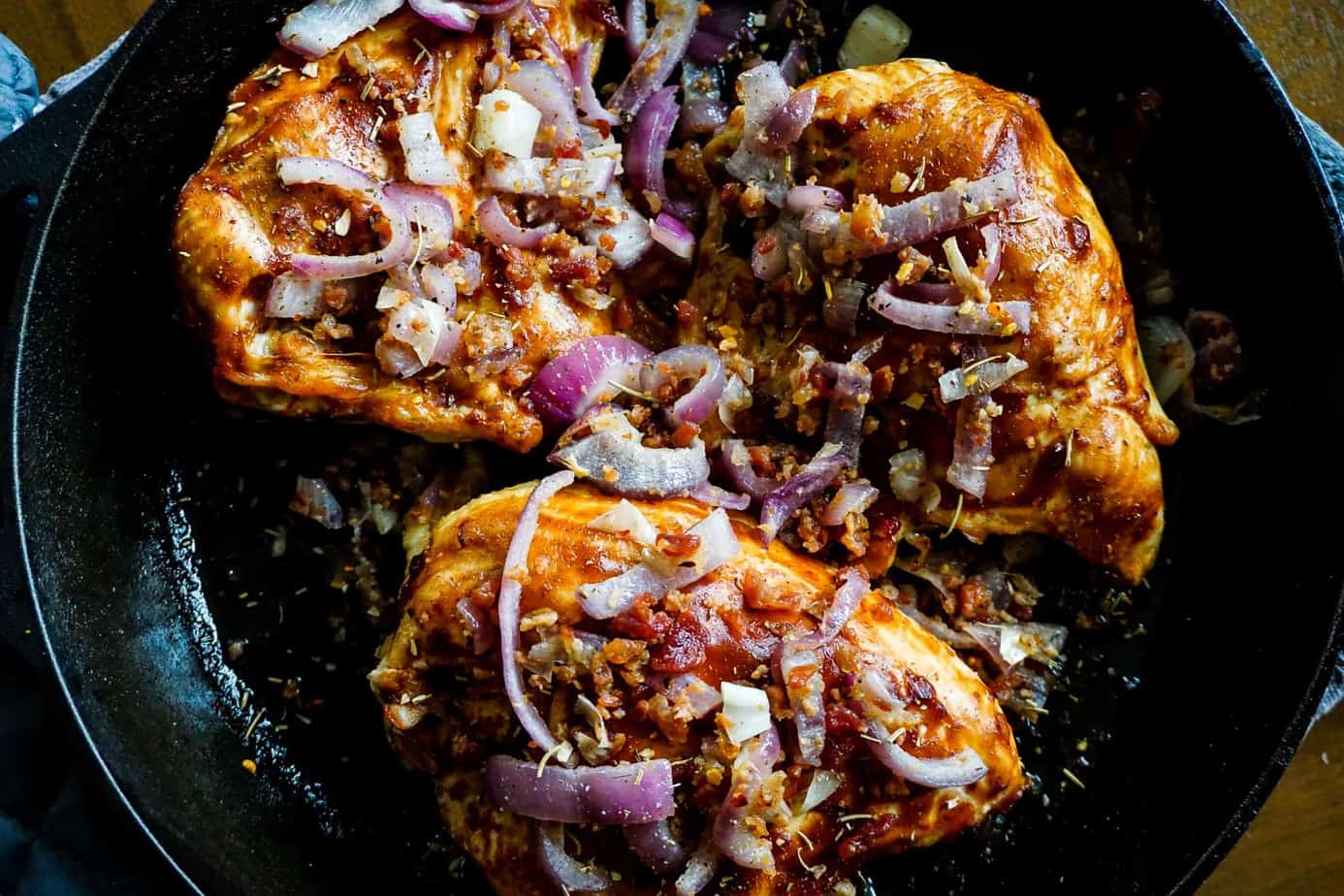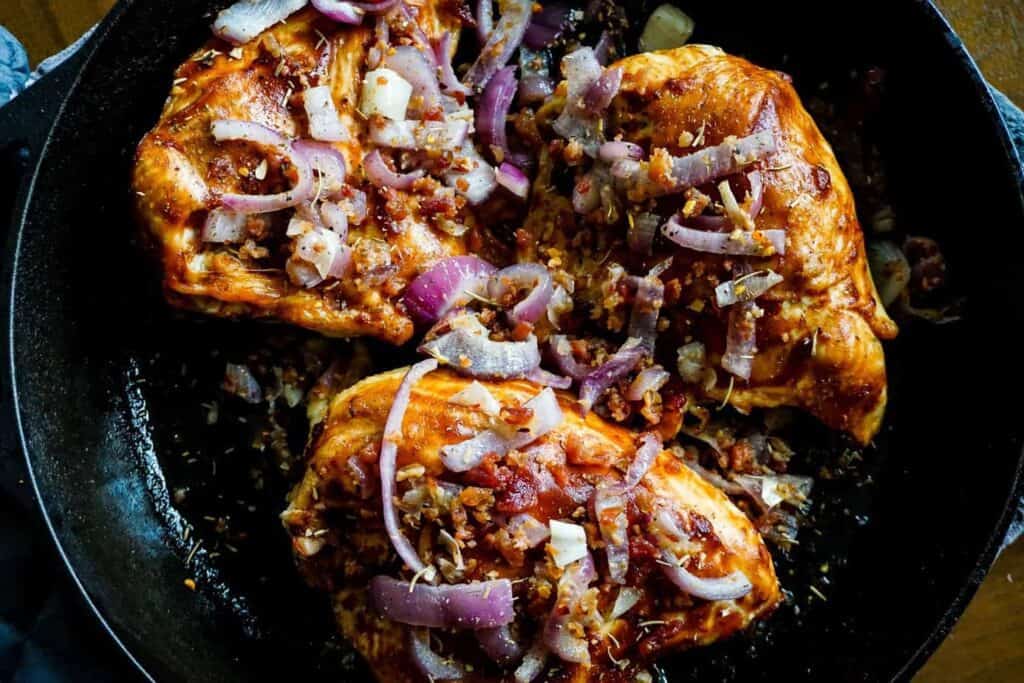 How can I make baked bourbon chicken extra keto-friendly?
This recipe is already low-carb, but if you're on a strict keto diet, I recommend omitting the onions.
You could easily just sub in some mushrooms or peppers in their place with the bourbon bbq sauce mix.
Can I make this into a BBQ chicken marinade?
Yes, the bourbon makes a great overnight marinade. Just zip up your chicken nice and tight in a ziplock bag with your bourbon, bacon and bbq sauce.
If you don't have all night to marinate the chicken, I recommend at least 2-3 hours ahead of time to really soak in those juicy flavors.
How do I make the bourbon BBQ glaze?
First, melt your butter on medium heat. Next, add in your onions to caramelize.
Top it off with bourbon, bacon bits and BBQ sauce. Cook just 2-3 minutes longer so the flavors can incorporate. Finally, pour the glaze over your baked chicken and serve.
I like to go ahead and place my chicken in the oven prior to making the glaze to save time.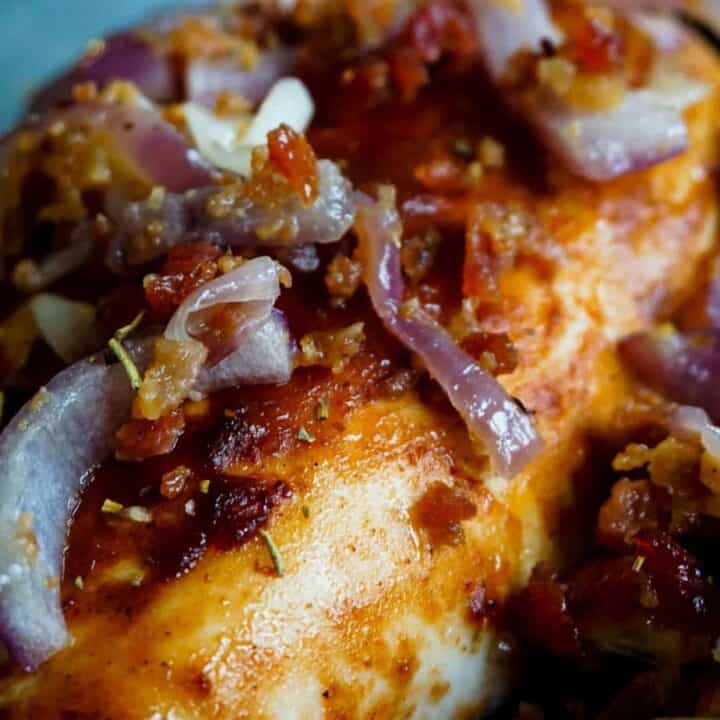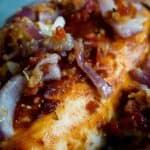 Baked BBQ Bourbon Chicken
Baked, bone-in chicken breasts with bourbon and bacon BBQ glaze. A deliciously easy and healthy, low-carb/keto dinner in one pan.
Ingredients
BBQ Bourbon Bacon Glaze
3

tbsp

butter

1

red onion

1/4

cup

bourbon

1/3

cup

real bacon bits

1/2

cup

sugar free bbq sauce
Baked Chicken
3

chicken breasts, bone-in

2

tbsp

olive oil

2

tsp

Italian seasoning, optional
Instructions
BBQ Bourbon Bacon Glaze
Melt butter on medium heat. Next, add in your onions to caramelize.

Top it off with bourbon, bacon bits and BBQ sauce.
Baked Chicken
Preheat oven to 350ºF and coat a large baking dish or cast iron skillet with olive oil.

Bake chicken for approximately 30 minutes, covered. Remove. Add BBQ glaze and return to oven for 5-10 minutes.
Nutrition
Calories:
543
kcal
Carbohydrates:
7
g
Fat:
33.9
g
Saturated Fat:
12.4
g
Cholesterol:
164
mg
Sodium:
1038
mg
Fiber:
0.8
g
If you like this baked bbq bourbon chicken, you'll love these other recipes: