One and DONE cajun kielbasa and veggies
No time to prep and grill those kielbasa veggie skewers this summer? Don't want the carb count of sheet-pan sausage and potatoes?
Make this easy low-carb friendly sheet pan with sausage and veggies instead.
This one-pan keto-inspired kielbasa sausage dinner is a definite busy weeknight sanity saver, right in your kitchen, without a grill or skewers.
Since I'm keeping it low-carb, this is my go-to when I am craving oven-roasted sausage, potatoes and vegetables.
Simply switch out your potatoes for roasted radishes and you've got a scrumptious alternative to roasted potatoes.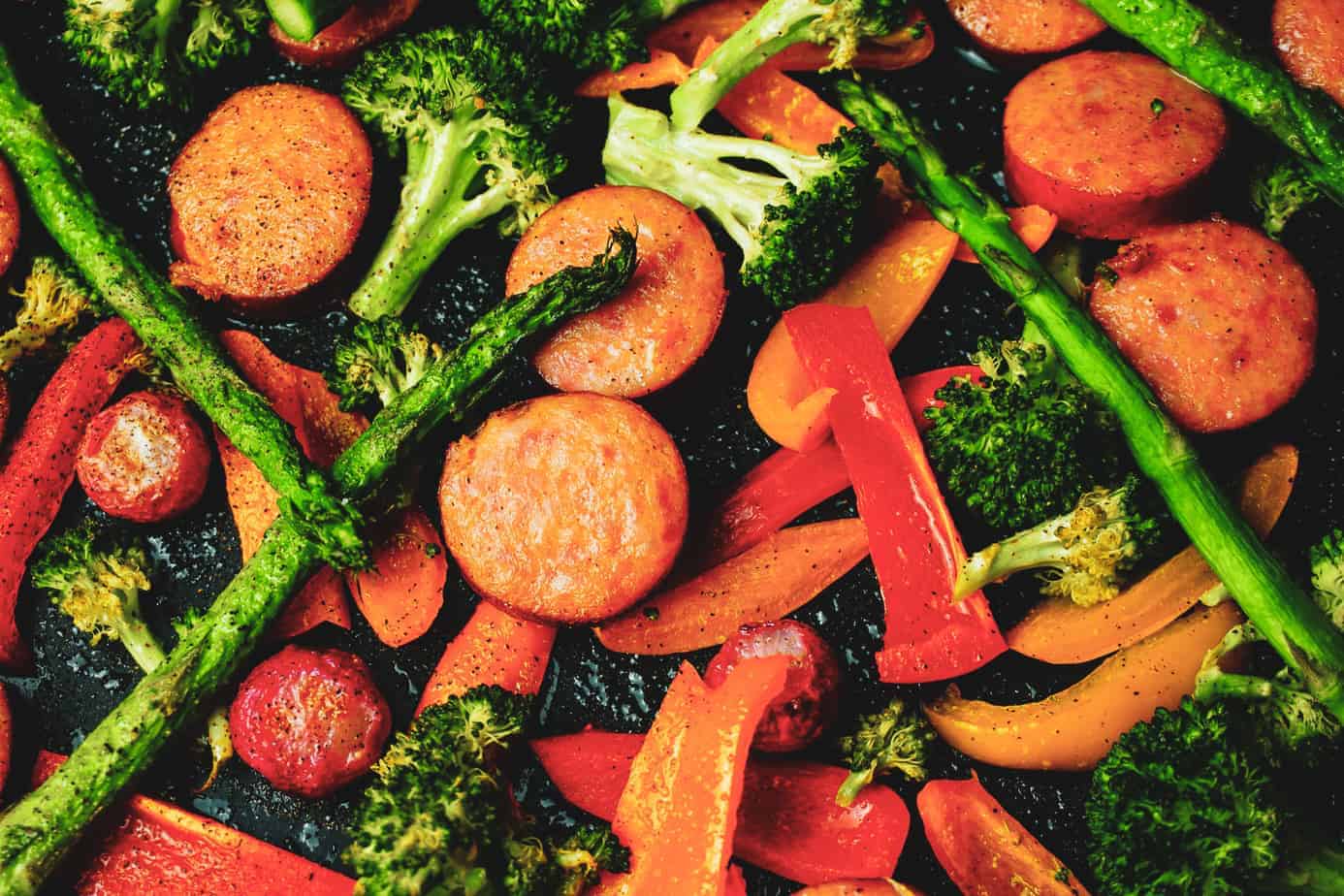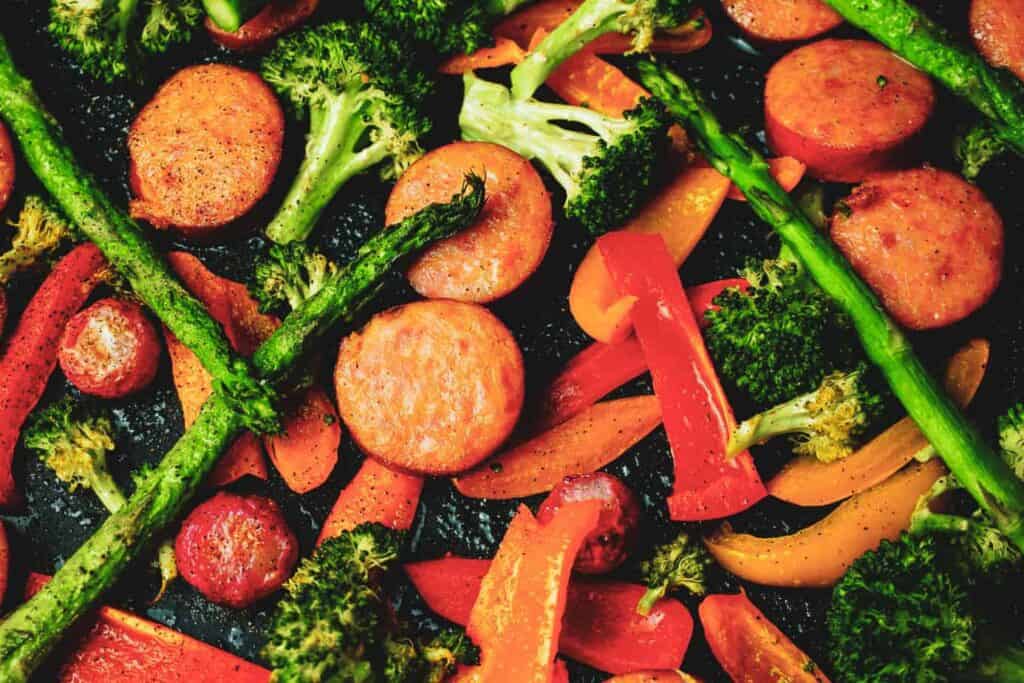 How to prepare cajun kielbasa & veggies
First, cut any roots and/or leaves off of the radishes.
Roast the radishes with a sprinkle of salt and pepper and a drizzle of olive oil at 400ºF for approximately 8 minutes.
How do I roast radishes?
It's easy, and if I can do it, so can you. When you check them and they're mildly tender by poking with a fork, they're almost ready and it's safe to remove them from the oven.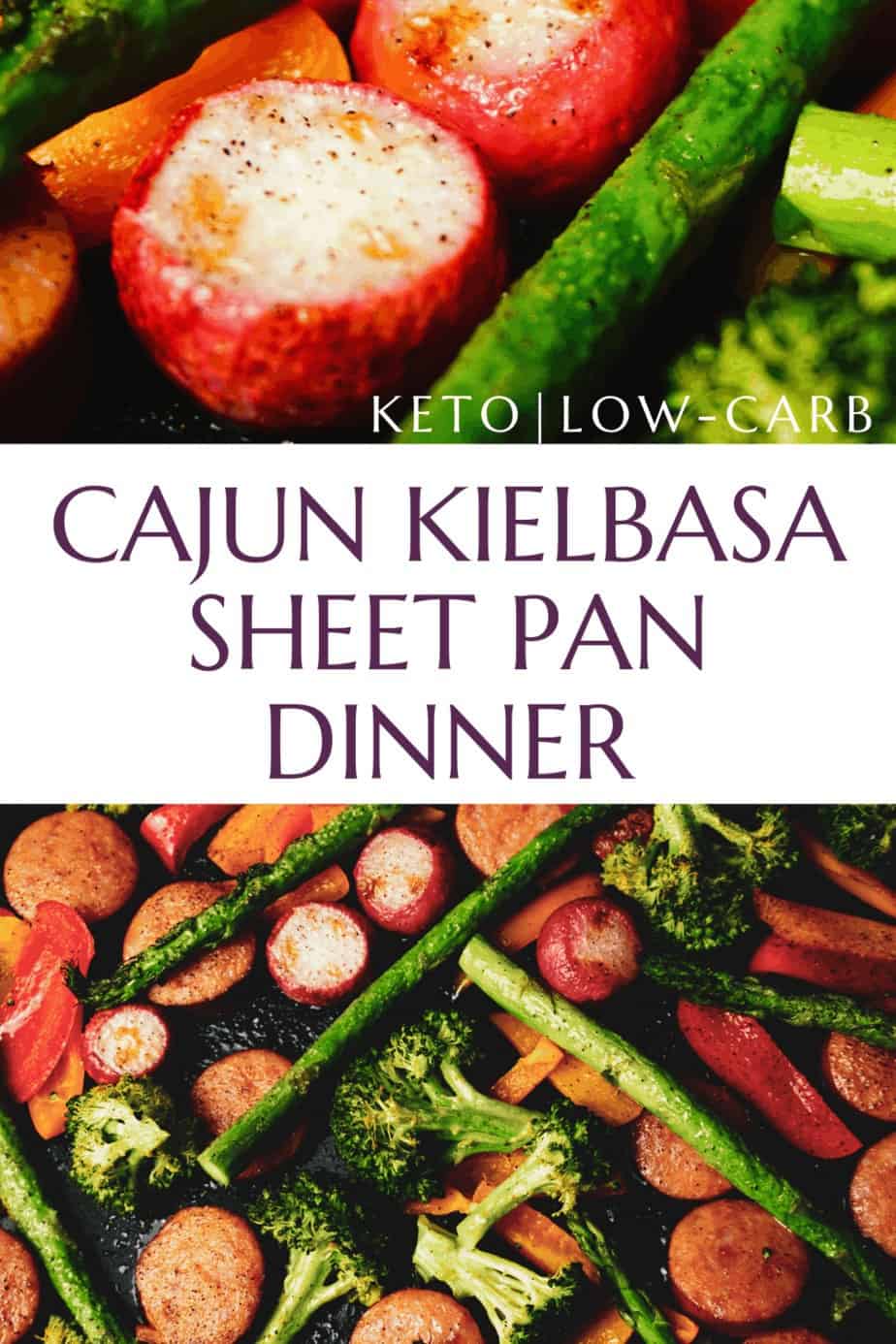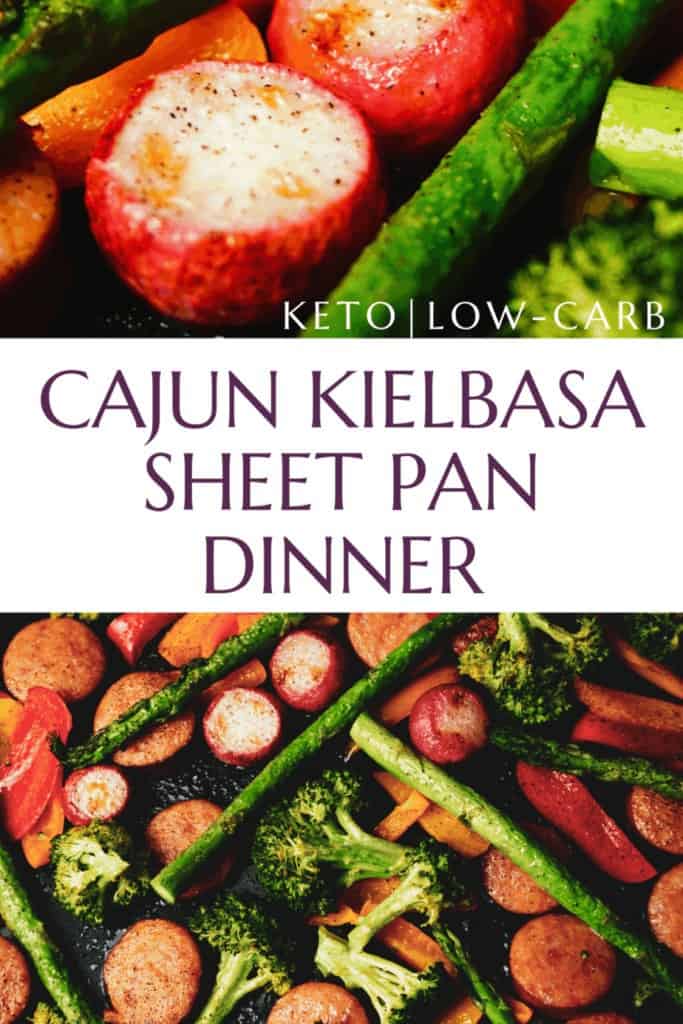 I like to remove my radishes when they're almost ready. Here's when you'll reduce the heat to 350º F and add in broccoli florets, kielbasa sausage slices, asparagus and bell peppers.
Tip!
Keep the radishes on the pan and continue to cook when you add in the kielbasa and other veggies.
This allows a bit of extra time to cook the radishes, since they take longer to soften than the other veggies. I like to bake them a bit before adding in the others.
However, before you place back into the oven....
Top with your favorite Italian seasoning, lemon-pepper, or Tony's Creole seasoning if you're feeling like cajun spices.
Simply plop the pan back into the oven for another 10-15 minutes on 350ºF.
What other veggies can I use with kielbasa?
Some other veggies that are keto friendly include:
cauliflower
any peppers
kale
cherry tomatoes
squash
Can I use kielbasa in stir-fry?
Yes! If you prefer making a veggie and sausage stir fry, just make sure to sauté your radishes first, since it takes them longer to soften than other veggies. Next, add in other veggies and finally sausage (since most are already pre-cooked).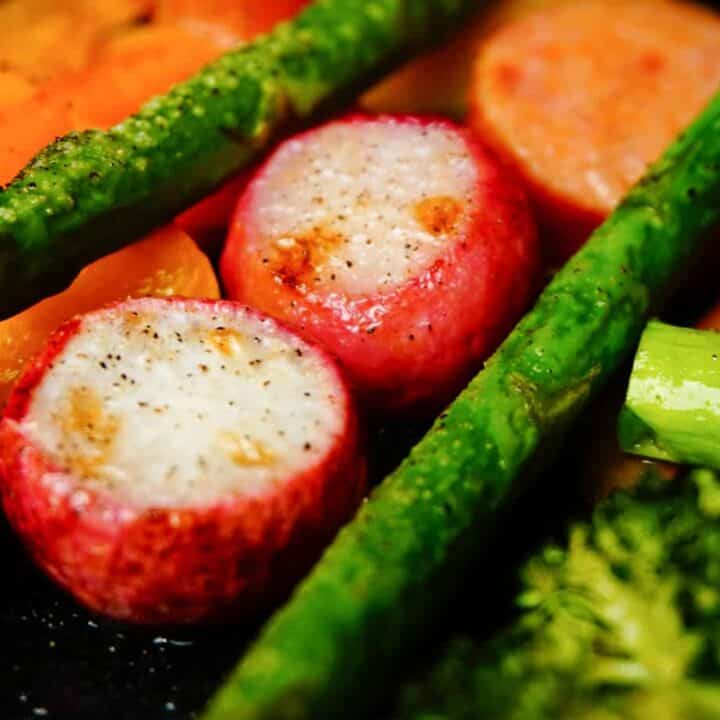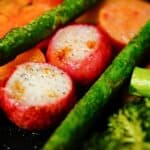 Cajun Kielbasa & Veggies
Easy cajun kielbasa & veggies sheet pan dinner that's keto and low-carb friendly. No mess, no fuss roasted radis, pepper and broccoli sheet pan dinner.
Ingredients
½

lb

radishes

1

tsp

olive oil

1

kielbasa sausage

3

bell peppers (yellow, red, green)

½

lb

asparagus

2

tbsp

Tony's Creole Seasoning

1

cup

chopped broccoli florets
Instructions
Preheat oven to 400º F. Add radishes to non-stick baking sheet, with a drizzle of olive oil, salt and pepper.

Roast radishes for approximately 8 minutes and remove. Reduce oven heat to 350º F.

Add kielbasa and other veggies, creole seasoning, and drizzle with a pinch more of olive oil. Bake for 10-15 minutes.
Nutrition
Calories:
352
kcal
Carbohydrates:
10
g
Fat:
27.1
g
Saturated Fat:
12.2
g
Cholesterol:
38
mg
Sodium:
953
mg
Fiber:
13
g
If you like this Sheet Pan Kielbasa & Veggies, you'll love: