Keto Chocolate pudding with avocado? 
Hear me out. This is the best keto chocolate pudding, but I am not an avocado person. I know, it's the "staple" of ketogenic and low-carb eating, but I just can't. Unless.....
It's mixed for guacamole or combined with other ingredients.
Ok. This is going to sound weird, and I'm taking a risk putting this out there, but......
avocado pudding is a REAL THING. In fact, this recipe was inspired by Cook Eat Paleo's Mexican Chocolate Avocado Mousse. 
Does avocado chocolate pudding taste good? 
YES!
By adding cocoa powder and erythritol, you don't taste it. Nada. No avacodo-y taste. Promise.
It is the exact same consistency of traditional pudding, too. Just promise me you'll mix it well or you may still see some bits.
What other ingredients can I use to make keto pudding? 
More chocolate, of course! 
For the garnish, I added some grated Lily's Chocolate.
My favorite is the cartelized and salted and it's the only one I can find in my grocery store that is sweetened with erythritol and really low carb.
I also love it with strawberries.
Whipped topping for low-carb pudding
If you love whipped cream on your pudding, don't fret.
You can still have heavy whipping cream on the keto diet. Just use a mixer to make your heavy whipping cream. Serve atop your pudding and enjoy! 
Crushed Pecans
Chocolate and pecans go together like peas and carrots, but better.
And, If you're into candied pecans, try our Kentucky Bourbon Candied Pecans.
How can I make chocolate Keto Mousse from avocados?
Simply make sure your avocado pudding is mixed well and use a mixer to blend with ½ cup of heavy whipping cream until a mousse forms.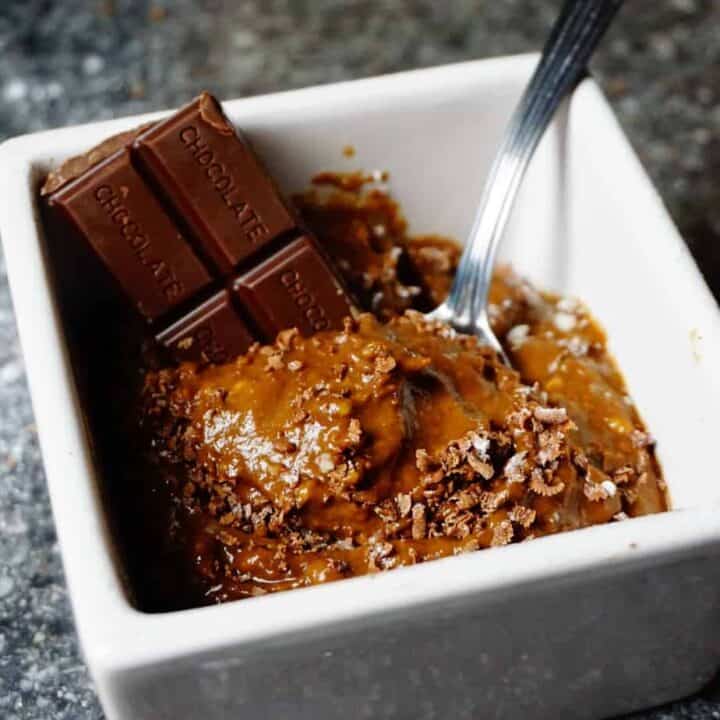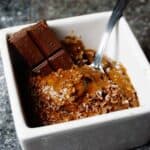 Chocolate Pudding
Keto-friendly chocolate pudding in a pinch. Easy, thick and creamy- this recipe uses avocados as one of the main ingredients.
Ingredients
1

avocado

1

tbsp

cocoa powder

4

tbsp

powdered erythritol

3

tbsp

heavy whipping cream

⅙

Lilly's Chocolate Bar (optional, garnish)
Instructions
Combine avocado, heavy cream, and erythritol with a fork, then a mixer to combine well.

Garnish with grated Lilly's Salted Caramel bar and ¼ of the chocolate bar.
Nutrition
Calories:
263
kcal
Carbohydrates:
5
g
Protein:
5
g
Fat:
25.5
g
Saturated Fat:
7.8
g
Cholesterol:
21
mg
Sodium:
12
mg
If you like sweet treats, you'll also love: '