Stuff your Italian meatballs with gouda! 
I love cheese and these keto smoked gouda stuffed meatballs are the perfect time-saver and comfort food.
This year, I've discovered I have a particular fondness for smoked gouda. It pairs so well with hearty meats like bacon and beef. What's not to love about gouda cheese? ? Or any cheese for that matter? ?
What can I serve with stuffed meatballs?
Some of my family's favorite sides include:
green beans cooked in chicken broth with bacon (a southern favorite)
steamed or roasted broccoli with butter
mashed loaded cauliflower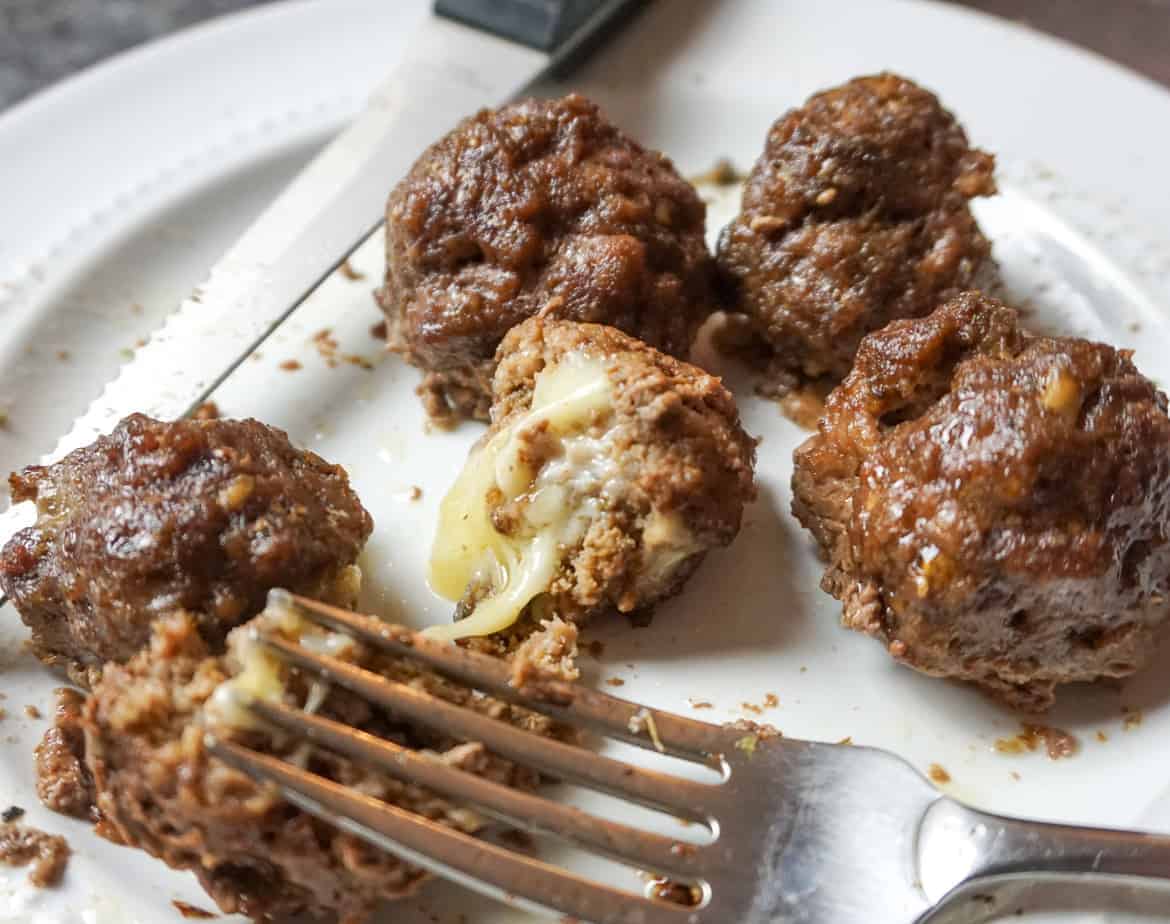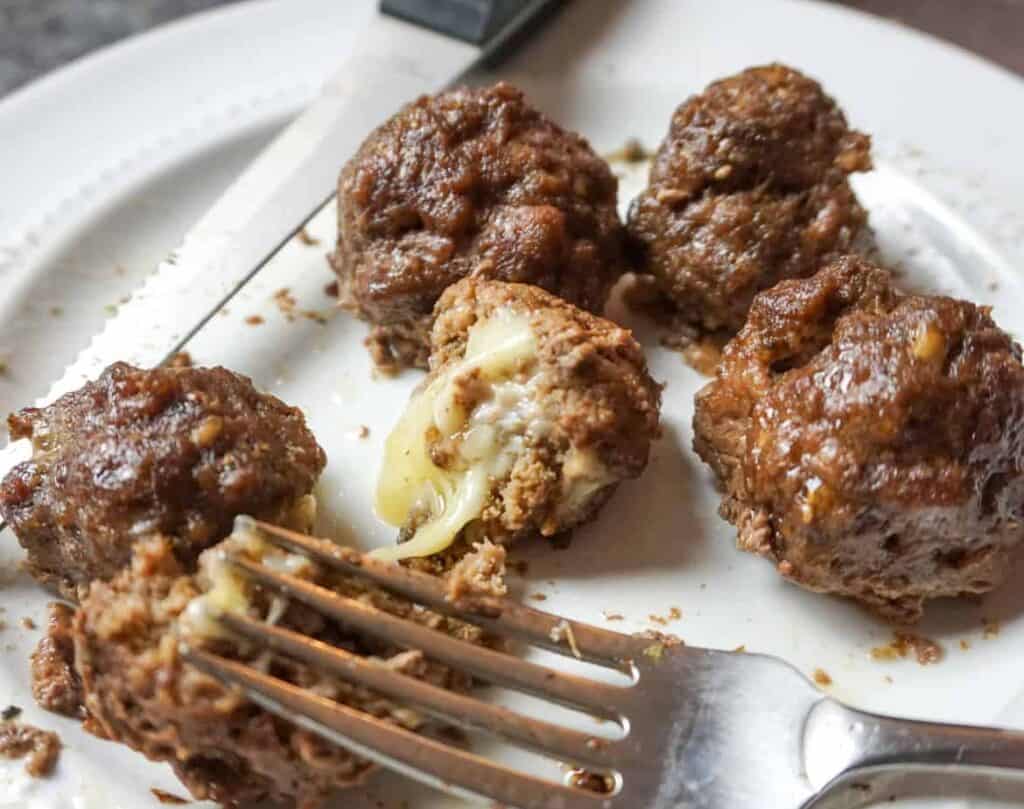 Sauces for keto stuffed gouda meatballs
I prefer my meatballs with a spaghetti sauce. It's much more rich in flavor than regular tomato sauce.
However, you can make any tomato sauce "keto" by just adding in some Italian seasoning and/or powdered erythritol if you like a sweet tomato sauce.
Some other options for sauce include: sugar-free BBQ sauce, Sriracha, or even Buffalo sauce if you like spice!
Can I make stuffed meatballs with chicken or turkey?
Absolutely. In fact, it doesn't change a thing. You can even switch up the type of cheese you prefer.
I will caution, however, against using too soft a cheese.
The softer the cheese, the more likely it is to melt and seep out of your meatballs. Also, I strongly encourage you to freeze your cheese ahead of time to prevent seepage.
Cooking tips for keto smoked gouda stuffed meatballs
After my trials with this recipe, the one major take-away is to not overstuff the meatballs with cheese. ????
Important! The cheese is less likely to seep out if you keep your cheese cubes smaller or pop your cheesy bits into the freezer for 5-10 minutes.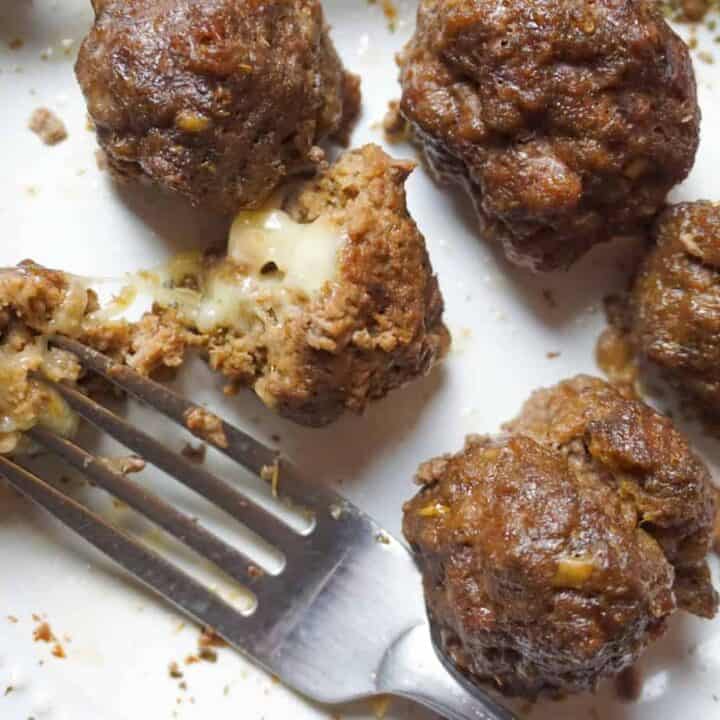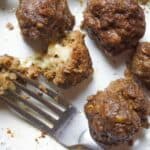 Keto Smoked Gouda Stuffed Meatballs
Smoked gouda cheese-stuffed meatballs; a keto and low carb recipe. Bursting with flavor and oozing with cheese, you just can't resist this rich recipe.
Instructions
Preheat oven to 430 degrees.

Mix all dry ingredients with ground beef.

Slice 4 pieces of smoked gouda cheese into 2 cm squares.

Form meatballs around the smoked gouda.

Bake for 20 minutes or until meat gets dark browns around edges. Serve with sugar-free BBQ sauce.
Nutrition
Calories:
315
kcal
Carbohydrates:
1.8
g
Protein:
10
g
Fat:
14.6
g
Saturated Fat:
6.9
g
Cholesterol:
167
mg
Sodium:
272
mg
Fiber:
0.5
g
If you like this recipe, you'll love:
This recipe was inspired by my favorite local recipe from The Lexington Diner. My friend and owner, Karen, knows how to serve up a delicious smoked gouda omelette.