How do you make smoky Tex Mex chili flavorful?
This is a deliciously sweet and smoky Tex Mex chili. If you were to cook a smoky chili by the campfire, this is what it tastes like.
It's a simple Tex Mex take on keto chili and has a sweet and smoky flavor. Liquid smoke, of course.
I just love the flavor it gives to this chili. I used the original flavor here, but feel free to use the hickory smoke flavor- which is just as nice.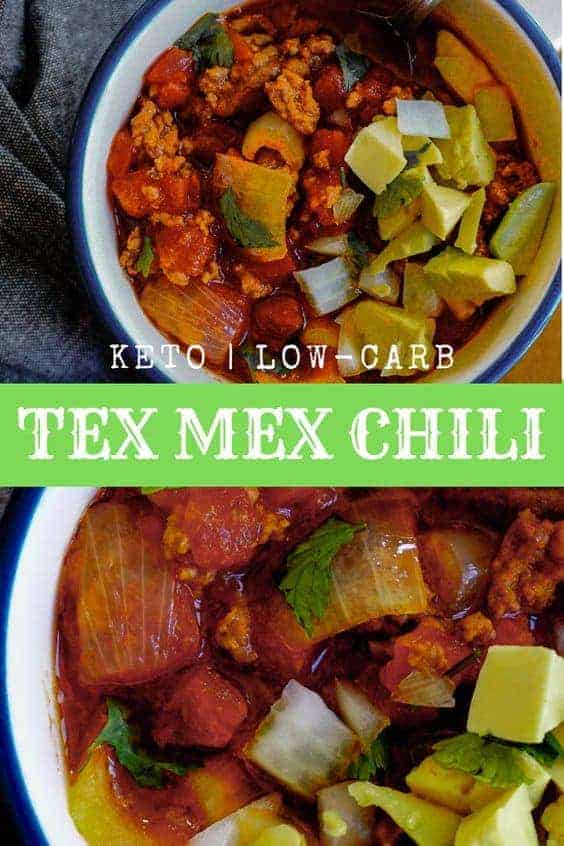 How do I make my keto chili sweet?
I first had a sweet and smoky chili at a chili cook-off earlier this year. I was immediately in love and didn't even want to sample the other chilis there.
I'm sure the chef used sugar, since it's the preferred sweetener everywhere.
However, in this case, I wanted to make a low-carb version of sweet chili. My Recipes has a great smoky chili, but I needed to make this one keto friendly.
So, I used granulated erythritol. If all you have is powdered erythritol, that will work too.
Just a teaspoon or two to make it sweet. Experiment with a little at first until you find your preference.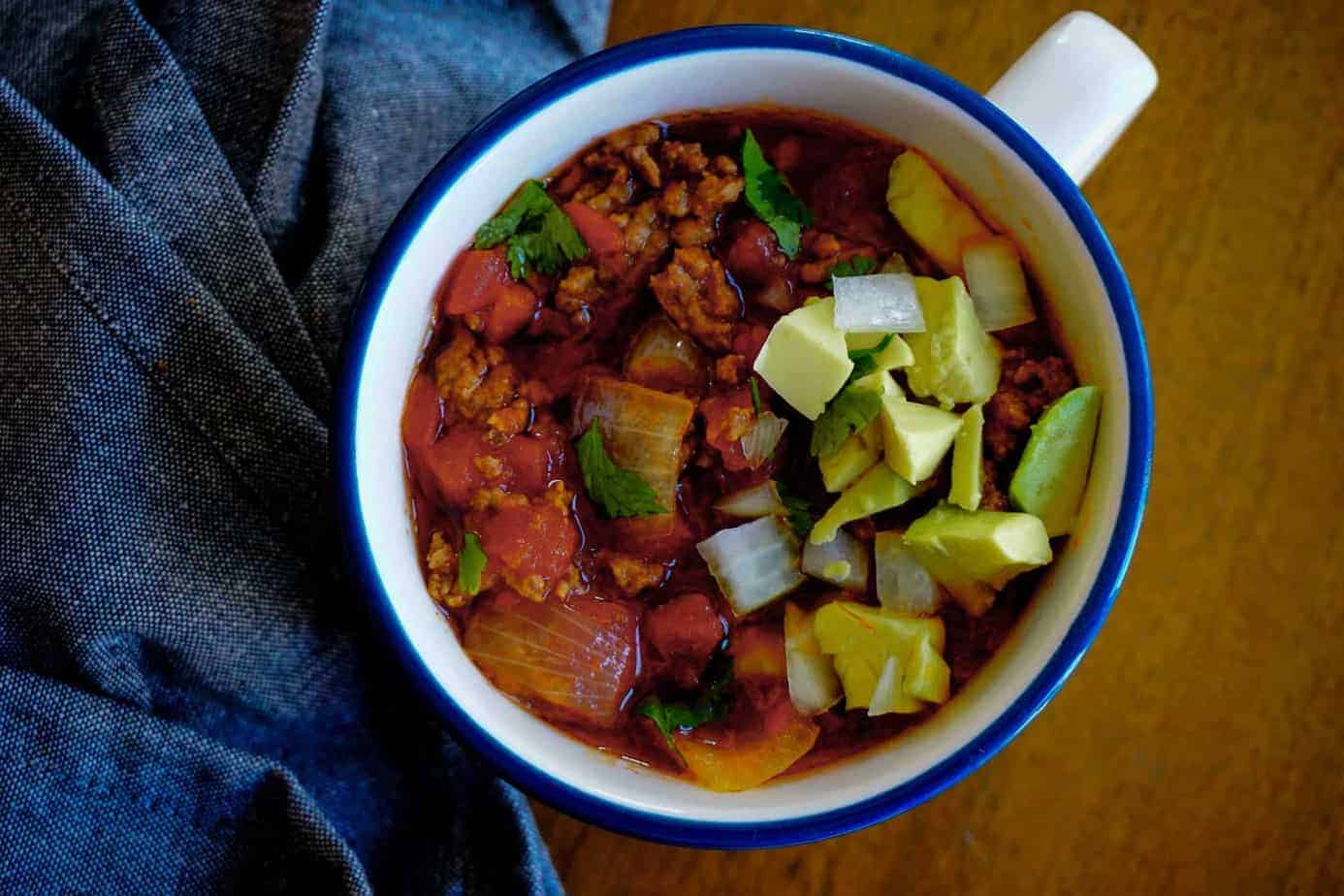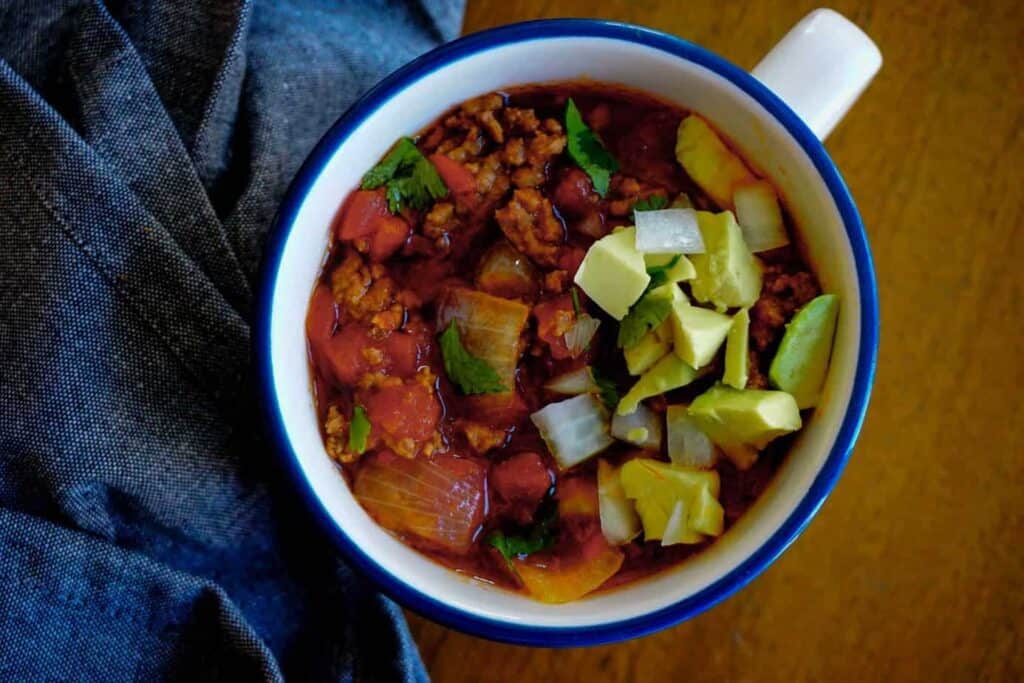 Can I add avocado to chili?
Yes, yes, and yes. I like to also reserve a few onions to go with my avocado and cilantro atop the chili.
These extra touches give it something special and reminiscent of what you'll find in most Mexican cuisine.
Plus, the smoky flavor is akin to a smoky Texas BBQ. Hence, the name Tex-Mex 😉
Here's how to slice the perfect avocado:
What other toppings should I add to smoky Tex Mex Chili?
Shredded cheddar cheese, chives or scallions pair well with chili.
I also like to add a bit of queso fresco for that extra Mexican flavor. So long as the carb count in my cheese is around 2g, I give it a go.
Other toppings include:
sour cream
hot sauce (if you're feeling spicy)
jalapeño peppers
poblano peppers
guacamole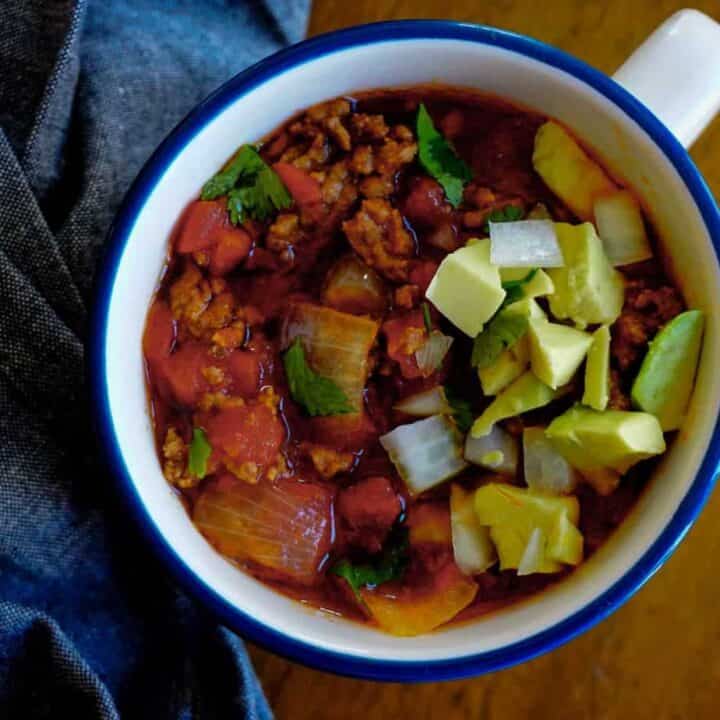 Smoky Tex Mex Chili
A smoky chili that's a bit spicy and a little sweet. A delicious, campfire chili with simple ingredients. Saddle up and get your cowboy boots on!
Instructions
Brown ground beef with onion on med heat.

Add in all other ingredients, except avocado and cilantro.

Simmer for additional 10 minutes no low heat.

Top it off with avocado and cilantro.
Nutrition
Calories:
270
kcal
Carbohydrates:
4.3
g
Protein:
28
g
Fat:
14.1
g
Saturated Fat:
3.9
g
Cholesterol:
81
mg
Sodium:
93
mg
Fiber:
4.3
g
If you like smoky Tex Mex chili, you'll love: