Simple & fresh grilled chicken & spinach pasta
This grilled chicken with spinach and shirataki noodles is a simple and hearty dish that's both keto and low-carb friendly. This is truly an easy chicken, spinach and shirataki noodle stir-fry health fiesta!
What are shirataki noodles?
Shirataki noodles are really underrated and underrepresented in the keto community. They are so versatile and full of flavor when combined with the right blend of spices. They are like little sponges, soaking up all that delicious flavor.
But, what are they?
They're made from a blend of tofu and konnyaku, which is an Asian yam. My favorite brand and where to buy can be found on the House Foods website. The tofu kind (my fave) are made from the konjac yam and tofu.
Can I find shirataki noodles at Wal-Mart or Kroger?
I live in a rural area, so finding them can be quite the challenge at times.
If you're shopping at Kroger, you'll typically find them in the health food aisle next to the vegan items and organic yogurt.
If you're shopping at Wal-Mart, you'll find them next to the packaged fruit and salad mixes.
No luck? If you STILL can't find them, try Amazon:
This is my go-to for a pasta fix and they're super adaptable to a variety of recipes and ingredients----> Tofu Shirataki Noodles Spaghetti Shape 10- 8oz Bags
Unlike most healthy foods, I love that the shelf-life of shirataki noodles is quite long, so you can purchase them way ahead and decide how you'll make them later.
How do I prepare shirataki noodles for cooking?
To prepare shirataki noodles for stir fry, I place them in a colander and give them a toss under cold water for a few minutes. Not bad for prep time, eh?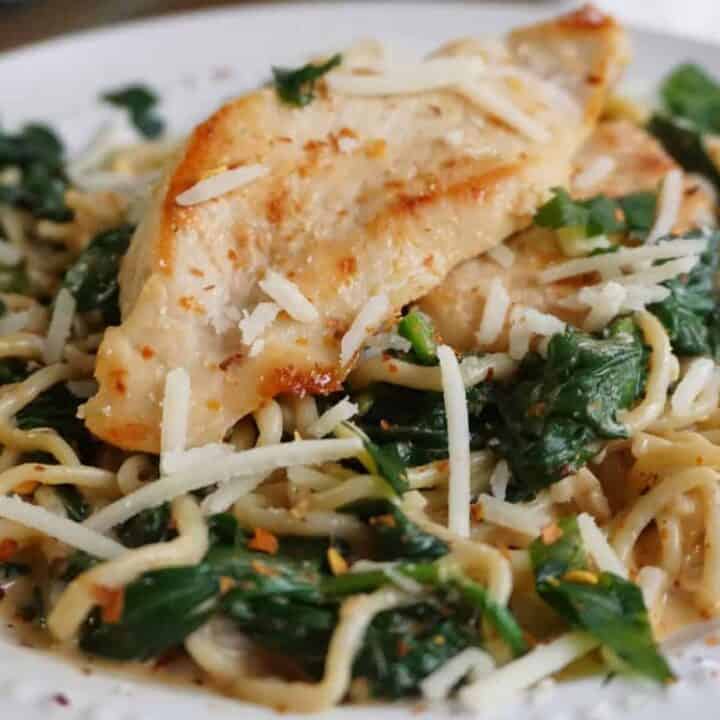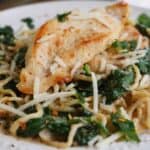 Grilled Chicken & Spinach Parmesan Pasta (Keto)
A keto grilled chicken and spinach parmesan pasta recipe that will make your weeknight dinner effortless.
Ingredients
1

lb

chicken breasts, cut into strips

2

packages tofu shirataki noodles

7

cup

fresh spinach leaves

½

cup

parmesan cheese

½

cup

heavy cream

4

tbsp

onion powder

2

tbsp

butter

3

tbsp

Old Bay Seasoning

1

tsp

garlic powder
Instructions
Cut chicken breasts into strips and pat dry. Add 1 tbs of the onion powder and 1 tsp garlic powder to coat.

Fry chicken breast strips on med-high heat in 1 tbs butter. Remove chicken and set aside once golden.

Add remaining butter to pan or wok and add spinach, heavy cream, and remaining onion powder. Meanwhile, rinse shirataki noodles thoroughly in a colander.

Once spinach is cooked, add shirataki noodles and Old Bay seasoning. Cook on low for 5-10 minutes, stirring ingredients together and incorporating all flavors.
Nutrition
Calories:
433
kcal
Carbohydrates:
9
g
Protein:
29.9
g
Saturated Fat:
11.7
g
Cholesterol:
127
mg
Sodium:
1747
mg
Fiber:
4.1
g
If you like spinach and shirataki noodles, you'll love: