These buttery Keto Dinner Rolls are the perfect low carb solution to bread cravings at dinner time. Made with cream cheese, mozzarella, almond flour and coconut flour for the perfect light and fluffy texture.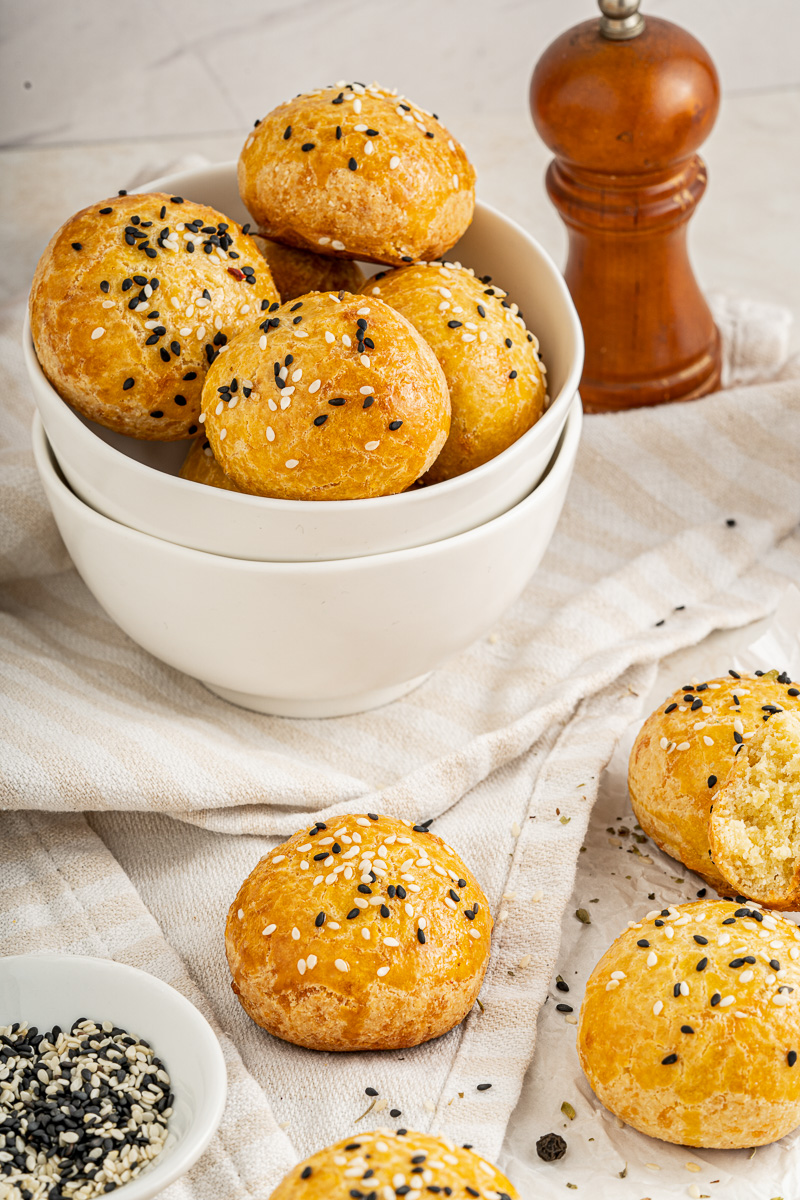 Bread is one ingredient on a keto diet that is most certainly off limits, so why are these "rolls" allowed on a keto diet?
These dinner rolls are low in carbs and high in healthy fats 

The great thing about this keto recipe is the fact that the rolls are made from a combination of cheeses, almond flour, eggs, and coconut flour, which are all naturally low in carbohydrates. 
The almond flour and cheese is rich in protein, as are the eggs, making this a great recipe for the growth, repair, and support of muscle tissue.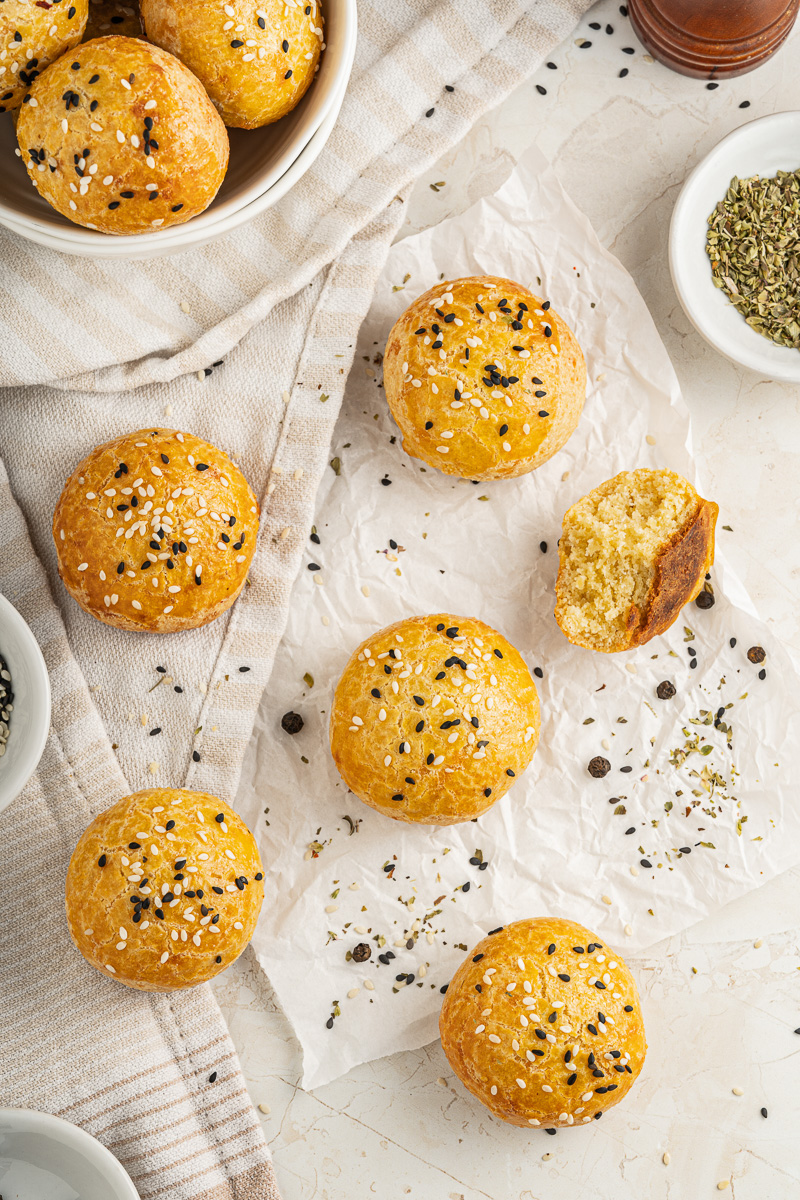 ingredients
Keto is a high fat, moderate protein, low carb diet, which is why these rolls are ideal replacement for regular bread rolls at dinnertime.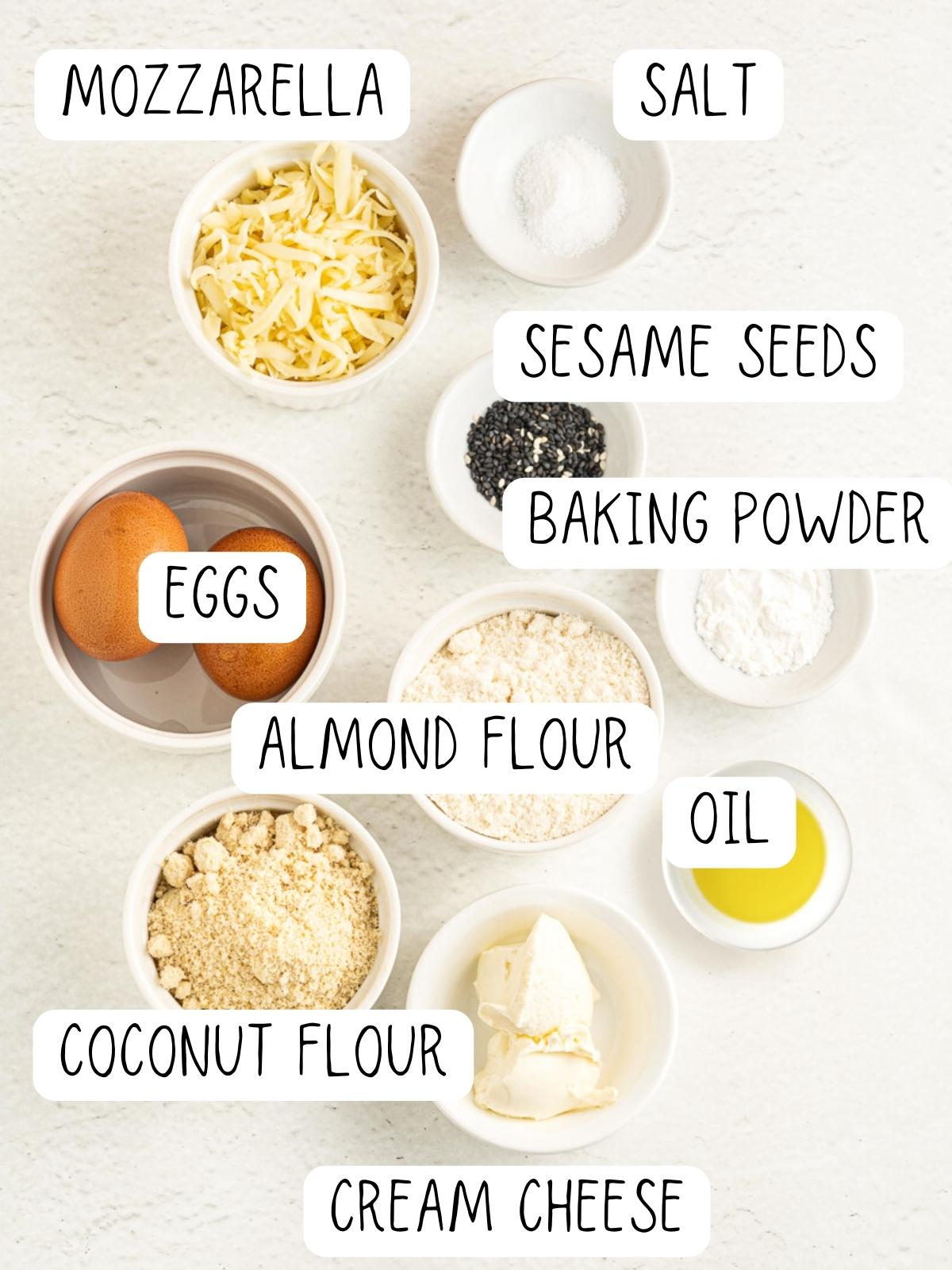 This recipe contains coconut flour, almond flour, olive oil, and whole eggs amongst other ingredients, which all contain healthy monounsaturated and polyunsaturated fats which are great for energy, the heart, the brain, and much more.
how to make keto rolls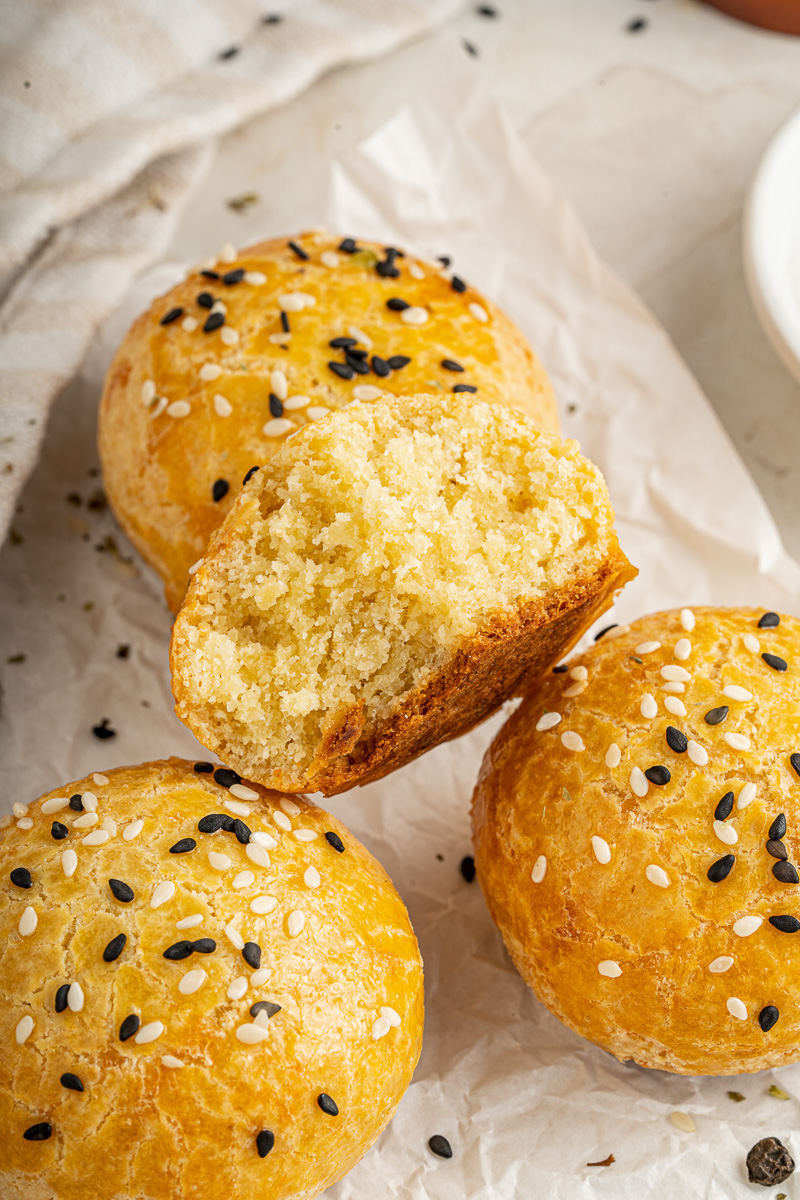 recipe substitutions
When making this recipe, of course you need to ensure that all of your ingredients are naturally low in carbohydrates. With that said however, there are certain things you can substitute for others, if you are lacking a specific ingredient.
Flaxseed meal instead of almond flour- If you're missing almond flour, flaxseed meal is a fantastic substitute. Flaxseed meal is high in healthy fats, it's virtually carb free, and it's a good source of plant-based protein.
This flour is more absorbent than almond flour, so you may need to add slightly more wetter ingredients.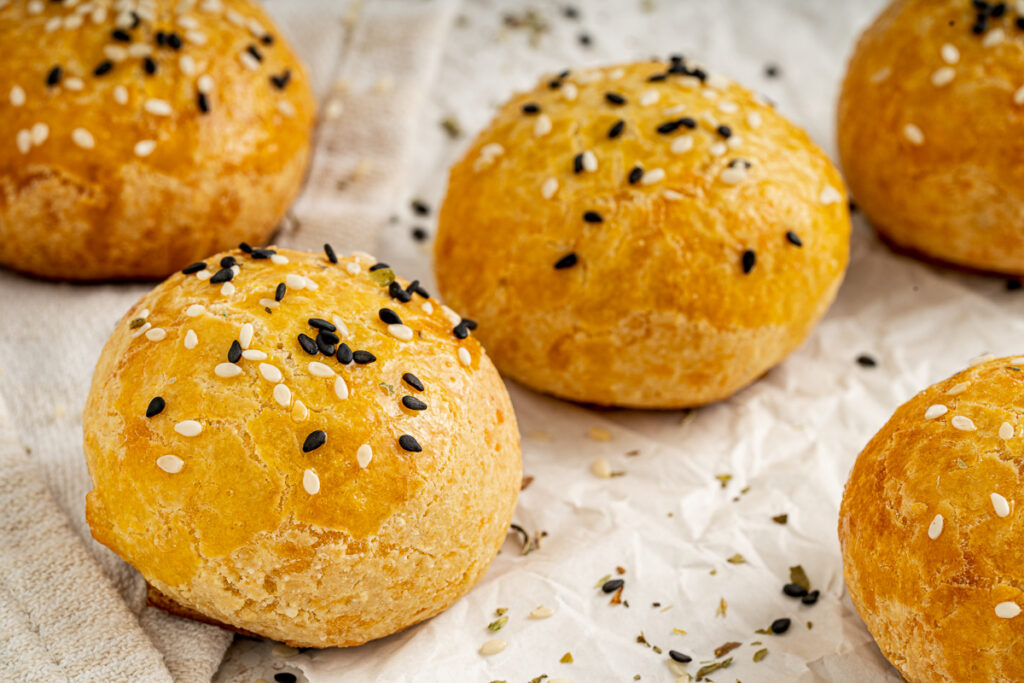 Coconut milk for coconut flour– If you do happen to use flaxseed meal instead of almond flour and you do require a little extra moisture, a couple of tablespoons of coconut milk instead of coconut flour will work in this recipe.
Cheddar for mozzarella– If you don't have mozzarella cheese, you can use cheddar cheese for this recipe. Just be aware that the rolls will taste slightly cheesier, which is certainly not a bad thing. Make sure you choose the mildest cheddar you can find, unless you want cheesy rolls that is.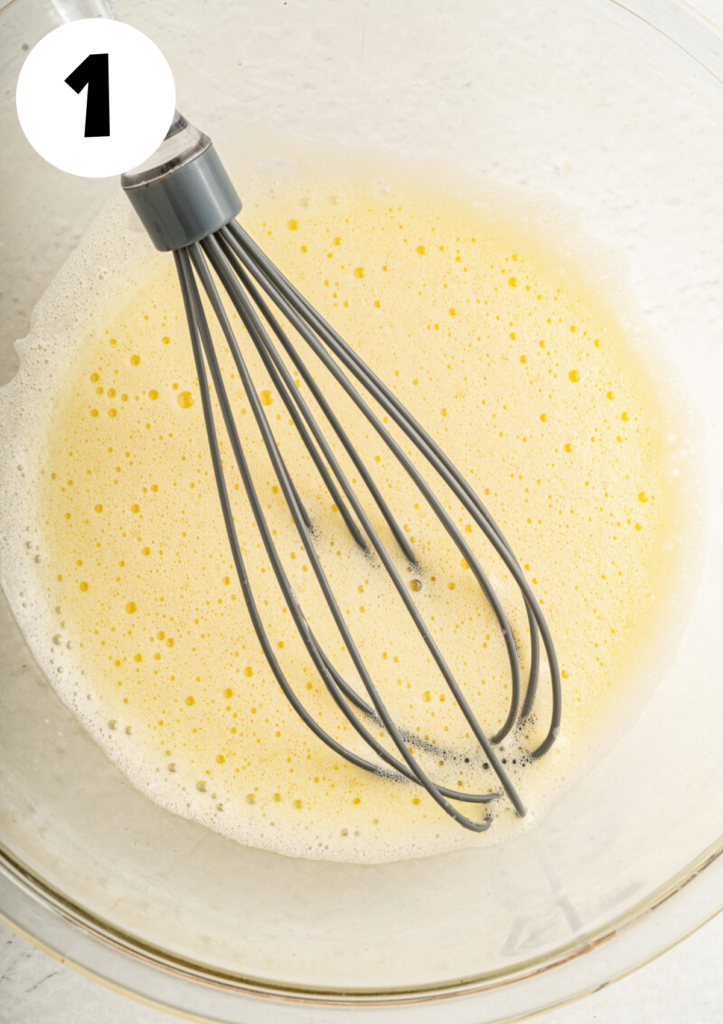 Expert tips
Up next, to ensure your keto rolls turn out as amazing as possible, we're going to share a few expert keto baking tips right now.
Use ingredients at room temperature

First and foremost, using ingredients at room temperature is very important for keto baking, mainly because many fats are solid under temperatures of 73F.
Eggs should also be at room temperature because chilled eggs add a strong eggy flavor to recipes and when they come into contact with hot oil, can cause clumps and lumps, which is the last thing you want when you're making a "bread" dough.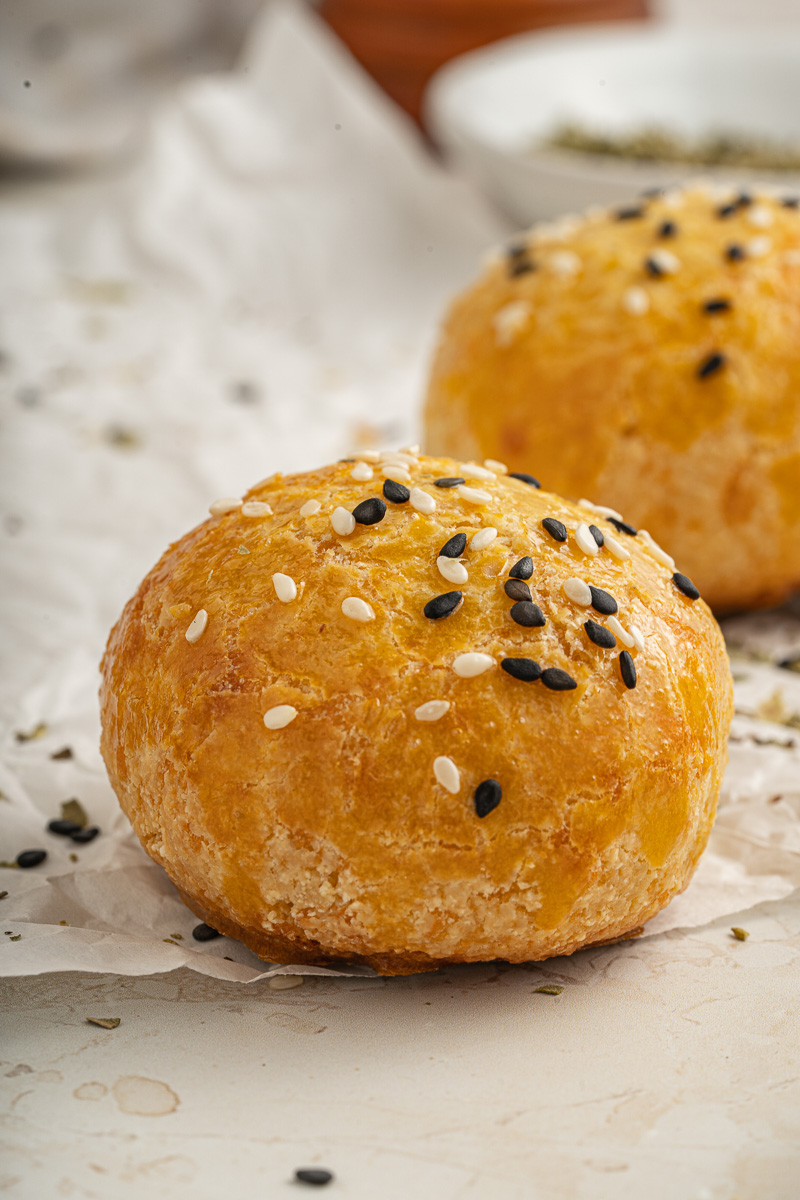 Measure ingredients carefully

Some regular recipes allow you to get away with guessing weights or being a little out, but not keto recipes. When you bake a keto recipe, you need to ensure that you weigh and measure your ingredients carefully and accurately.
Swapping amounts of one ingredient for another will have a huge effect on your "dough" which is why everything needs to be measured and accurate before you start mixing and combining.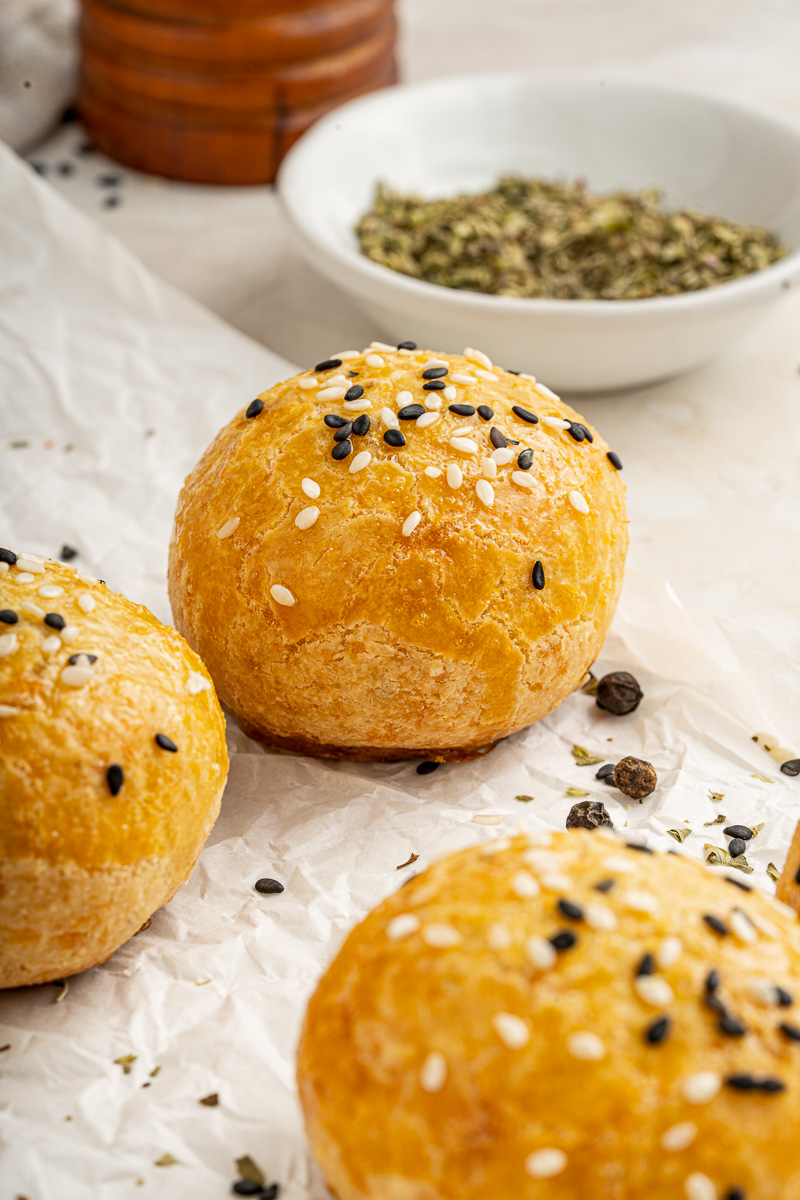 FAQs
How long will these keep?
These rolls will keep for up to 7 days in a fridge, or 4 days in a sealed bag at room temperature.
How long do they stay soft?
These rolls are best enjoyed fresh, as, after 24 hours they do tend to go a bit firm and dry up slightly.
Can they be toasted?
Yes. If your rolls are older than 24 hours or if they are a little too firm and dry for you, go ahead and toast them as this will improve the texture massively.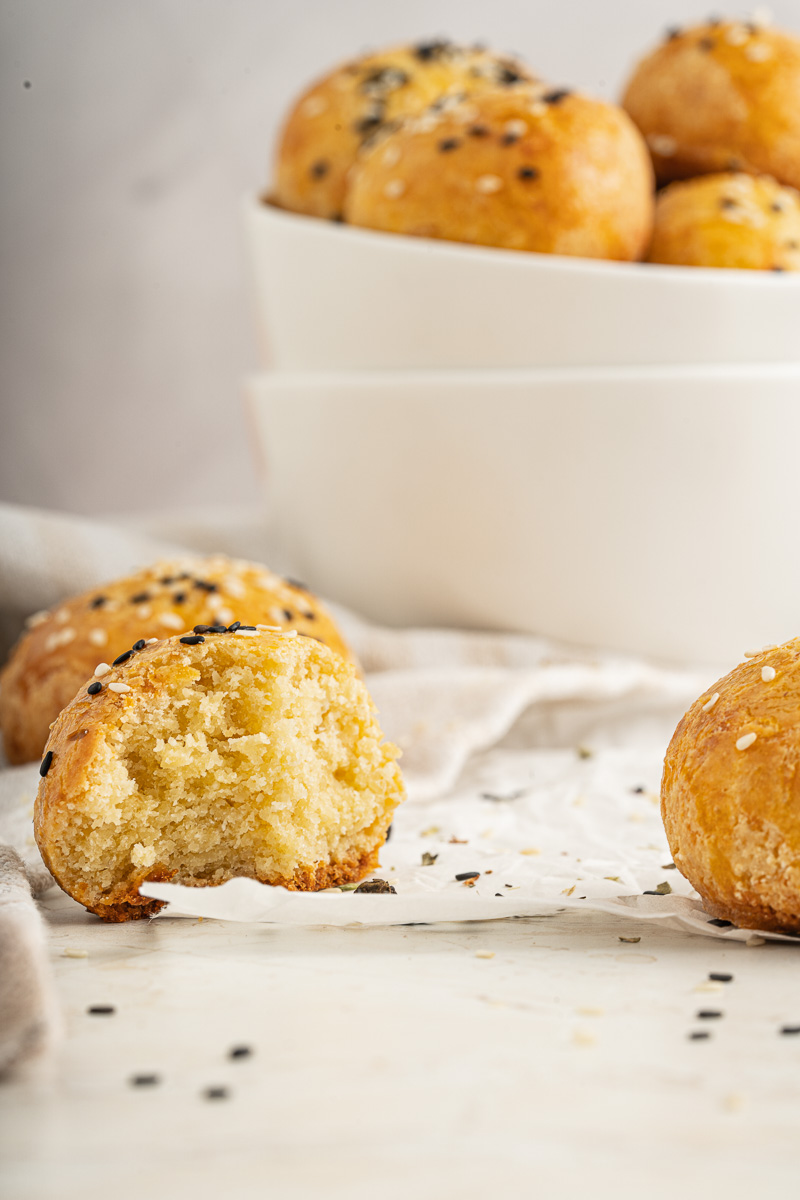 Serving suggestions
The great thing about these rolls is the fact that they can be used as substitutes for actual bread rolls, so you can use them as you would any ordinary bread.
As the rolls are sprinkled with sesame seeds however, they're great when used as a keto-friendly burger bun. You can also serve them warm with butter and keto soup, stew, or broth.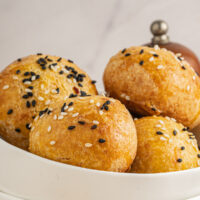 Keto Dinner Rolls
Serve these buttery keto dinner rolls with everything from chicken to pot roast. The perfect low carb dinner roll made with almond flour, coconut flour, cream cheese and mozzarella cheese.
Print
Pin
Rate
Instructions
Preheat the oven to 375F. Prepare a baking tray with parchment paper.

Beat two eggs until foamy. Then mix them with baking powder, salt, and cream cheese until combined.

Place 1 tbsp of olive oil and shredded mozzarella cheese in a small pot over medium heat. Stir until the cheese is melted. Let it slightly cool, just for two minutes or so.

In the meantime, place the eggs mixture into a food processor with a sharp blade, not the dough. Then add melted mozzarella, and press until well combined. The result should be a smooth batter. Small pieces of cheese not combined won't matter.

Now add almond flour into the food processor press a few times until well combined. Then, transfer the dough to a large bowl. Add coconut flour and mix.

Use your hands to roll the dough into 12 small buns. Arrange them in the prepared baking tray and lightly flatten the top.

Divide the remaining egg into whites and yolks, beat the yolk, and brush each roll with it, to give them a nice golden look. Next, sprinkle some sesame seeds on top of the rolls.

Bake rolls for 20-22 minutes, or until the surface has cracked a little and they're golden.
Notes
These rolls are excellent when freshly made; after the first 24 hours, they tend to dry a little bit. The best is to reheat them in a toaster on those occasions before serving.
Keep leftovers in a sealed bag for up to 4 days over the counter, or up to one week in the fridge.
Nutrition
Calories:
173
kcal
|
Carbohydrates:
5
g
|
Protein:
7
g
|
Fat:
15
g
|
Saturated Fat:
3
g
|
Polyunsaturated Fat:
1
g
|
Monounsaturated Fat:
2
g
|
Trans Fat:
1
g
|
Cholesterol:
53
mg
|
Sodium:
189
mg
|
Potassium:
133
mg
|
Fiber:
2
g
|
Sugar:
1
g
|
Vitamin A:
186
IU
|
Calcium:
142
mg
|
Iron:
1
mg