This sugar-free, gluten-free, keto blueberry cheesecake is a real winner and you don't have to do any baking. Not only does it taste amazing, it's also very easy to make and is packed full of healthy ingredients.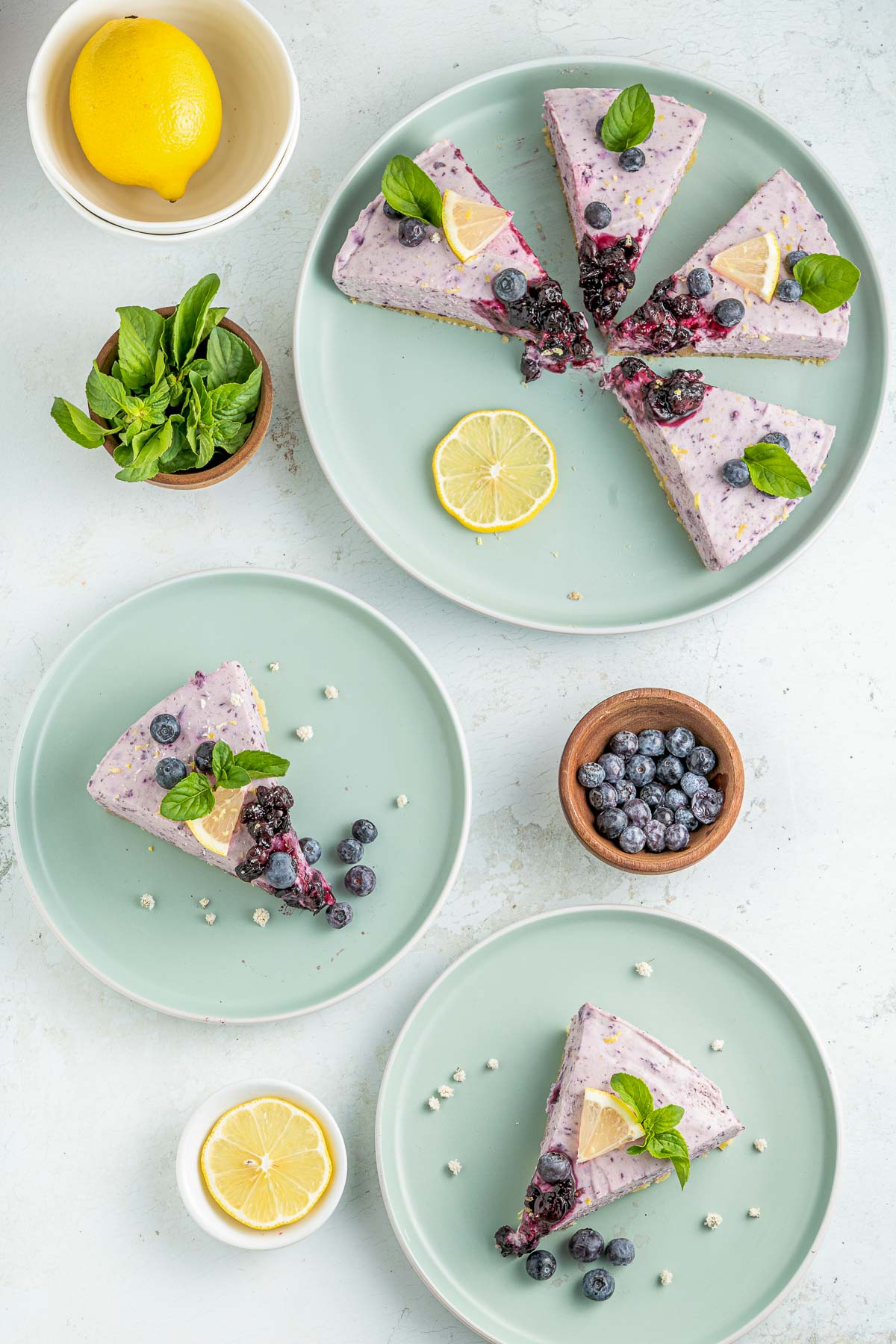 The words 'cheesecake' and 'healthy' generally don't go too well together yet this recipe is loaded full of delicious ingredients which not only taste great, but are also packed full of nutrients and healthy properties. This recipe is similar to a traditional cheesecake, but with 0 sugar and it's no-bake; I call that a win-win!
key healthy ingredients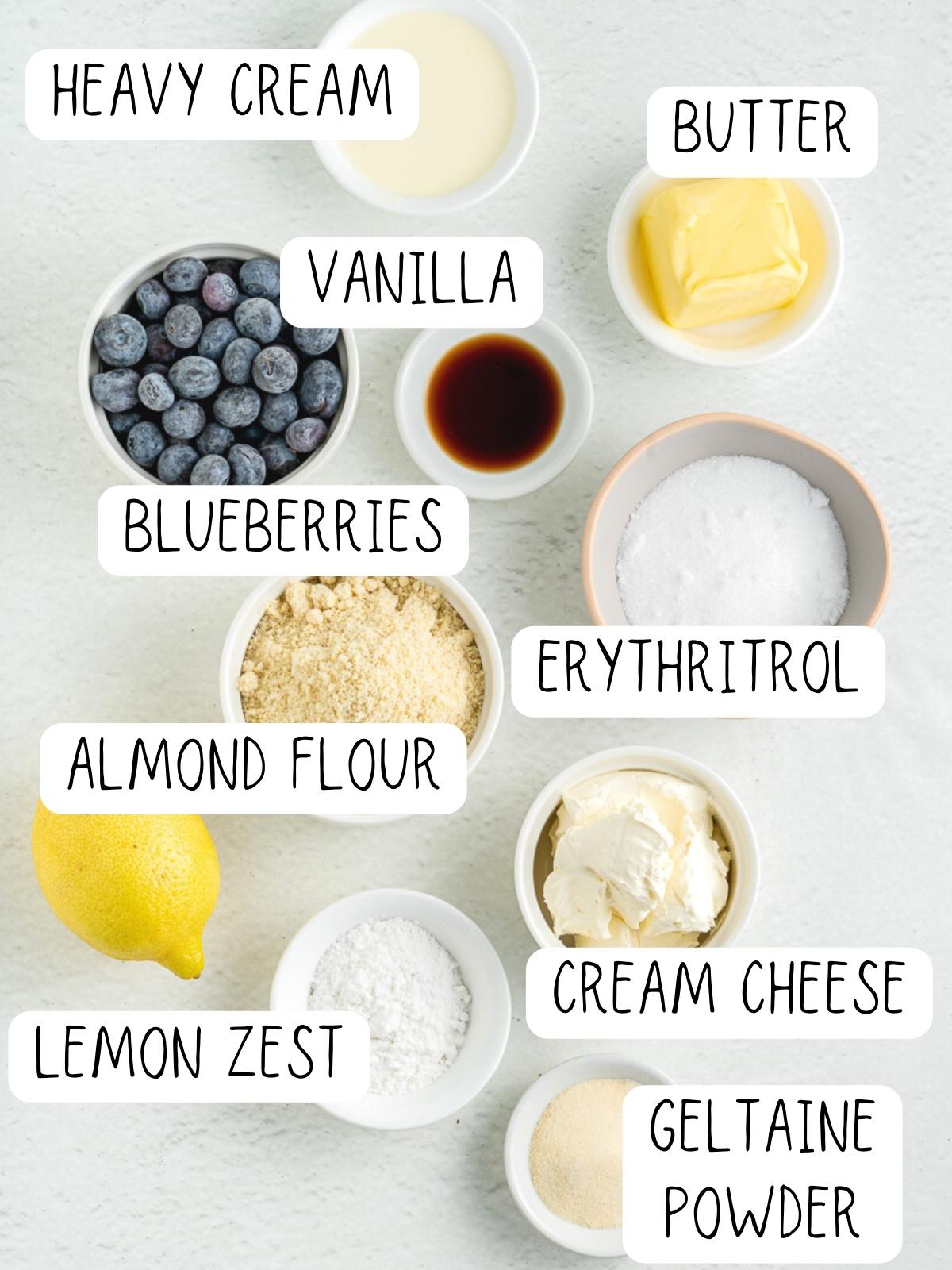 Here's a look at some of the key healthy ingredients found in this recipe:
Frozen mixed berries– mixed berries, fresh or frozen, are very healthy and beneficial as they're crammed full of vitamins and antioxidants which strengthen the immune system and help keep our cells healthy and functional. Mixed berries are also naturally low in fructose sugars, which is why this recipe is ideal for people on Keto.
Blueberries– blueberries are loaded full of antioxidants which help to eradicate free-radicals in the body, thereby helping to prevent illness and disease and keep our cells healthy. Rich in vitamins C and K, along with fiber, it's no wonder why blueberries are considered superfoods.
Almond flour– almond flour is basically a flour made up from ground almonds that can be used as a healthy substitute for white, refined, processed flour. Almond flour is rich in plant-based protein, it contains vitamin E and other antioxidants, it contains heart-healthy monounsaturated fats, and it's a great source of minerals such as zinc, iron, magnesium, manganese, and potassium.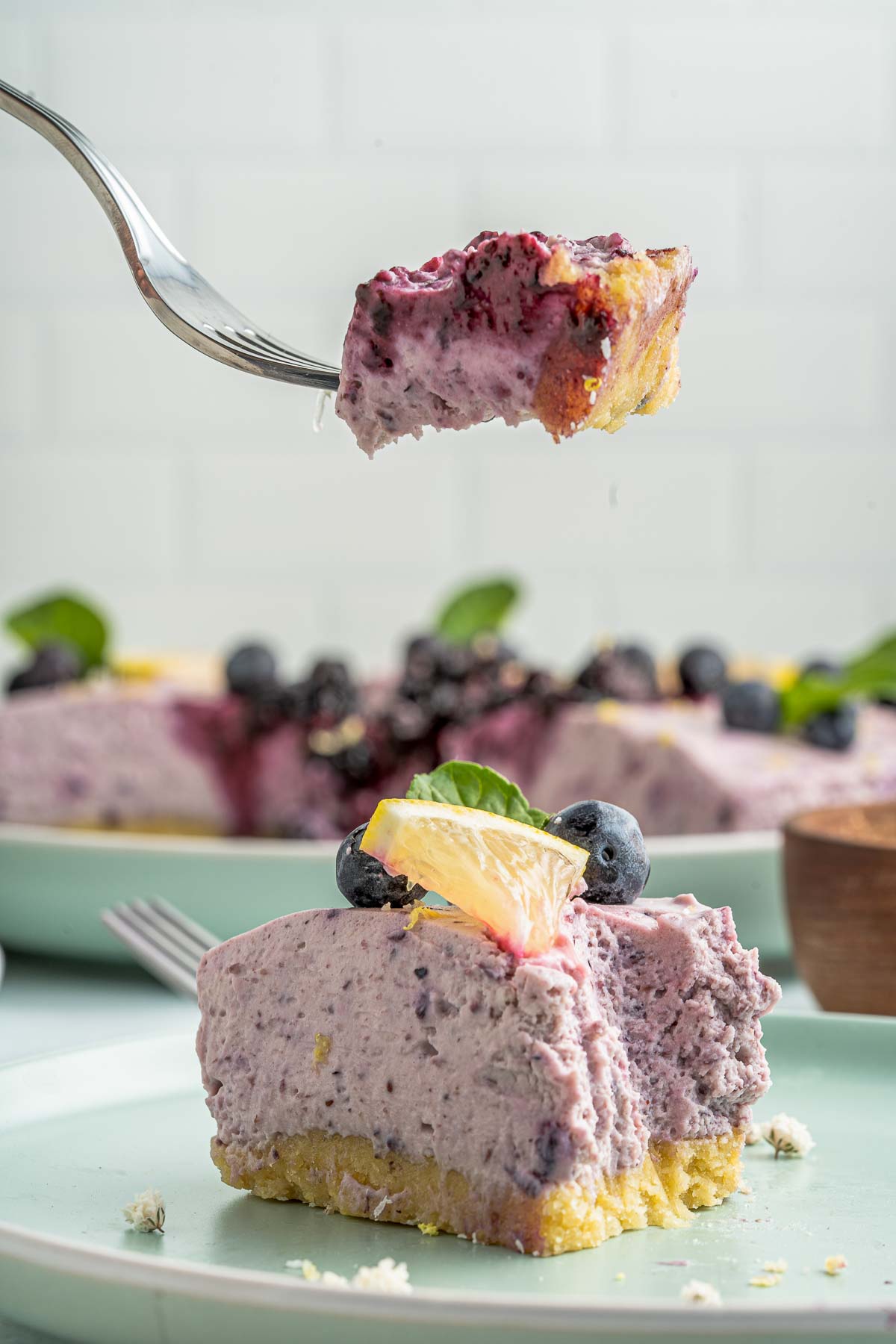 instructions
Follow these simple instructions for an easy no bake keto blueberry cheesecake.
step 1: make the crust
Follow along as we make a simple buttery almond flour crust for our keto cheesecake.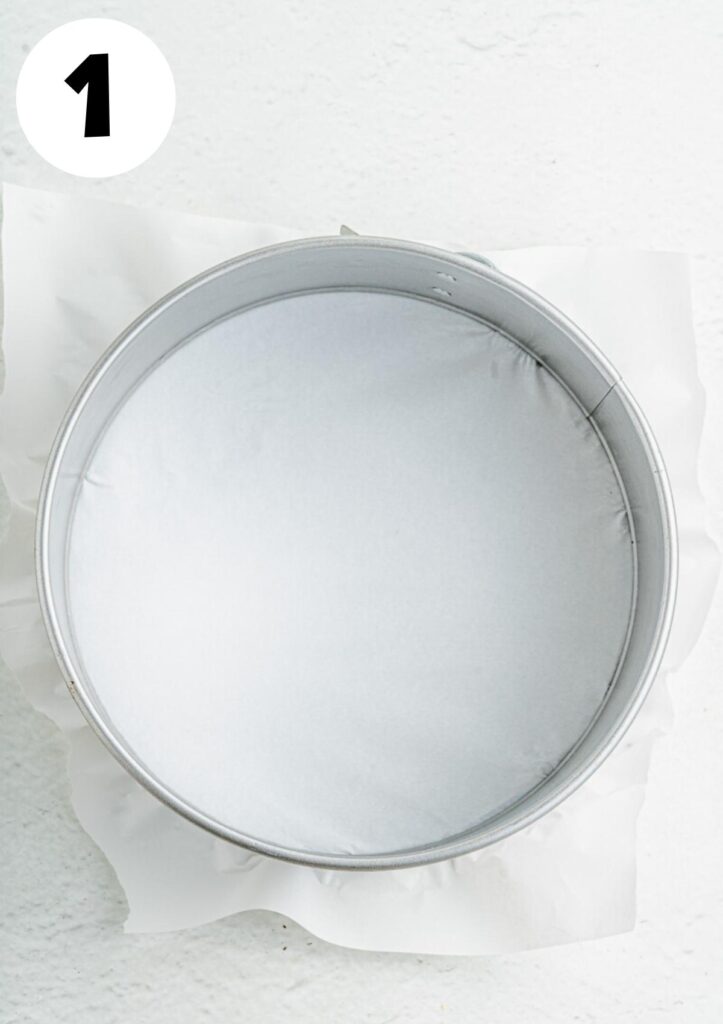 step 2: make the cheesecake filling
Follow these step-by-step instructions for making a silk smooth, sugar-free blueberry cheesecake filling.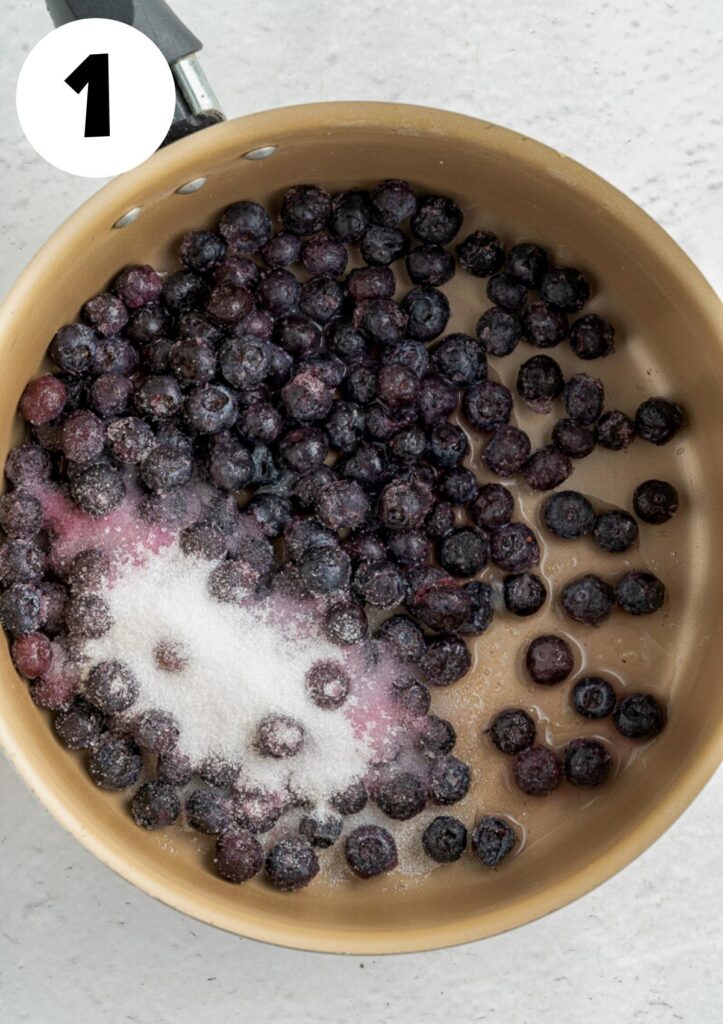 substitutions
There's nothing worse than looking forward to making a recipe, only to find that you don't have the necessary ingredients in to make it. Fortunately, if you do follow this recipe, there are certain substitutions you can make.
Ricotta for cream cheese– ricotta is a great substitute for cream cheese. Ricotta is not as thick as cream cheese, but is lower in calories and higher in protein. It can also be combined with yogurt to provide a smoother and creamier texture.
Greek yoghurt and milk for heavy cream– if you're out of heavy cream, or if you just want a healthier substitute, go ahead and combine Greek yogurt with a little milk until you achieve the texture you're looking for.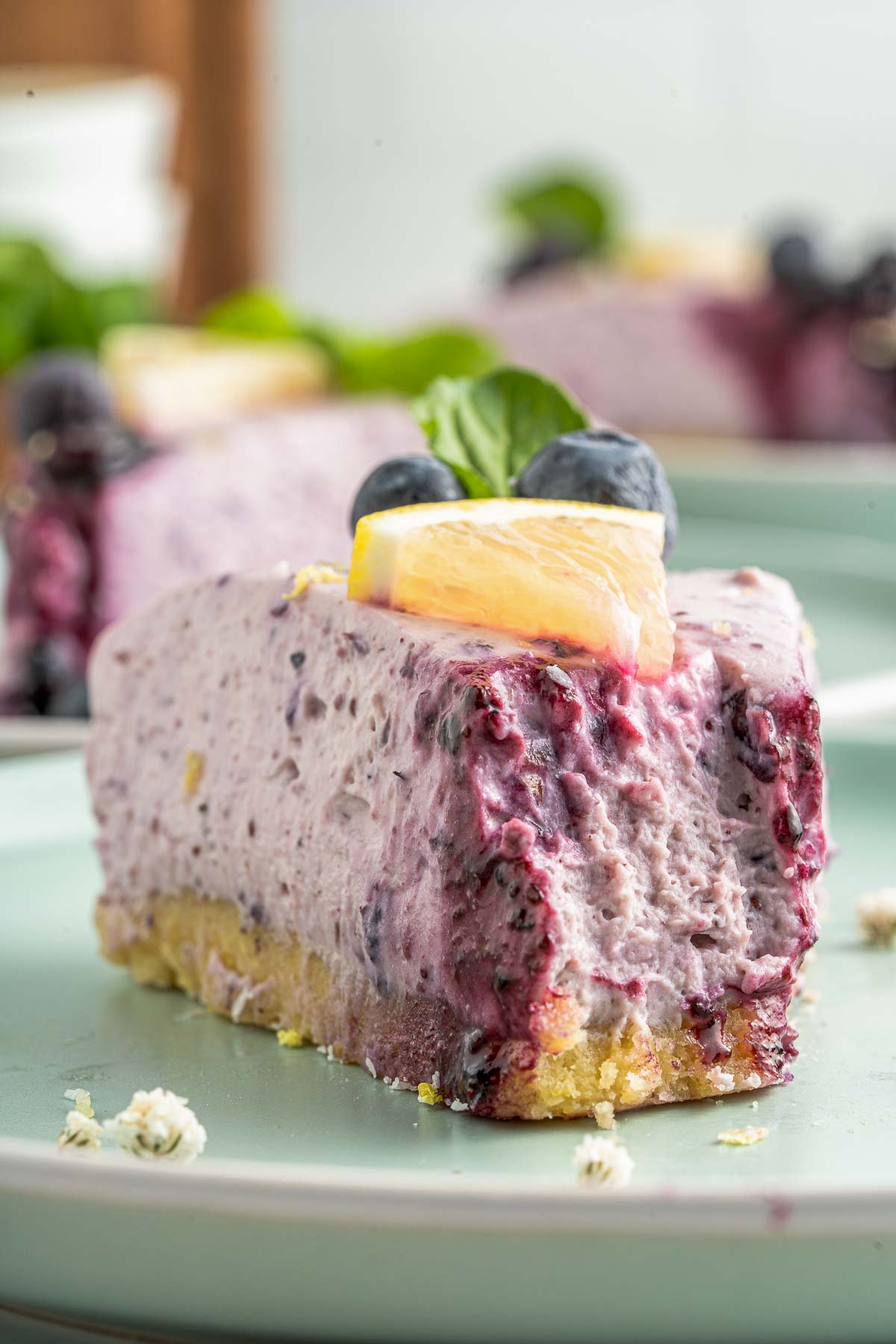 FAQs
What is erythritol?
Erythritol is a natural organic compound in the form of a sugar alcohol that is used as a substitute for sugar. It is considered healthier as it does not elevate blood sugar levels.
Is this recipe keto-friendly?
Yes. Sugar substitutions are used and berries with low fructose contents are used, along with almond flour for the base, making this recipe low in net carbs and ideal as a sweet treat when you're on keto.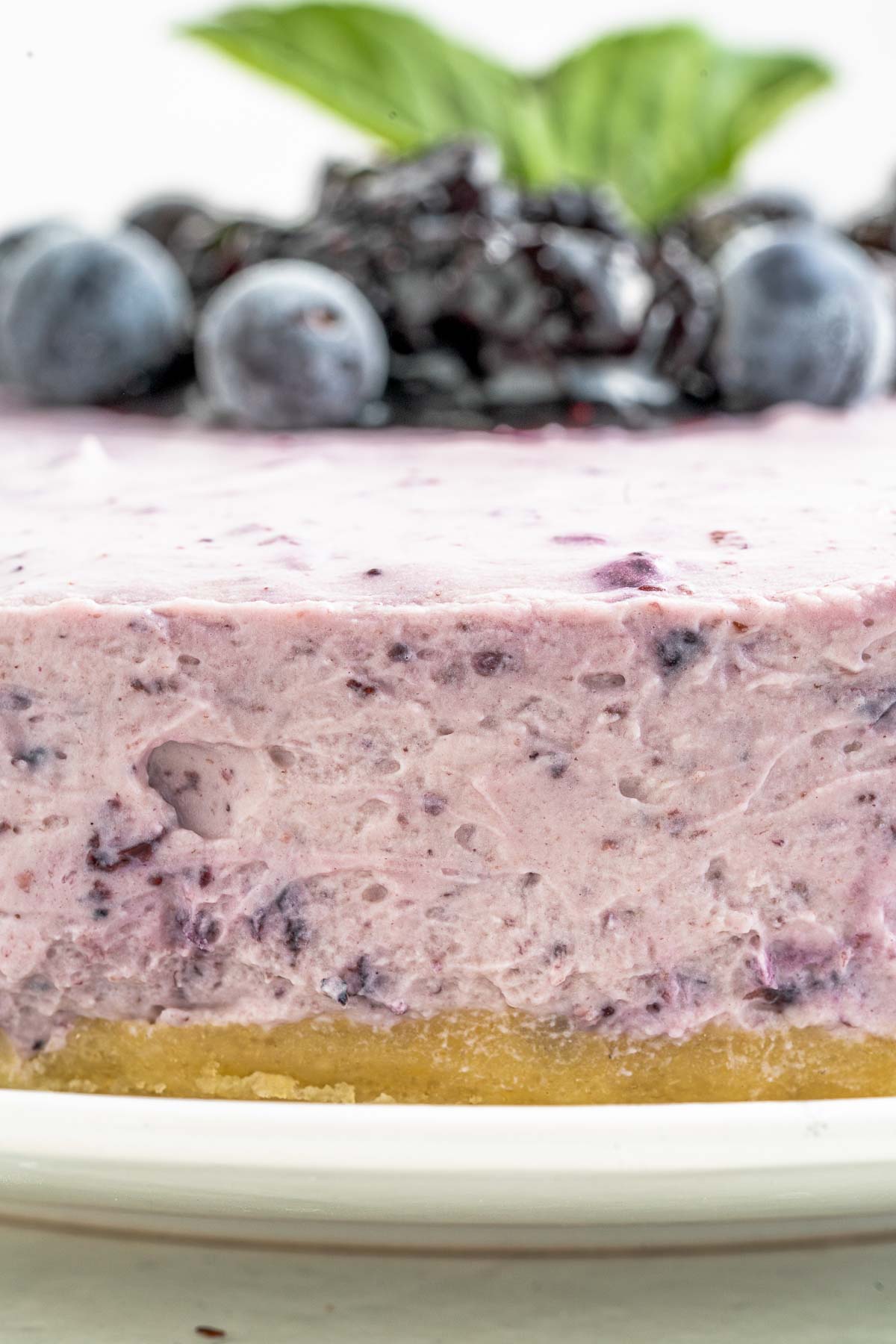 Why is my cheesecake not setting?
As this recipe isn't baked, it needs to be left to set and firm up in the refrigerator, where it should be left for at least 7 hours, though overnight would be better.
Can this recipe be frozen?
Yes, providing you freeze within 2 days, this cake can be frozen. Be sure to defrost the cake fully before you enjoy it.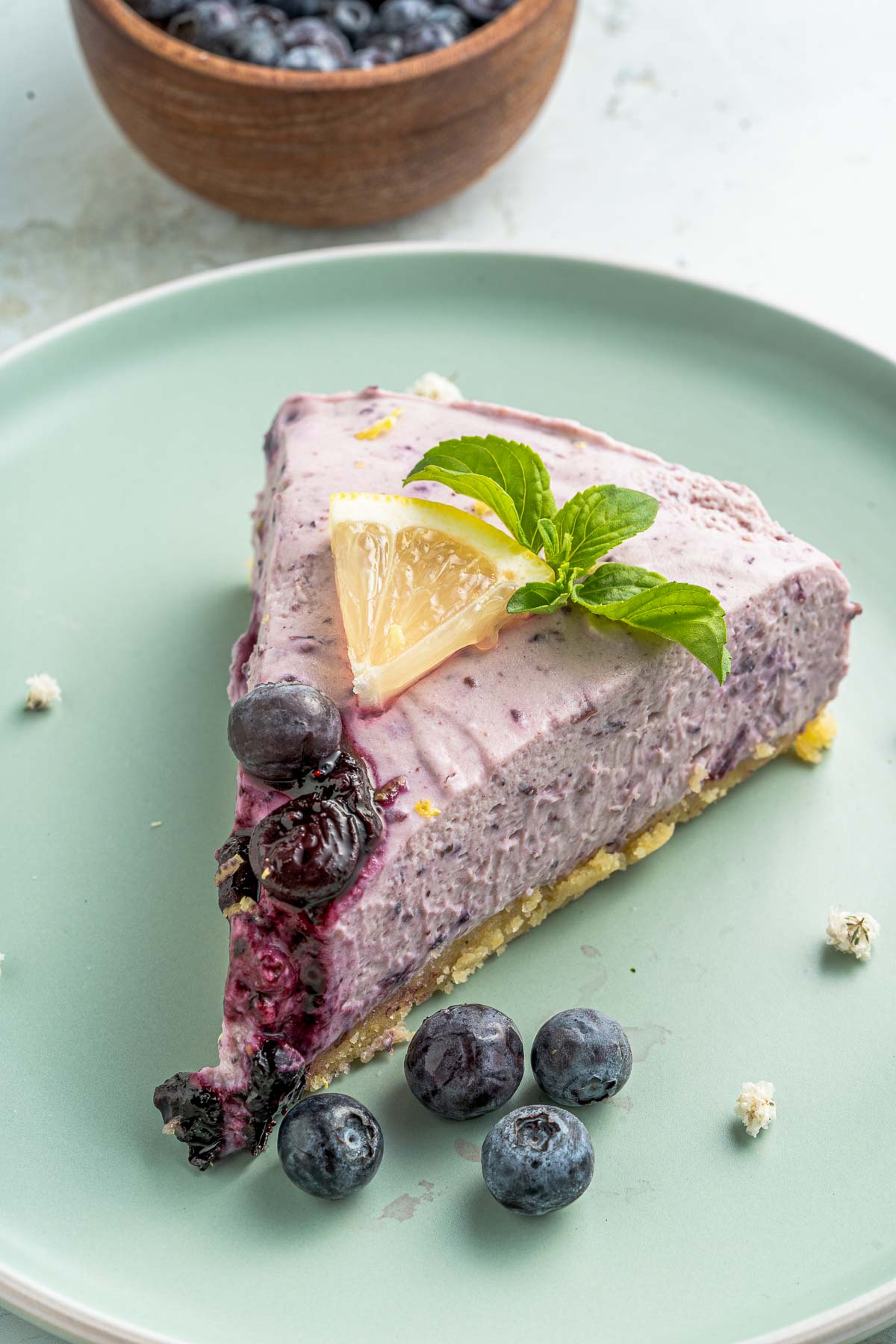 how to store leftovers
If, for some bizarre reason, you still have some cheesecake leftover, you might be wondering what to do with your leftovers. Here are some ideas:
Blend with milk and ice cream for a rich and decadent milkshake
Use in a trifle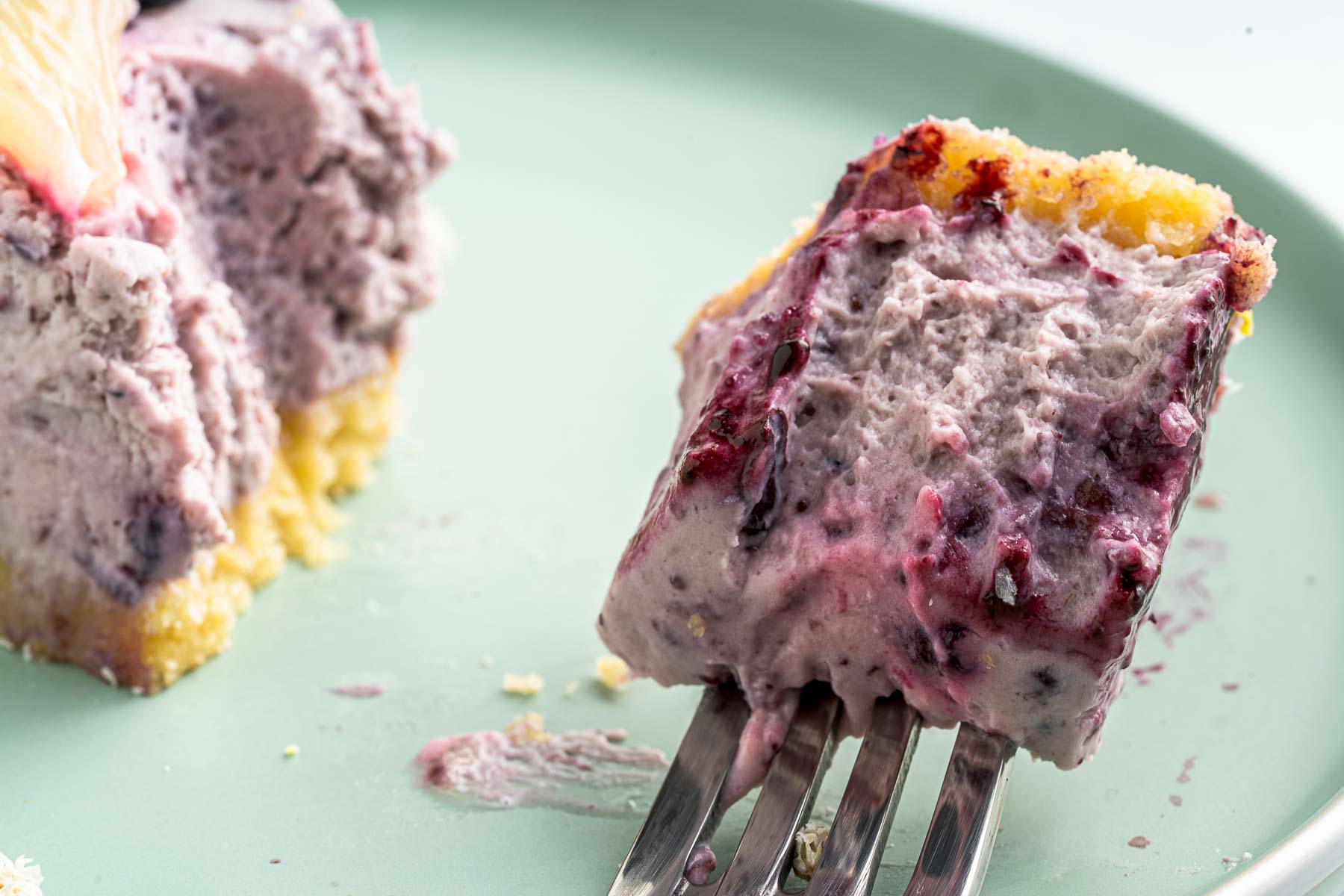 what to serve with cheesecake
This no-bake cheesecake is great when eaten alone, though it also works extremely well with vanilla ice cream, or frozen yogurt.
The tartness and sweetness of the berries cut through the richness of the ice cream or frozen yoghurt, complimenting each other beautifully.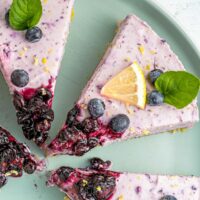 No-Bake Keto Blueberry Cheesecake
No-bake Keto Blueberry Cheesecake is sugar-free and gluten-free, also keto-friendly. This easy recipe has a buttery almond flour crust and a sweet, silky blueberry filling.
Print
Pin
Rate
Ingredients
crust
1½

cup

almond flour

2

tbsp

granulated erythritrol

1

tsp

lemon zest

2

oz

unsalted butter

softened
filling
16

oz

cream cheese

at room temperature

1

cup

heavy cream

cold

½

cup

powdered erythritrol

1

tsp

vanilla extract

2

tbsp

cold water

2

tsp

gelatin powder
blueberry sauce
1

cup

blueberries

fresh or frozen

2

tbsp

powdered erythritrol

2

tbsp

lemon juice

2

tbsp

water
topping
1

cup

fresh blueberries

¼

cup

water

1

tbsp

powdered erythritrol
garnishes (optional)
berries

mint leaves

lemon wedges
Instructions
crust
Take an 8'' springform pan, and place parchment paper. Tip: use parchment paper larger than the base, so you can pull/maneuver the cheesecake later.

Add all the crust ingredients (except butter) to a bowl. Stir until combined. Then add softened butter. Use your hand to combine ingredients. The result should be a soft dough.

Place crust mixture inside the prepared pan and press it down evenly. Refrigerate while making the filling.
blueberry sauce
If you're using frozen blueberries, thaw them first.

Crush blueberries with a spoon so they release their juice. Place sauce ingredients into a small saucepan on medium heat. Remove from heat once ingredients are well-combined and the liquid has evaporated. Let the mixture cool to room temperature.
filling
Next, use an electric mixer to mix cream cheese. Once creamy, add powdered erythritol, lemon juice, and vanilla extract. This step will be more straightforward if the cream cheese is at room temperature. Once the blueberry sauce has cooled, fold it into the cream cheese bowl and combine. 

Activate the gelatine by mixing 3 tbsp of cold water and 2 tsp of gelatin powder into a small pan. Let it sit for one minute so the gelatine hydrates. Then, place it over medium heat until gelatin dissolves in water; it only needs five to ten seconds. Next, let it cool to room temperature for a minute. Then, combine it with the cream cheese mixture. Note: the gelatine will solidify after a couple of minutes. If that happens, it won't work, and you'll need to repeat the gelatin process.

In a different bowl, beat heavy cream into soft peaks. Note: for the heavy cream to whip, it must be cold. Next, use a spatula to incorporate whipped cream into the cream cheese mixture.

Pour the filling on top of the crust, and use a spatula to cover evenly. Refrigerate for at least 4 hours for the cheesecake to harden.
topping
You can make the blueberry topping before serving. Put all ingredients in a saucepan over medium heat, without stirring, until it turns into a light jam. Add sweetener if desired.
un-molding
To un-mold, make sure the cheesecake is firm.

First, open and take out the ring. As you have parchment paper under the crust, it's easy to grab it from its edges, lift and transfer it onto a large plate. Place one hand in the center of the bottom and a pancake turner on the sides, so it doesn't crack.

Before serving, garnish the cheesecake with the blueberry topping. Next, add fresh berries or mint leaves. Finally, divide the cheesecake into slices and enjoy.
Notes
Tips
If you only got granulated erythritol, turn it into powder by blending it in a high-speed blender for a couple of minutes.
You can replace powdered erythritol with powdered sugar or powdered monk fruit in the exact amounts.
Keep leftovers in an airtight container in the fridge for 3-5 days.
Nutrition
Calories:
496
kcal
|
Carbohydrates:
14
g
|
Protein:
10
g
|
Fat:
47
g
|
Saturated Fat:
23
g
|
Polyunsaturated Fat:
2
g
|
Monounsaturated Fat:
9
g
|
Trans Fat:
1
g
|
Cholesterol:
106
mg
|
Sodium:
190
mg
|
Potassium:
138
mg
|
Fiber:
3
g
|
Sugar:
8
g
|
Vitamin A:
1396
IU
|
Vitamin C:
6
mg
|
Calcium:
124
mg
|
Iron:
1
mg