Keto air fryer meatballs are so simple and easy to make, especially when you're in a rush or meal prepping.
There's also no eggs in this recipe, making it less messy and even faster to make!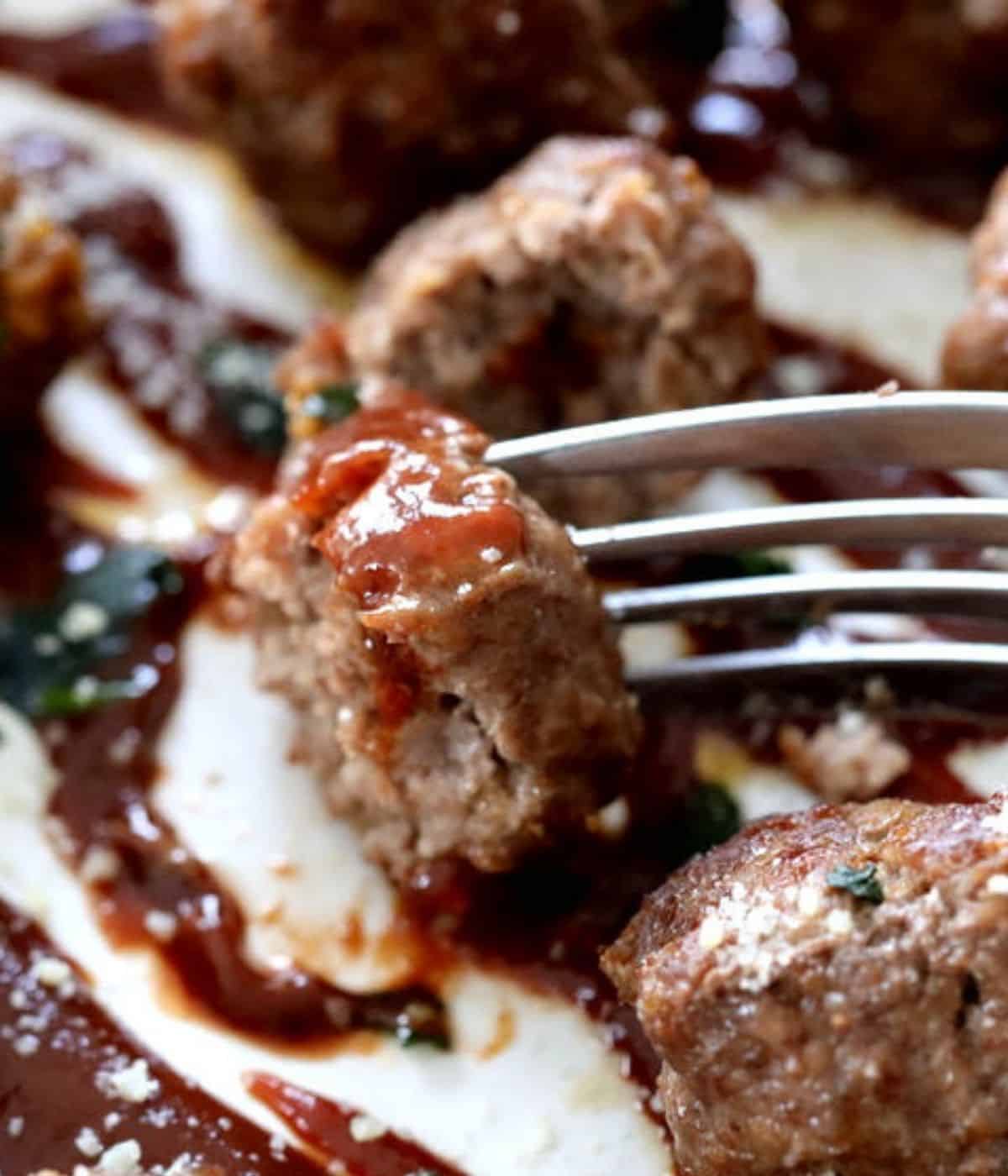 What are the best meatball seasonings?
The three BEST meatball flavors are: cajun, garlic or plain with pork rinds.
I like to add a couple of tablespoons of Tony's Creole Seasoning to my meatballs. If you don't have cajun seasoning on-hand, here's a homemade mix:
For cajun meatballs, combine:
3 tablespoons paprika or smoked paprika
1/2 tsp salt
1 tbsp ground black pepper
1 tablespoon thyme
1 tablespoon garlic powder
1 tablespoon ground cayenne pepper
1 tablespoon dried oregano
For garlic meatballs,
2 tbsp garlic powder or 2 cloves fresh garlic, minced
For plain with pork rinds:
simply mix original flavored pork rinds with your ground beef, or, use bbq flavor rinds
What can I substitute for ground beef?
Instead of ground beef, you may substitute for ground turkey, chicken or pork.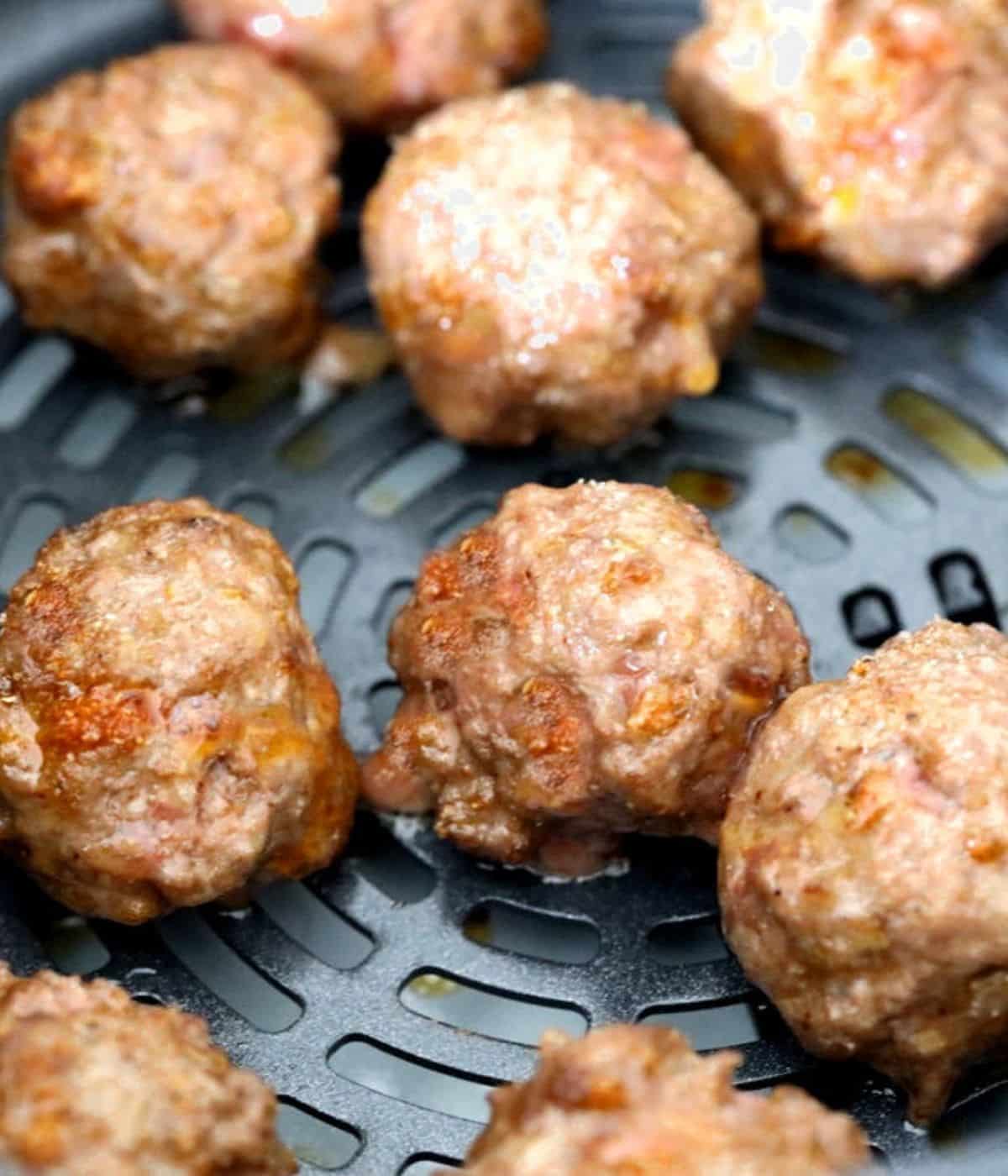 What can I substitute for pork rinds?
You can use low carb or zero carb bread crumbs in place of pork rinds.
What can I serve with air fryer meatballs?
I prefer to have low carb meatballs with a side salad, but you can serve them with these scrumptious options:
Served over a bed of buttery zucchini spirals
With a side of cauliflower rice
On a bed of greens, like spinach or arugula
With your favorite veggies, like carrots or celery
With low carb buttery garlic bread
What sauce can I add to keto meatballs?
These meatballs make a great keto appetizer, but I also love them with:
sugar-free sweet chili sauce
sugar free bbq sauce
Hot sauce and ranch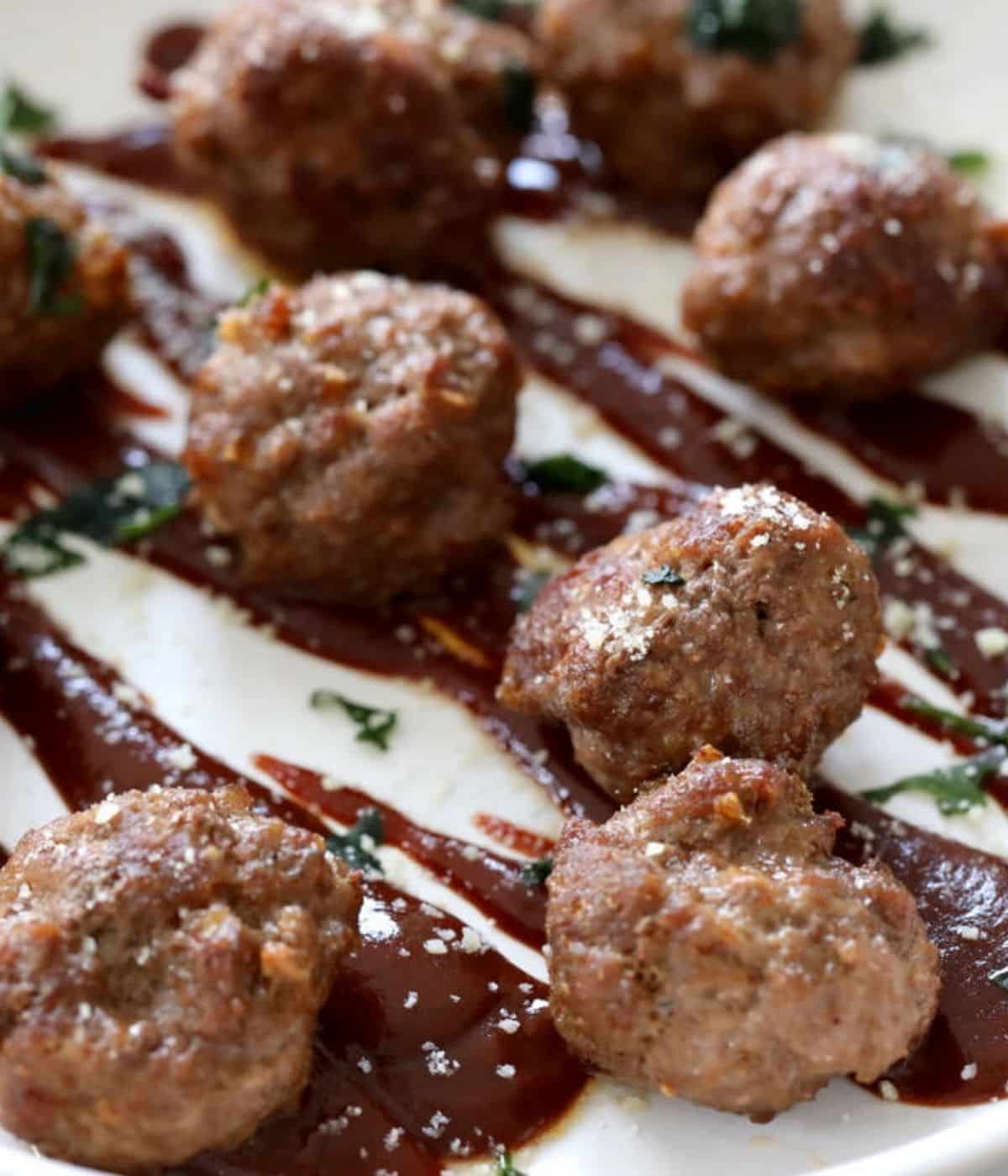 How many calories do meatballs have?
One cup of meatballs has about 284 calories typically.
To cut back on calories, I've used lean ground beef for this recipe and omitted bread crumbs.
How many meatballs can I make with 1 pound of ground beef?
This recipe yields 17-18 small meatballs or 10-12 large meatballs.
How many carbs do meatballs have?
Generally, there are about 13 carbs per cup of meatballs.
Not a whole lot, but cutting the breading out definitely reduces carb count.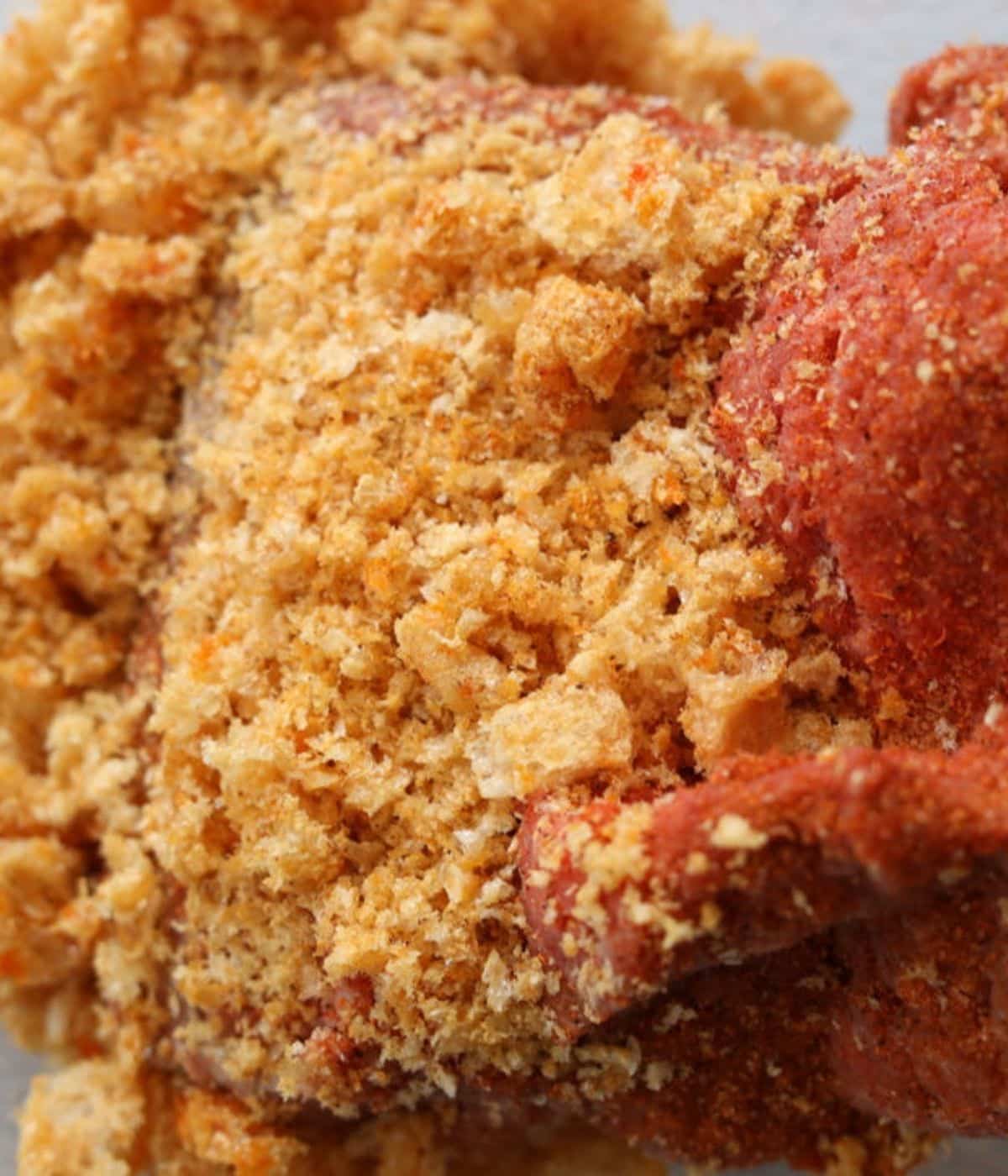 How do I make eggless low carb/keto meatballs in the air fryer?
This recipe is made keto because there's no added breading to the meatballs.
Instead of breading, you'll be mashing pork rinds and adding those to your lean ground hamburger beef.
First, mix the pork rinds and hamburger with your hands and add in your favorite seasonings.
Then, make 17-18 meatballs by rolling the ground beef between your hands.
Finally, add to the air fryer and cook on 375°F for 7 minutes, flip and repeat until brown.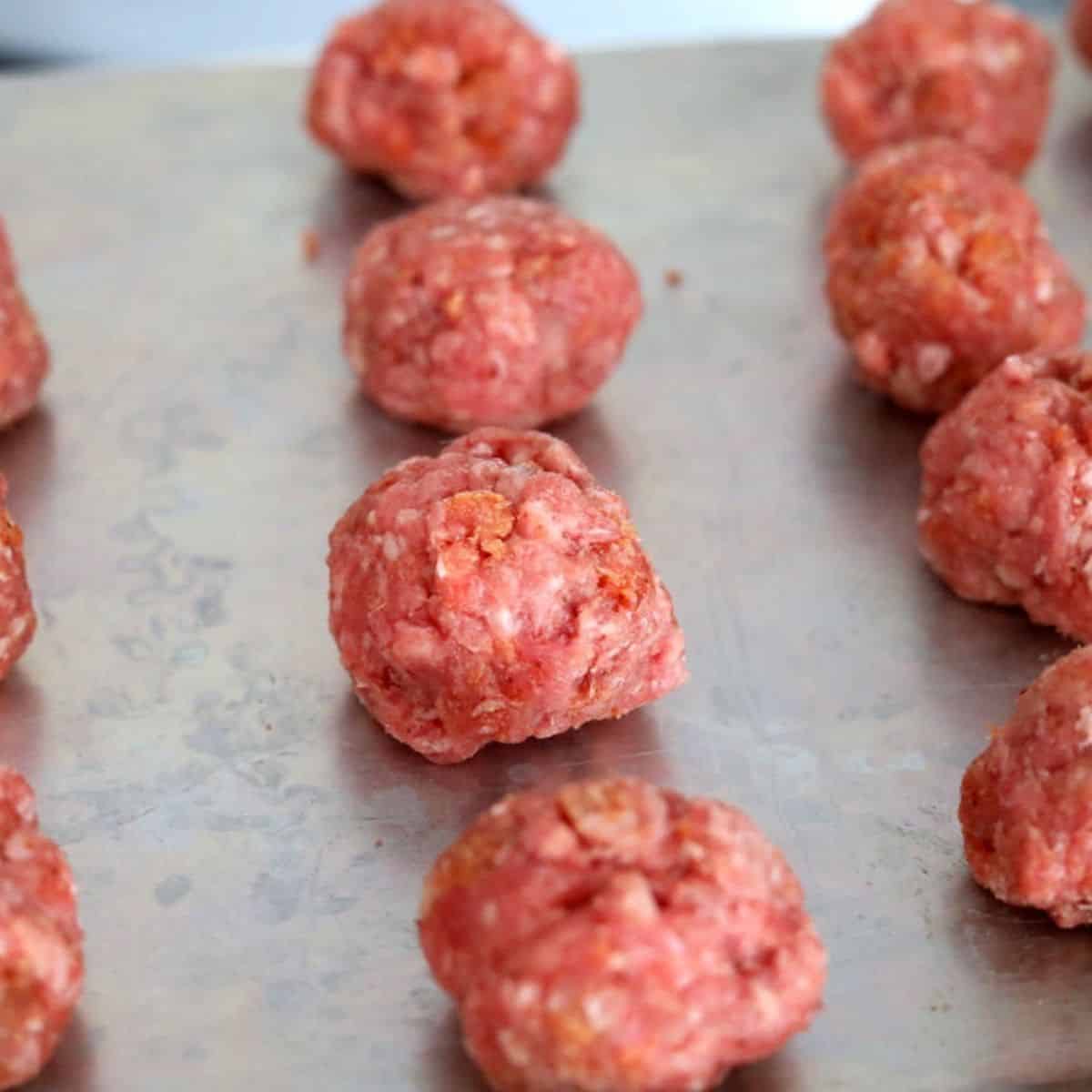 How do I make low carb meatballs in the oven?
First, add meatballs your oven at 400°F.
Next, place the meatballs arranged in a single layer on a non-stick baking sheet or parchment paper. Reduce to 375°F.
Then, cook the meatballs for 15-18 minutes or until crisp/brown and the center reaches 165°F.
How can I use leftover meatballs?
Leftover meatballs are great on top of a nice salad or veggie snack tray.
And, If you're on a low carb diet, add them to low carb bun for a meatball sub with mozzarella cheese and sugar free tomato sauce.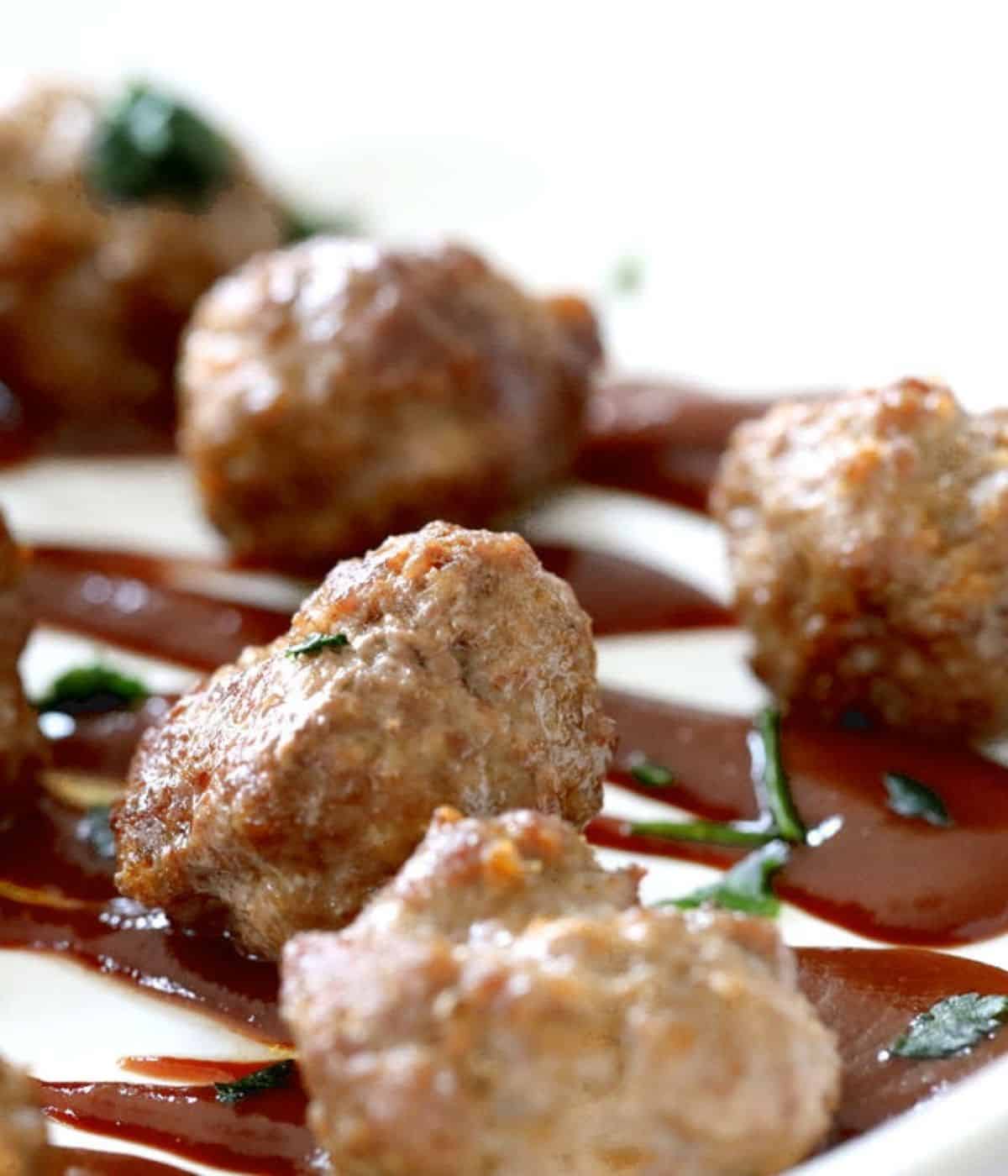 Can I freeze meatballs?
Yes, keep meatballs in a zipped freezer bag for up to 2 months in the freezer.
Hold long will low carb meatballs keep in the fridge?
These meatballs are good up to three days in the refrigerator, stored in a zippered bag.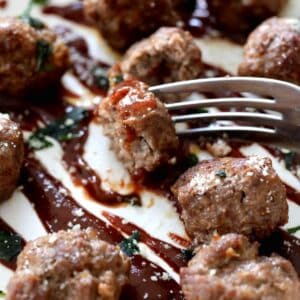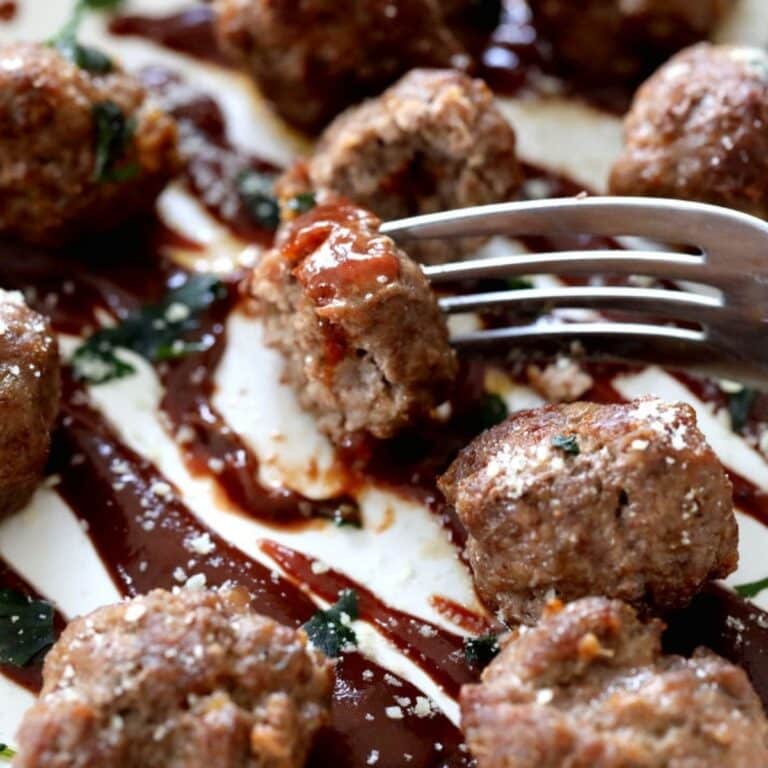 Easy Keto Air Fryer Meatballs (3 ways!)
Delicious keto meatballs made with only two main ingredients; flavor them as you'd like, or with your favorite garlic or cajun seasonings!
Print
Pin
Rate
Instructions
Preheat air fryer to 375°F for 5 minutes.

In a large bowl, combine ground beef and pork rinds.

With hands, roll meat into quarter-sized meatballs. Add, in one layer, to the air fryer.

Air fry for 7 minutes, flip and repeat.
Notes
For cajun meatballs, combine:
3 tablespoons paprika or smoked paprika
1/2 tsp salt
1 tablespoon ground black pepper
1 tablespoon thyme
1 tablespoon garlic powder
1 tablespoon ground cayenne pepper
1 tablespoon dried oregano
*****or cajun seasoning, like Tony's*****
For garlic meatballs, 
2 tbsp garlic powder or 2 cloves fresh garlic, minced
Nutrition
Calories:
193
kcal
|
Protein:
29
g
|
Fat:
8
g
|
Saturated Fat:
3
g
|
Trans Fat:
1
g
|
Cholesterol:
77
mg
|
Sodium:
204
mg
|
Potassium:
392
mg
|
Vitamin A:
4
IU
|
Vitamin C:
1
mg
|
Calcium:
12
mg
|
Iron:
3
mg