Sweet, decadent, and moist inside, these keto brownies are the most delicious sugar-free dessert. These thick, fudgy brownies are made with almond flour and 100% keto friendly.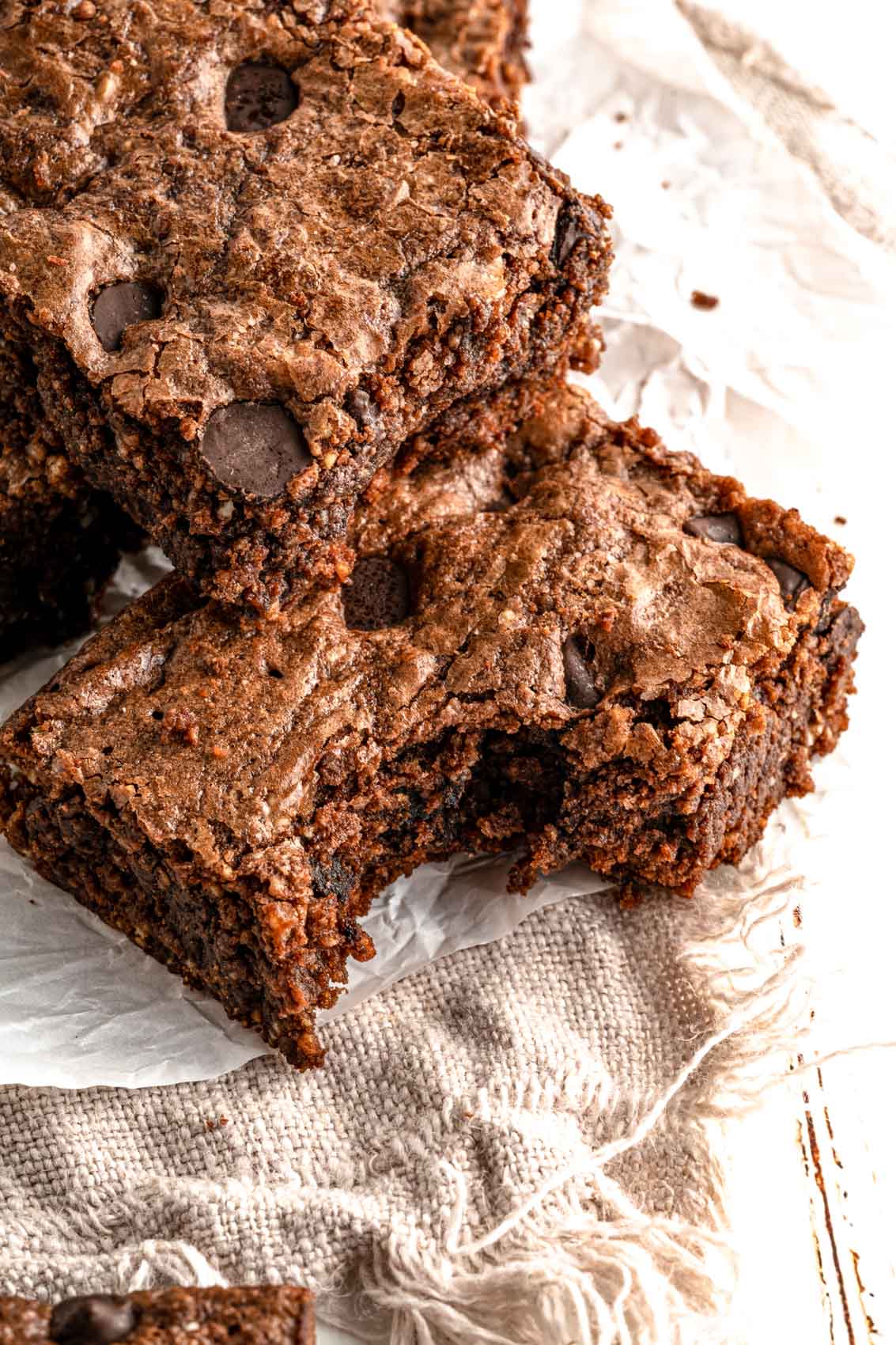 gooey sugar free brownies
Brownies are delicious, make no mistake. They are also very easy to make if you have the right recipe.
You can easily make brownies sugar-free, and that's what makes brownies so special- they're versatile. Even if you follow a keto lifestyle, you still always enjoy the rich, chocolaty flavor and fudgy texture of a brownie. 
Now a traditional brownie is made from all-purpose flour. But this recipe we are sharing today uses almond flour because of its rich, nutty flavor.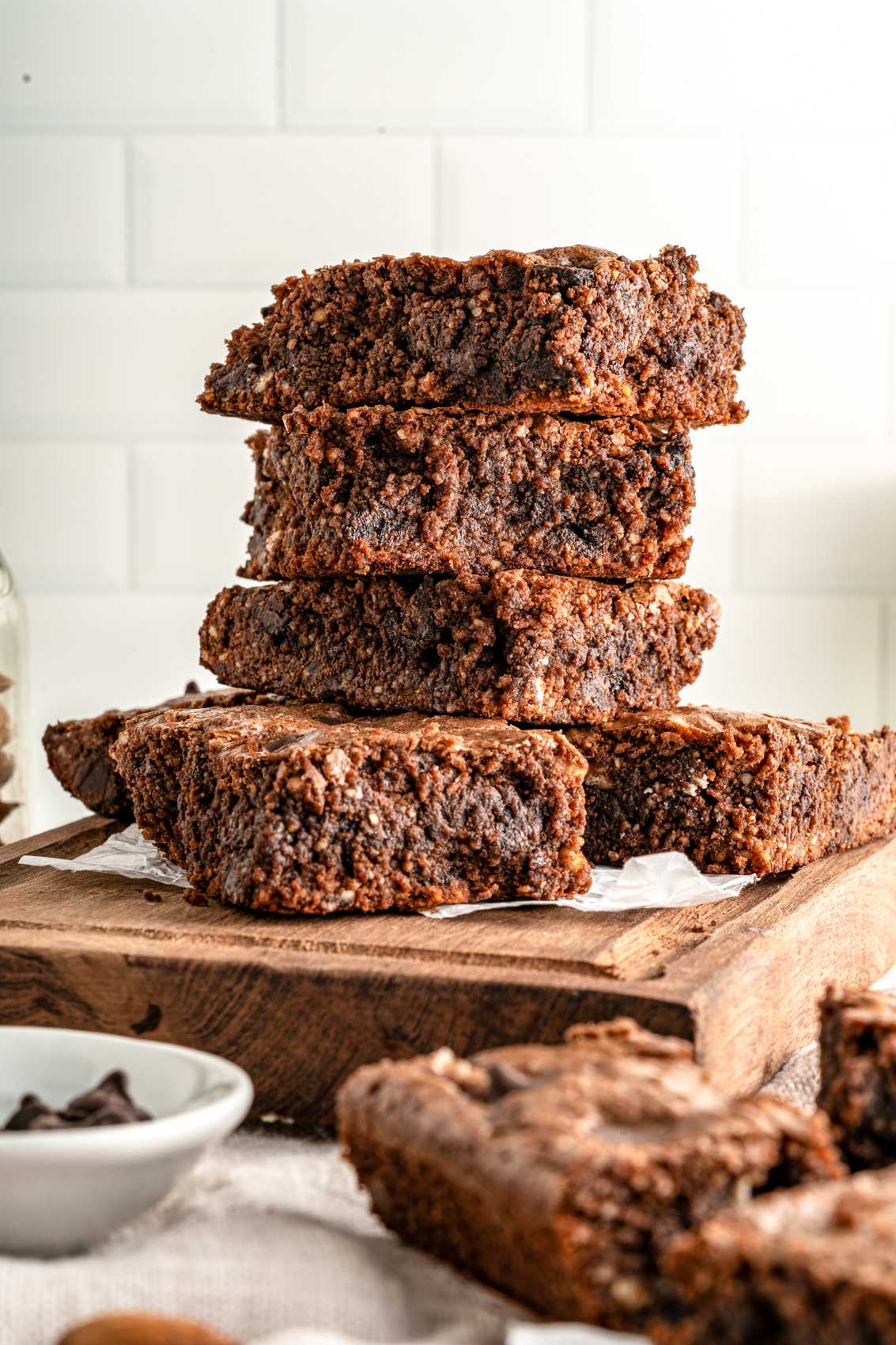 keto brownies vs. traditional
If you are wondering why you should follow this Almond Flour Chocolate Brownies recipe vs. traditional recipe, here are a few reasons that will convince you to follow this recipe:
First of all, the brownies made by following this recipe are super moist. You won't know the difference!
They taste just like your regular brownie. The flavor, the texture, everything is the same. These almond flour brownies are so fudgy and delicious that you can't stop eating them.
These brownies are both gluten-free and have almost no sugar content, thus making them healthy brownies. 
The sweetness comes from granulated monk fruit, and no white sugar is used. Thus making them officially sugar-free brownies.
Lastly, they are super easy to make! You can make them in large batches and enjoy them as a dessert or a snack.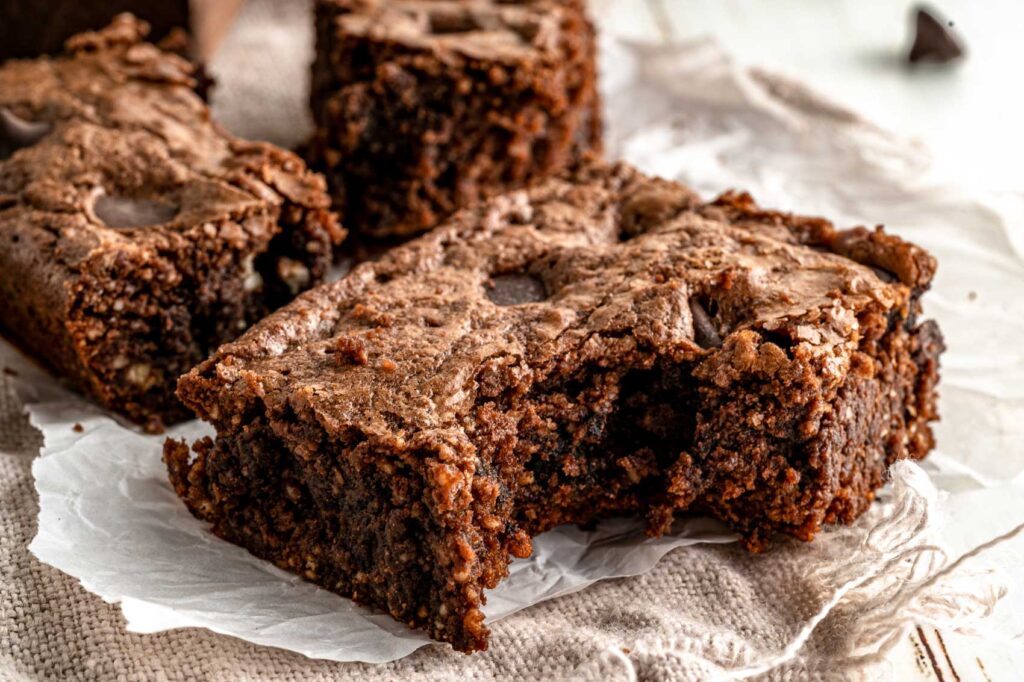 almond flour vs. regular flour
There are so many reasons you should use almond flour instead of regular flour when making brownies. These are:
Firstly, almond flour is rich in antioxidants that protect the body against free radicals. As a result, they protect the body against chronic diseases.
Almond flour is also rich in minerals like iron, calcium, and especially magnesium which regulate sugar levels blood and regulate cholesterol levels.
This flour is abundant in monounsaturated fat, which protects heart health.
almond flour is rich in dietary fiber, thus allowing the digestive system to work efficiently. 
It is rich in vitamin E, which lowers the risks of cognitive diseases.
As compared to regular flour, almond flour is nutrient-dense and low in carbohydrates. This makes it an excellent choice for a keto-friendly diet. Moreover, it also has less sugar than regular flour. 
ingredients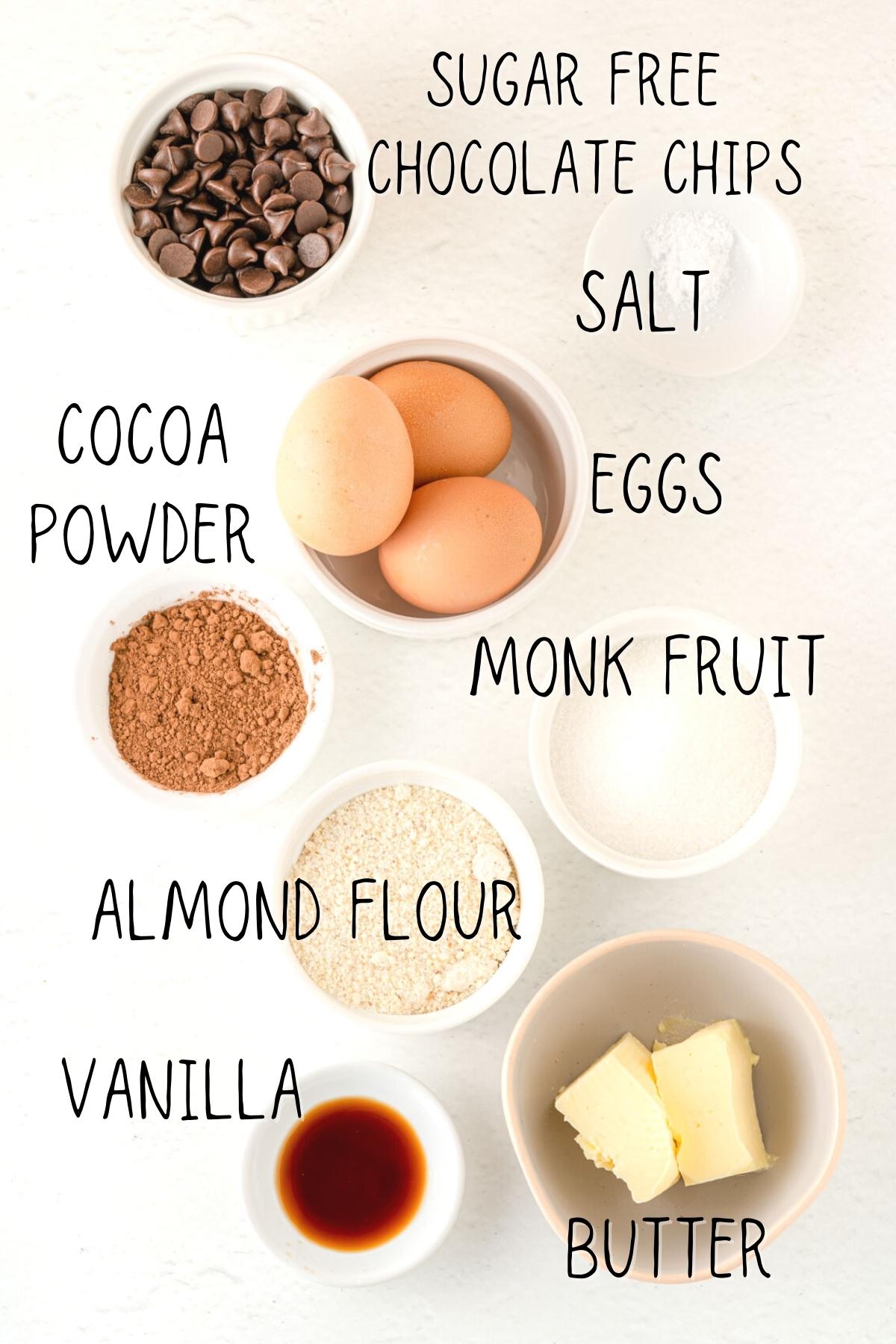 how to make keto brownies
For this recipe, you'll need a stand mixer or hand mixer and a 13×9 inch baking dish.
Before you begin, I recommend lining your baking dish with parchment paper and pre-heating your oven to 350F.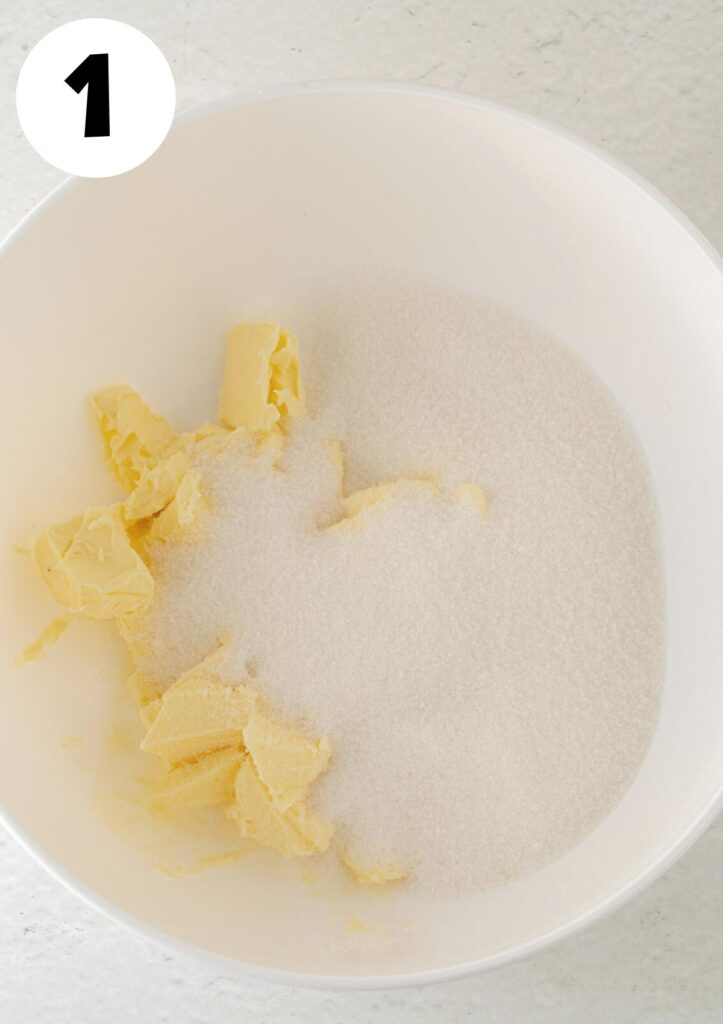 tips for making keto brownies
Here are a few tips that will give you the best results for sugar-free, keto brownies.
Make sure you use softened butter for this recipe. 
The eggs should be at room temperature.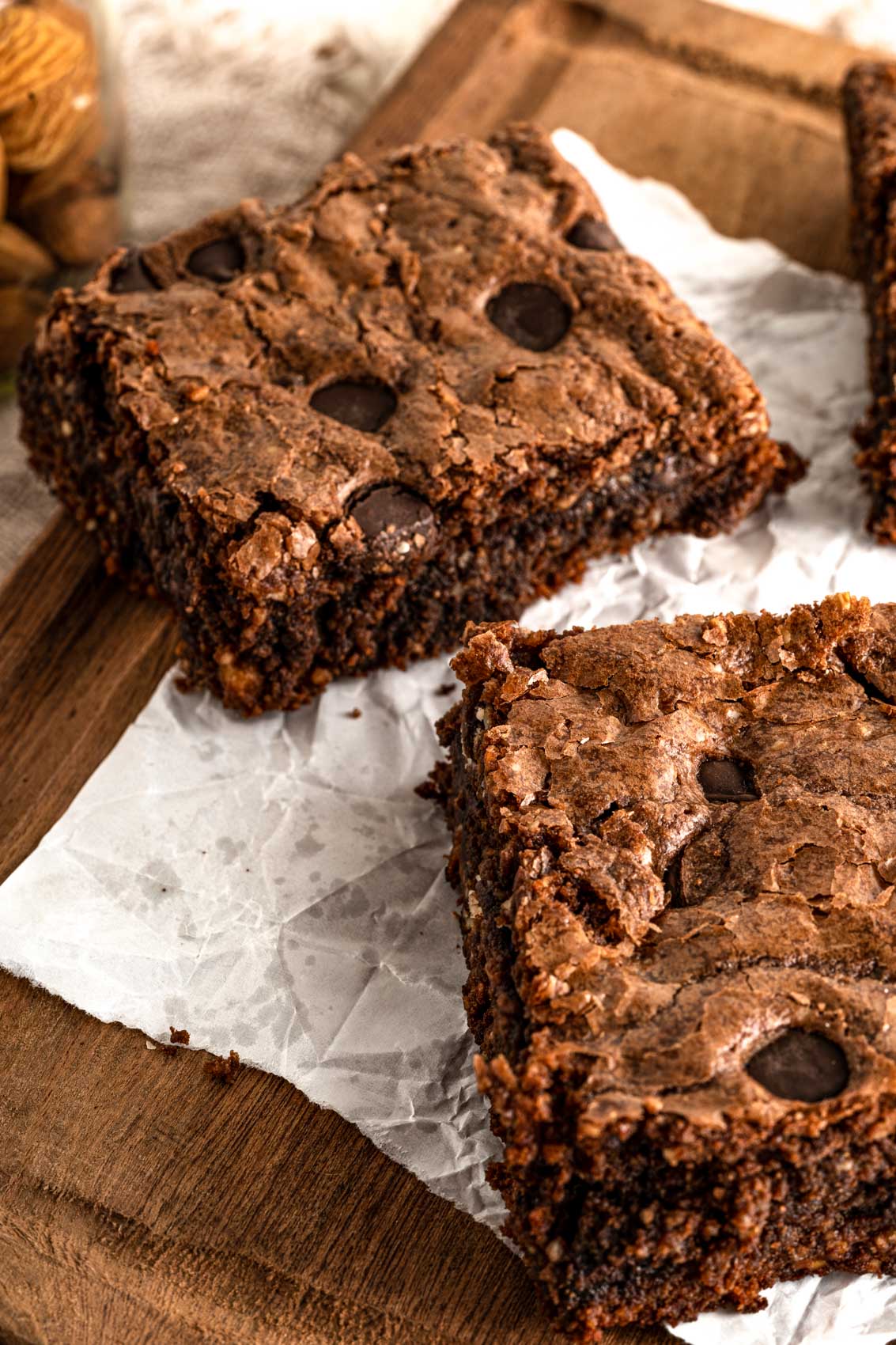 FAQ
how to tell when brownies are done
You'll want to remove these brownies just before they finish baking, at about 25 minutes. A toothpick won't come out completely clean, due to the chocolate chips and texture.
You should see some cracking on top when they're ready to remove from the oven.
substitutions
You can use almond extract or peppermint extracts instead of vanilla extracts.
If you can't find granulated monk fruit, you can use erythritrol sweetener.
For more texture and flavor, add chopped nuts like walnuts or pecans to the brownie mixture.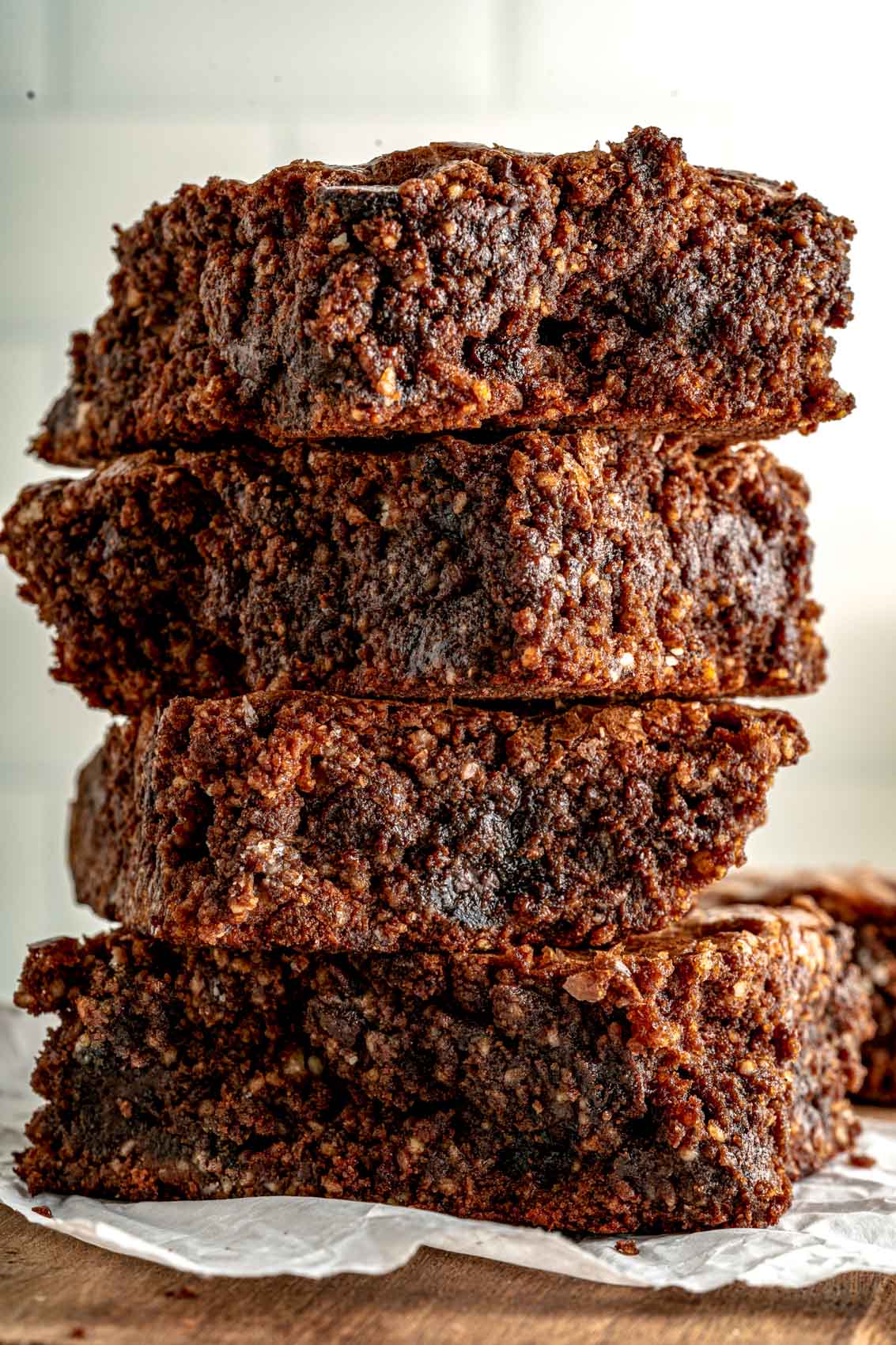 leftovers
Once the brownies reach room temperature, cut them into squares and place them at room temperature in a cool, dry place. Make sure you place them either in an air-tight container or wrap them with plastic wrap. They will last for up to 5 days.
Moreover, you can also freeze these brownies. Make them in a large batch. Once they are cool completely, place them in a freezer-safe container and freeze for up to 3 days.
You can enjoy them after they thaw completely.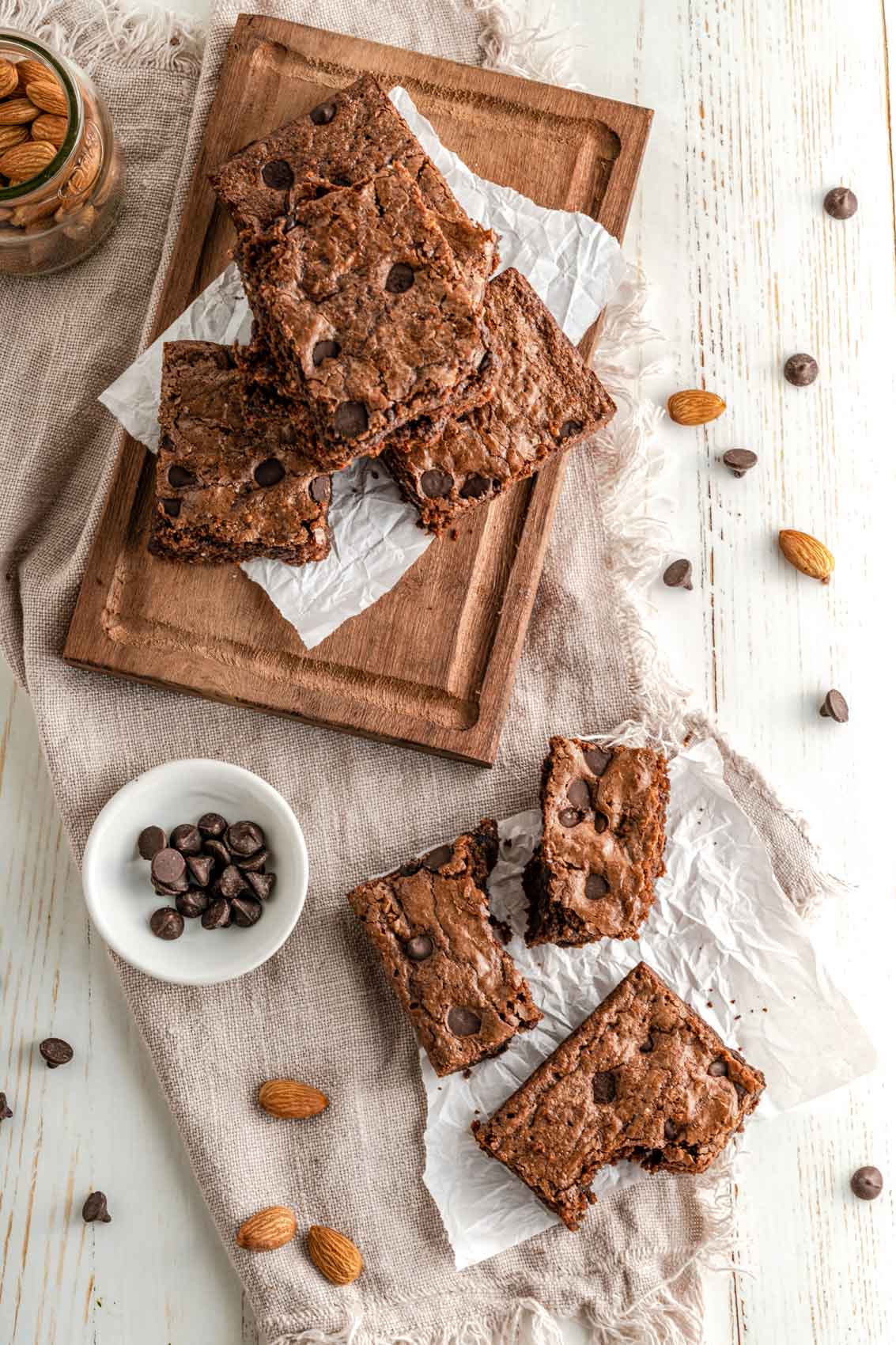 what goes with brownies
Ice cream: You can serve these brownies with your favorite ice cream. You can find several keto ice cream recipes to try as well. A warm brownie and ice cream is a match made in heaven!
Whipped cream: Whipped cream goes well with almost everything. So, you can add extra flavor by topping it with whipped cream. Yum!
Fresh fruits: Serve brownie with fresh fruits and berries and enjoy it for breakfast or snack.
Nuts: You can top the brownie with nuts like walnuts, pecans, or dried fruits like raisins, mulberries, etc.
Chocolate syrup: Drizzle chocolate syrup to indulge in the goodness of eh chocolate.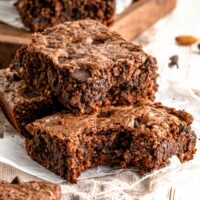 Keto Brownies
Thick, gooey keto brownies made with almond flour, cocoa, and monk fruit sweetener. Healthy, sugar-free and rich recipe for decadent brownies.
Print
Pin
Rate
Ingredients
2

cups

almond flour

¼

cup

cocoa powder

1½

cup

sugar free chocolate chips

3

eggs

1

cup

granulated monk fruit

2

tsp

vanilla extract

½

cup

butter

softened

¼

tsp

salt
Instructions
Preheat the oven to 350F and prepare an 8'' x 13'' baking tray with parchment paper. Set aside.

Combine softened butter with sugar, vanilla extract, and salt in a large bowl. Mix to achieve a creamy consistency.

Melt in the microwave ½ cup of chocolate chips and fold it into the butter mixture. Add cacao powder and stir to combine. Then add one egg at a time until the three of them are incorporated. Next, add the almond flour and mix. Finally, fold in ¾ cup of the chocolate chips (leave ¼ apart to spread them on top of the brownie).

Pour the brownie batter into the prepared baking tray shake it to the sides to expand it evenly. Spread the remaining chocolate chips on top of the brownie.

Bake for 25 minutes, or until the top is set and with some cracks. The toothpick test won't work correctly on this one as the chocolate chips will melt on the inside, providing a confusing result. Usually, the brownie is ready once the center is not jiggly and the top has cracks.

Let the brownie cool completely before unmolding, or ithey may break.
Notes
This brownie is fantastic as it is, but also with some ice cream, whipped cream, and fresh fruits on top.
Optional: add one cup of chopped nuts like pecans or walnuts. It gives an irresistible and crunchy bite.
Nutrition
Calories:
300
kcal
|
Carbohydrates:
13
g
|
Protein:
6
g
|
Fat:
25
g
|
Saturated Fat:
11
g
|
Polyunsaturated Fat:
1
g
|
Monounsaturated Fat:
2
g
|
Trans Fat:
1
g
|
Cholesterol:
61
mg
|
Sodium:
125
mg
|
Potassium:
46
mg
|
Fiber:
4
g
|
Sugar:
1
g
|
Vitamin A:
296
IU
|
Calcium:
50
mg
|
Iron:
2
mg
more sugar-free chocolate desserts…