This sugar-free, keto-friendly hot chocolate recipe creates creamy, rich hot chocolate in less than 10 minutes. A decadent hot chocolate recipe that's suitable for anyone following a low-carb, keto, diabetic, gluten-free, grain-free, diet.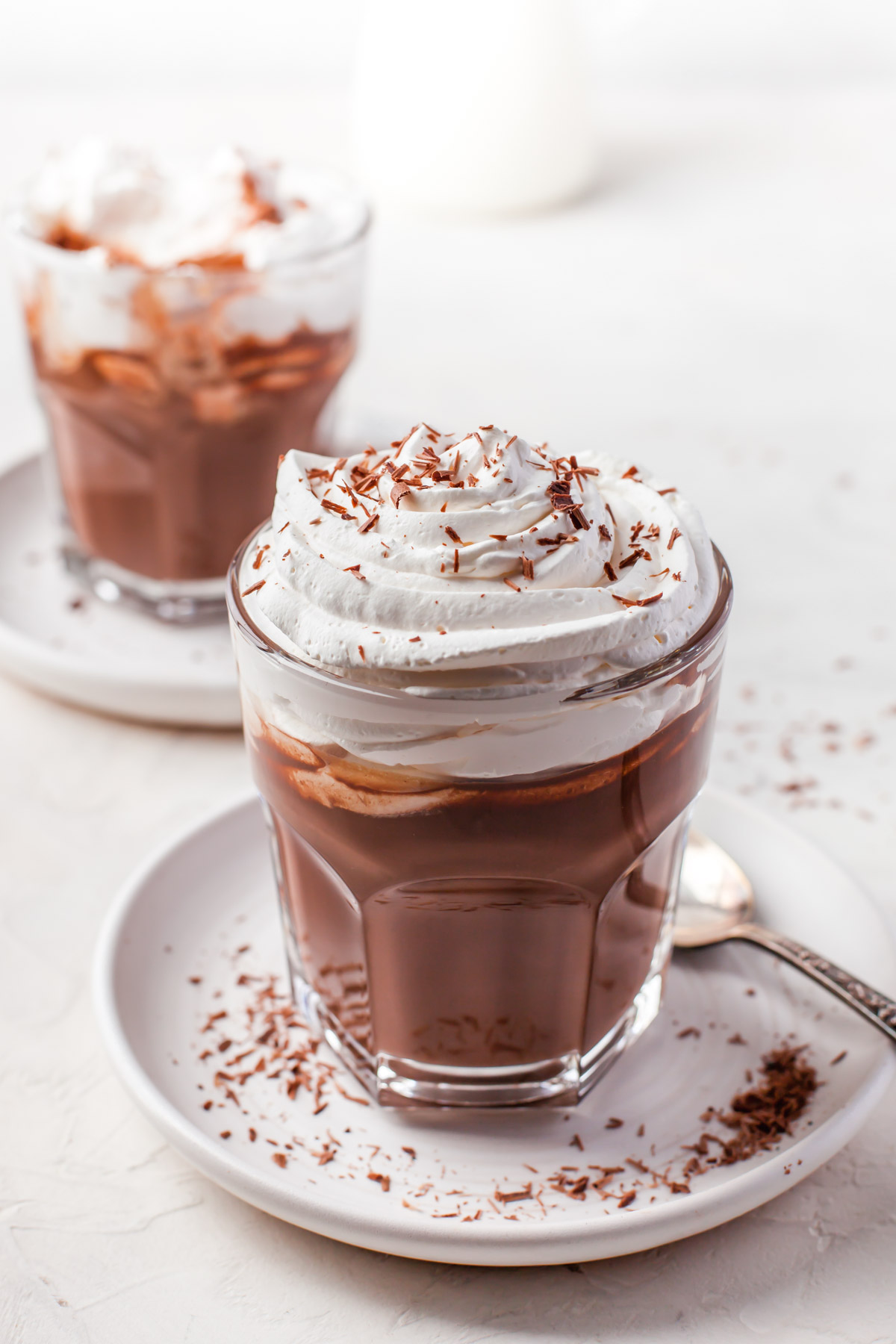 Why you'll love this recipe
Are you looking for a tasty way to stay warm this winter? This hot chocolate is wonderful!
It's bursting with chocolate flavor and has a decadent texture that you won't get in a package.
Best of all, if you follow a low-carb diet, you are likely to have all of the components on hand. If not, they are readily available at practically any grocery shop.
Additionally, this dish takes just a few minutes to prepare. There is no need to wait forever to fulfill your chocolate hunger!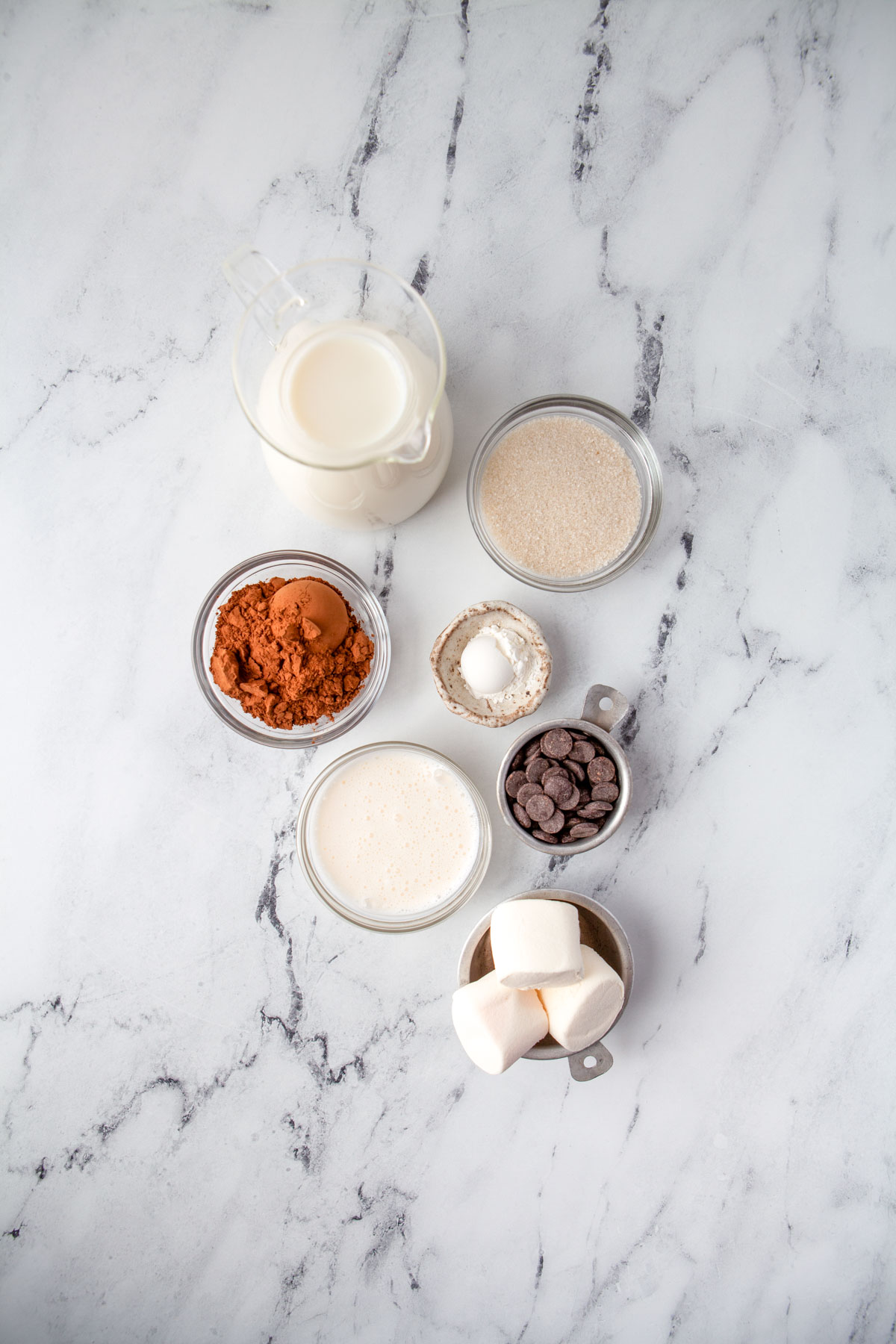 Ingredients
For a serving of 2, you'll need:
unsweetened almond milk
unsweetened cocoa powder
Lily's chocolate chips or any dark chocolate
granulated erythritrol sweetener depending on how sweet you like it
heavy whipping cream 
sugar-free marshmallows (optional)
1 tsp cornstarch (optional, not keto)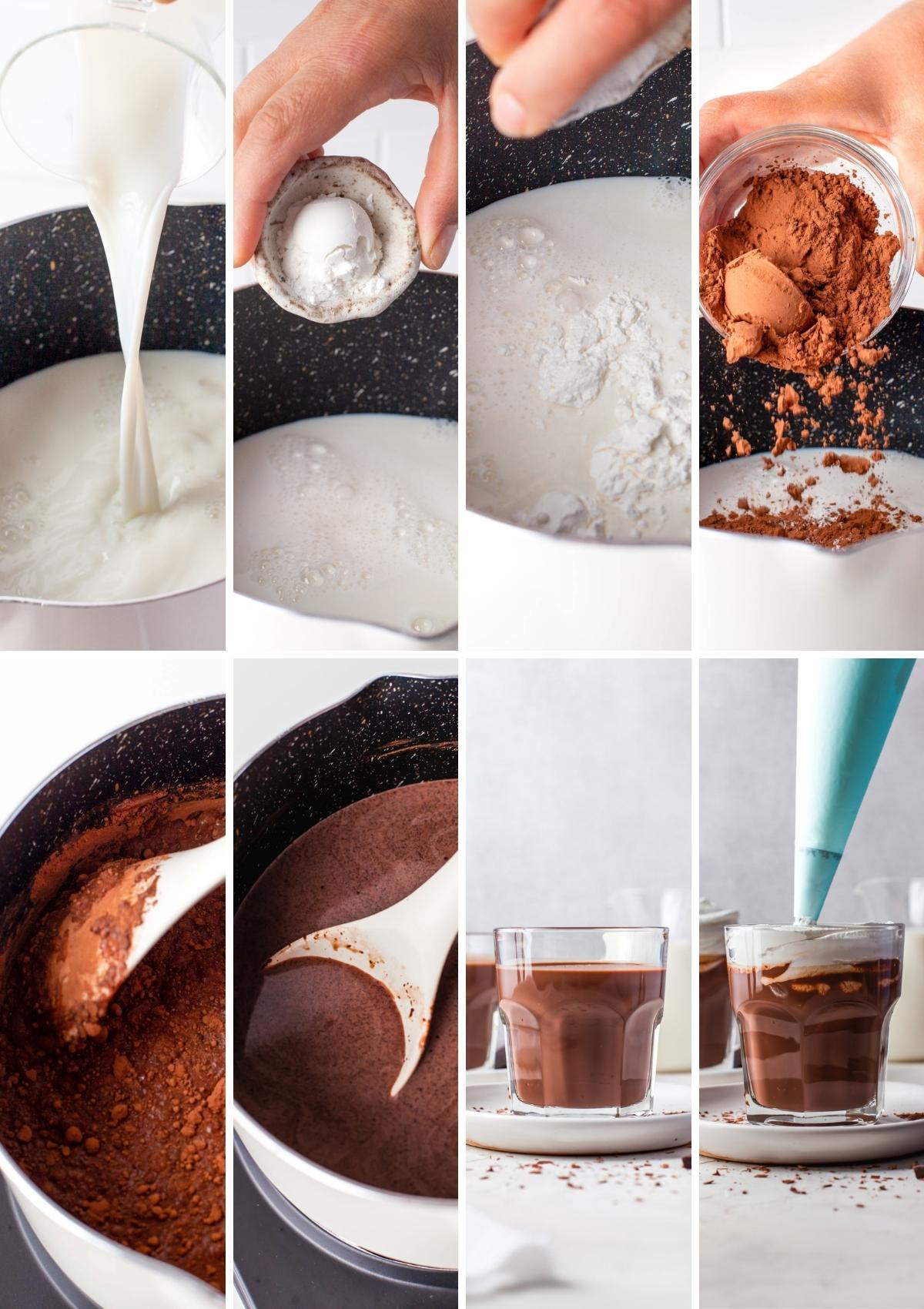 Directions
For this recipe, you'll need a non-stick pot, whisk and a stove top. Here's how to make keto hot chocolate:
In a medium sauce pan, over low heat, add the almond milk, cocoa, chocolate, erythritrol, whipping cream, and cornstarch (optional).
Mix constantly until all the ingredients have dissolved, and you notice the mixture starts to thicken. 
Remove from heat and stir.
Pour into a mug or cup and top with the topping of your choice. 
Enjoy while it's hot!
How do I make this recipe in advance?
Make a large batch of this sugar-free hot cocoa mix in advance by combining the dry ingredients into a large glass jar (Mason-type) with a lid.
Store in a cool, dry pantry (up to 2 months). When ready to use, add to a pot with wet ingredients and cook.
Note: This mix makes a great Christmas present! Tie a festive bow around the top of the jar and attach the recipe.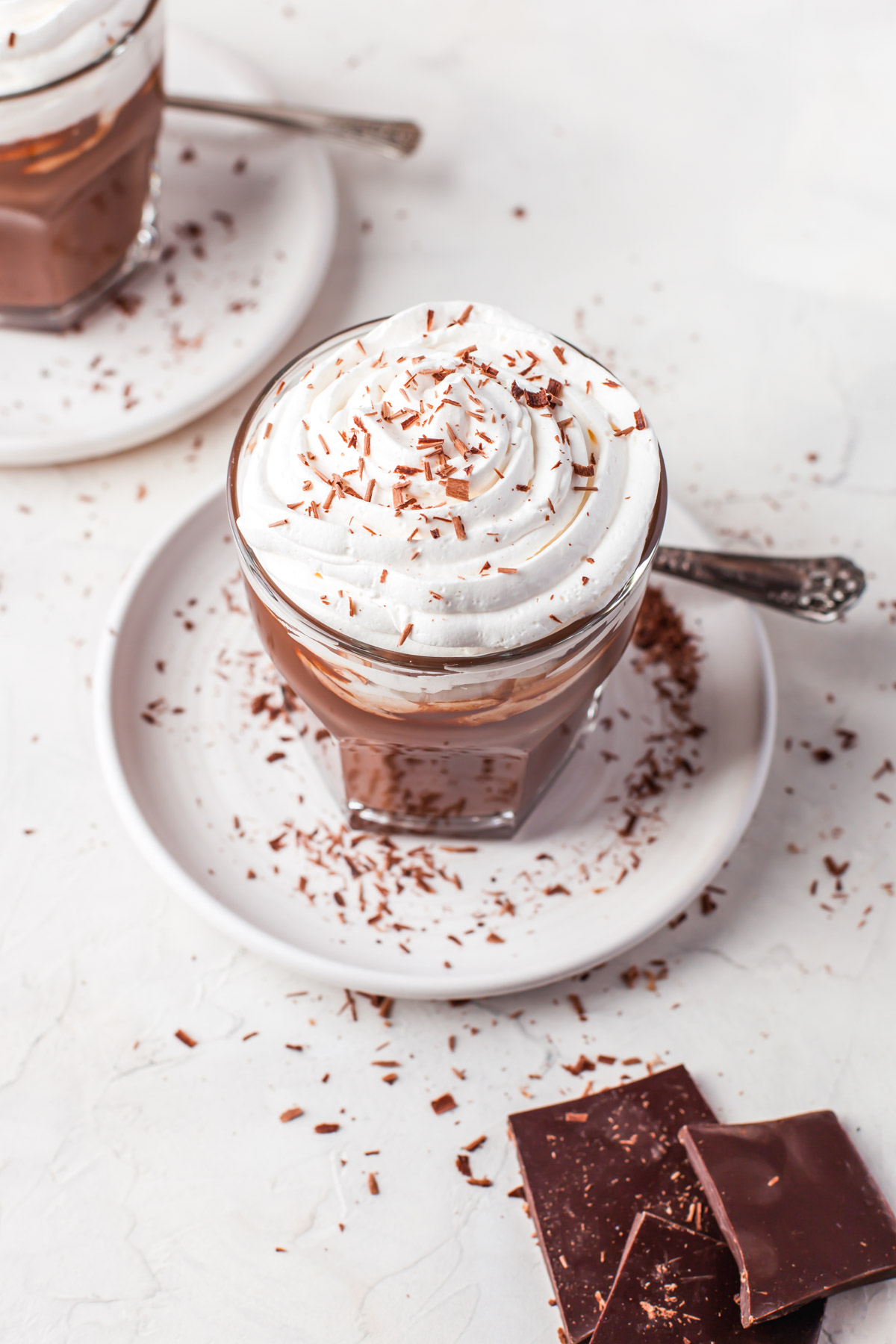 Expert tips
Add the cornstarch at the beginning to make sure it dissolves completely.
Also don't let the chocolate boil or your drink will have a grainy texture.
FAQ
Is cocoa powder ok on keto?
Cocoa powder has 0 added sugar and 1 carb per tsp.
So, it's perfectly fine to enjoy cocoa powder while on a keto diet.
Which chocolates are keto-friendly?
Surprisingly, chocolate may be included into a ketogenic diet.
You may choose a dark chocolate that has at least 70% cocoa solids, ideally more, for a healthier choice.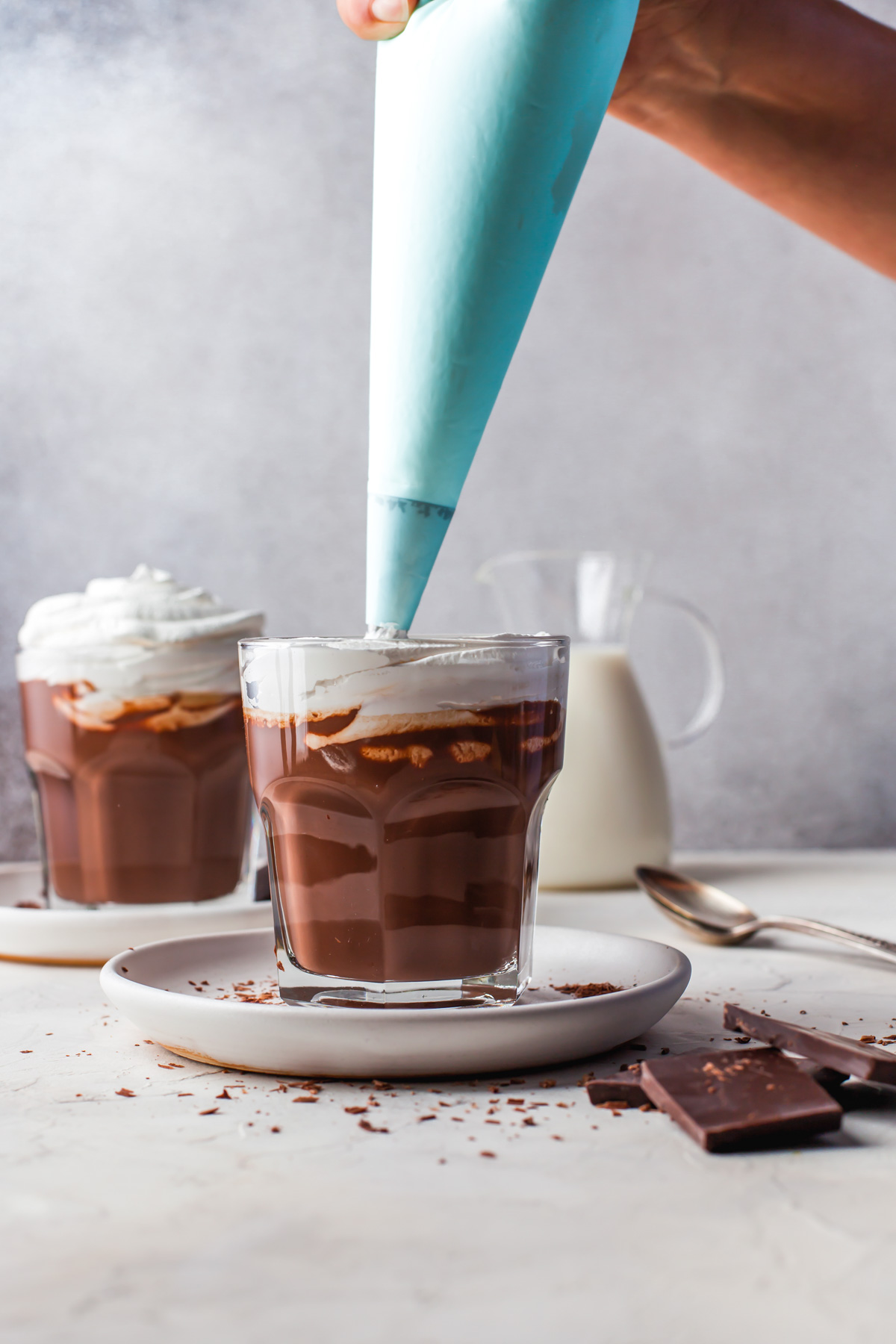 Can I have whipped cream on a keto diet?
Both heavy and whipped cream are keto-friendly, with just under 2 grams of carbohydrates per 1/4 cup.
Many individuals following a ketogenic diet use whipping cream or heavy cream as a sugar-free coffee creamer or to produce keto-friendly delicacies like chocolate mousse.
How to make this recipe unique
To intensify the chocolate flavor, add a quarter tsp of red chili powder (Mexican hot chocolate) or 1/4 tsp instant coffee for a more bold chocolate taste.
How to make it dairy-free
To make this recipe dairy-free, substitute the whipping cream for a dairy-free whipped topping, like whipped coconut cream.
How to store leftovers
If you have leftover hot chocolate, store in an air-tight container in the fridge for up to a day.
Reheat in the microwave until it reaches a desired temperature for serving.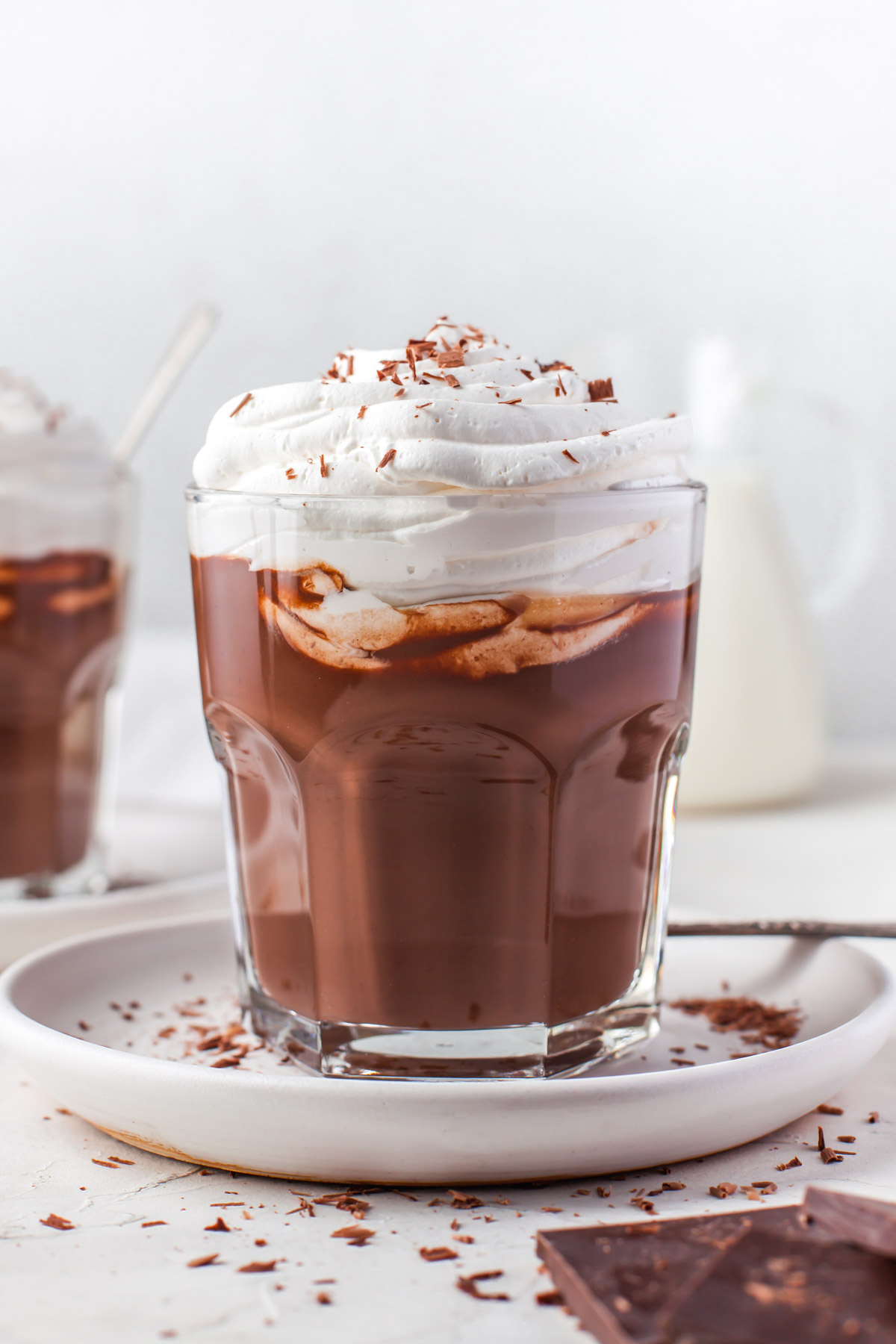 What to serve with hot chocolate
I love chocolate so much, I double it by serving this hot cocoa in a large mug next to delicious keto chocolate truffles or dark chocolate shavings.
The perfect combination of warm, chocolate goodness!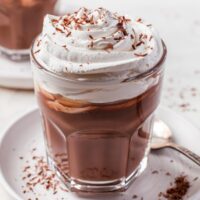 Keto Hot Chocolate
A sugar-free, gluten-free thick hot chocolate recipe. The perfect healthy hot winter drink for keto diets. Top with whipped cream and enjoy!
Print
Pin
Rate
Instructions
Add all ingredients to a medium sauce pan on low heat.

Mix constantly until all the ingredients have dissolved, and you notice the mixture starts to thicken. 

Remove from heat and stir.

Add heavy whipping cream to a bowl and mix until peaks form.

Pour into a mug or cup and top with the topping of your choice. Top with whipped cream.
Notes
For strict keto diets, omit the cornstarch to further reduce carb count. 
Make dry ingredients ahead of time and store in a jar. Leftovers should be refrigerated and reheated the same day.
Nutrition
Serving:
1
cup
|
Calories:
235
kcal
|
Carbohydrates:
14
g
|
Protein:
4
g
|
Fat:
20
g
|
Saturated Fat:
11
g
|
Polyunsaturated Fat:
2
g
|
Monounsaturated Fat:
5
g
|
Cholesterol:
41
mg
|
Sodium:
339
mg
|
Potassium:
175
mg
|
Fiber:
5
g
|
Sugar:
1
g
|
Vitamin A:
441
IU
|
Vitamin C:
1
mg
|
Calcium:
332
mg
|
Iron:
2
mg