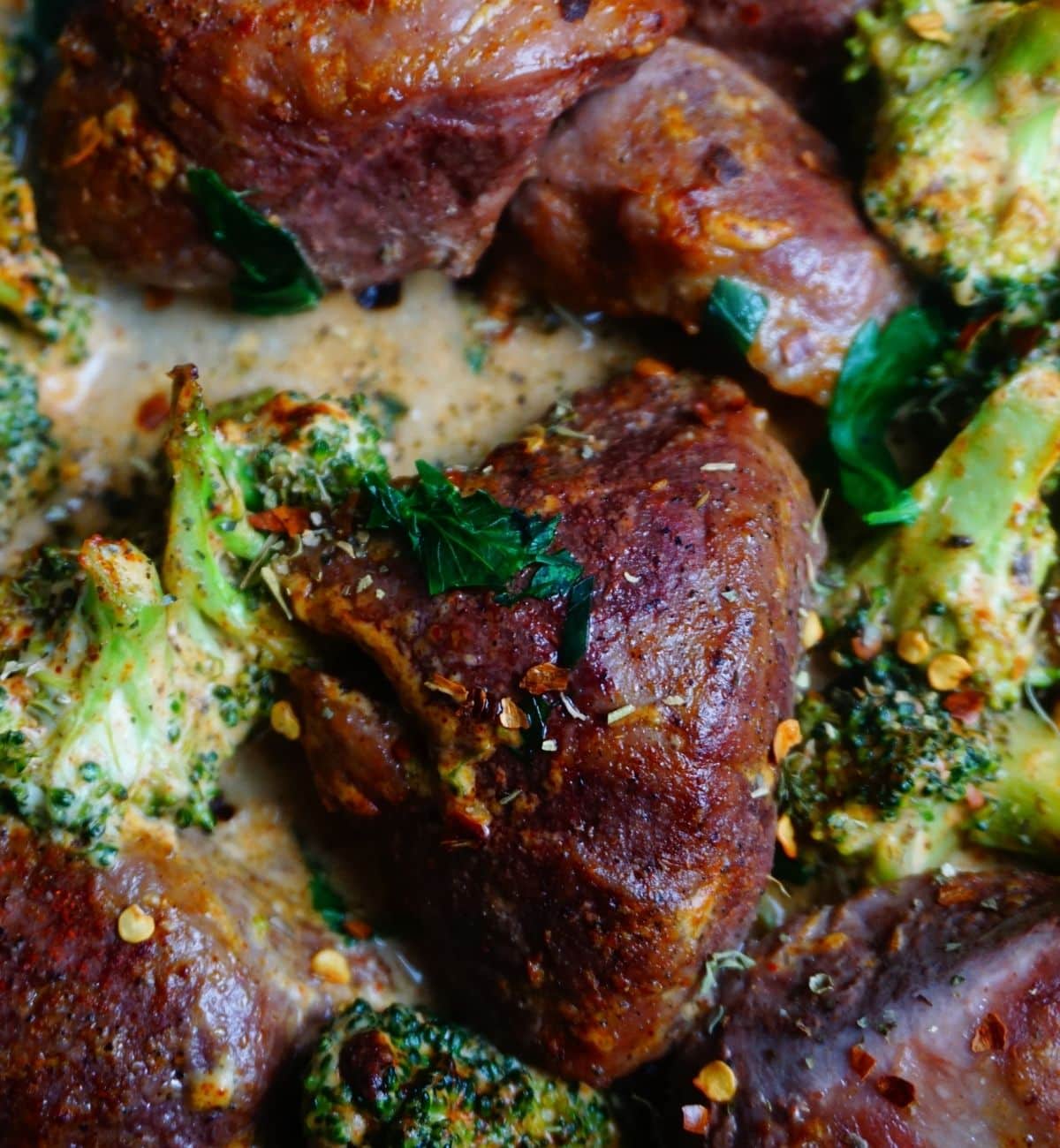 There's something about the sizzle of a cast iron skillet that's intoxicating and this pork shoulder and broccoli is delish!
Not only do cast iron skillets give a more robust flavor to hearty dinners, but the versatility they afford is pretty cool.
Can I freeze pork?
Absolutely. If you find a great deal on pork shoulder steaks, freeze away!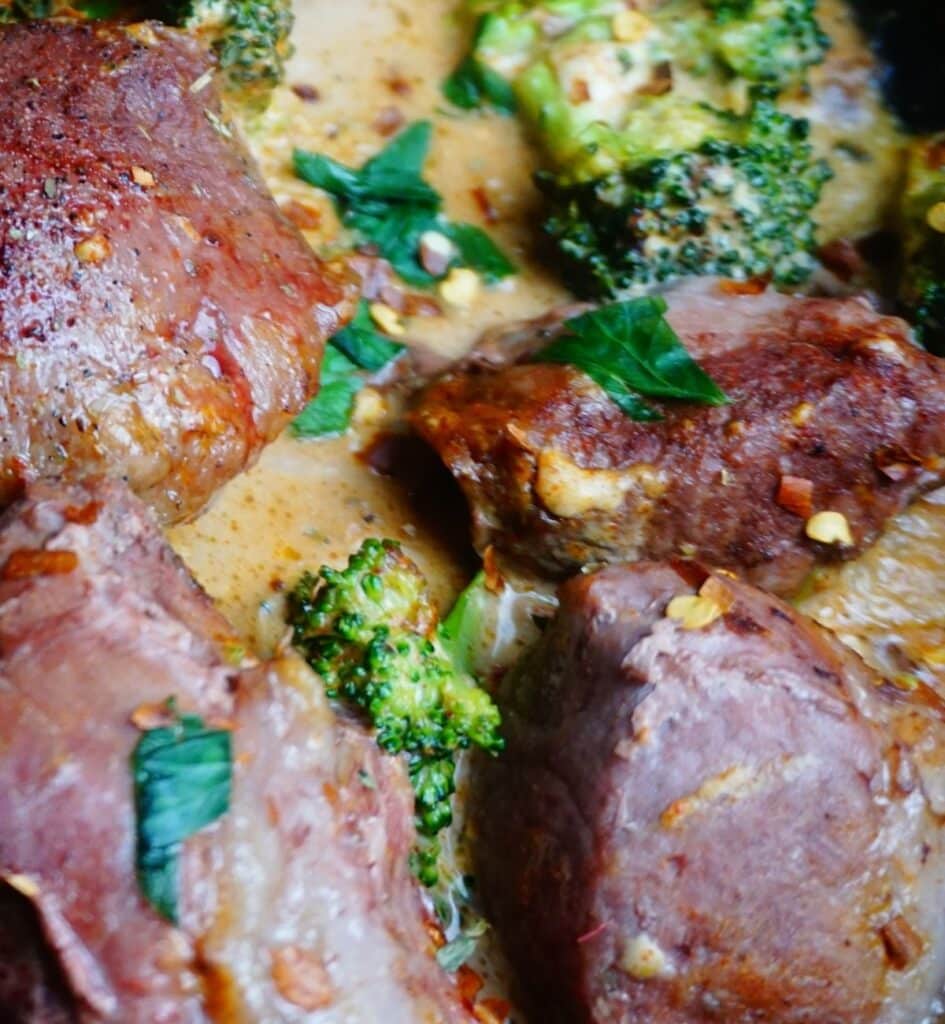 Do I trim keto pork shoulder fat?
Not necessarily. My grandfather loved pork fat and I find it adds a new dimension to the overall flavor of the pork shoulder steak.
If you have a ton of fat, however, I'd say you could remove the extra bits to your preference.
Where do I buy pork steak?
You'll find it right next to the ribs and other cuts of pork. A lot of grocers are labeling them as "carnitas" (meaning: "little meats") on the packaging.
How do I prepare pork shoulder?
This dish begins with a buttery cast iron skillet and a nice roasting of the pork shoulder bits. If you do not have a cast iron skillet, however, no worries. Using a nice baking dish should work out just as well.
To accompany the shoulder meat, I dreamed up a creamy broccoli sauce….with a kick. The ground red pepper, butter, onion powder and cream cheese blend with the florets make the perfect addition to pork shoulder meat.
How do I cook a pork steak?
slow-cooker: season and cook for 6-8 hours on low
grill, pan-fry, or roast to an internal temperature of at least 145º F
What temperature do I cook pork shoulder to?
As recommended by the USDA, an internal temperature of 145º F is sufficient to ensure a fully cooked pork shoulder. I always cook mine a bit more, just to make sure.
What other sides go with pork shoulder steak?
Some common low carb and delicious side dishes for pork shoulder steak include:
green beans
coleslaw
mashed cauliflower
peppers (yum!)
cabbage (I love butter and bacon fried cabbage with mine)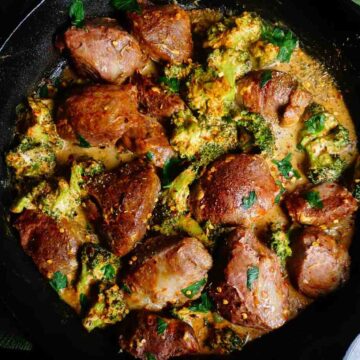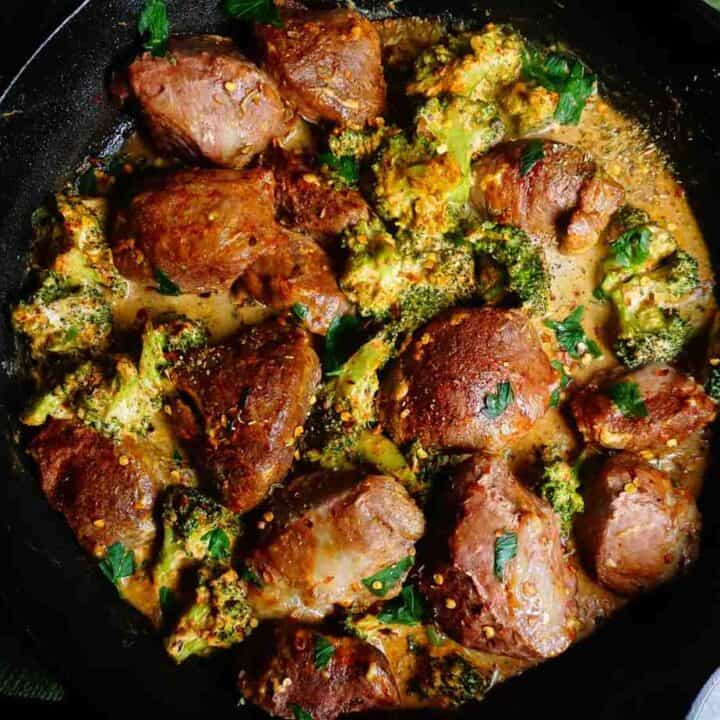 Keto Pork Shoulder & Broccoli with a Kick
A creamy, spicy pork shoulder dish in only 20-Minutes. Keto and low-carb friendly, this dish is nothing short of amazing.
Print
Pin
Rate
Instructions
Preheat oven to 350ºF. Butter cast iron skillet and add chopped pork shoulder. Bake for 20 minutes.

While pork is baking, melt 2 tbsp. butter with cream cheese, spices, and half and half on med-high heat.

Add broccoli and cook until tender.

Add broccoli mixture to pork skillet and bake another 5-10 minutes. Sprinkle with red pepper flakes, if desired.
Nutrition
Calories:
396
kcal
|
Carbohydrates:
4
g
|
Protein:
22.4
g
|
Fat:
31.7
g
|
Saturated Fat:
15.2
g
|
Cholesterol:
116
mg
|
Sodium:
172
mg
|
Fiber:
1.6
g
If you like pork shoulder and broccoli, you'll love our other one-pot dinners:
This recipe was inspired by Cooking LSL's recipe for pork shoulder and my grandmother's breakfast pork shoulder (nothing better than grandma's cooking, I tell ya!)