This quick and easy keto vegetable stir-fry is made with a variety of healthy vegetables, sauce, and topped with yummy shitataki noodles.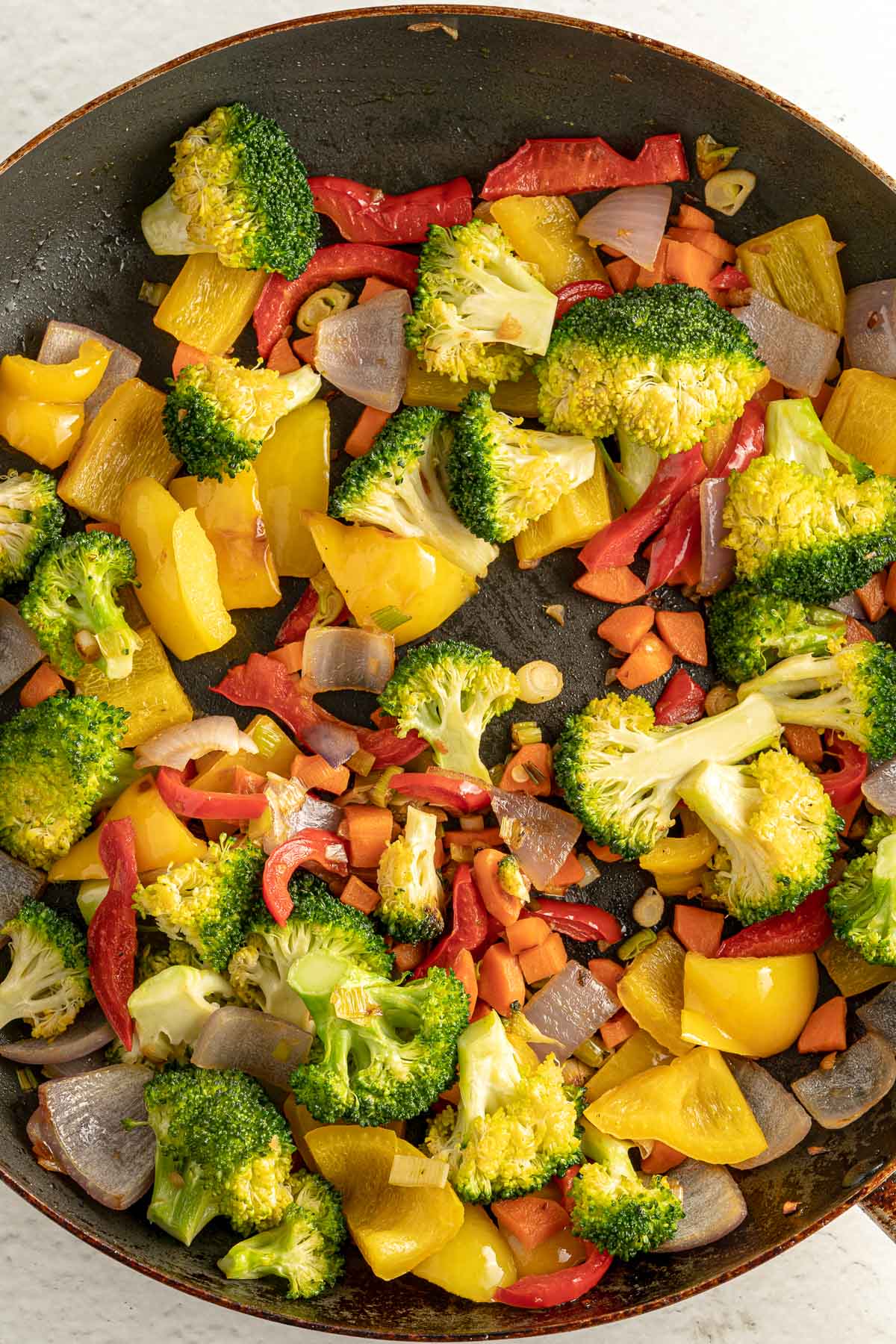 Inspired by my popular zoodle lo' mein noodles, zucchini pasta, and my family's love of veggie pizzas, I've cooked up some delicious Asian-inspired low carb stir-fry with this recipe. So, grab your wok or frying pan, and let's get cooking!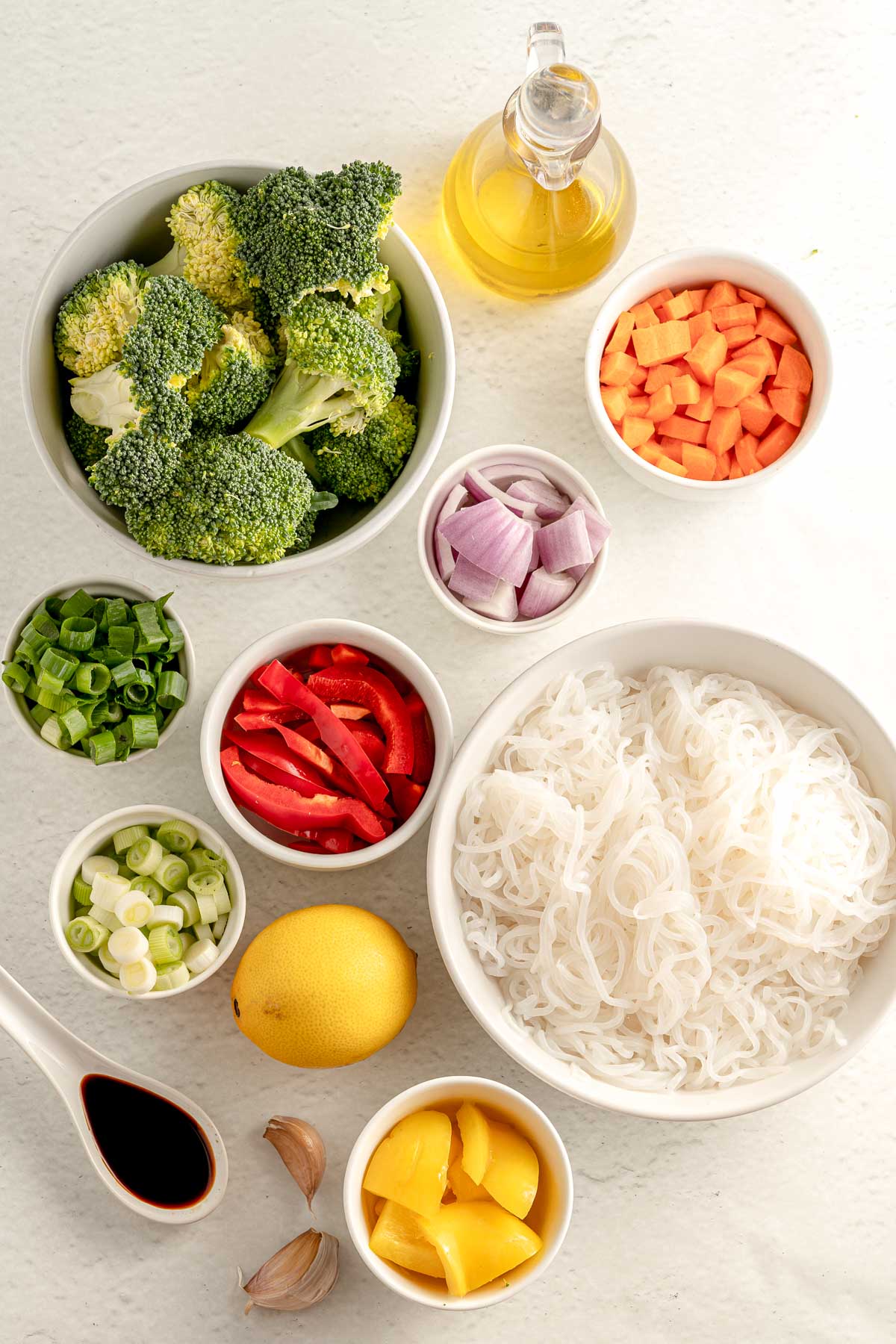 Recommended Ingredients
I recommend the following veggies for this recipe:
broccoli or baby broccoli florets
bell peppers (various colors, chopped, and seeds removed)
14 oz shirataki noodles rinsed in cold water and drained in a coriander
shallots
mushrooms
carrot
red onion
If you're on a low carb diet, all of these veggies are perfectly fine. However, some strict keto dieters will restrict their intake of onion and carrot.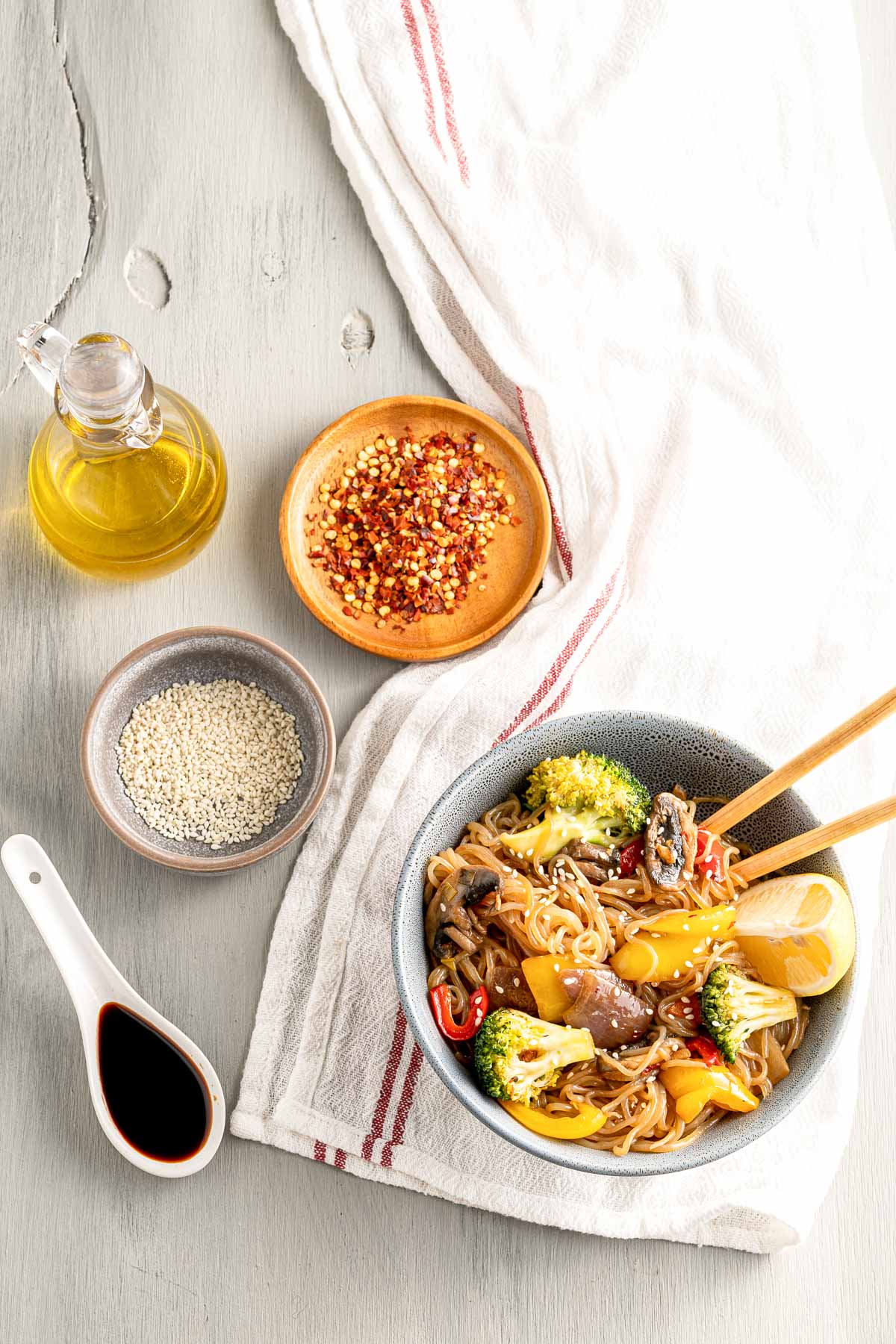 Other ingredients:
soy sauce
red chili flakes (only use a bit or omit if you do not like spicy foods)
lemon juice (optional)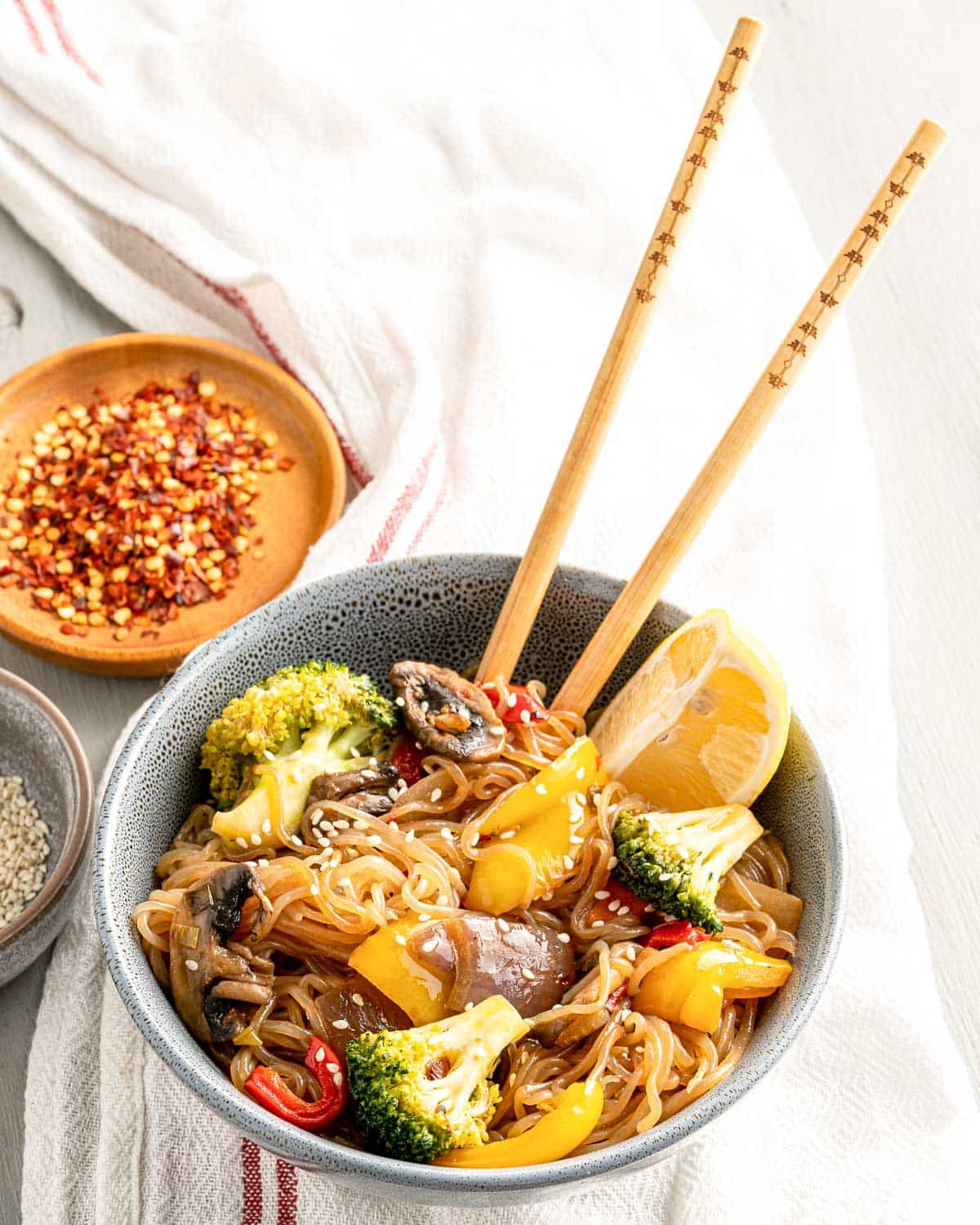 Shirataki noodles: how to make them taste great
You're either going to love shirataki, or hate them. At first, I was not a fan, but then I learned how to make them properly. Use these tips for the best shirataki noodles in any dish:
remove and drain
rinse with cold water
then, rinse again
do not pre-cook (they are already soft and do not need to be boiled)
I always add shirataki noodles toward the end of my cooking, then add sauces for the noodles to absorb. As always, if you do not like them, or haven't tried them before, do a little test-run first.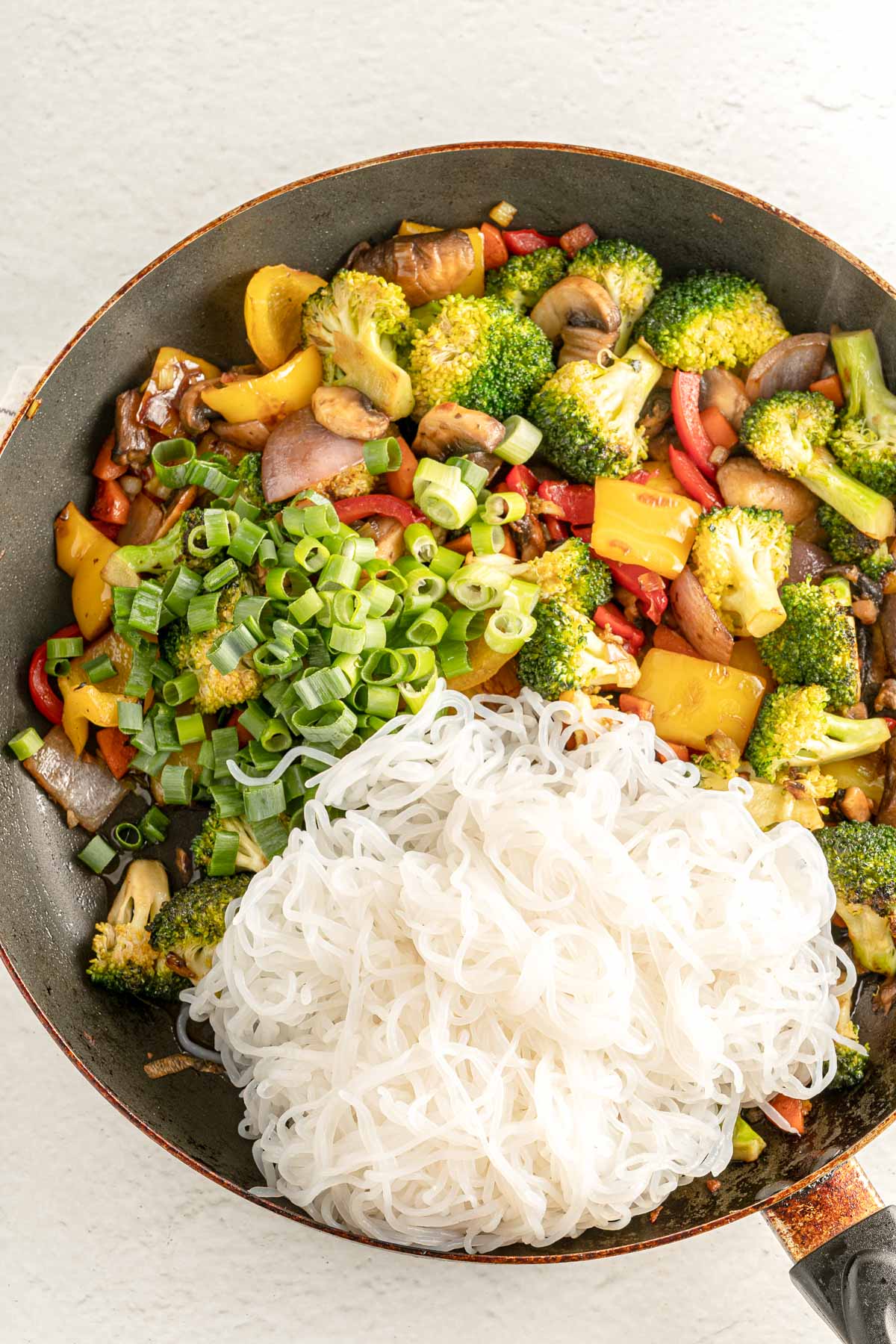 Shirataki noodle substitutions
Shirataki are naturally low in carbs and calories (plus have lots of health benefits). However, If you're not a fan of shirataki noodles, try these keto-friendly substitutions instead:
more veggies, like squash
zucchini spirals (zoodles)
tofu
chicken, steak, or pork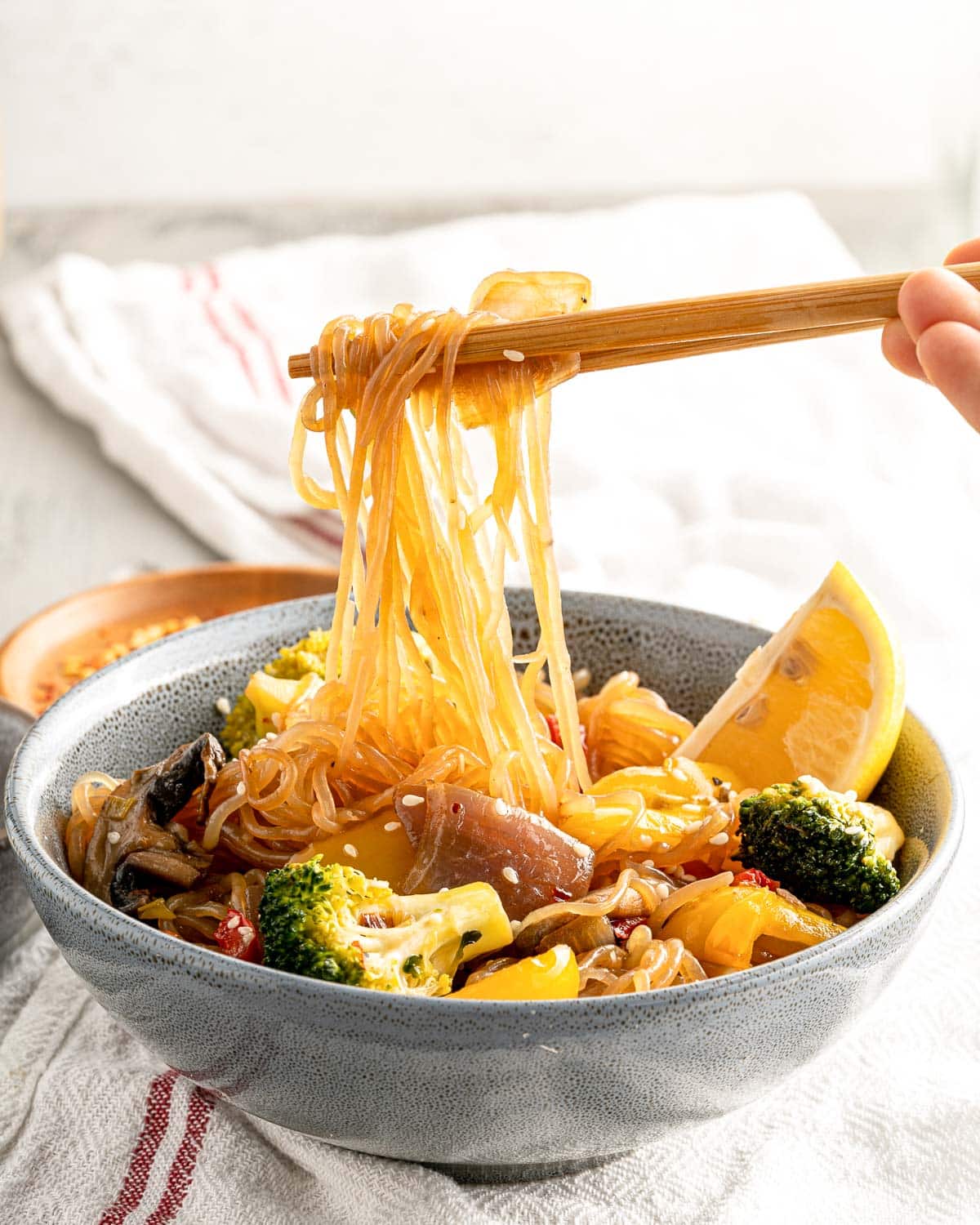 FAQ
What are some other keto friendly veggies I can use?
You may use any variety of peppers, cabbage, broccoli, or mushrooms for recipe substitutions.
How do I make this stir-fry spicy?
I like to add a bit more red pepper flakes or chili sauce to my stir-fry if I'm craving spicy foods. If you do not have red pepper flakes, try a pinch of ground red pepper or chili powder.
Can I add other ingredients?
Yes, a hardboiled egg, tofu, grilled chicken/pork/beef are all wonderful additions to this recipe.
How long will this keep?
Leftovers will keep up to 2 days if stored in an air-tight refrigerated container.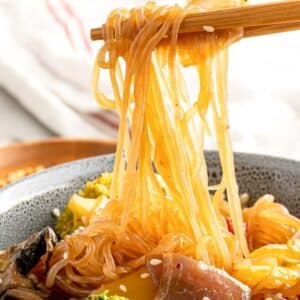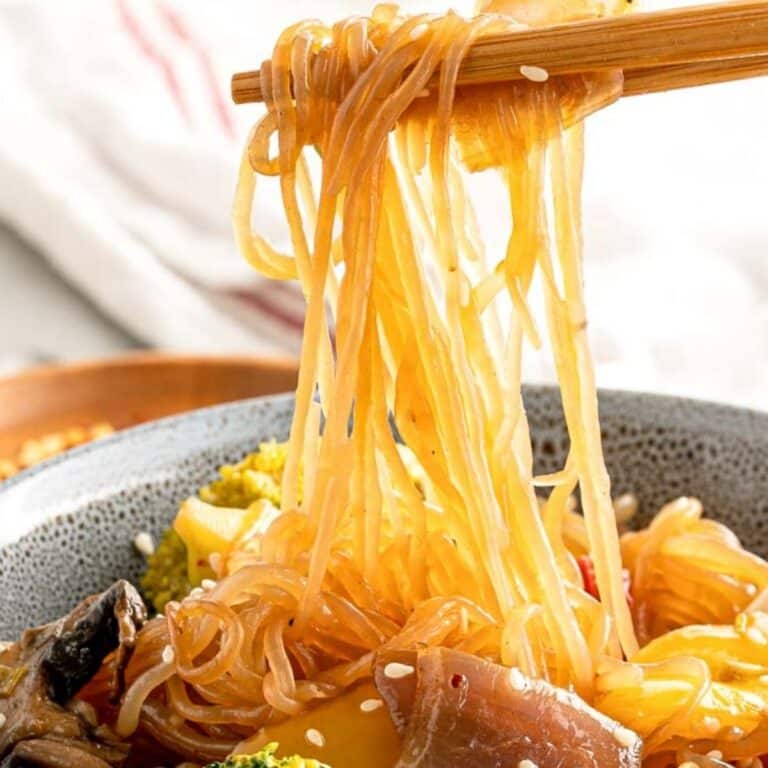 Keto Vegetable Stir Fry
Make this delicious Asian-inspired low carb dish with shiritaki noodles, veggies, soy sauce and fragrant garlic for an amazingly healthy dinner.
Print
Pin
Rate
Instructions
Add olive oil to a large skillet or wok and heat it over the stove in medium heat.

Add minced garlic and stir until fragrant, about one minute.

Add carrot chopped in small pieces. Cook for three more minutes or until soft.

Add the bell pepper, onion and broccoli chopped into bite-sized pieces. Cook for five to six minutes or until softened, stirring occasionaly. Add sliced mushrooms and the white part of the shallot, cook for two more minutes.

Turn the stove to low heat and add the green part of the shallot and the noodles. Stir for two more minutes. Remove it from the stove and add the soy sauce.

Serve it in two bowls and garnish it with red chilli flakes. Optional: sprinkle some white sesame seeds.
Notes
Tips
You can add more onion or carrot if you're not under a low-carb diet, or replace the shirataki noodles for any thin rice noodle.
Add some lemon juice when serving as a great combination with the chilli flakes.
Other veggies that could work great: zucchini, red cabbage and eggplant.
Nutrition
Calories:
168
kcal
|
Carbohydrates:
13
g
|
Protein:
5
g
|
Fat:
11
g
|
Saturated Fat:
2
g
|
Polyunsaturated Fat:
1
g
|
Monounsaturated Fat:
8
g
|
Sodium:
524
mg
|
Potassium:
419
mg
|
Fiber:
3
g
|
Sugar:
5
g
|
Vitamin A:
3614
IU
|
Vitamin C:
97
mg
|
Calcium:
25
mg
|
Iron:
1
mg