Spaghetti squash pizza nests are a filling and healthy way to reduce carbs while staying healthy. Try this easy, gluten-free recipe tonight.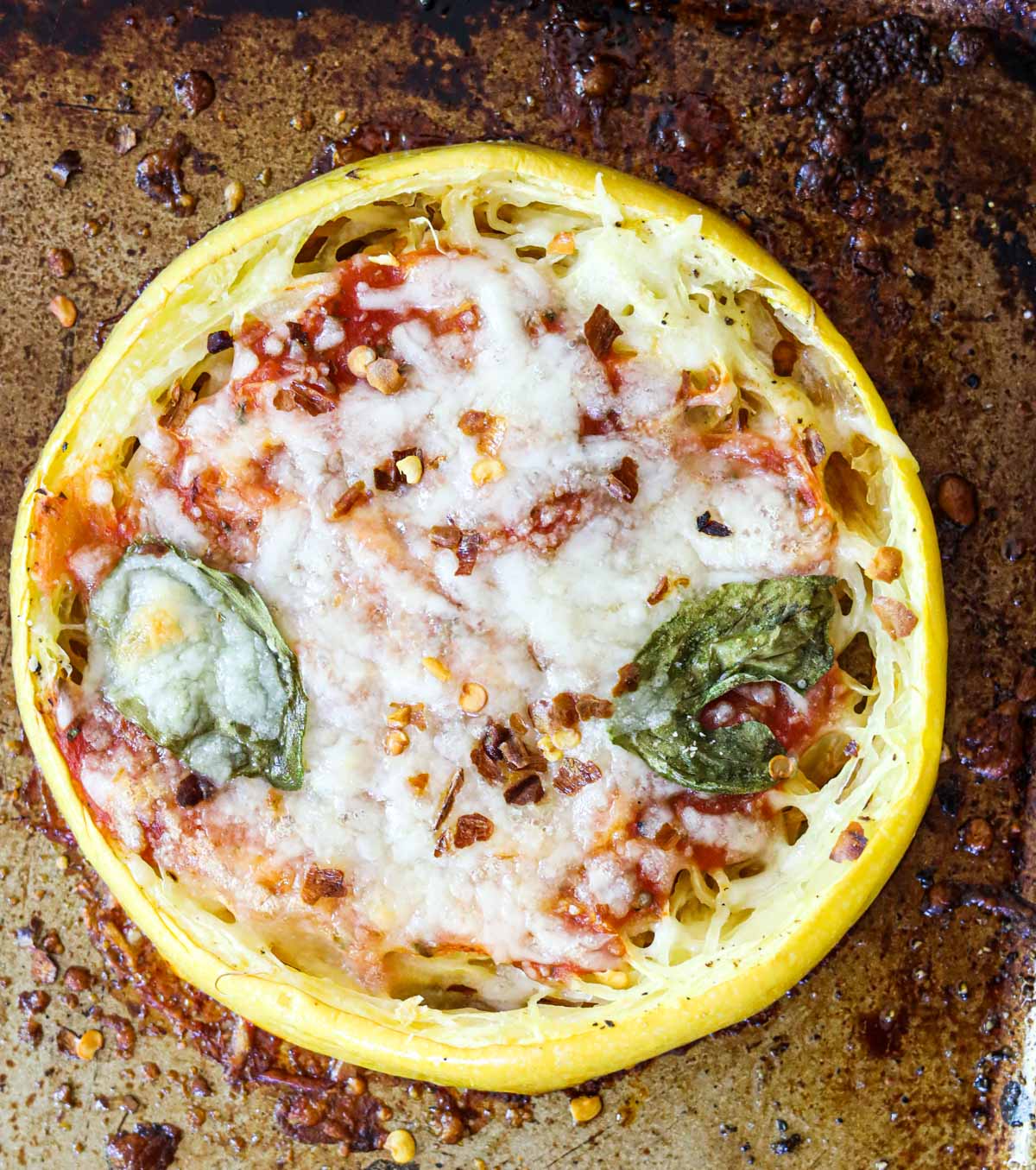 Inspired by my spaghetti squash cajun shrimp and keto noodle stir-fry, I decided to try my hand at making miniature healthy pizzas using sliced spaghetti squash.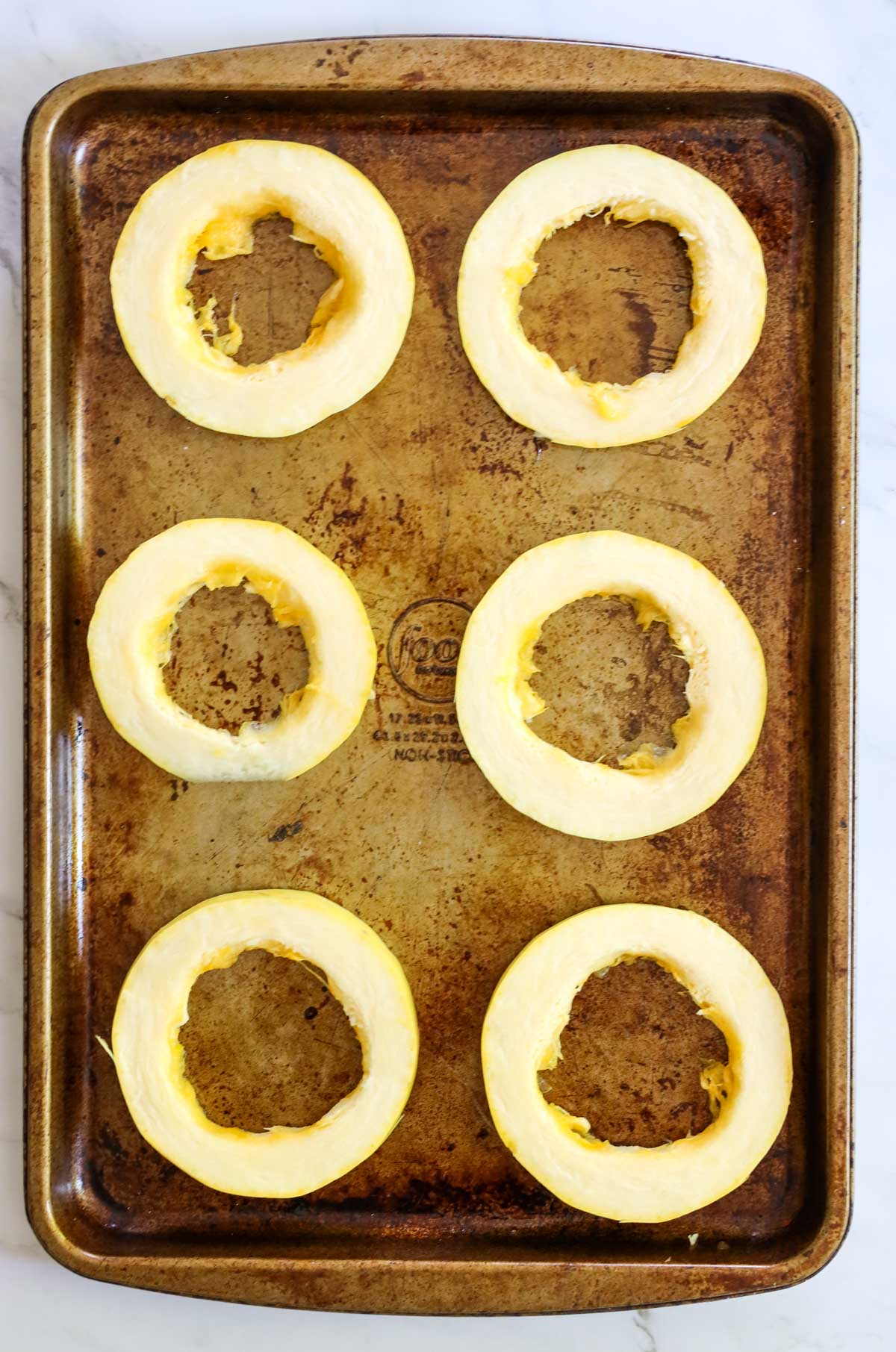 Health benefits of spaghetti squash
Not only is spaghetti squash keto friendly, it's also packed with various health benefits. Rich in antioxidants, it's low in calories and a great choice when you're living a low carb lifestyle. One entire squash only has 14 g. net carbs.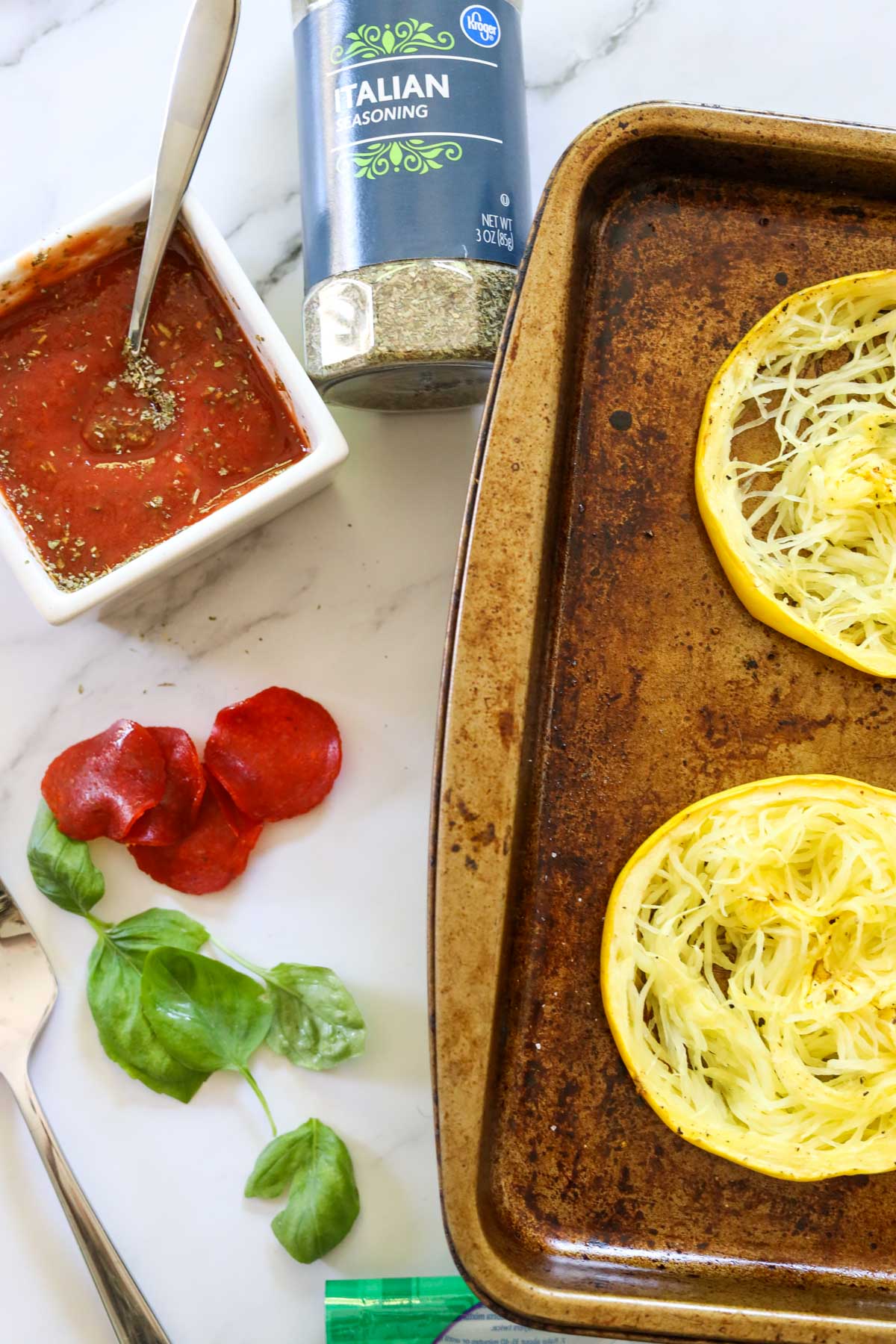 Recommended Ingredients
Tomato Sauce
I recommend tomato sauce because it doesn't have the added sugars that spaghetti sauce or a typical pizza sauce would.
Italian seasoning
Italian seasoning is used to liven up the tomato sauce, giving it that real "pizza" flavor without adding sugars and excess carbs.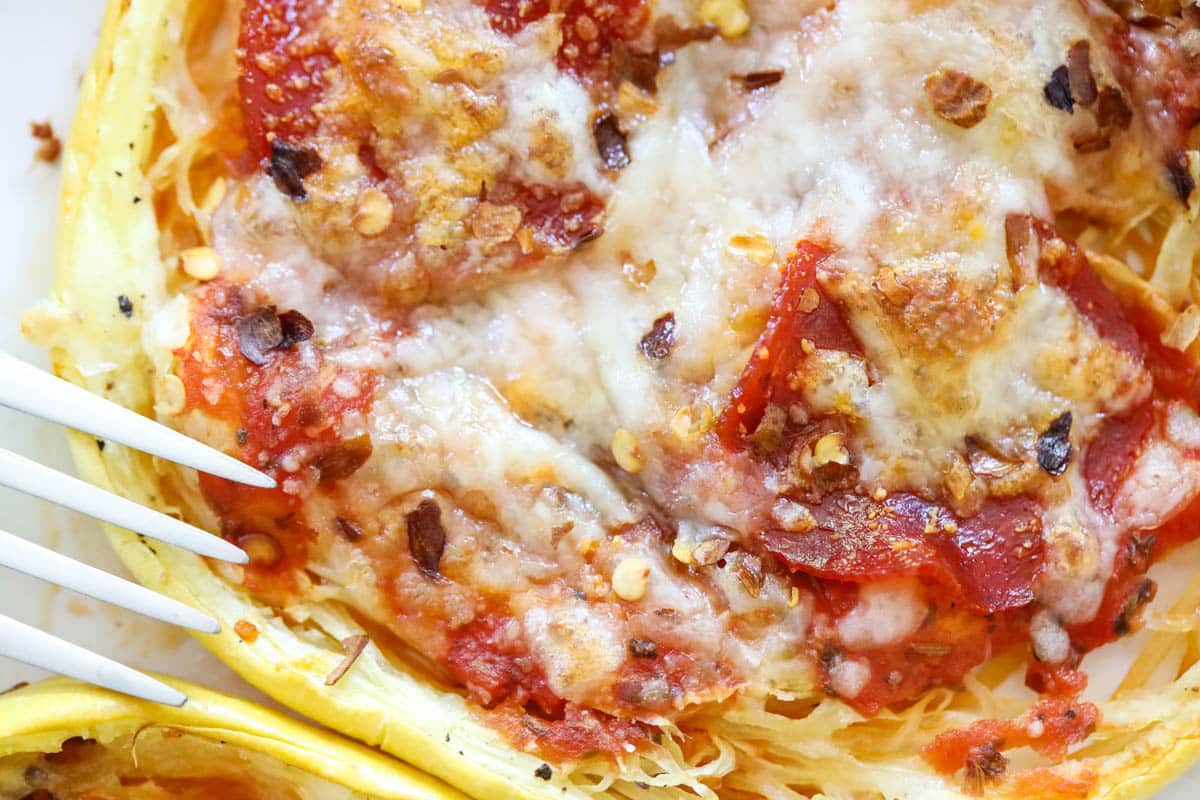 Mozzarella cheese
For this pizza, you can opt to use fresh or grated mozzarella cheese.
Basil
Basil is optional, but if you've never tried fresh basil atop a pizza, you're missing out!
Pepperoni or other proteins
Who doesn't love a classic pepperoni pizza? Meats, like salami, pepperoni, and sausage are all keto friendly.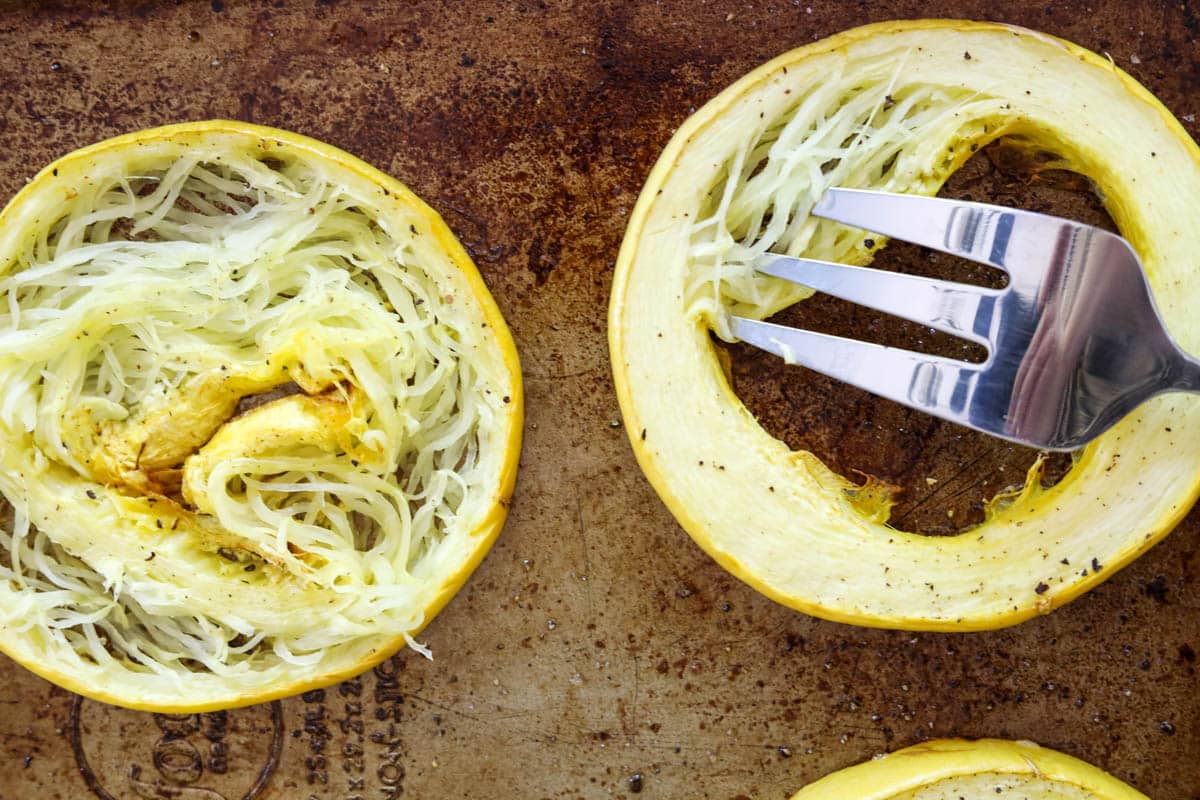 Spaghetti squash nests are easy
You can make spaghetti squash nests with 3 easy steps:
slice and remove seeds
bake
rake and place your toppings
1. Slice spaghetti squash and remove seeds
Spaghetti squash can be quite tough on the outside and it's pretty large. You're best bet for slicing them is to use a large, sharp kitchen knife.
For this recipe, I wait until after I have sliced my squash to de-seed it. You can use your hands or a small spoon to scoop the seeds away.
2. Bake the spaghetti squash slices
To bake my sliced squash, I add oil to my baking sheet/pan and bake at 375° F for 30 minutes. You'll know it's finished cooking when you see the edges begin to turn brown.
3. Rake spaghetti squash
I use a large serving fork to rake my spaghetti squash, but you can use any fork. I start around the edges and work my way toward the middle, making an even layer of squash.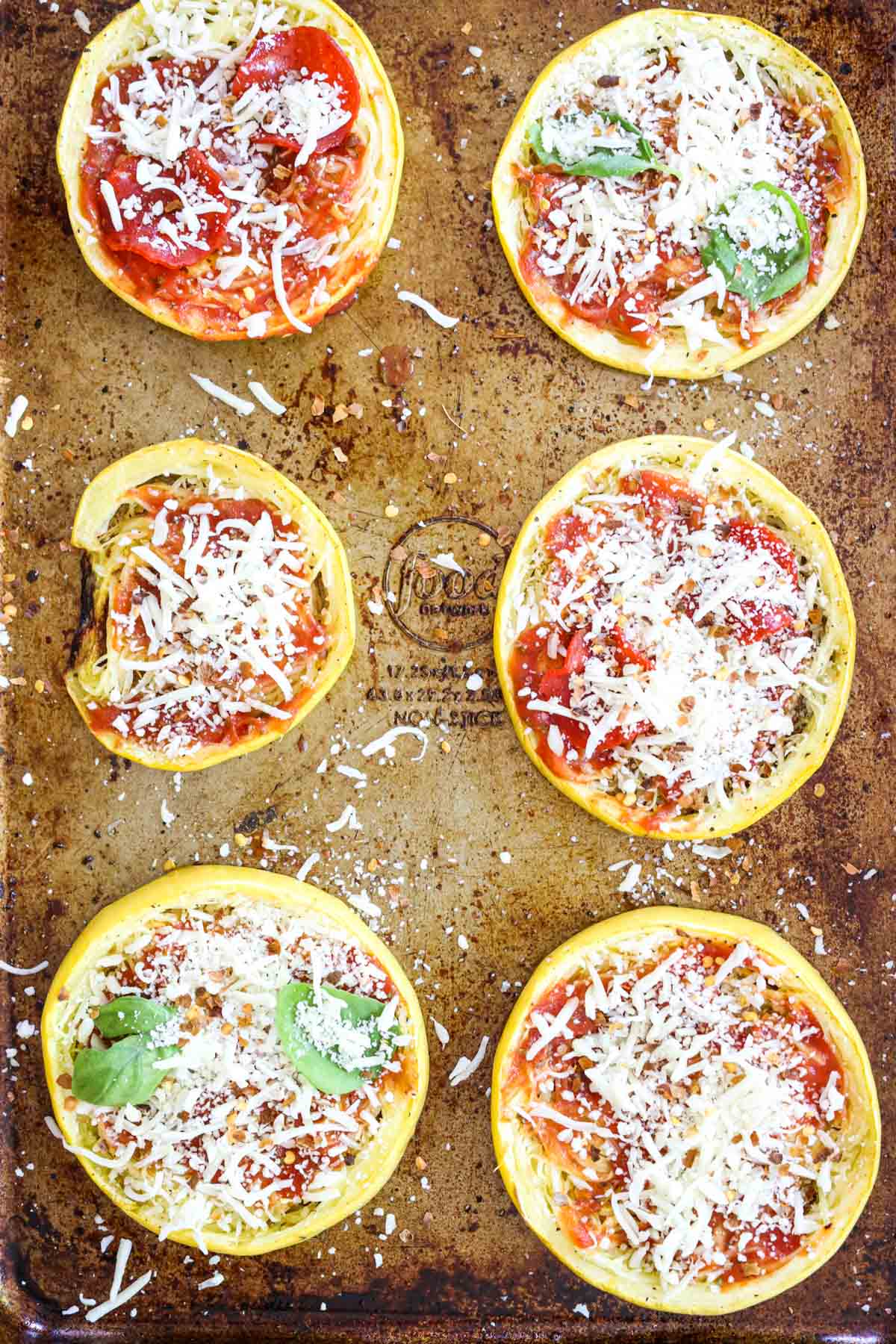 Add pizza toppings
After raking, you'll now add favorite pizza toppings to the squash. Return to the oven for another 5-7 minutes at 375° F. Remove once cheese is golden brown and melted.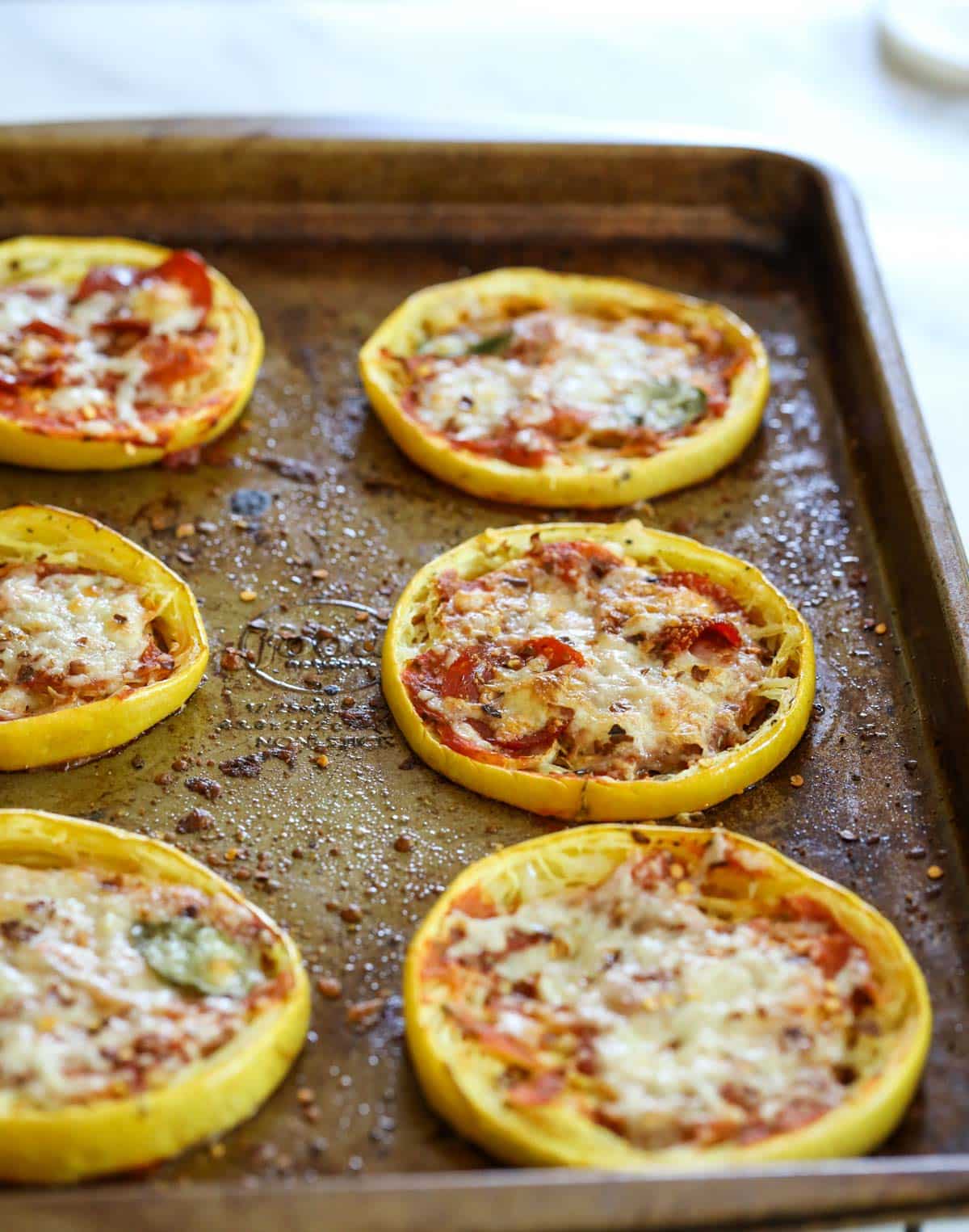 FAQ
How long will spaghetti squash nests keep?
I recommend consuming this dish the same day if you have already added toppings. However, you can keep the unfinished slices in a zippered or covered container for a day or two in the refrigerator.
What can I substitute for spaghetti squash?
If you do not have spaghetti squash lying around, another low-carb alternative is zucchini slice pizzas.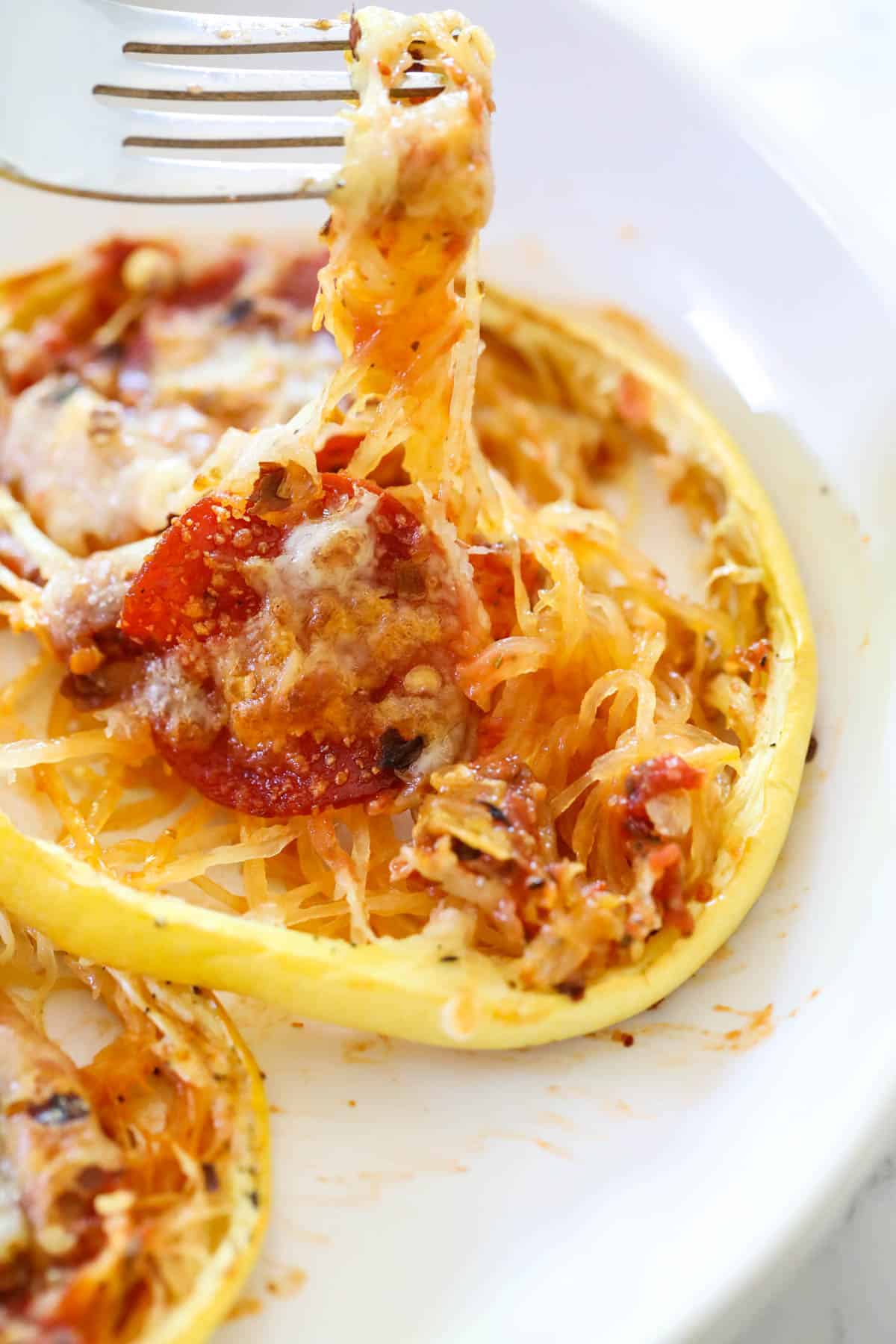 What are other toppings for low carb pizza?
My favorite low carb pizzas include:
buffalo chicken (ranch + canned chicken + buffalo sauce)
bbq chicken (sugar free bbq sauce + shredded chicken + pepper jack cheese)
taco pizza (leftover taco meat + cheese + tomato)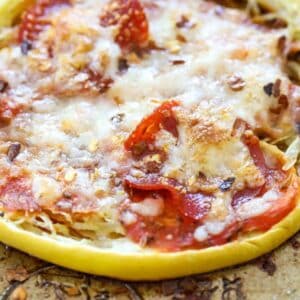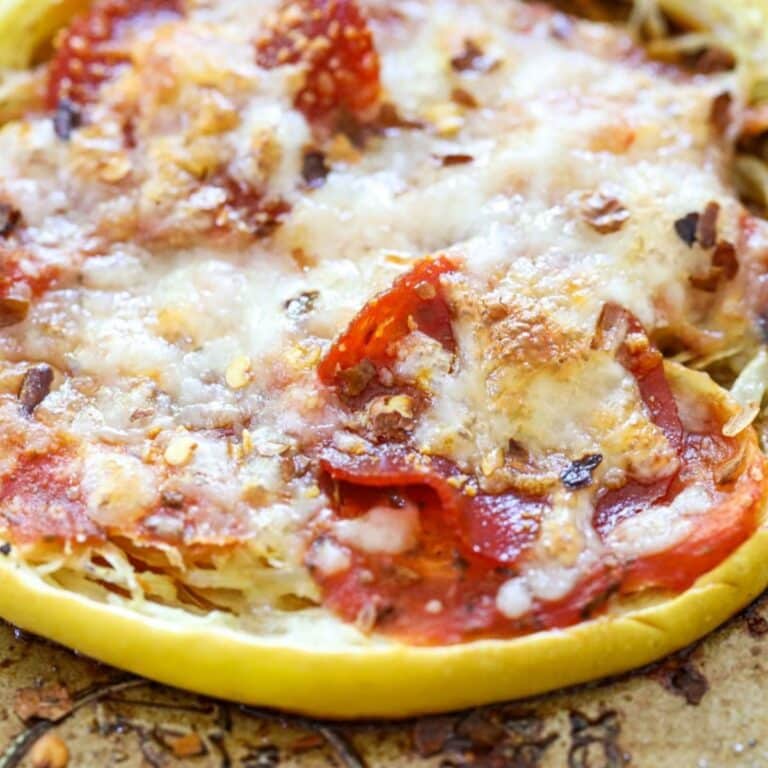 Spaghetti Squash Pizza Nests
This low-carb pizza is made by slicing and baking spaghetti squash sections for the crust. An amazingly delicious and keto-friendly way to have healthy pizza!
Print
Pin
Rate
Instructions
Wash spaghetti squash and slice lengthwise into 1 inch sections. Remove center seeds and place on non-stick baking sheet/pan.

Bake for 30 minutes, remove, and rake the spaghetti squash toward the center using a fork.

Top with tomato sauce, Italian seasoning, and other pizza toppings as preferred.

Bake another 5-7 minutes, or until cheese is fully melted and golden.
Notes
Recipe Notes: 
You may use a tomato slice instead of tomato sauce, if preferred
pepperoni, mozzarella, peppers, grilled chicken, sausage, bacon and basil are all keto friendly toppings
alternative pizza ideas include: buffalo chicken/ranch, or, sugar free bbq sauce with chicken and cheese
Nutrition
Serving:
1
section
|
Calories:
180
kcal
|
Carbohydrates:
15
g
|
Protein:
9
g
|
Fat:
8
g
|
Saturated Fat:
4
g
|
Polyunsaturated Fat:
1
g
|
Monounsaturated Fat:
2
g
|
Cholesterol:
22
mg
|
Sodium:
538
mg
|
Potassium:
516
mg
|
Fiber:
6
g
|
Sugar:
10
g
|
Vitamin A:
787
IU
|
Vitamin C:
9
mg
|
Calcium:
245
mg
|
Iron:
2
mg