If you're looking for the perfect Asian-inspired zoodle lo mein stir fry recipe, look no further.
This is the best zoodle stir fry and it's fast and easy, just like my zoodle pasta dish and our inside out egg roll.

What is traditional lo mein?
Lo mein is a Chinese dish containing egg noodles.
Lo mein is often served with beef, chicken, pork, shrimp, or wontons.
Vegetarian lo mein is also delicious.
Chances are, if you're eating lo main at a restaurant, there's a lot of carbs in those egg noodles.
How many calories are in lo mein?
There's typically 300-400 calories in a regular lo mein ordered from the restaurant.
This low carb lo mean only has 155 calories.
How many carbs are in lo mein?
Typical lo mein can have up to 50 carbs in a regular lo mein ordered from the restaurant.
This keto lo mein only has 4.2 carbs.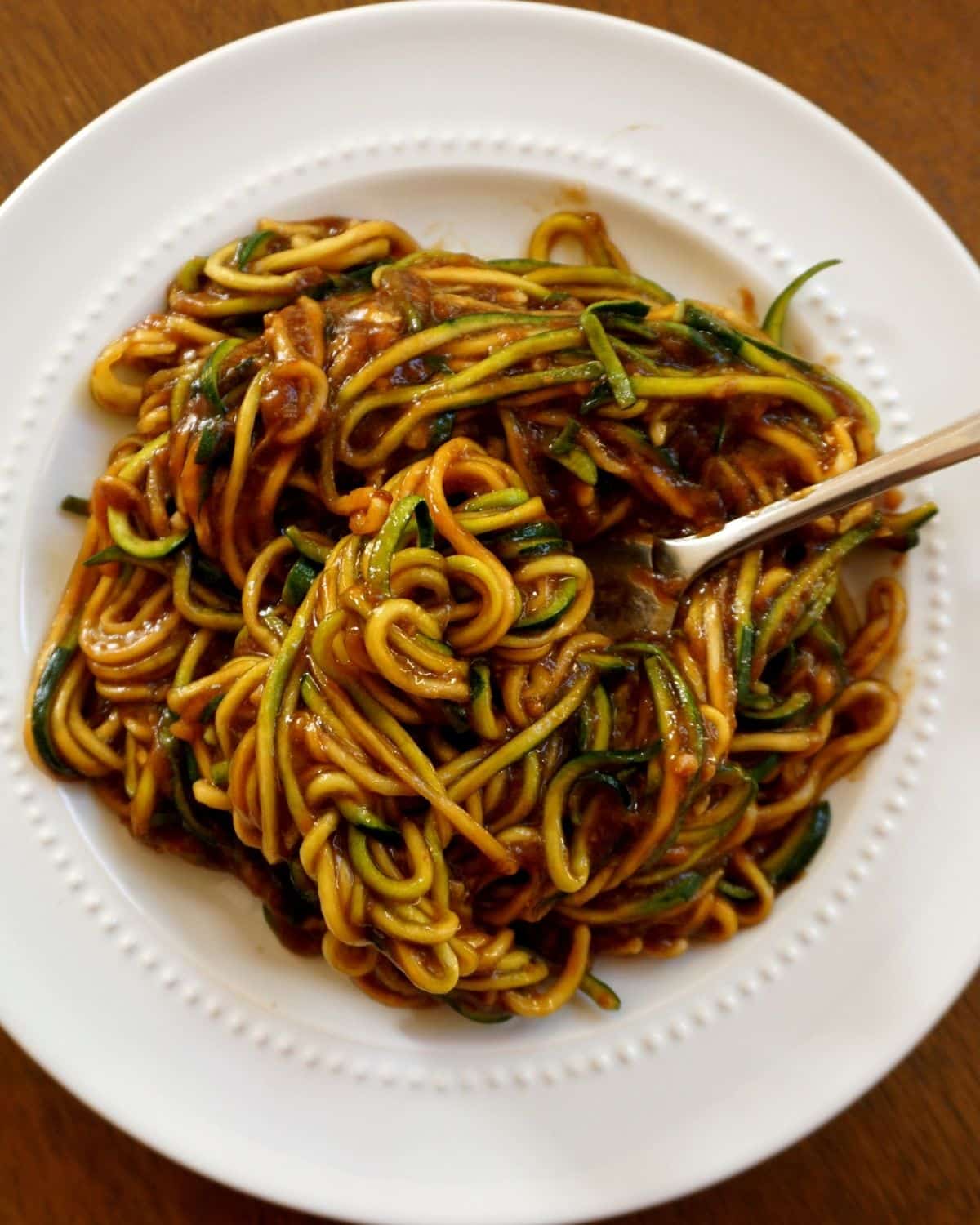 How do I make a Zoodle stir-fry?
To make this healthy zoodle stir-fry low calorie and low carb, simply add your favorite protein or tofu to the recipe after cooking.
What can I substitute for zucchini noodles for a low carb Chinese stir-fry?
If you do not have zucchini noodles or "zoodles" for this recipe, I recommend any of the following:
Green beans
Shirataki mushrooms
Shredded cabbage (also called "egg roll in a bowl")
Broccoli florets and a bit of shredded carrot
Cauliflower fried rice with scrambled egg
Another great way to spice up your Chinese-inspired dishes is to add sweet chili sauce to your stir- fry.
Can I freeze lo mein zoodles?
I do not recommend freezing these zucchini noodles once cooked in the stir-fry sauce.
The zoodles are best if eaten the same day.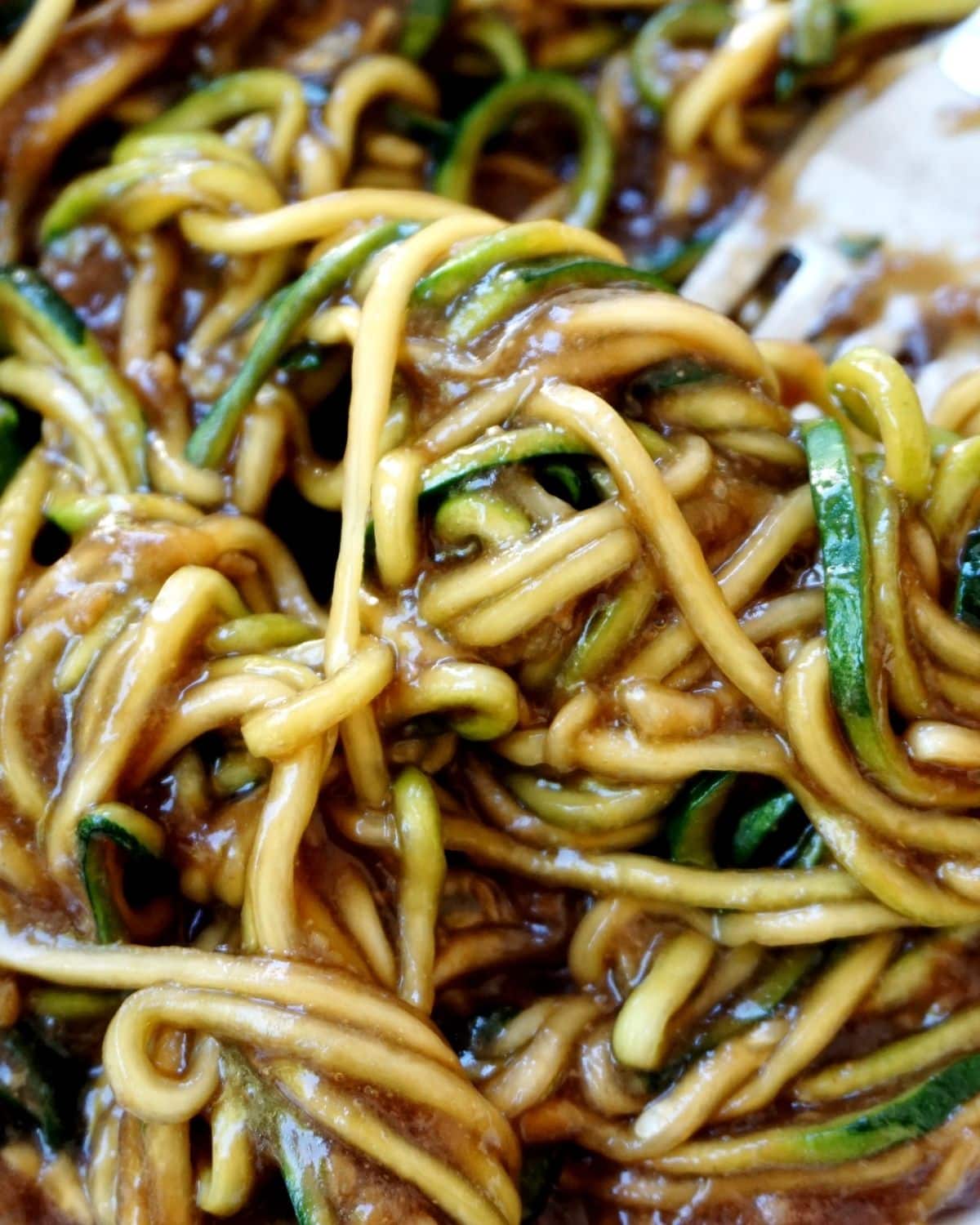 How do I make keto stir fry sauce?
It all starts with the thick Asian stir fry sauce.
Mix the stir fry sauce ingredients in a mason jar or air-tight container and shake.
I used the xanthan gum in place of corn starch to make it a keto friendly stir fry sauce.
Careful to not add too much xanthan gum or your sauce will be too thick.
How do I make Asian stir fry zucchini noodles (zoodles)?
First, use a spiralizer to make your zoodles.
Pat them dry with a paper towel and add them to your wok or frying pan.
Next, add in some ground ginger and minced garlic.
Finally, add your sauce to your zoodle stir-fry and mix on medium heat and your zucchini noodles are soft.

What are other ways to make keto lo mein?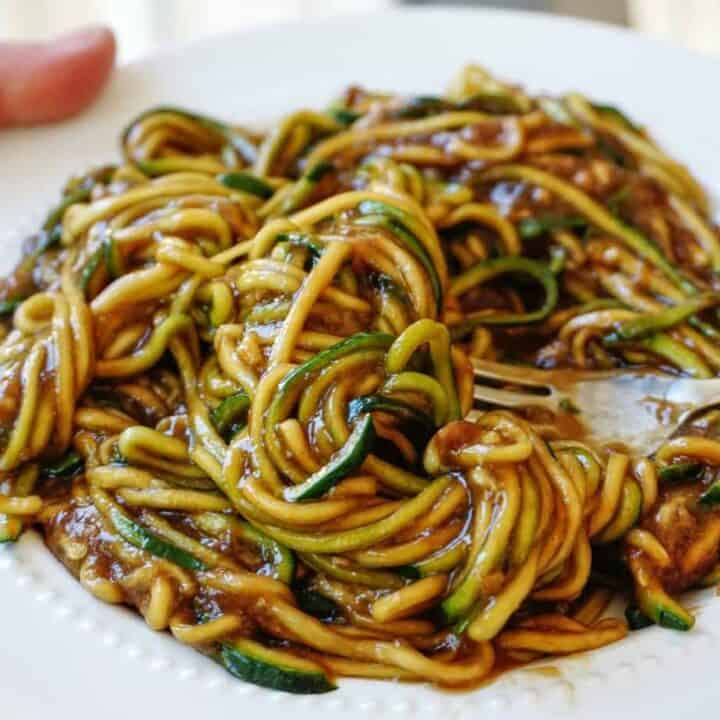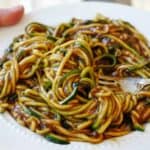 Zoodle Lo Mein Stir Fry
The best zoodle lo mein stir fry with 3-ingredient Stir fry sauce. A low-carb and keto friendly zucchini stir fry recipe that's fast and easy!
Ingredients
Zucchini Ingredients:
2

medium zucchini, made into spiral zoodles

1

tbsp

ground ginger

2

tbsp

fresh minced garlic
Instructions
Mix sauce ingredients in a Mason jar or right container with a lid. Shake and place aside.

Add zoodles and a bit of butter to a wok or pan and add zoodle ingredients.

Pour sauce over zoodles and mix over medium heat for approximately 5-7 minutes, or until softened.
Nutrition
Calories:
155
kcal
Carbohydrates:
4.2
g
Protein:
3.9
g
Fat:
12.3
g
Saturated Fat:
1.6
g
Sodium:
1631
mg
Fiber:
14
g
This recipe was inspired by Build Your Bite's recipe for homemade stir fry sauce.
If you like zoodle lo-mein stir fry, you'll love:
Keto Asian Chili Sauce
A sweet and spicy Asian-inspired garlic chili sauce. A keto and low carb friendly recipe that pairs perfectly with seafood and stir-fry recipes.
Check out this recipe