Air fryer apple chips are a nutrient-rich, low-calorie alternative to the carb heavy potato chip and other sugary sweets. The perfect healthy treat for the autumn season!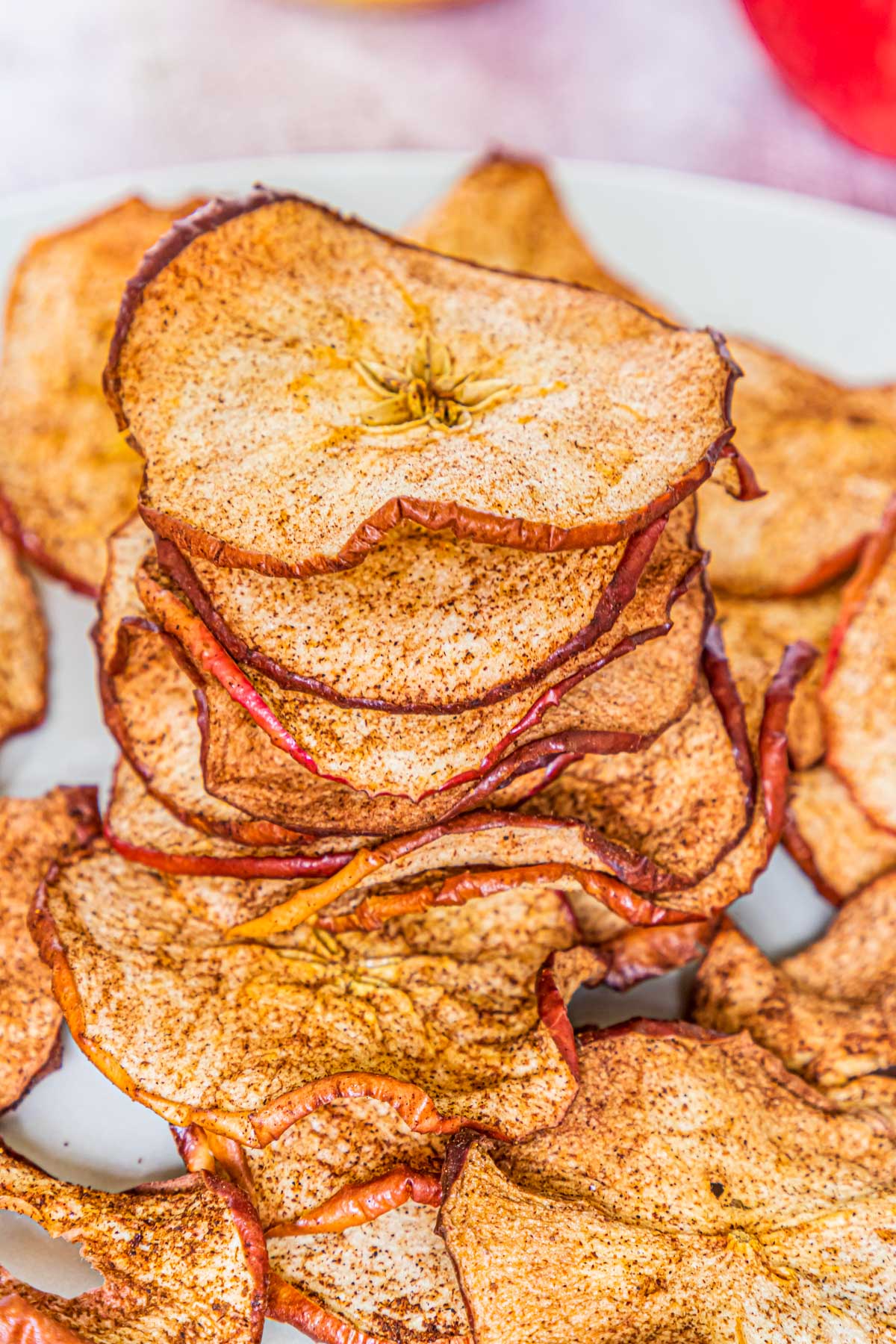 Apple chips are a beloved fall snack among families, and they're great at any time of year, but they're especially good in the autumn season.
This is the ideal nutritious snack for your family if you're searching for something quick and easy. And, your entire house will smell AMAZING!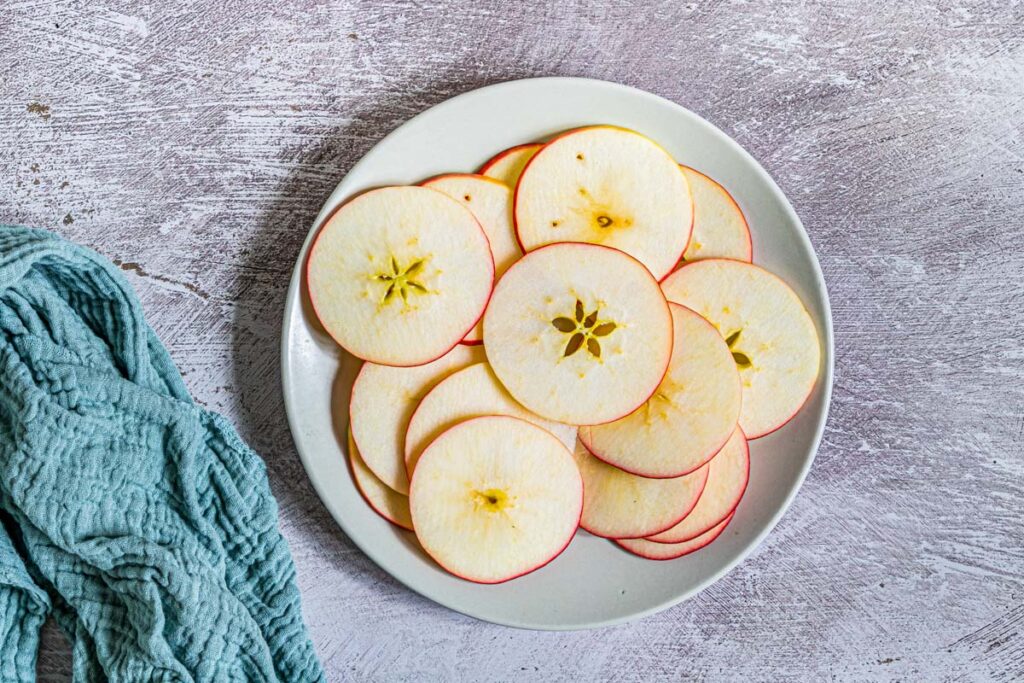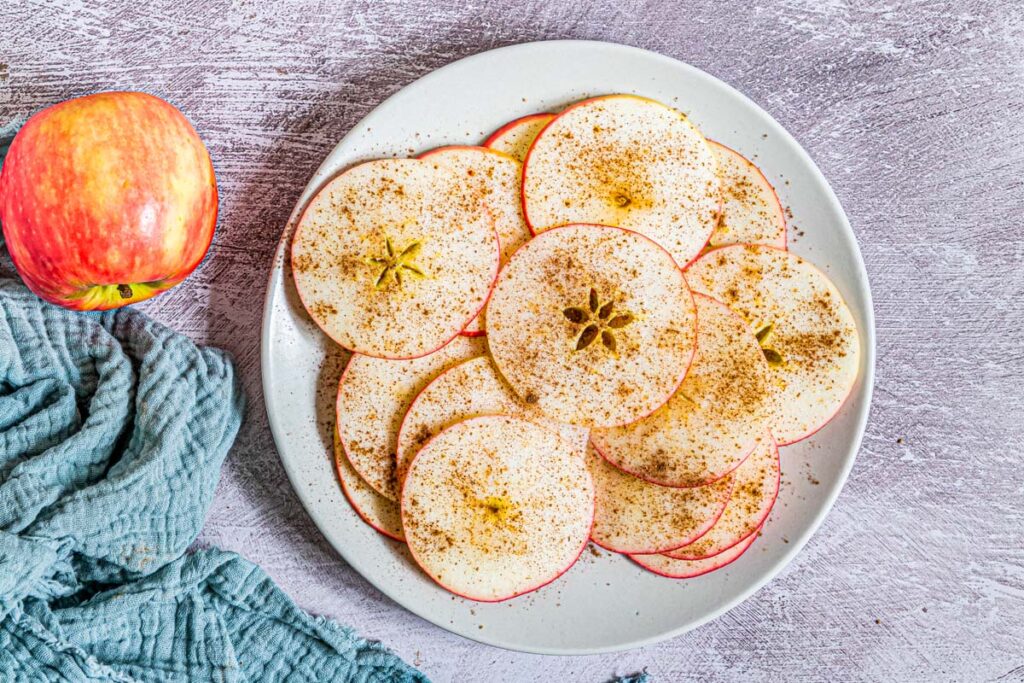 How to make apple chips in the air fryer
When it comes to chopping the apples, you have two options: core them or leave the seeds in.
Either option is acceptable.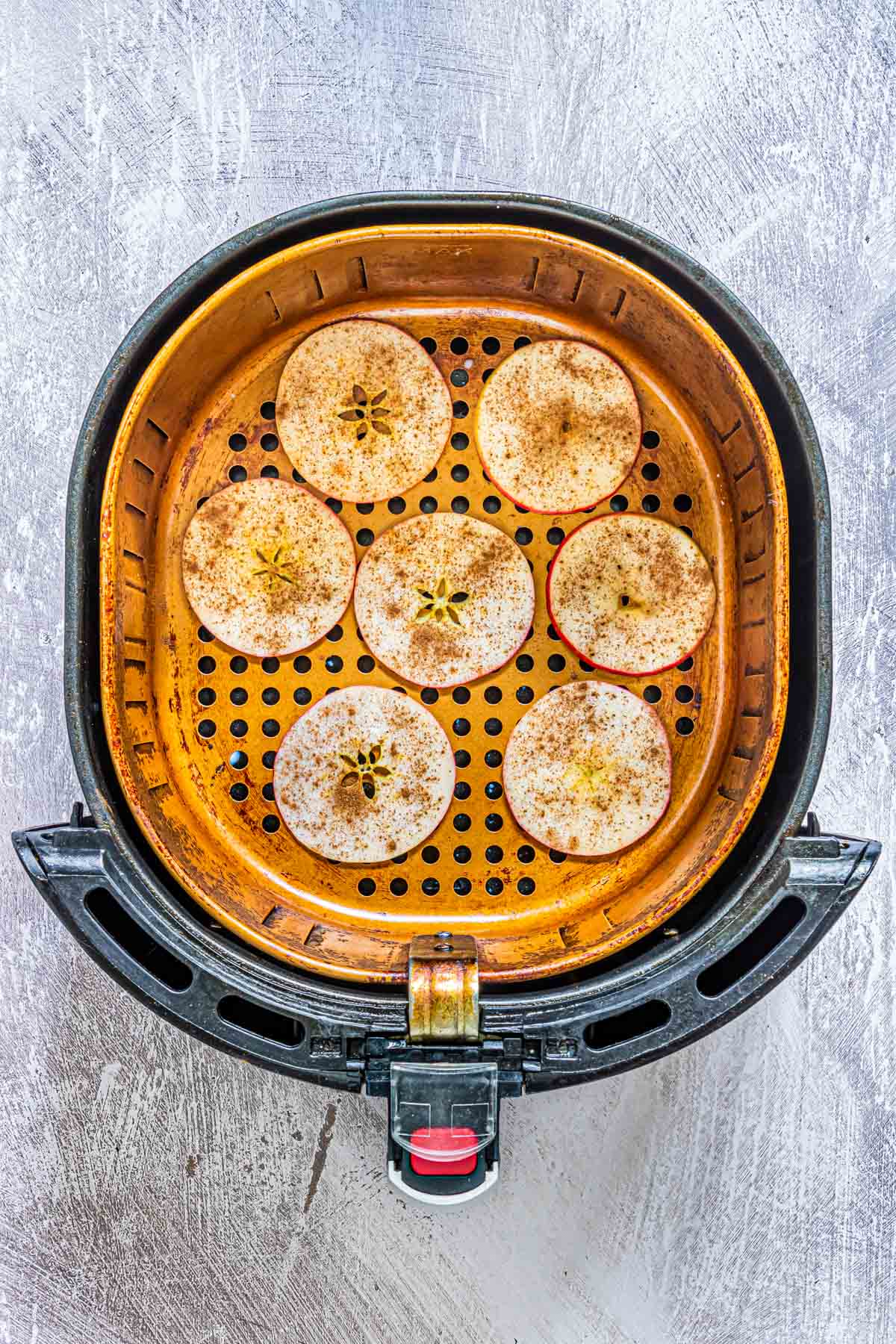 Before we begin, remove wax and pesticides from your apples by properly washing them.
Using a mandolin or sharp knife, cut 1/8-inch-thick circles after they've been cleaned and cored. Set your air fryer to 390 degrees Fahrenheit and prepare your food.
Cinnamon and apples go well together, so combine them in a small dish, then add to your air fryer. Place your apples in the bottom of the air fryer basket.
Apple slices should be cooked for eight minutes, with one turn occurring halfway through. Remove the apples from the fryer when they are crisp enough for your taste, and then cook the rest of the apples in the same manner.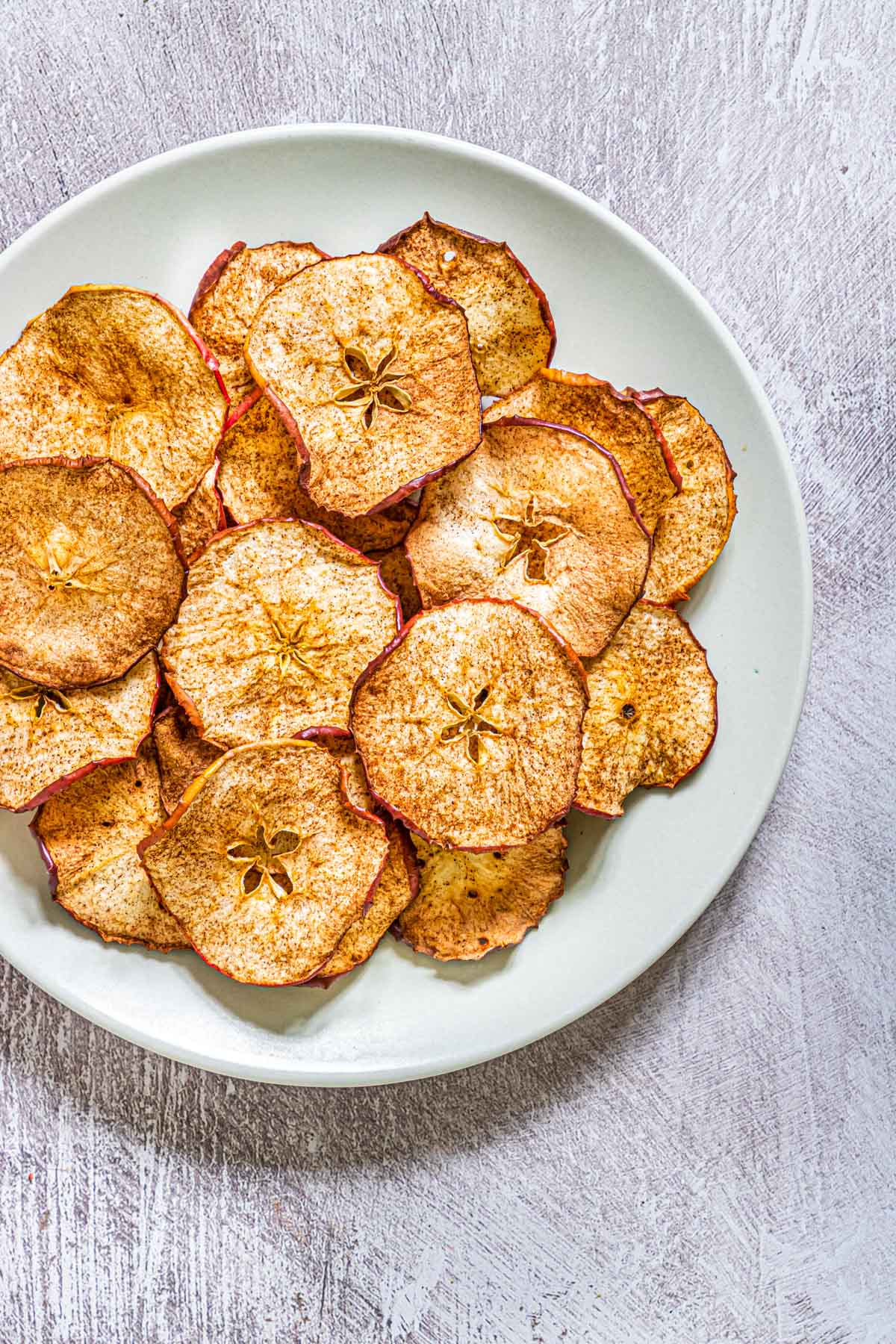 How to store apple chips
Store your apple chips in an airtight container to keep them crisp. While a bag will do, a container will keep them from getting crushed as easily. Keep them at room temperature for up to a week.
Make sure the chips are room temperature before storing them. Moisture can form on them while they're still warm, which will make them less crispy later.
Serving suggestions
These apple chips are perfect as a stand alone snack when you're on the go.
Add them to your favorite trail mix, crushed into oats, cereal, or yogurt for a quick and easy breakfast.
You may also serve them with fruit dip or as a garnish for cakes and ice cream.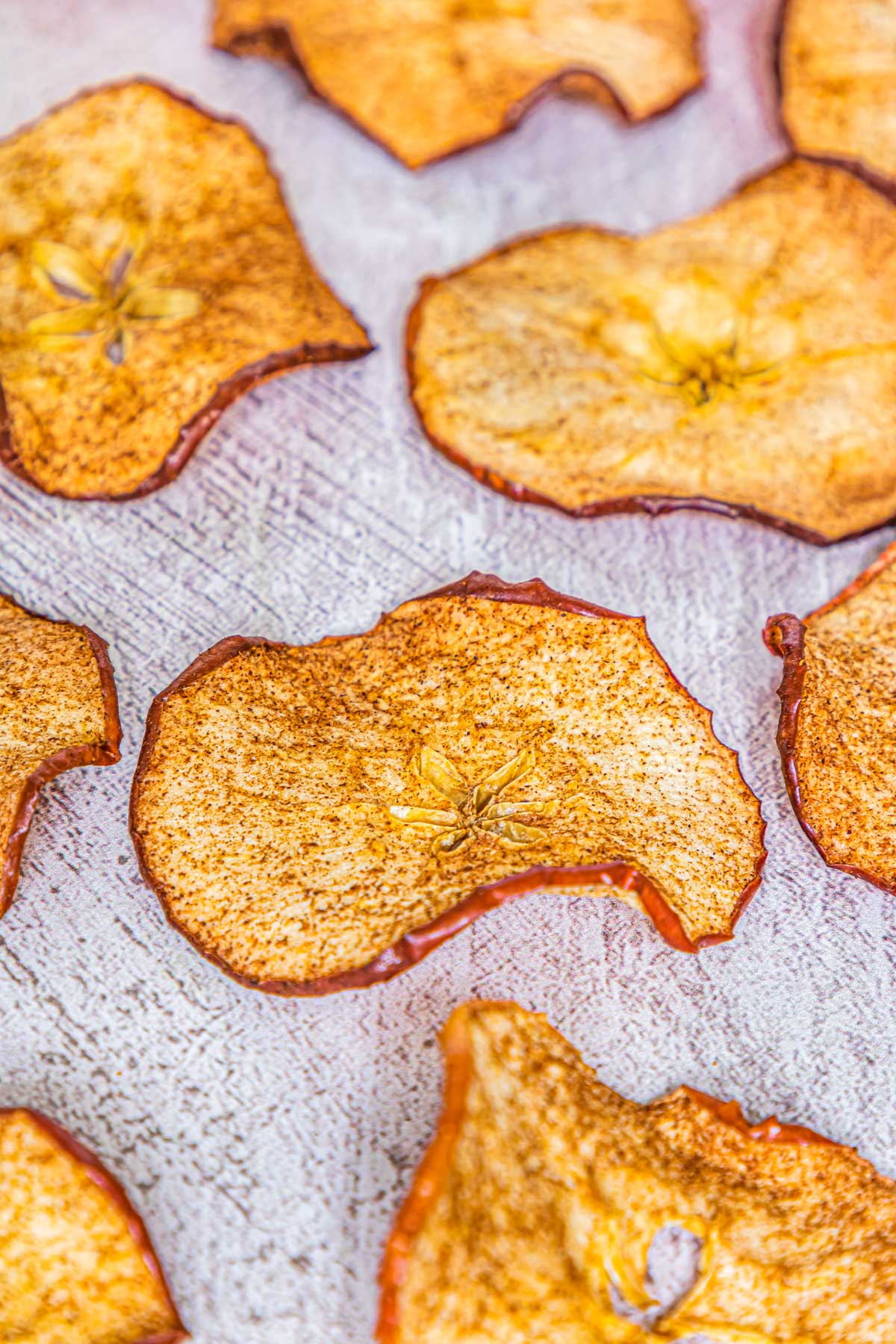 FAQ
Is this recipe for apple chips gluten-free and vegan?
Yes! These vegan chips are also wheat-free.
Do I need to use a mandolin?
If you have a mandolin, use it; if you don't, a very sharp knife will do. The optimum thickness is around 1/8 of an inch.
Don't stress about getting the slices the same size or shape; instead, focus on getting them the same thickness.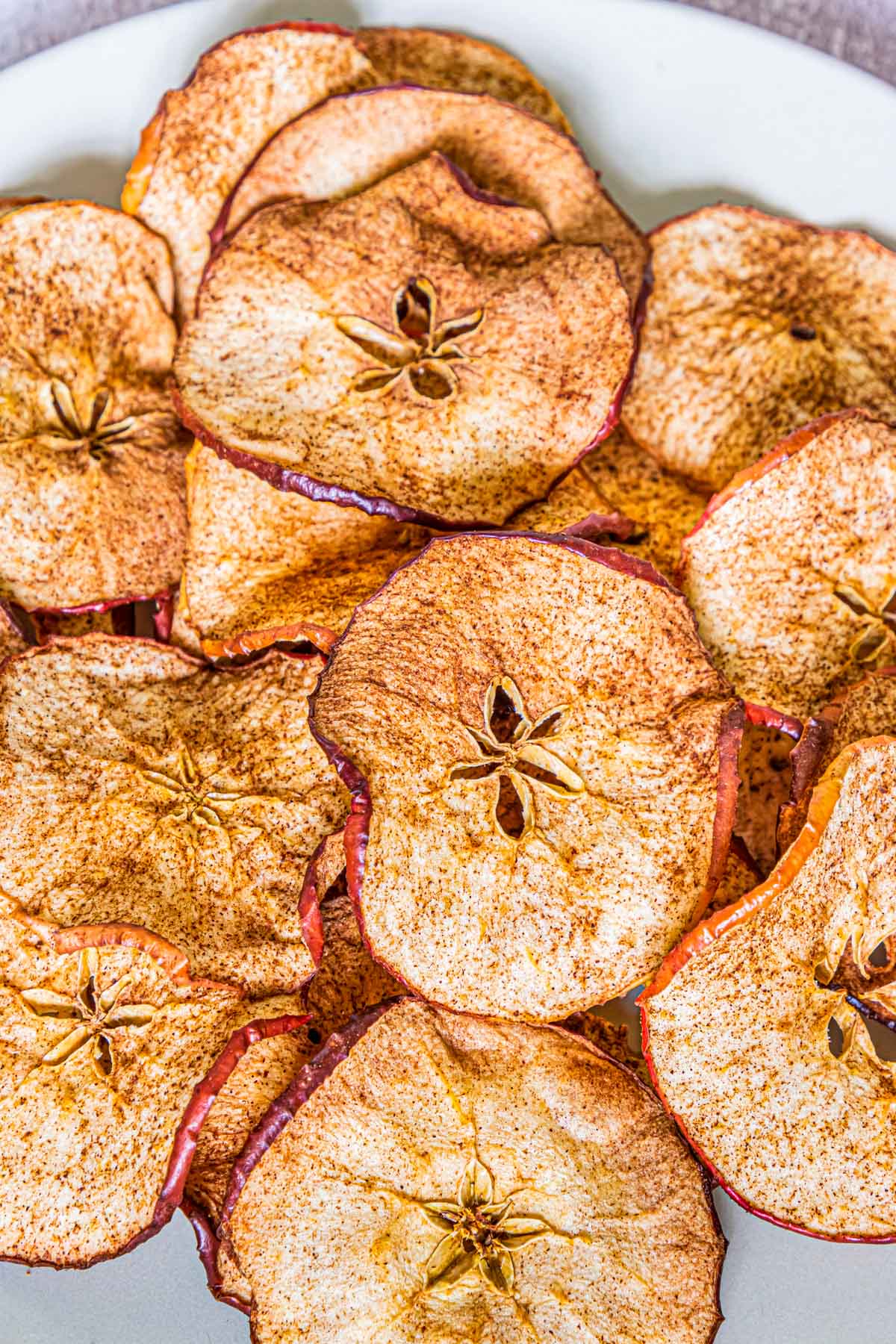 What's the best apples for chips?
The finest apples are those that have just been picked and may be found at a local farmer's market or orchard. Fresh, locally produced apples are easiest to come by in the fall and generally have the finest flavor.
How to pick the perfect apple
Look for apples that have smooth, glossy skin and no blemishes or bruises when you're choosing.
Also, check to see if they are firm and not floppy by gently pressing with your thumb.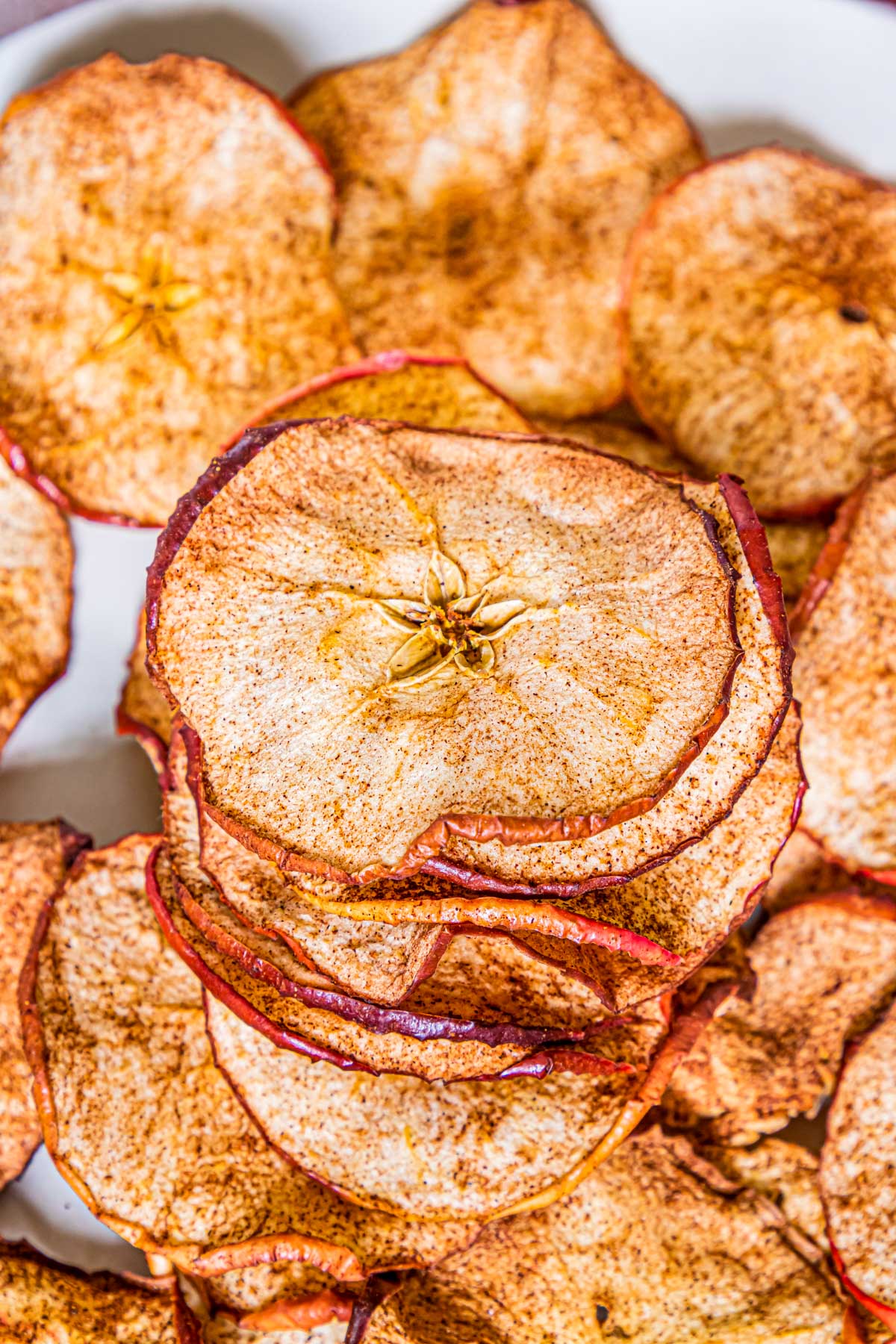 Tips
For the greatest air-fried chips, follow these guidelines:
Avoid overcrowding apples: only use as many slices as necessary to create a single layer, making sure the slices do not meet.
Cooking time may vary depending on how wet your apples are.
The sort of apple used determines the final color of the apple chips. Tart apples are generally lighter in color, whereas deep colors indicate sweetness among apples.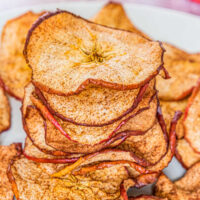 Air Fryer Apple Chips
These sugar-free air fryer apple chips are a great snack if you're looking for something healthy. Perfect for school lunches and meal prep! #airfryerapplechips #applecrisps #airfryerapplesnack
Print
Pin
Rate
Ingredients
2

medium apples

1

tsp

ground cinnamon
Instructions
Preheat Air Fryer to 350°F

Prepare the apples: wash apples and cut them into thin slices (2.5mm) using a very sharp knife or a mandolin. Remove the seeds.

Sprinkle ground cinnamon all over apple slices and rub the spice into the apple

Place apple slices in a single layer into the Air Fryer basket. Cook apple slices for 10-12 minutes, shaking the basket a couple of times during the cooking process to rotate and separate apple slices.

When done, transfer to a plate or wire rack and cool for 2-3 mins before eating. Apple slices will crisp up even more upon cooling

Repeat the process with the remaining apple slices.
Notes
Be sure to slice the apple into equal thin slices for even cooking and crispy slices. A

mandolin will help you with this. However, if your apple slices are thicker, you may

need to cook them longer to get them crispy

Cook apple slices in a single layer to ensure they crisp up well. Do not overcrowd the Air Fryer

Add cook time 1 minute at a time for crispier chips

Omit cinnamon if you like

Crisp apple chips can keep in an airtight container for up to 5 days.
Nutrition
Calories:
97
kcal
|
Carbohydrates:
26
g
|
Protein:
1
g
|
Fat:
1
g
|
Saturated Fat:
1
g
|
Polyunsaturated Fat:
1
g
|
Monounsaturated Fat:
1
g
|
Sodium:
2
mg
|
Potassium:
199
mg
|
Fiber:
5
g
|
Sugar:
19
g
|
Vitamin A:
101
IU
|
Vitamin C:
8
mg
|
Calcium:
21
mg
|
Iron:
1
mg