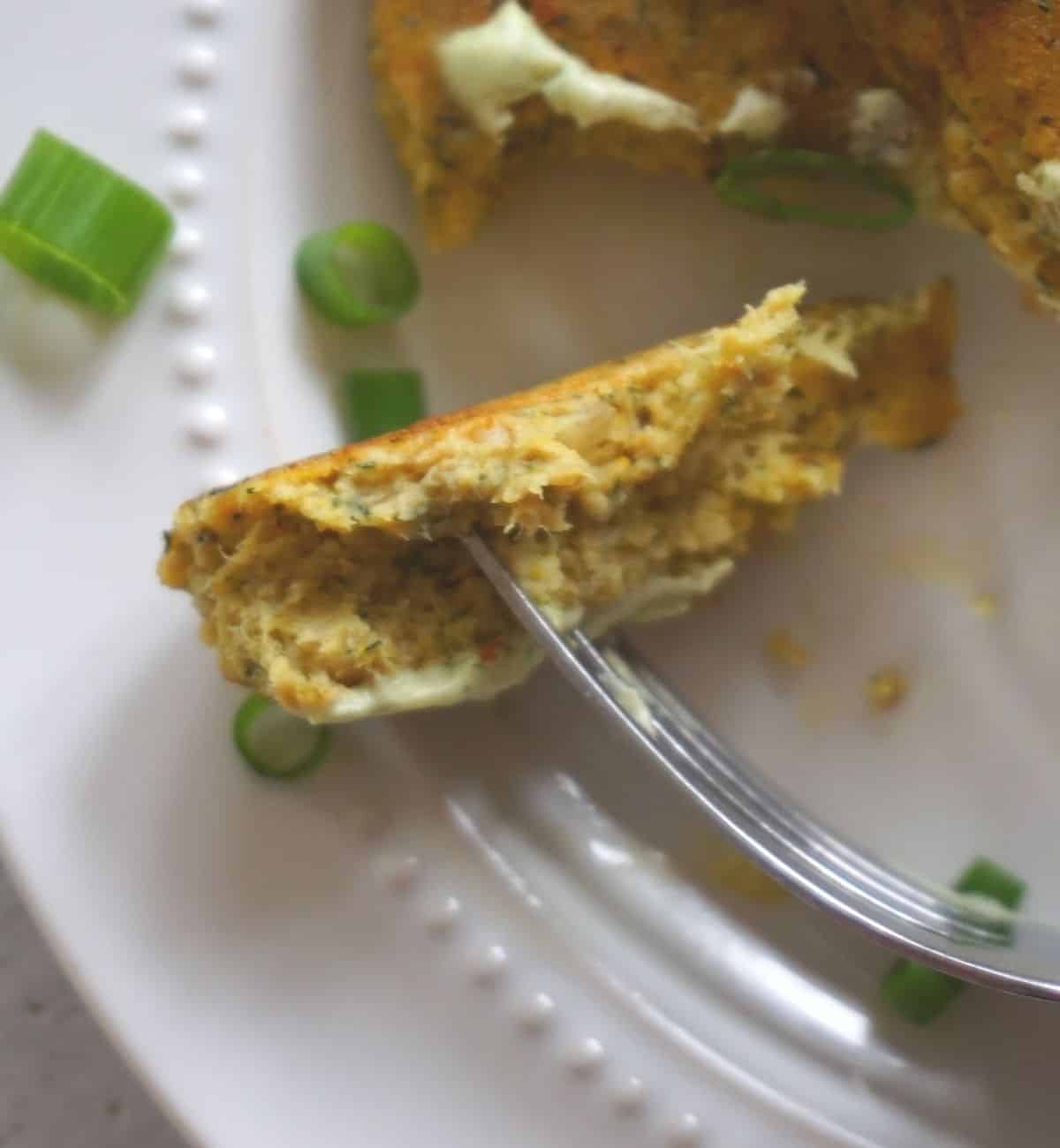 These delicious salmon cakes with avocado sauce are filling and scrumptious.
Just like grandma used to make, but without the carb count and flour. These easy canned salmon cakes are easy to whip up and are a real treat for seafood lovers. They're keto and low-carb friendly, too!
How do I prepare salmon cakes?
This can get pretty gross if you're not prepared. Salmon from the can looks a bit bleh, but it's way faster than baking it and flaking it yourself.
Can I make salmon patties with no bread crumbs?
Yes, and you'll lose the carbs too. These are easy salmon patties made with almond flour instead.
First, you'll want to drain the juices and remove all major bones from the cans of salmon. Next, use a paper towel to absorb any extra juices that may be lingering in the meat and place the meat in a large bowl.
Now, add in all other ingredients and stir thoroughly with a fork. Now you have keto salmon cakes mix.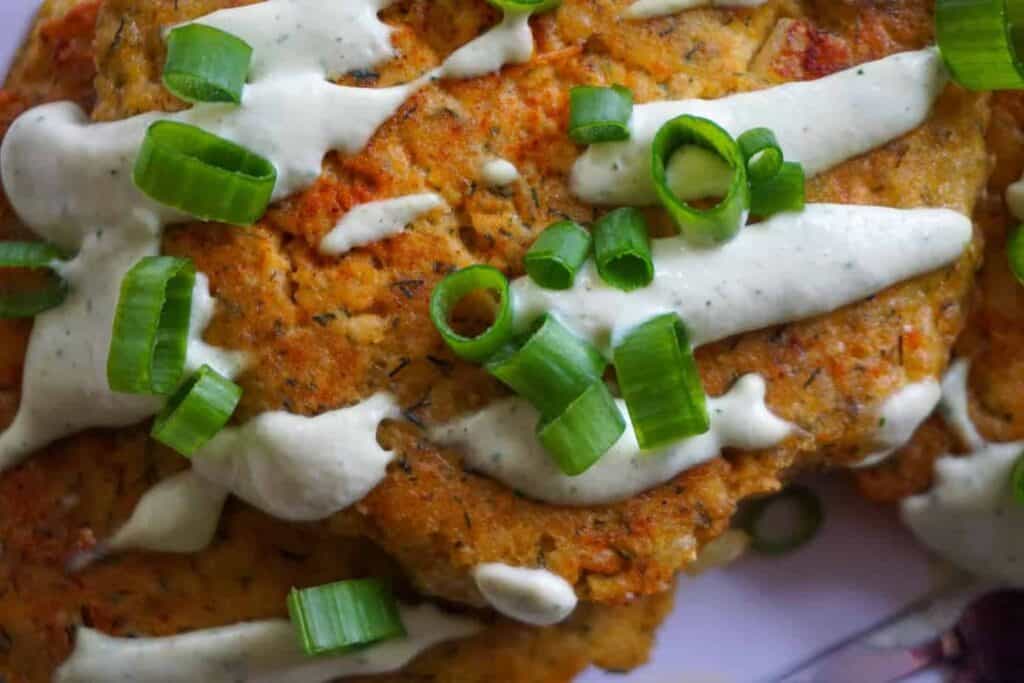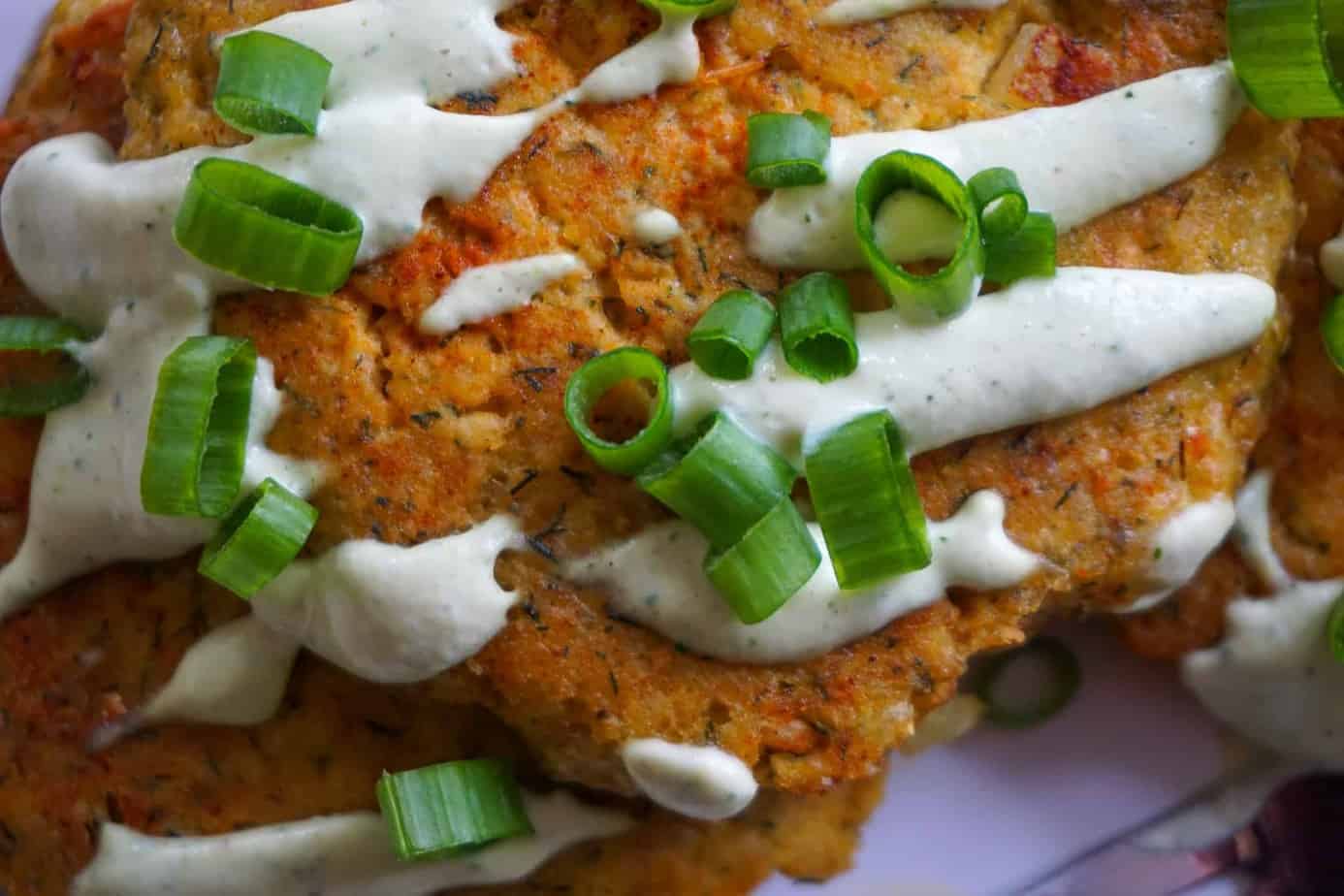 How do I keep salmon patties from breaking apart when frying?
I like to place my salmon patties in the freezer for a decent 10 minutes to keep them solid during the frying stage. It really helps, just like with pre-frozen beef patties and burgers.
Can I bake my salmon patties?
Yes, simply grease your non-stick pan and place the patties in the oven. This keeps you from having to flip them all the time and prevents them from falling apart, especially if you're clumsy like I am!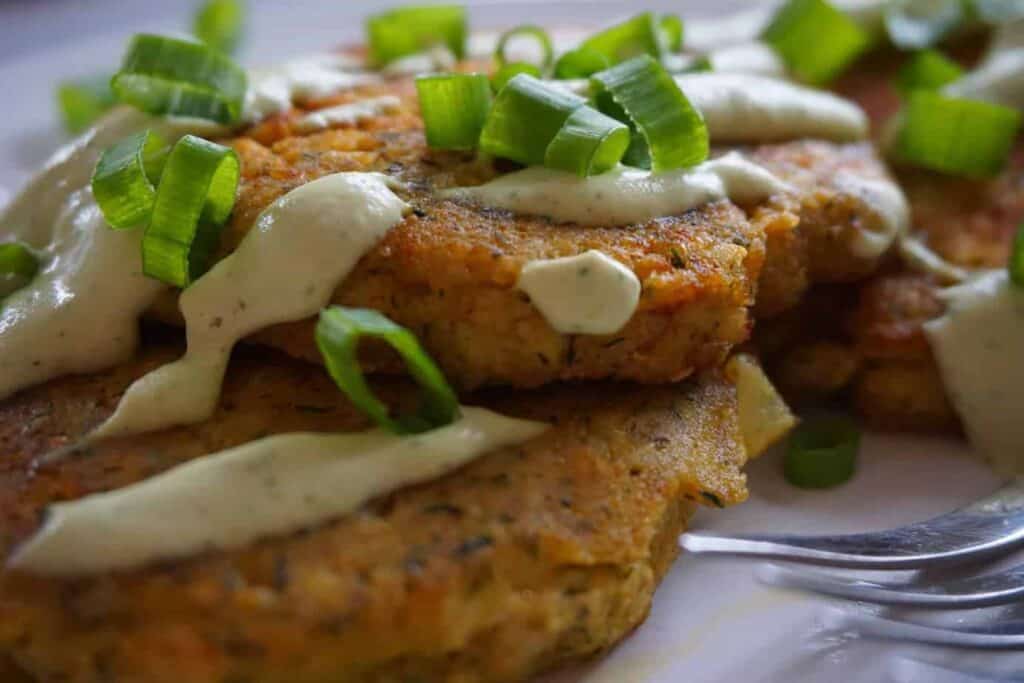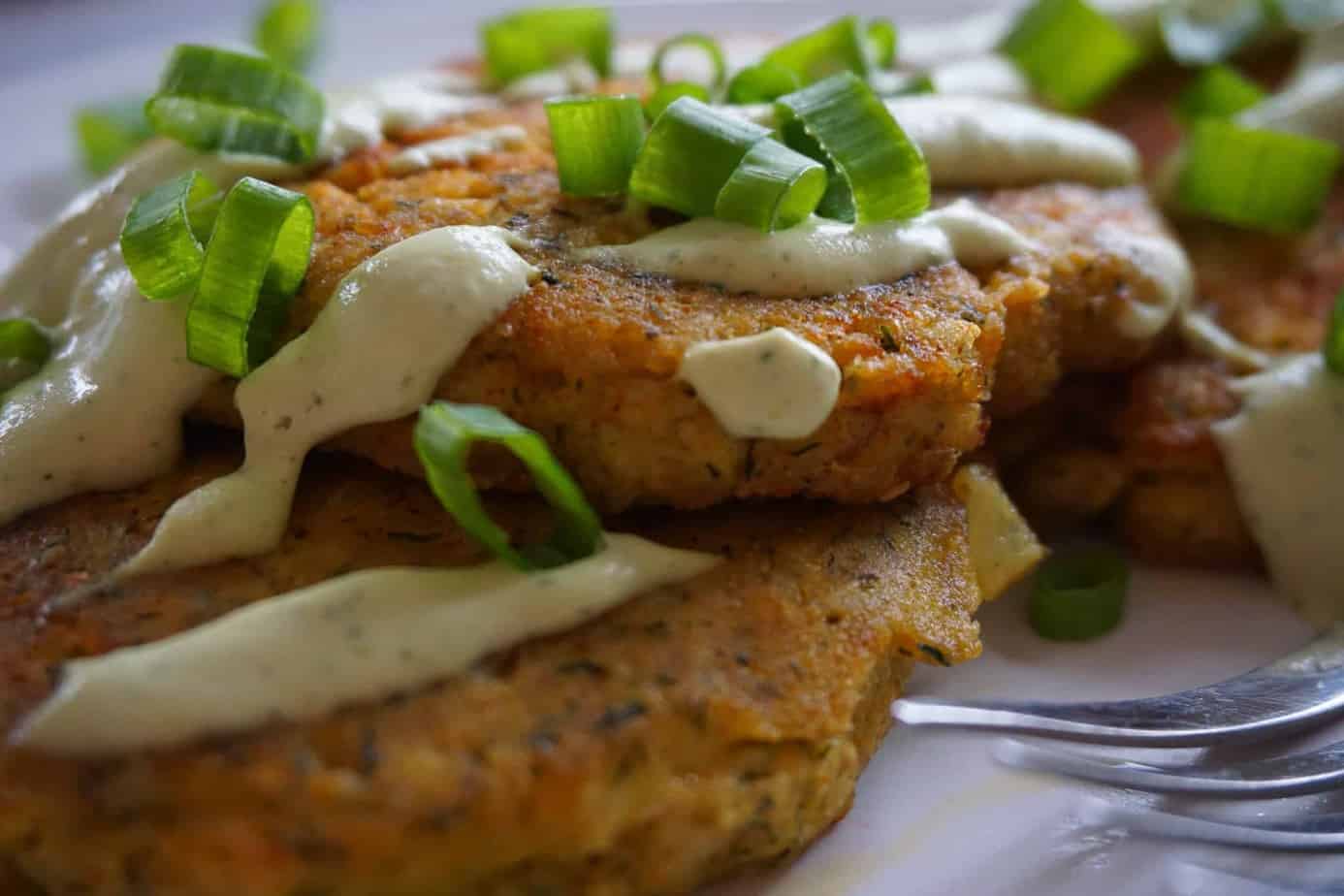 The avocado sauce is fast & easy!
You can't just eat salmon patties without a great tasting sauce to match. Simply mix in all the avocado sauce ingredients in a food processor or blender and voila!
I like my avocado sauce a bit cool, so I place it in the fridge for a bit while my salmon cakes are cooking.
If you'd like to try a sweet and spicy sauce instead, try our Sweet & Spicy Asian-inspired chili garlic sauce.
Can I make tuna cakes with this recipe?
Absolutely, just make sure the juices are drained from your can of tuna and the meat is mashed up sufficiently to absorb the egg-flour mix.
This recipe was inspired by The Food Network's take on salmon cakes.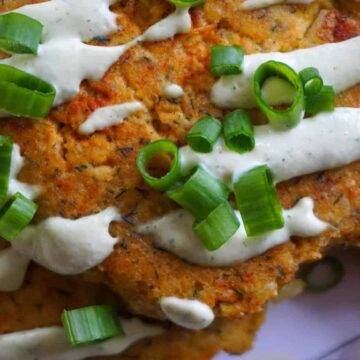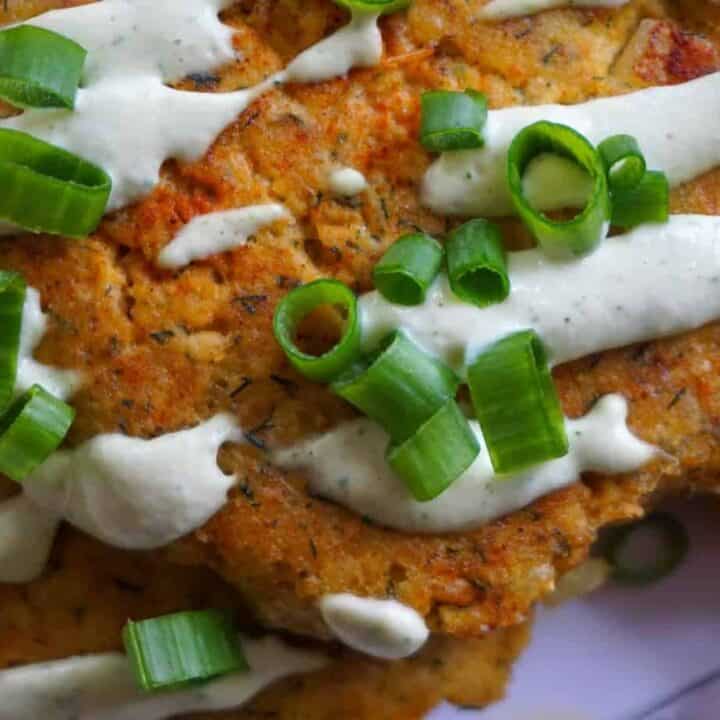 Keto Salmon Cakes with Avocado Sauce
Easy keto salmon cakes, right from the can. Healthy, low-carb patties made with almond flour and a creamy avocado sauce. Ready in under 30 minutes.
Print
Pin
Rate
Ingredients
Salmon Cakes Ingredients
4

cans salmon, bones removed and drained

2

eggs

1/2

cup

almond flour

1/2

yellow onion

1

tbsp

cumin

1/2

tsp

turmeric

1

tbsp

dill seasoning

2

tbsp

minced garlic

2

tbsp

scallions, optional garnish

1

tsp

salt, to taste
Avocado Sauce Ingredients
Instructions
Combine salmon cake ingredients, stirring with a fork. Form patties and set in freezer for 10 minutes.

Meanwhile, blend all avocado sauce ingredients and place in refrigerator.

Heat oil on med-high heat and fry salmon cakes for approximately 6-7 minutes on each side. Flip only when ready.
Nutrition
Calories:
524
kcal
|
Carbohydrates:
6
g
|
Protein:
40
g
|
Fat:
36
g
|
Saturated Fat:
11
g
|
Cholesterol:
182
mg
|
Sodium:
147
mg
|
Fiber:
4.5
g
If you like tasty salmon cakes, you'll love: