Cast-iron Pizza Casserole
I remember going to Pizza Hut as a child (I read many a book to get my Book It! coupons). I loved those nice deep-dish pizzas, straight from the oven in a large cast-iron skillet.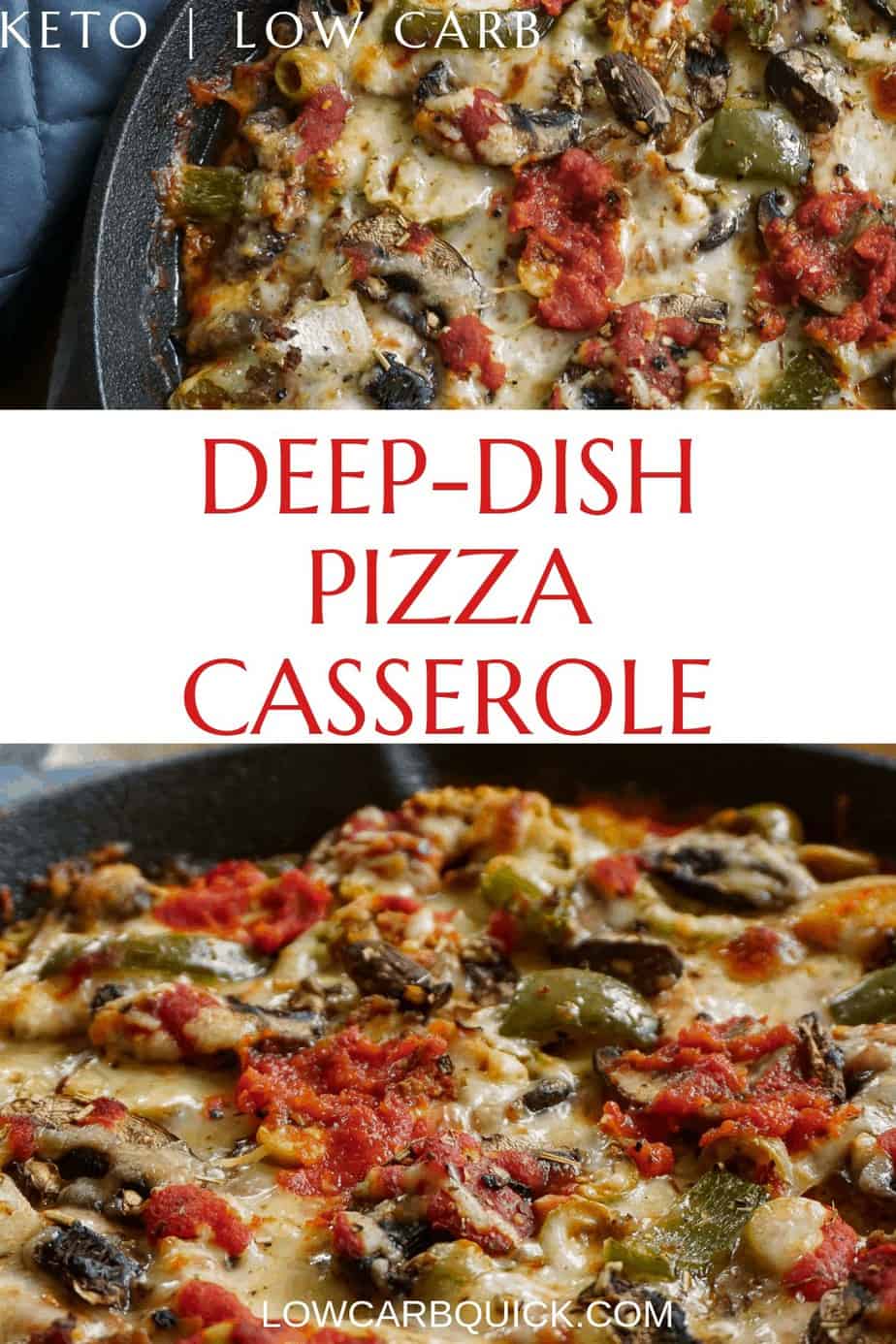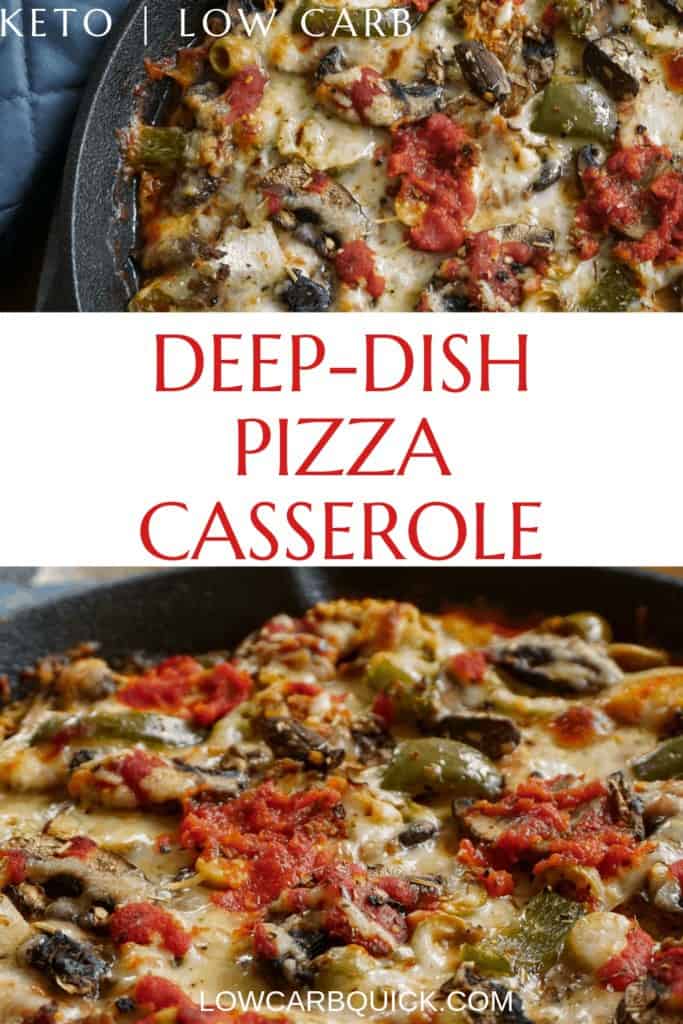 A few years back, I actually made it to Chicago for one of the city's famous deep-dish pizzas (back in my carb-crazy days). This recipe was inspired by Giordanos.
Now, I'm watching what I eat, but I still love and crave a deep-dish pizza. So, I created this monster of an easy keto pizza casserole.
How can I make the perfect deep-dish keto pizza?
I made my pizza casserole in a cast-iron skillet for a bit more flavor. M
y favorite is the Lodge brand skillets like this one.
However, you can make this recipe without one; just use a deep casserole dish instead.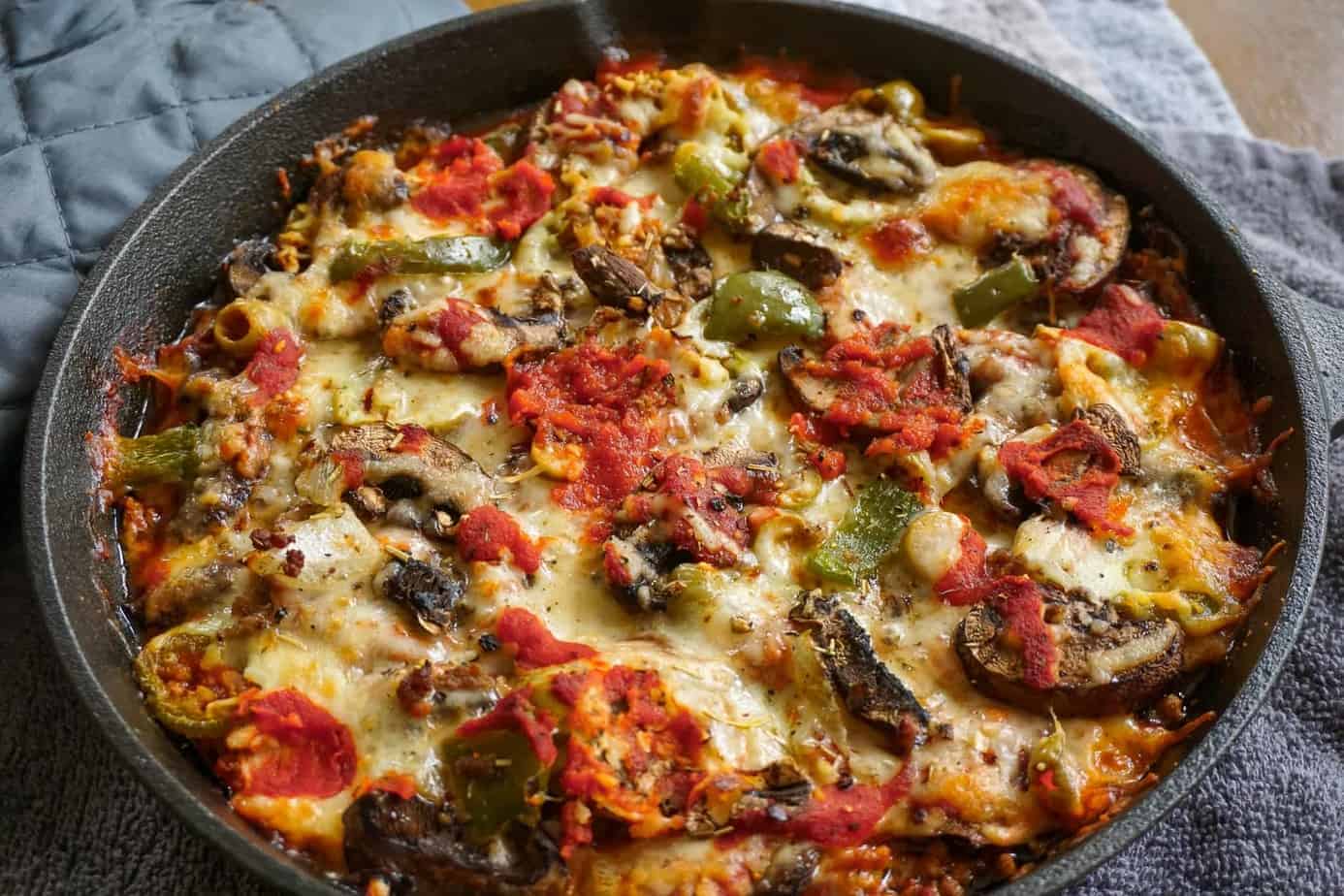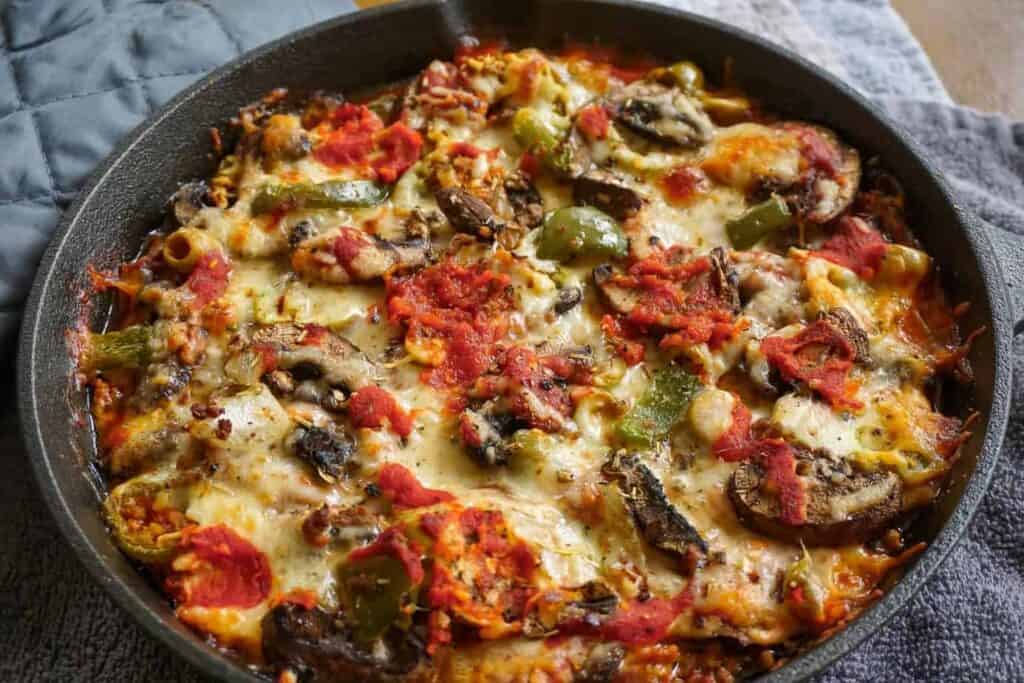 Notice I didn't use pizza sauce in this recipe. Instead, I used spaghetti sauce, which I think has more of a rich taste for casseroles than pizza sauce.
Tips for cooking your pizza casserole:
To save on time, I added in my chopped onion and green pepper while browning the ground beef. Now, they're soft and savory from the oven later on.
Next
, I added in some favorite pizza toppings. However, you may wish to substitute any meats, cheeses, and veggies as long as they're low-carb or keto friendly.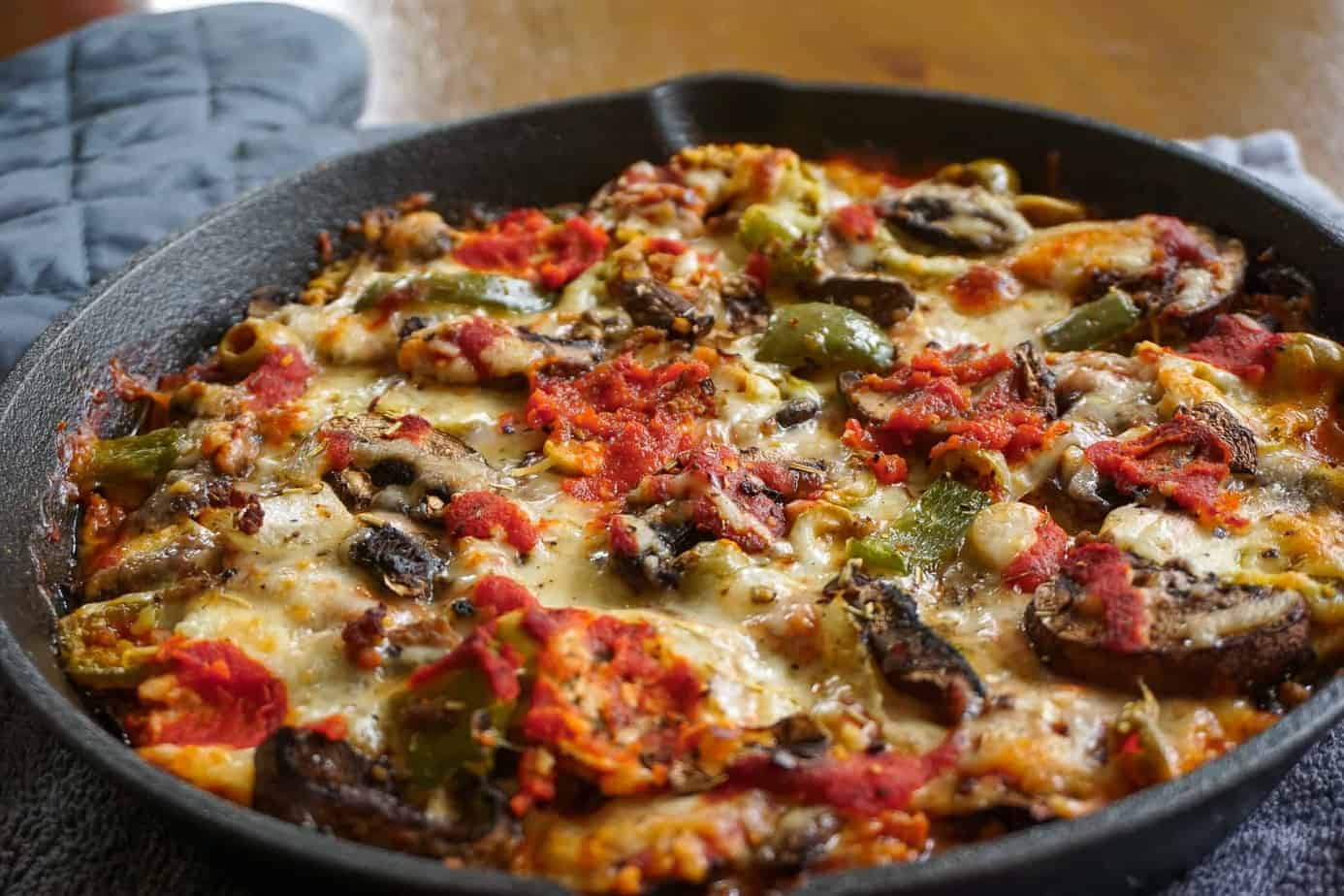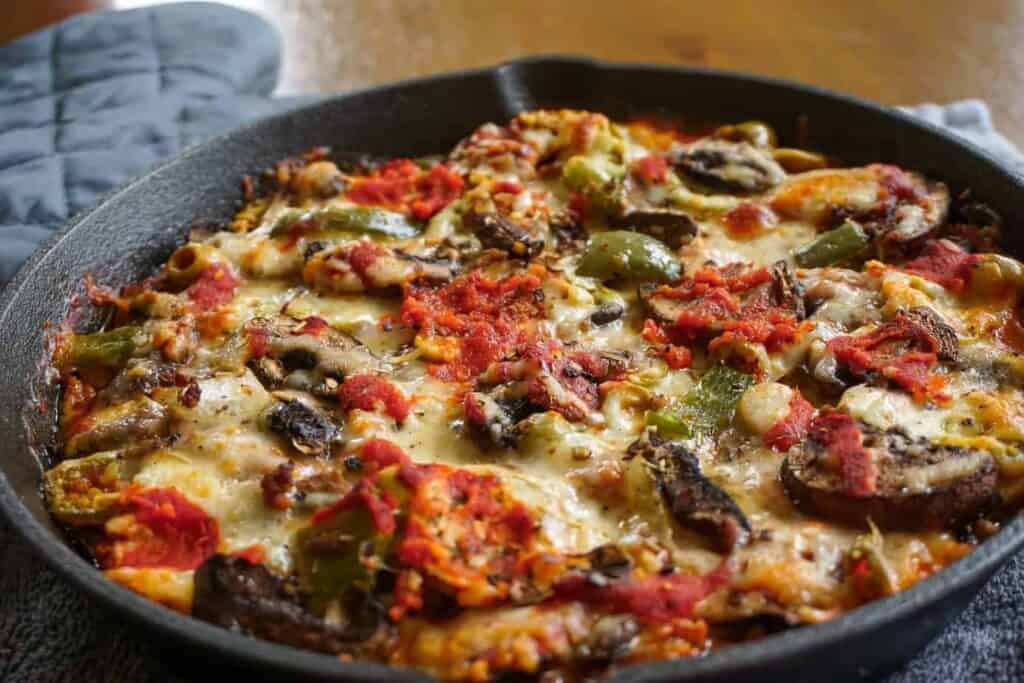 How do I make pizza casserole keto friendly?
To make this more keto friendly, you can omit the onions and add in more peppers, olives, or mushrooms. Extra meat is also a great way to beef up your deep-dish casserole.

Can I make other substitutions for a keto pizza?
bbq sauce, chicken and onions instead of pizza sauce/ground beef
meat lover's pizza with ham, Italian sausage, and beef

Philly cheesesteak pizza with steak, peppers, onion, and white American cheese
A few ideas if you LOVE pizza casserole:
make it ahead of time and freeze for easy meal prep
add in extra cheeses to make a cheesy pizza party dip
make leftovers into a pizza shashuka for breakfast (eggs baked into the tomato sauce)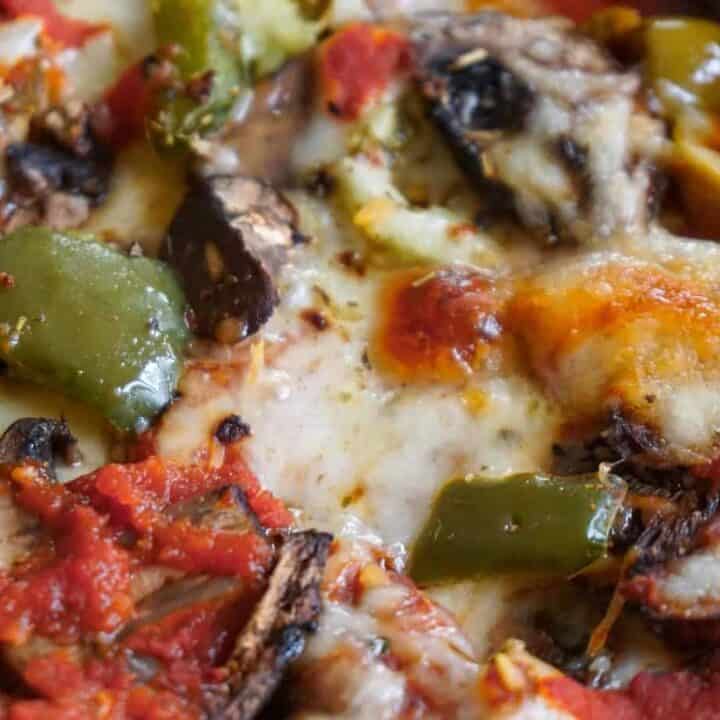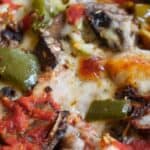 Deep-dish pizza casserole (keto)
Deep-dish pizza casserole (keto and low carb). A supreme, loaded cheesy pie with all the deliciousness and low carbs. An easy, one-pan dinner idea.
Ingredients
1

lb

lean ground beef

½

cup

shredded mozzarella cheese

⅓

cup

green olives

12

slices pepperoni

1

green bell pepper

1

yellow onion

3

tbsp

pickled jalapeños

8

oz

baby bella mushrooms

1.5

cup

low carb spaghetti sauce
Instructions
Preheat oven to 350ºF.

Meanwhile, on med-high heat, brown ground beef with onions and green peppers. Drain any excess juice.

Add low-carb pizza sauce, pepperoni, green olives, mushrooms and jalapeños. Top with mozzarella cheese.

Bake for 10-12 minutes, until cheese is golden.
Nutrition
Calories:
283
kcal
Carbohydrates:
8
g
Protein:
37.7
g
Fat:
9.3
g
Saturated Fat:
3.1
g
Cholesterol:
103
mg
Sodium:
613
mg
Fiber:
1.8
g
If you like this keto deep-dish pizza casserole, you'll love: