An easy buttery, Italian sheet-pan dinner
This roasted Italian butter steak and radish sheet-pan dinner is the perfect recipe for a busy weeknight.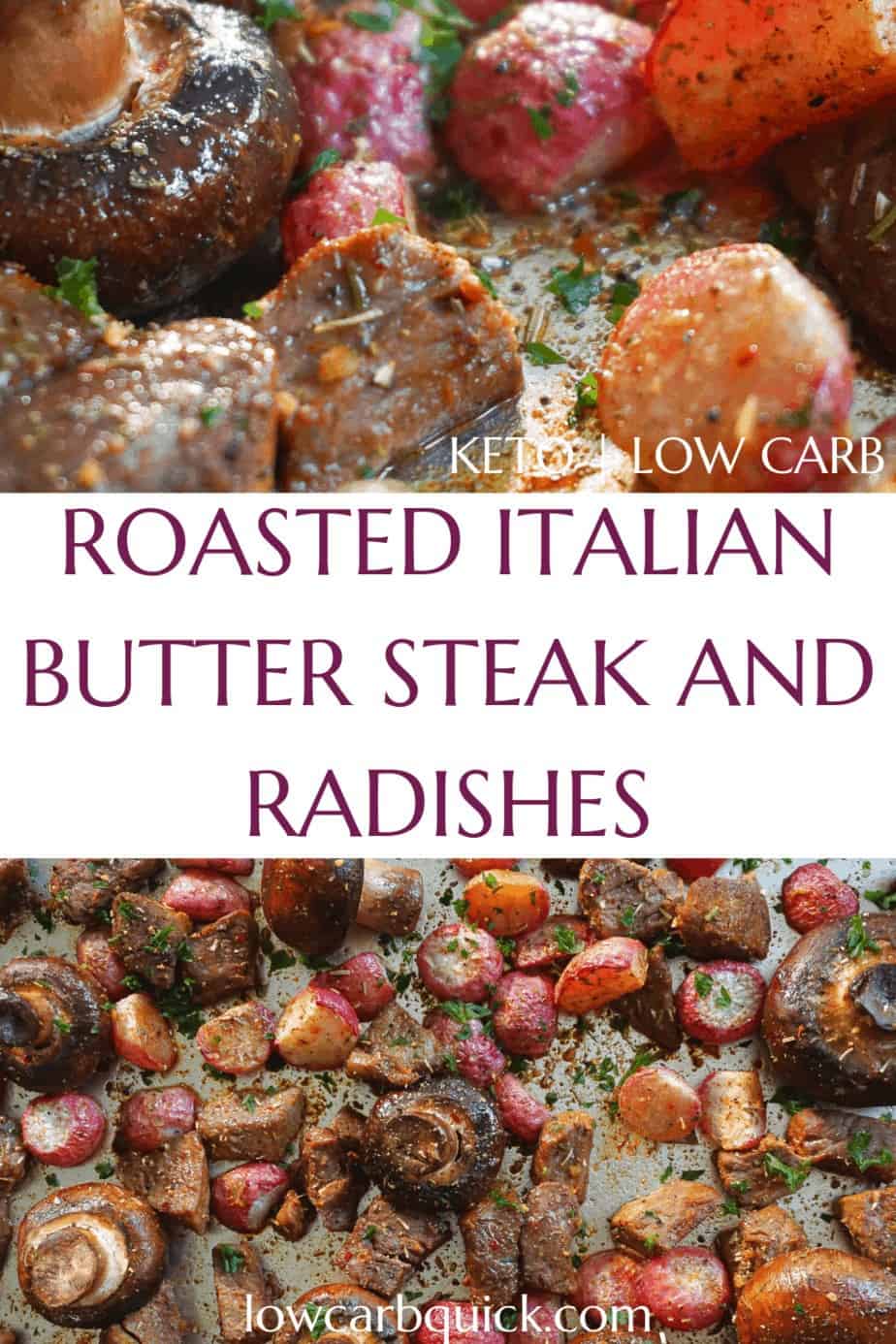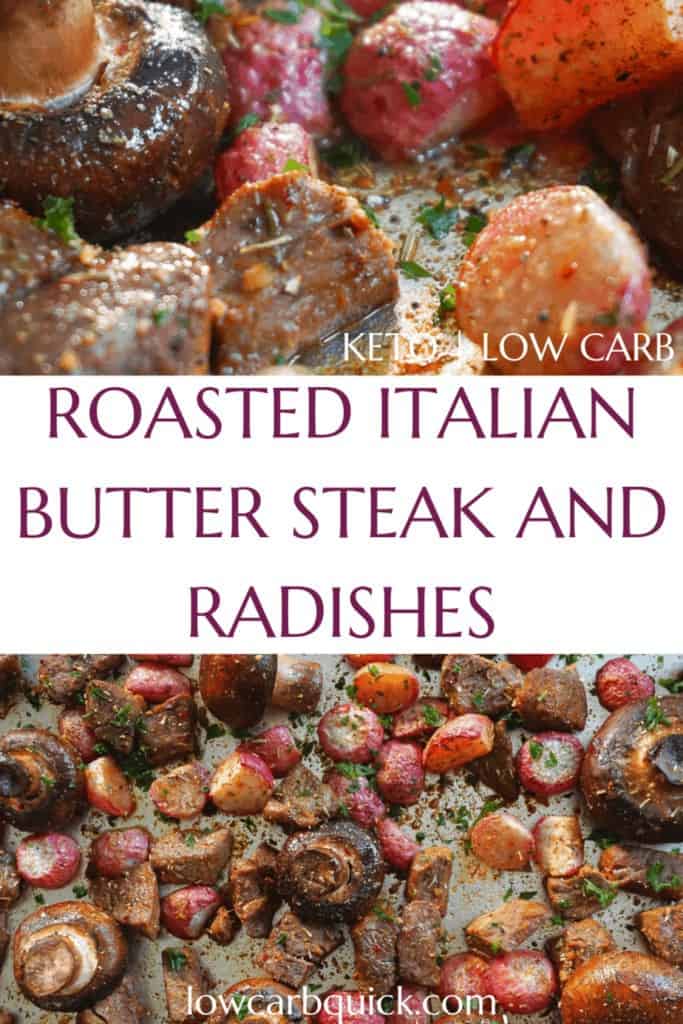 Minimal prep and keto-friendly deliciousness doesn't have to be complicated.
How to prepare buttery Italian roasted steak and radishes:
Roast the radishes
Prep steak and mushrooms
Add steak and mushrooms to sheet pan
How do I cook a buttery steak dinner? 
1. Roast the radishes
You'll want to prep your radishes by chopping them into halves if they're really big. Then, wash and dry them using a colander.
Drizzle your non-stick baking sheet or pan with a bit of olive oil and add your radishes.
Add a touch of salt and pepper, if desired.
Cook at 375º F for about 35-40 minutes or until almost tender when poked with a fork.
2. Prep Steak and Mushrooms
Cut steak into 1-inch cubes and season with a sprinkle of meat tenderizer.
Meanwhile, you'll want to wash your whole baby portobello mushrooms in a colander and dry with a paper towel.
3. Add steak and mushrooms to sheet pan
Remove your "almost cooked" radishes from the oven and add in your steak.
Bake for about 8 minutes (or to your desired wellness), remove and add in the mushrooms for 5-6 more minutes.
Tip for roasting mushrooms!
Don't forget to add butter to your mushrooms, but do watch them closely as to not overcook.

Cooking steak in garlic butter
Another option is to cook and season your steak with garlic butter, aside from the sheet pan.
If you are crunched for time, just season with 2 tablespoons of Italian seasoning and slices of butter on top of your steak and place in the oven.
Can you cook steak in butter?
Only all the time! Kidding aside, I like A LOT of butter. (about 2 or 3 tablespoons).
And it's ok to bake a ribeye with garlic butter if you prefer. Meat tenderizer is important, as it keeps your steak soft and juicy from the oven.
Place your butter, in slices, all over  your mushrooms and steak. It really brings out the flavor of the steak and Italian seasoning.
How can I make radishes taste more like roasted potatoes?
I won't lie, I miss potatoes on my low-carb diet.
So, what's a low-carb alternative to potatoes ? Radishes, of course!
Ten whole medium radishes is only 1.5 g net carbs and 12 calories. 
How do I make radishes taste great?
Alone, radishes can be boring. Really boring. So, how can we really bring out their flavor?
Here's some tips on how to make radishes taste just as delicious as potatoes:
butter and Italian seasoning
roasted, smashed cheesy bacon radishes
buttery cajun-roasted radishes with creole seasoning
oven-roasted smashed radishes with butter, sour cream and chives
add in Italian-style greens to the mix for roasted radishes and greens (vegan)
make a butter rosemary steak or garlic herb steak
sautéed radishes and onions for topping off your steak
If you like this Roasted Italian Butter Steak and Radishes, you'll love: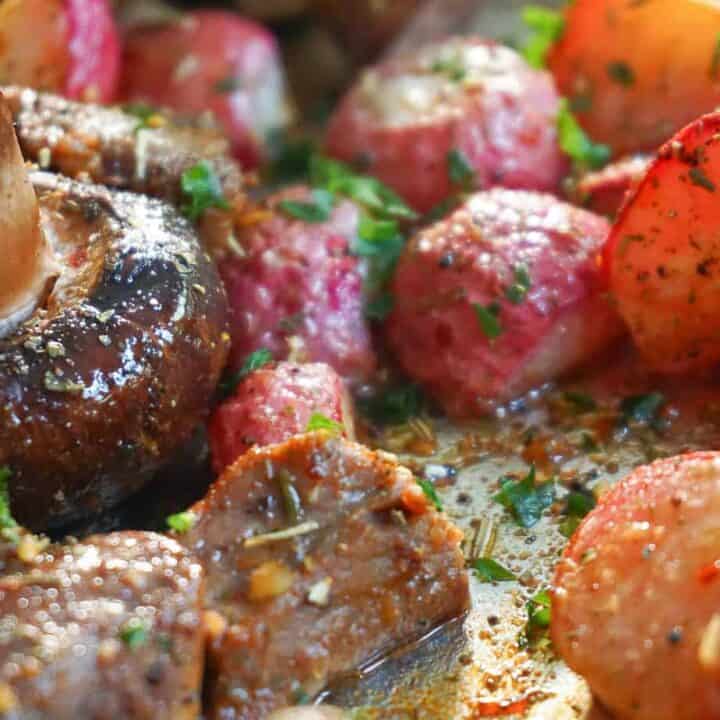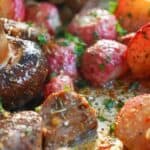 Roasted Italian Butter Steak and Radishes
Easy Italian Roasted Butter Steak and Radishes sheet pan meal with minimal prep and bursting with flavor. A low-carb and keto dinner in under an hour.
Ingredients
1

lb

radishes

1

tsp

olive oil

2

tsp

meat tenderizer

1

lb

steak, chopped into cubes

8

oz

pack baby Bella mushrooms

2

tbsp

Italian seasoning

2

tbsp

butter

1

tsp

salt and pepper, or to taste
Instructions
Preheat oven to 375º F.

Add radishes to a non-stick baking sheet, and toss in olive oil. Bake for 35-40 minutes, or until almost tender. Meanwhile, chop steak, coat with meat tenderizer and set aside.

After removing radishes, add chopped steak, slices of butter, Italian seasoning and whole mushrooms to the pan. Bake an additional 10-12 minutes, or until steak is at desired wellness.
Nutrition
Calories:
427
kcal
Carbohydrates:
3.2
g
Protein:
56
g
Fat:
18.2
g
Saturated Fat:
8
g
Cholesterol:
163
mg
Sodium:
186
mg
Fiber:
2.7
g