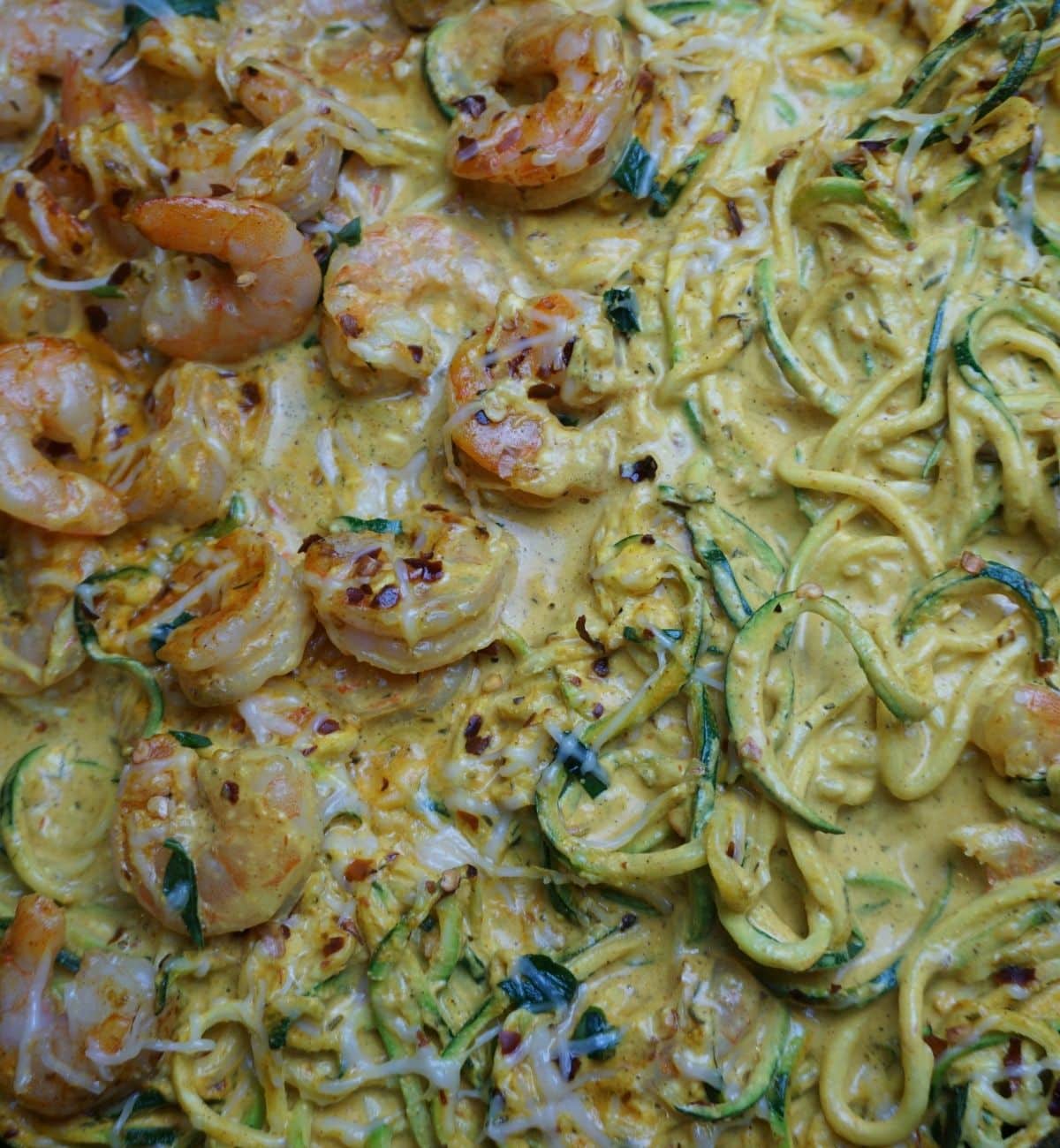 Dive into a beautiful blend of flavors with this Mediterranean shrimp and zoodles dish!
A Mediterranean shrimp and zucchini spiral mix is super easy to throw together (just look at the instructions- so simple!)
How do I prepare the Zucchini Noodles?
I get a lot of questions about how I make zucchini noodles. I use a hand-held spiralizer, since they're super easy to clean.
Mine has paid for itself time and time again- I've made a ton of zoodles over the past two years.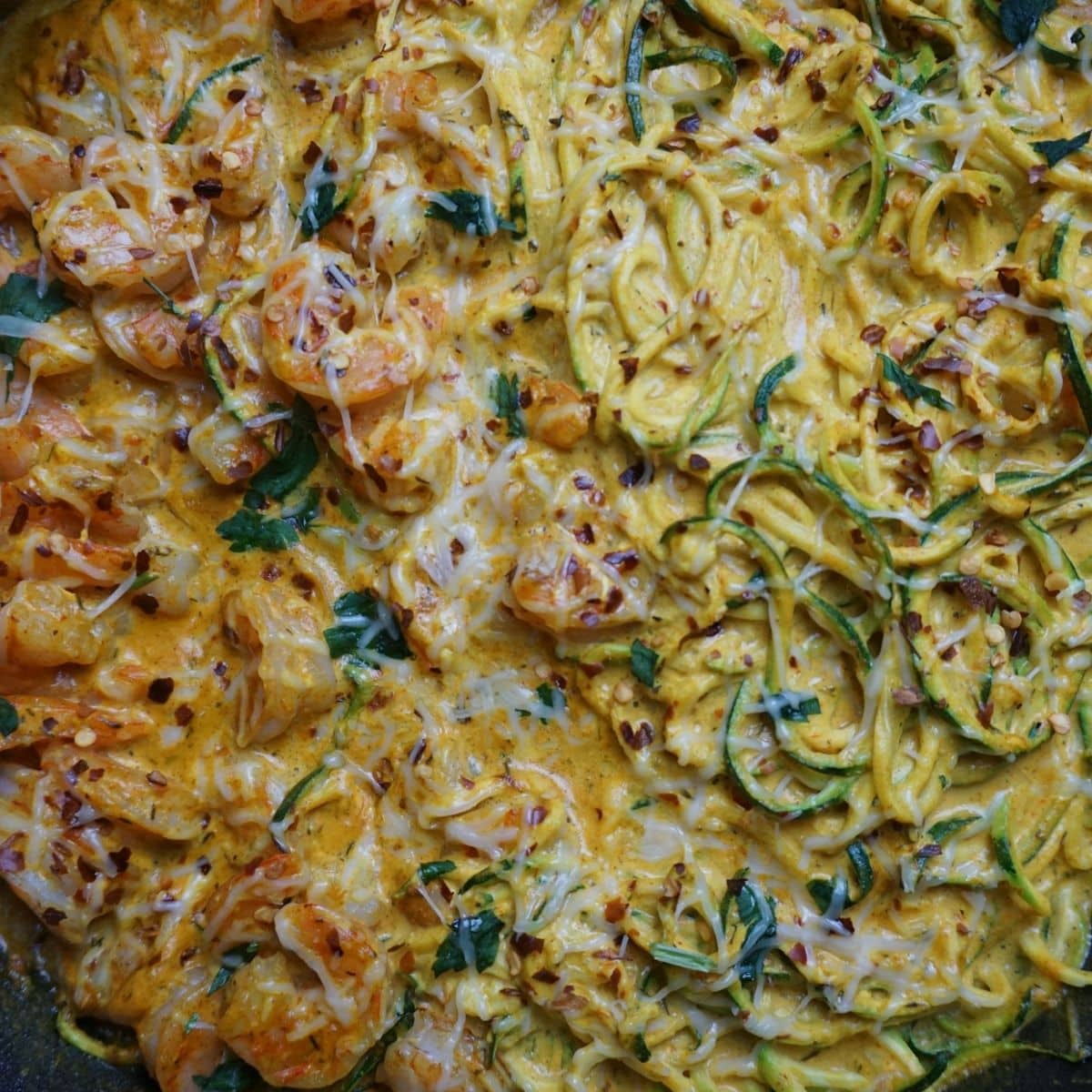 Tips for zucchini noodles (a.k.a. "zoodles")
First, I wash my zucchini thoroughly and wipe them clean with a paper towel before spiralizing.
The towel gets them much cleaner and removes any excess dirt remaining.
After spiralizing, there's usually left over moisture on the zoodles. I like to pat them dry before cooking with butter, spices, or sauce. This ensures they soak up flavors instead of making your dish watery.
Best sides to serve with Mediterranean Shrimp & Noodles?
I like to add in some feta cheese, shredded parmesan or pecorino Romano cheese atop my zoodles.
The sauce can be a tad spicy, so you may want to layer on the cheese if you're sensitive to spicy foods.
A Greek salad is a delicious addition to this shrimp dish.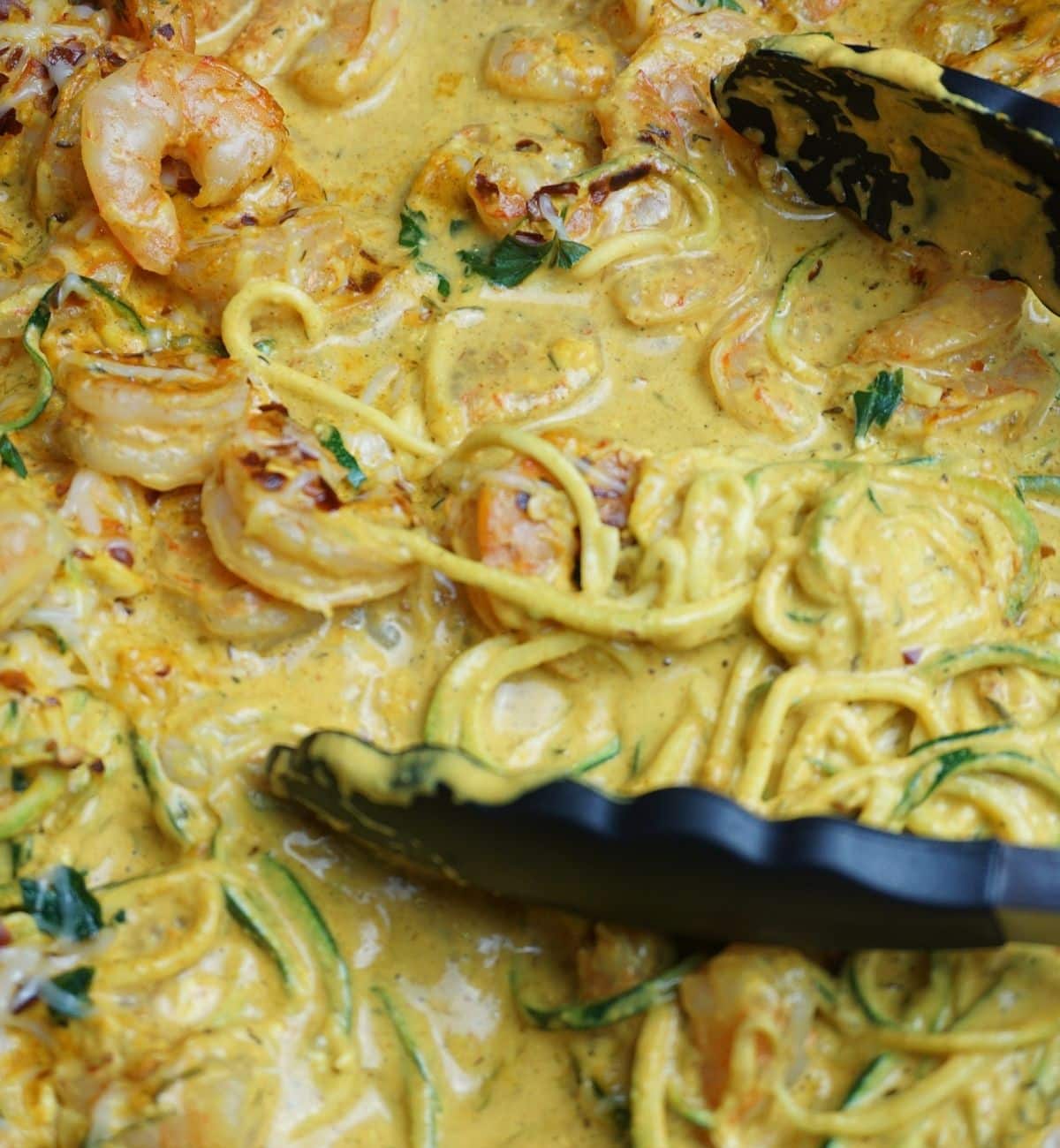 What can I serve with Mediterranean 'zoodles' if I don't have shrimp on hand?
You can use steak, prawns, extra veggies or chicken with zoodles instead of shrimp. And, if you're looking for an Italian-inspired dish, try our zucchini pasta.
Common Mediterranean Spices
Some common Mediterranean spices include thyme, garlic, red pepper flakes, parmesan, oregano and more. Head on over to The Mediterranean Dish for more ways to spice up a Mediterranean dish.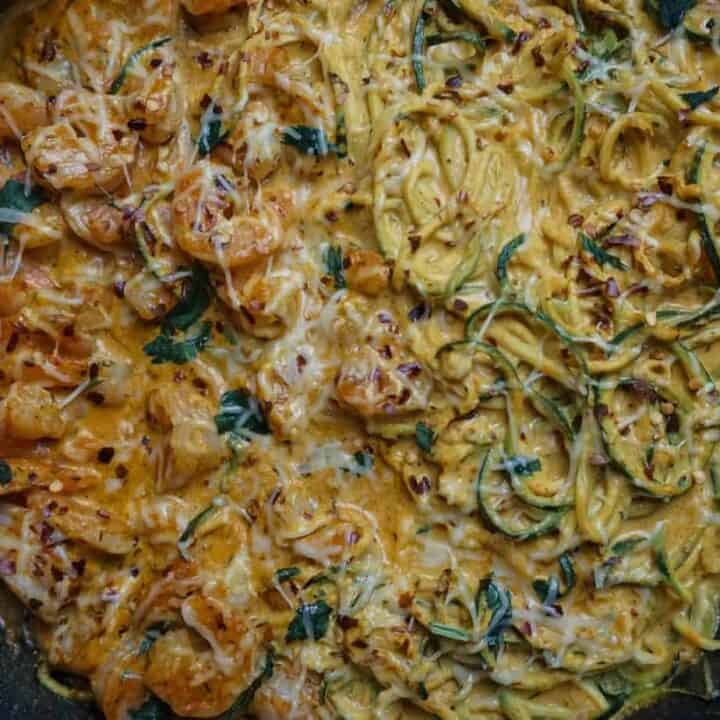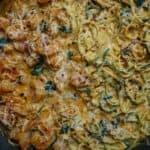 Creamy Keto Mediterranean Shrimp and Zoodles
A creamy mediterranean shrimp and zoodle recipe in less than 30 minutes. Keto and low carb-friendly, easy, one pan meal with a kick.
Instructions
Preheat oven to 400º F. Butter a cast iron skillet and add zoodles and shrimp.

In small saucepan, mix spices, cream cheese, butter, and half & half on low-med heat. Stir frequently.

Bake zoodles and shrimp for 5-8 minutes. Remove and add sauce to shrimp and zoodles. Stir, add parmesan and bake for another 10 minutes. Serve.
Nutrition
Calories:
381
kcal
Carbohydrates:
8
g
Protein:
31.8
g
Fat:
21.9
g
Saturated Fat:
12.8
g
Sodium:
434
mg
Fiber:
4.2
g
If you like Mediterranean shrimp & zucchini noodles, you'll love: