The best air fryer ribeye steak is not only perfectly crisp on the outside and juicy inside; it's the most delicious steak cooked perfectly every time right at home in the air fryer. Serve with your favorite veggie sides for the ultimate meal.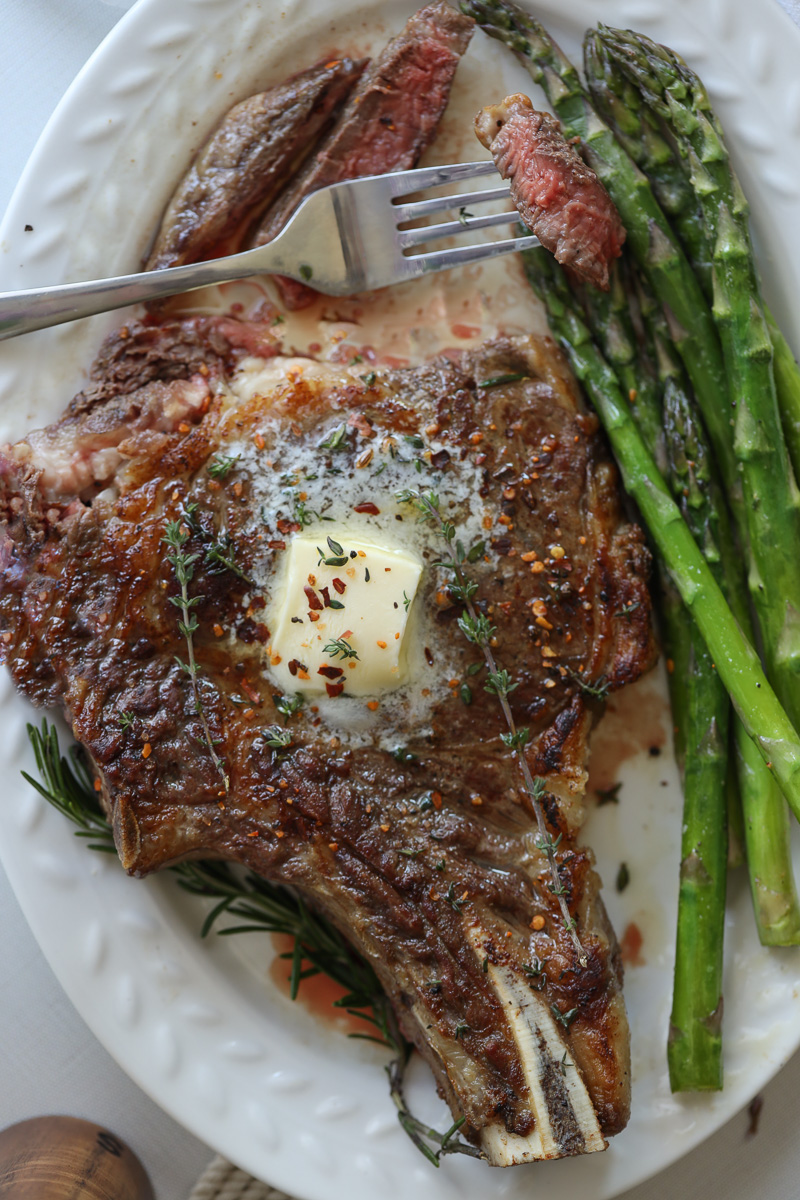 What is the 'ribeye' meat exactly?
The ribeye, or prime rib, section of the meat comes from the same area. A ribeye steak is cut from the primal rib section of the animal. And, the ribeye is a great cut of meat that's perfectly juicy.
ingredients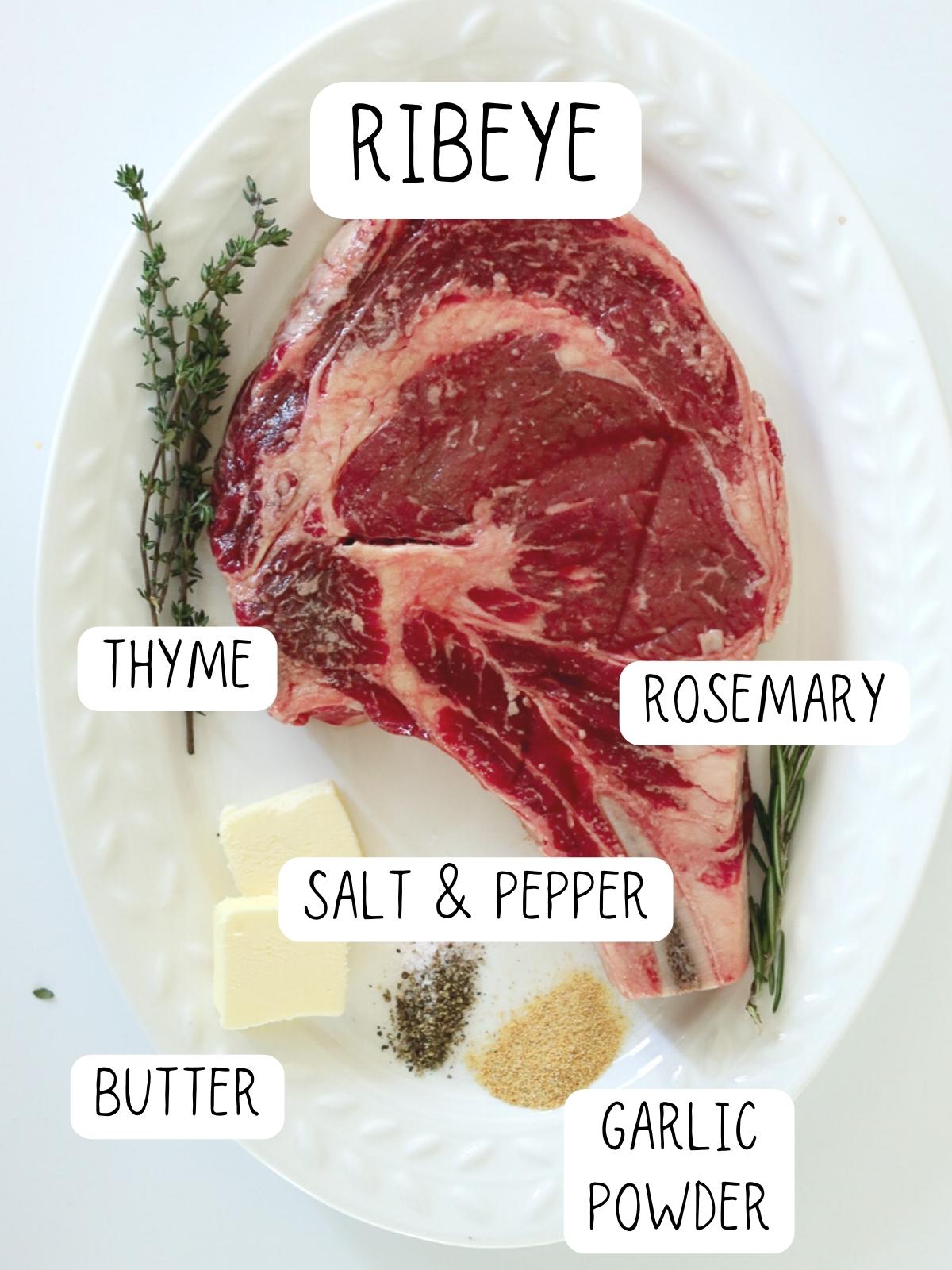 how to make ribeye in air fryer
Yes, you can cook any steak in the air fryer and it's really easy! To be honest, I used to struggle to get the perfect steak. Not anymore, thanks to my air fryer.
Before you begin, pre-heat the air fryer to 400 F for a few minutes, then add your seasoned steak.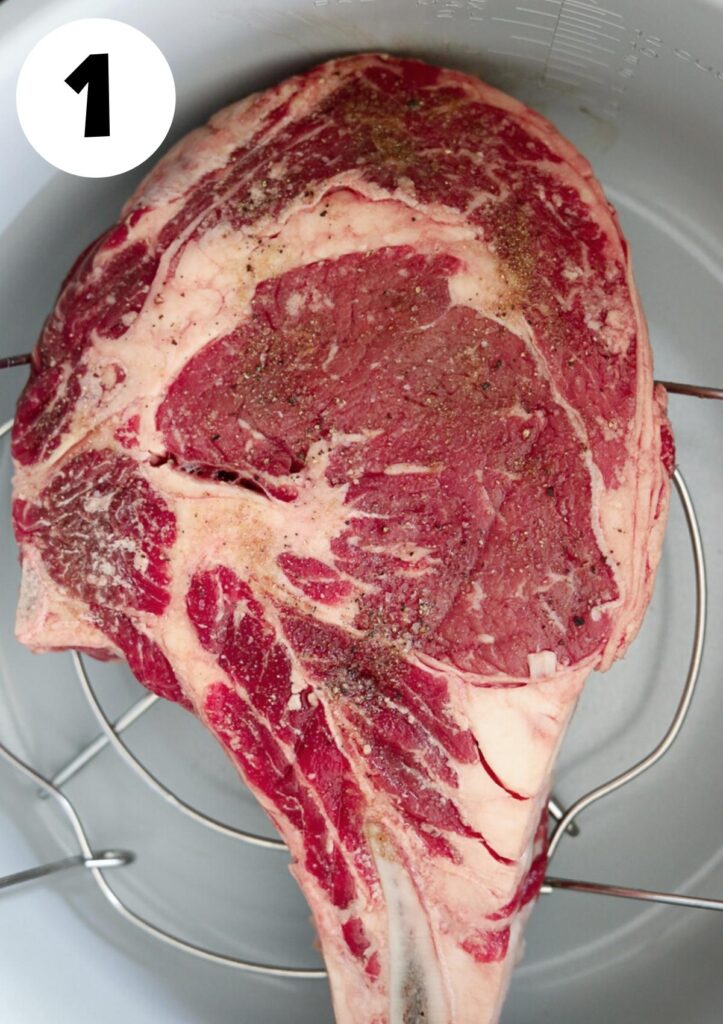 Season your steak with olive oil and garlic powder
Add to a hot air fryer (you'll know it's time if you hear it sizzle)
Flip after 7-8 minutes and cook for additional 4 minutes
Optional step: If you prefer a crisp sear, add it to a HOT cast iron pan with butter and herbs to finish it off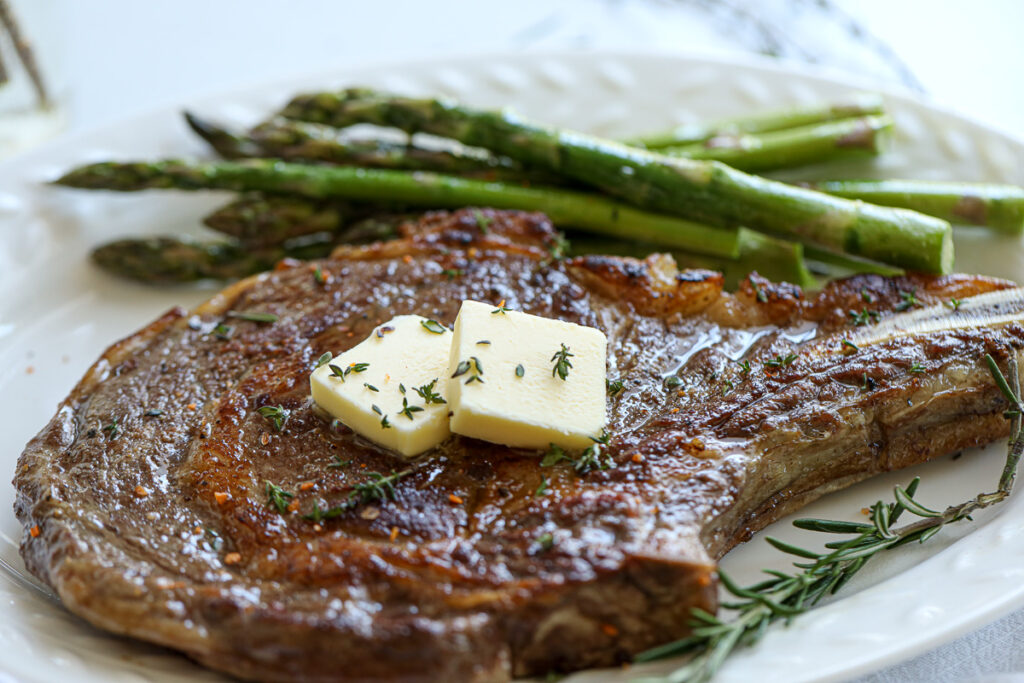 expert tips
Easily, with these top tips:
Leave the fat and/or bone in the steak
flip halfway through cooking
Allow the steak to reach room temperature for 30 minutes – 1 hour before placing into the preheated air fryer
I like to finish my steak in a cast iron skillet. This is also the time to add in any extra garlic or herbs for a tasty flavor-infused steak.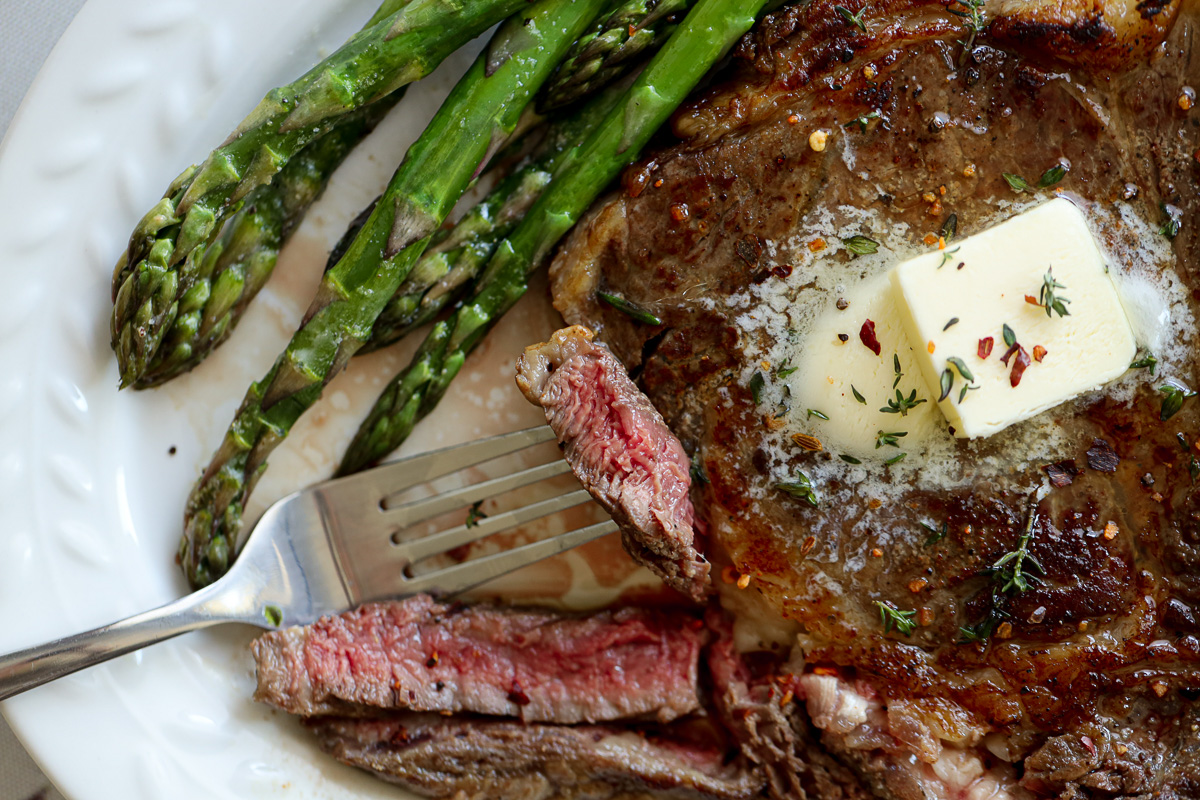 FAQ
how to air fry ribeye from frozen
Yes, you can air fry a frozen ribeye steak directly from the freezer.
Hey, life gets busy. While the preferred method is fresh and left to sit at room temperature, you still can cook from frozen if you are in a pinch for time.
First, preheat air fryer to 360 degrees
Then, set to 26 minutes total, flipping half way through.
Finally, for well done, add 2-3 minutes to each side.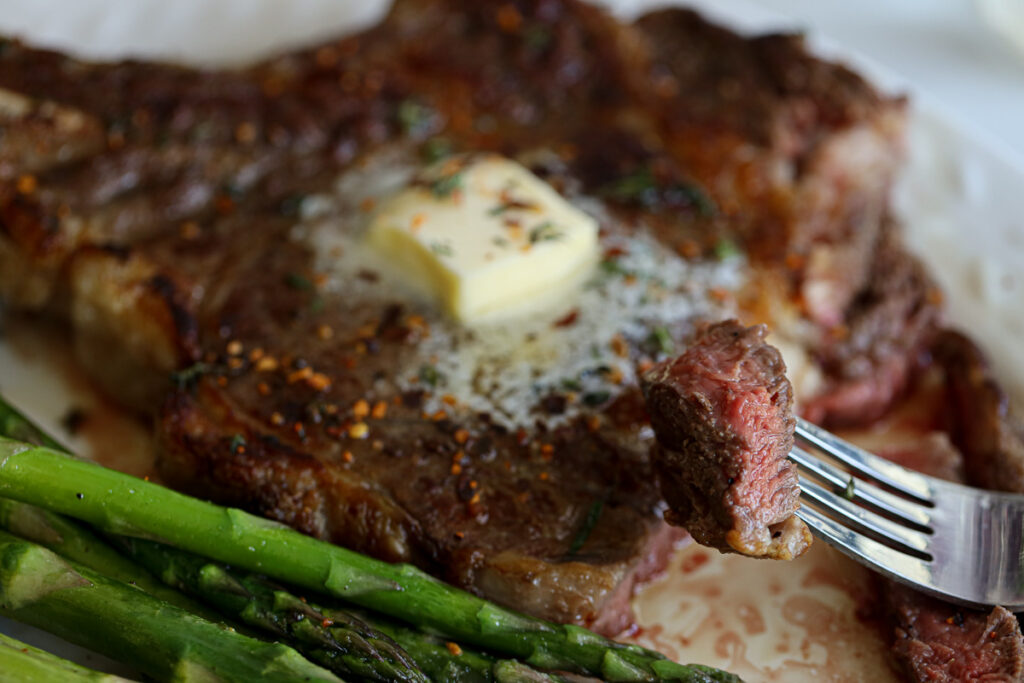 cooking times
In short, the cooking time of your air fried steak will depend on your wellness preference.
I prefer a medium well steak, so I like to put fresh meat into the air fryer once preheated and leave it in on each side for 5 minutes each before searing in a cast iron skillet with herbs.
how to prevent overcooking
Hey, it's ok to open and take a peek if you quickly return and continue cooking the ribeye after checking. For medium well, I cook for 8 minutes initially, then another 4 minutes on the other side.
Add more time for well done steak.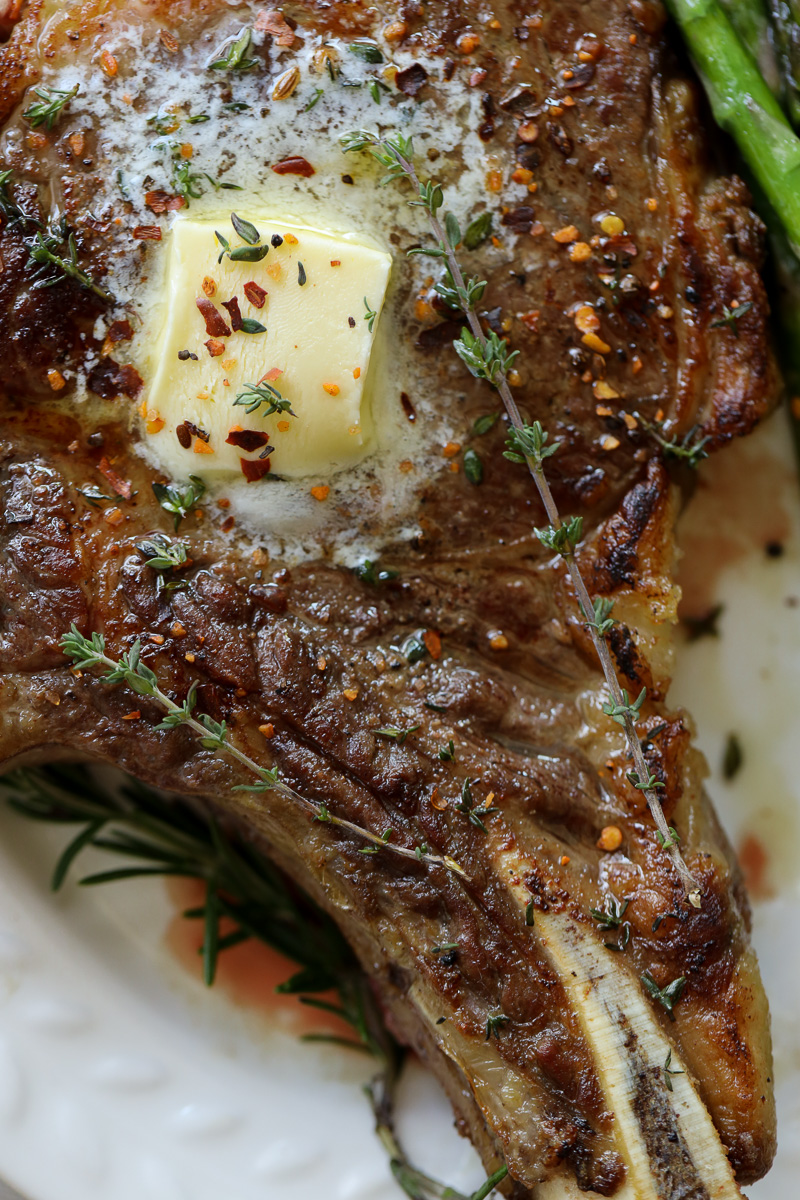 What setting do I use on my Foodi/Instant Pot?
To air fry the steak, you'll want to make sure to set to "air crisp" or "air fry" and NOT on the "roast" setting.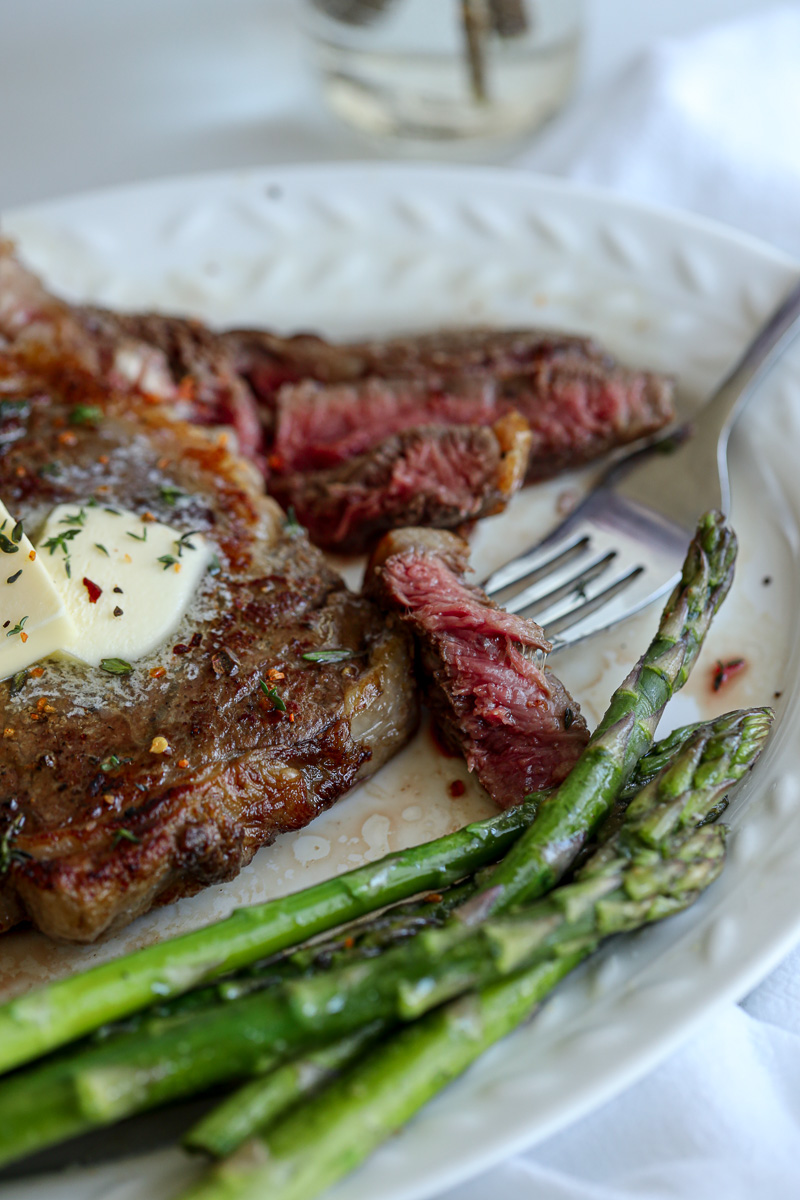 best sides for ribeye steak
garlic butter
broccoli (not recommended in the air fryer)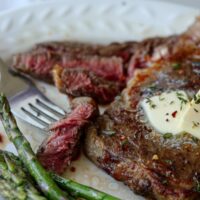 Bone in Ribeye Air Fryer Steak
The perfect ribeye steak to make in the air fryer
Print
Pin
Rate
Ingredients
2

ribeye steaks

medium

2

tbsp

olive oil

½

tsp

salt

1

tbsp

garlic powder

½

tsp

pepper

2

tbsp

butter

1

sprig of rosemary

optional, for searing at the end

1

sprig of thyme

optional, for searing at the end
Instructions
Preheat air fryer to 400°F for approximately 5 minutes

pat steak dry with a paper towel

While air fryer is heating, season steak with olive oil and garlic powder on both sides

cook in the air fryer for 8 minutes, then flip and cook an additional 4 minutes
Searing (optional)
melt butter, adding in thyme and rosemary to a large cast iron skillet

Sear in a buttered, heated cast-iron skillet on high heat for 2 minutes each side or until desired wellness
Notes
keep leftover ribeye in the fridge for up to 3 days 
serve with veggies, like broccoli, asparagus, and salad for a low carb meal
Nutrition
Serving:
6
oz
|
Calories:
709
kcal
|
Carbohydrates:
3
g
|
Protein:
46
g
|
Fat:
57
g
|
Saturated Fat:
23
g
|
Polyunsaturated Fat:
3
g
|
Monounsaturated Fat:
28
g
|
Trans Fat:
1
g
|
Cholesterol:
168
mg
|
Sodium:
792
mg
|
Potassium:
664
mg
|
Fiber:
1
g
|
Sugar:
1
g
|
Vitamin A:
386
IU
|
Vitamin C:
1
mg
|
Calcium:
25
mg
|
Iron:
4
mg
If you like this recipe, you'll love Roasted Italian Butter Steak and Radishes or Garlic Butter Steak & Squash