This low carb-friendly Green Goddess Salad is made with no sugar, is dairy-free, nut free, and healthy! This recipe includes a delicious green lemon vinaigrette dressing. The perfect loaded green salad to make ahead for the busy week.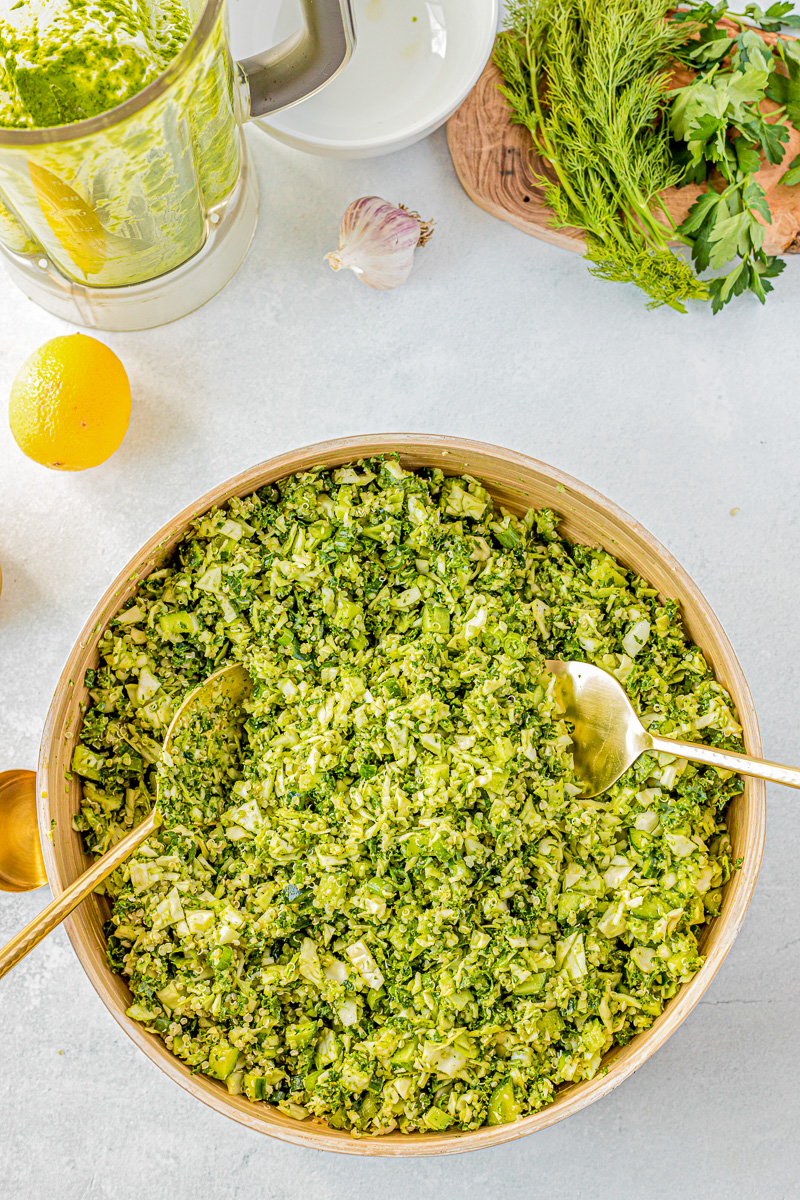 Green Goddess Salad is vegan, dairy/nut-free, and very wholesome. The tangy, herbaceous, refreshing dressing plus leafy greens are the best combinations ever!
This sugar-free green goddess salad recipe is super easy to make. Above all, it is perfect for making in advance and enjoying later. Thanks to quinoa, this salad is very hearty, and you can enjoy it as a main course or side dish.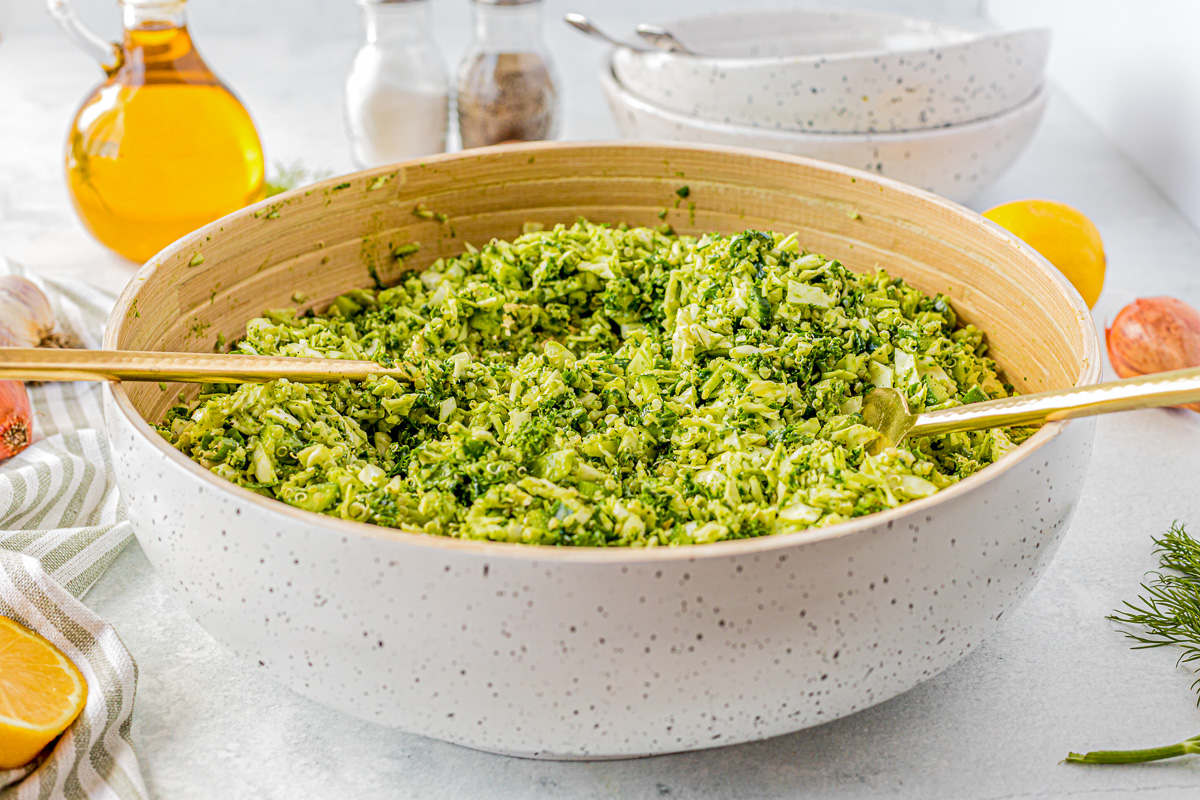 low carb green veggie salad
The main ingredients in this salad are fresh vegetables, which are an essential ingredient for a balanced diet and offer so many amazing nutrients, minerals, and vitamins. Now, you will find many amazing salad recipes. From creamy salads to fresh garden salads, you have so many choices, but this one is supreme.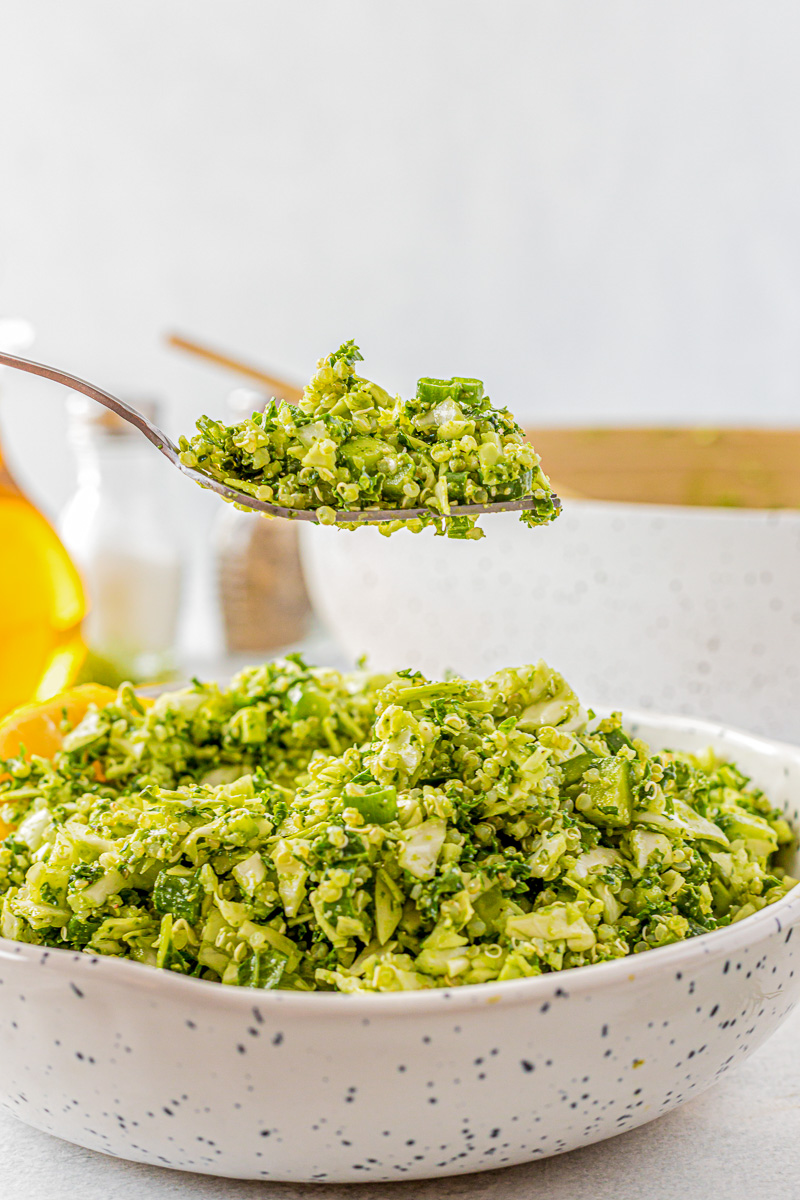 Among the many salad recipes, I love one that uses the best of the best vegetables, i.e., "the green veggies."
We all are aware of leafy greens. They are among nature's most precious gifts for us. They are loaded with so many amazing benefits. When I tell you this salad is delicious and healthy, it's absolutely true.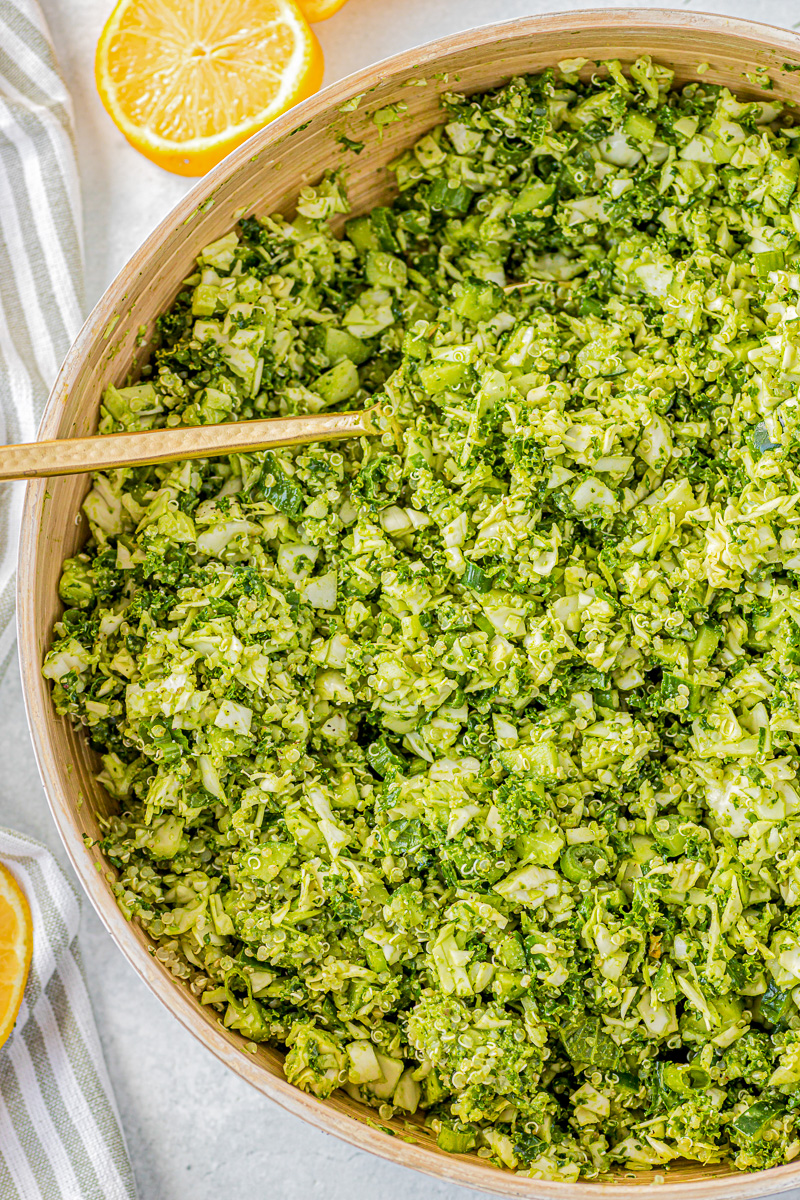 A green goddess salad is an amazing salad on so many levels. I find this salad to be the best of the lot. And if you are wondering why, I have a few reasons that will convince you as well:
Firstly, this salad is made from leafy greens. As a result, it is loaded with nutrients and offer so many health benefits.
Since we are using quinoa in this salad, the salad is more of a balanced one.
It is a great choice for the keto diet, minus the quinoa.
It is 100% vegan and free from any dairy ingredients.
It is also nut-free.
This salad is super tasty. The flavor does not just come from leafy greens but the delicious dressing. The use of several ingredients in the dressing ensures you get plenty of flavors into your salad.
This salad is versatile. You can add more ingredients and customize it as per your liking.
And lastly, it is super easy to make! You can prepare it ahead of time and store it for later use. In short, this salad is very convenient.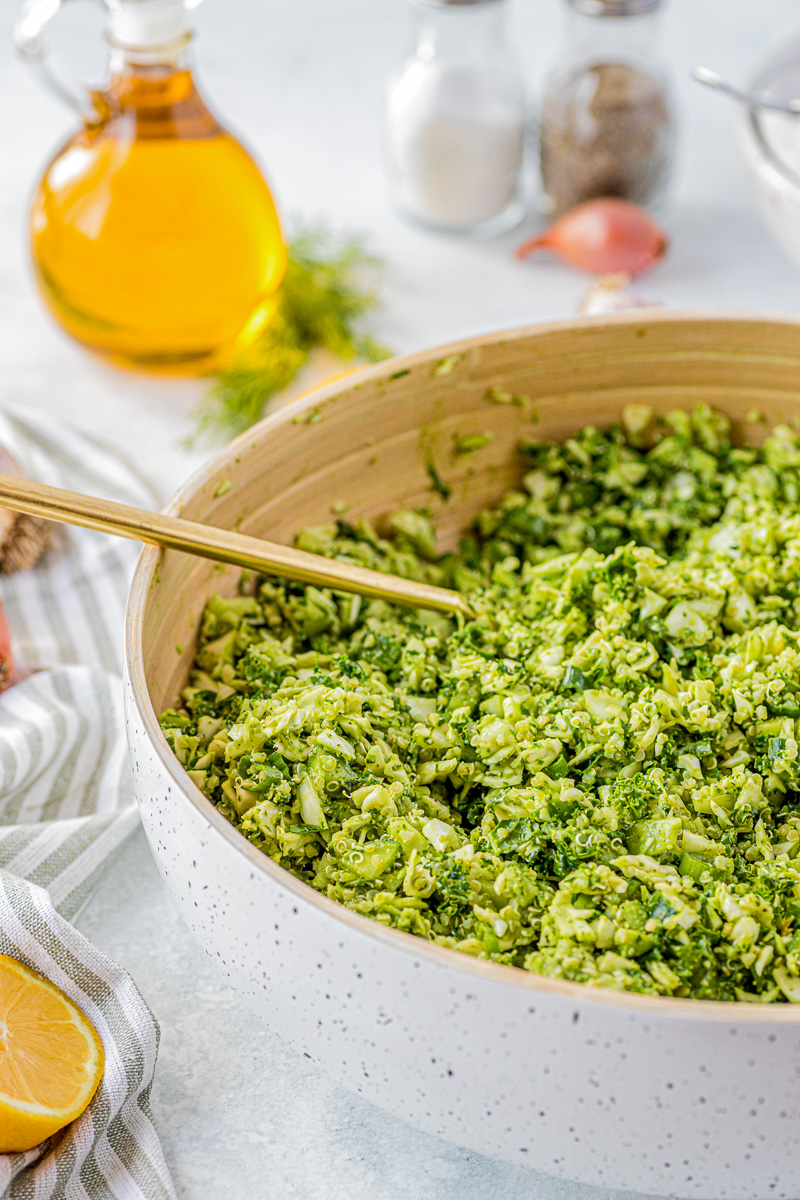 health benefits of green goddess salad
This green goddess salad is very nutritious. That's because all the ingredients offer nutrition, vitamins, and minerals. Here are a few amazing health benefits of the ingredients used in this salad:
Cabbage: Cabbage improves your digestive system and protects the heart. It is rich in vitamin C and K, thus helping the body function properly. 
Cucumbers: It is low in calories and thus aid in weight loss. It keeps you stay hydrated and contains several vitamins and minerals. 
Kale: Kale is a superfood and improves several functions of the body. It promotes immunity, bone health, and eye health and reduces the risks of heart diseases and cancer.
Quinoa: Quinoa is rich in fiber which protects the heart against several diseases. It also aids in diabetes by regulating the sugar level in the blood. Quinoa is also loaded with antioxidants which protect the body against free radicals and thus chronic diseases. 
Spinach: It is rich in iron and several other minerals. It promotes bone, hair, and skin health. Plus, it also regulates the sugar level in the blood and reduces cancer risk. 
Pumpkin seeds: These are rich invitamin K, zinc, manganese, and Phosphorus. They promote healing and improve your immunity.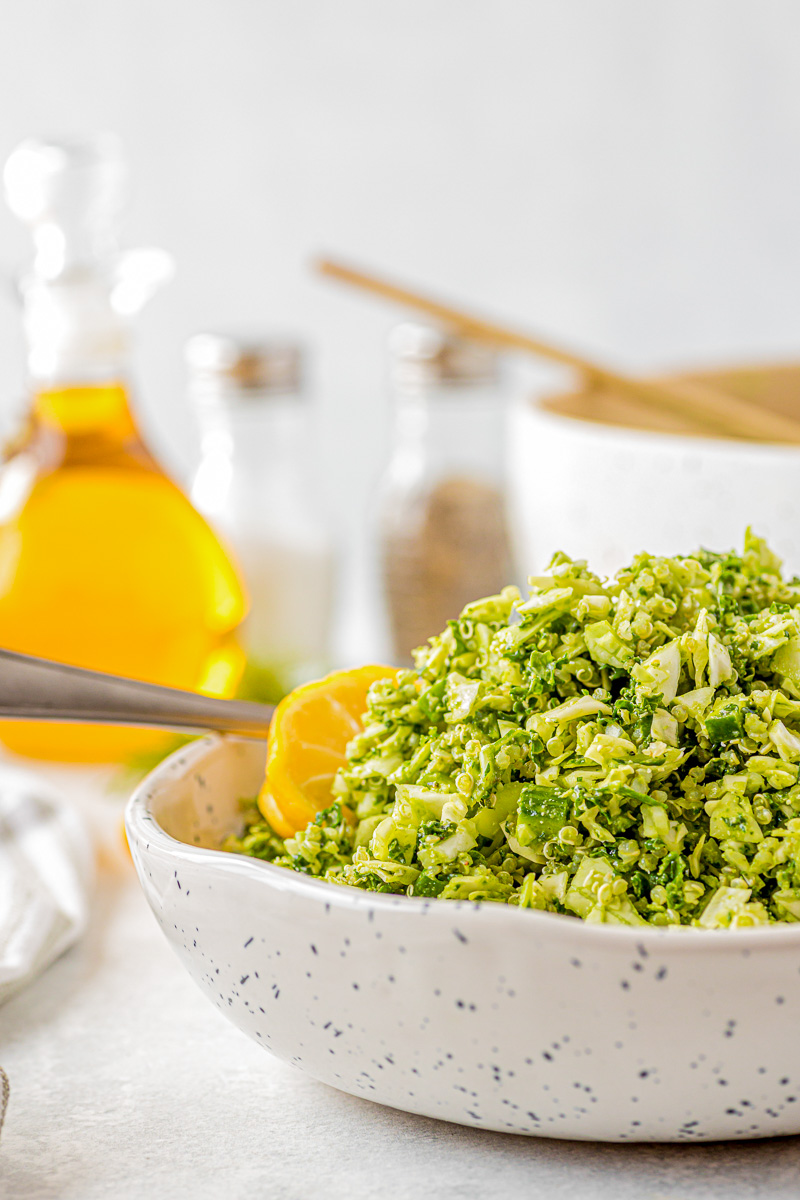 recipe faq
is green goddess salad low carb?
Yes, this salad is low in carbs and high in nutrition. If you're on the keto diet, omit the quinoa for an even lower carb count.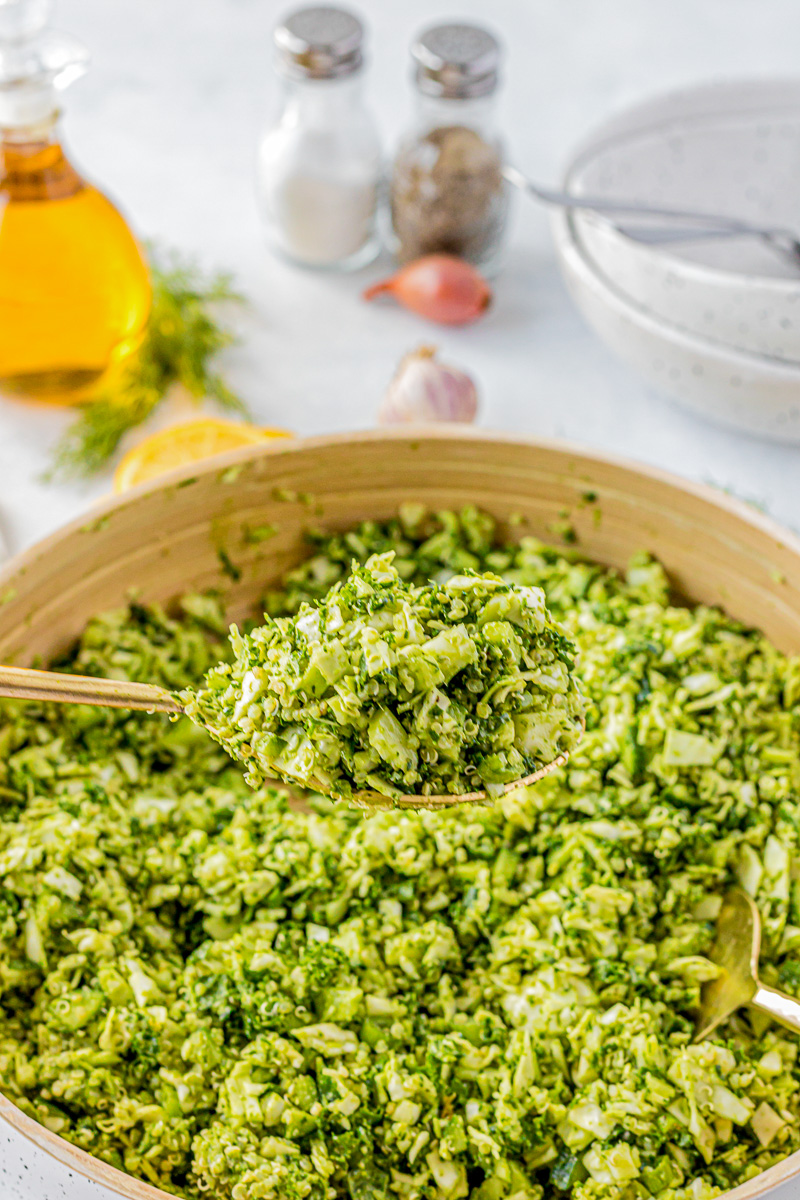 ingredient substitutions
Here are a few ingredient substitution ideas that work well with this salad.
You can use fresh chives for this salad. Chives have a mild onion-like flavor and offer a satisfying crunch.
You can skip spinach and add other herbs like tarragon to the dressing.
For a more smooth/creamy dressing, try adding avocado instead of spinach. Especially when you are missing mayo. The smoothness of avocados resembles mayonnaise a lot.
You can replace olive oil with avocado oil.
Use sesame seeds instead of pumpkin seeds. Sesame seeds are high in fat and low in carbohydrates. Thus they are perfect for the keto diet. Plus, their toasty flavor makes the salad more tasteful.
Quinoa makes this salad heartier. However, if you don't want to use quinoa and still want the salad to be keto-friendly and hearty, use cauliflower rice or Broccoli Rice. The two ingredients are loaded with nutrients and make the salad more wholesome.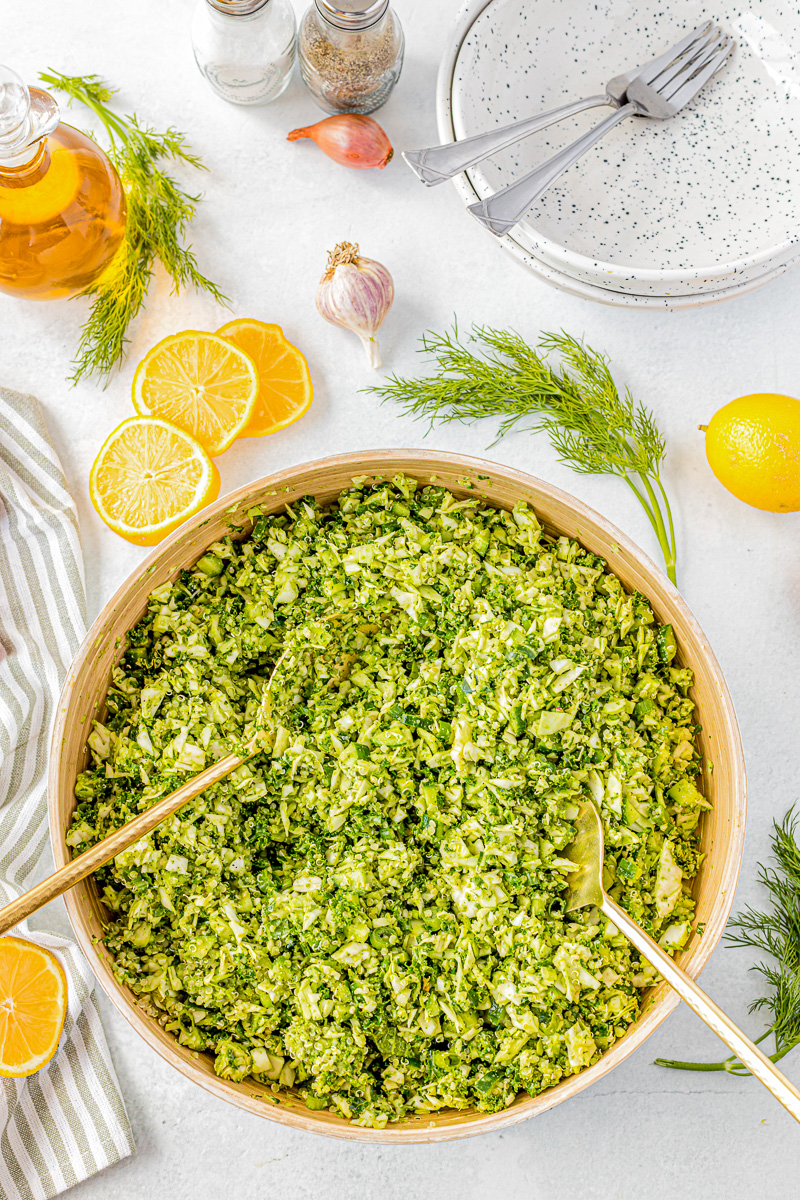 timesavers
This salad is a great way to save time. You can prepare it in advance and refrigerate it in an airtight container.
It will last for up to three days. Furthermore, you can prepare the dressing in advance and store it for up to 5 days in the refrigerator.
I recommend you prepare the vegetables and keep them separately. Drizzle the dressing only when you want to enjoy the salad. It will increase the salad's shelf life.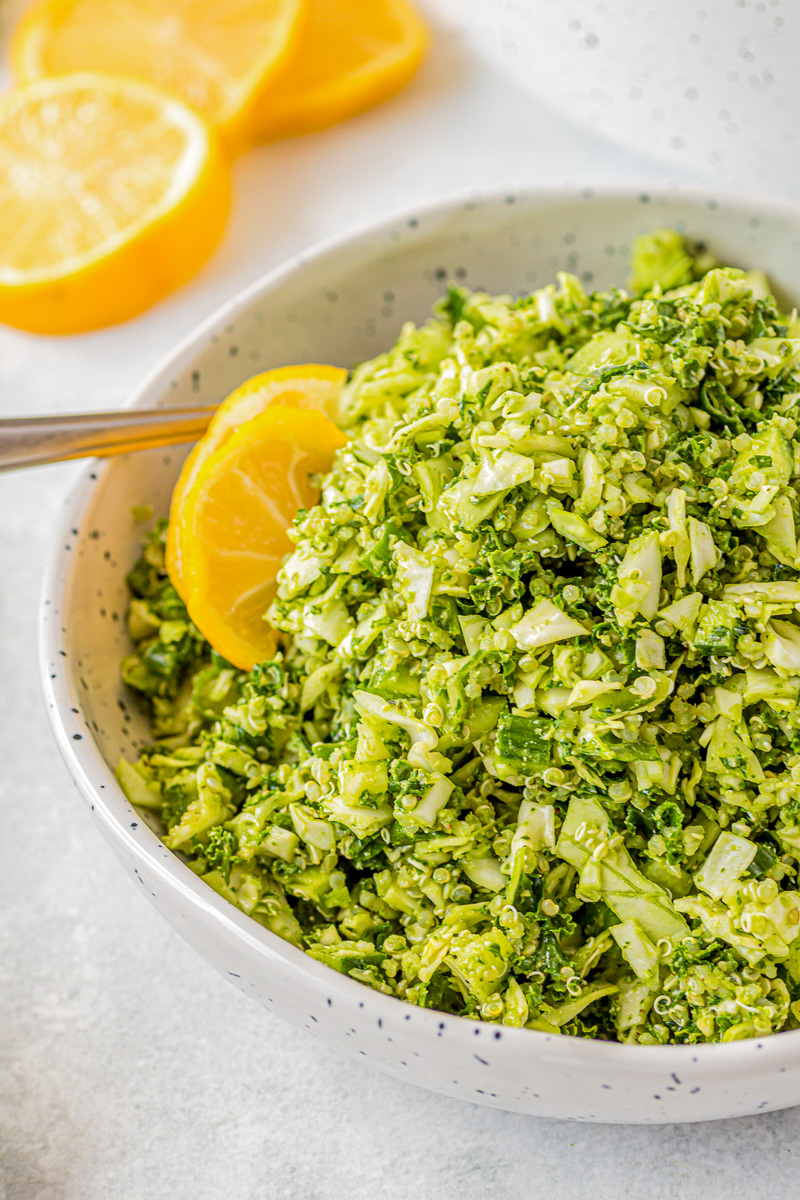 what goes with salad?
This salad is perfect for the main course or a side dish. You can serve it with a few dishes like chicken, steak, seafood, beans, or by itself!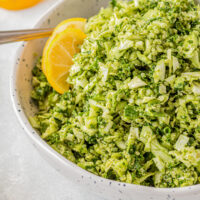 Green Goddess Salad
This tangy Green Goddess salad is healthy with green cabbage, cucumber, kale and onions. Add in quinoa and vibrant dressing for the perfect healthy dish!
Print
Pin
Rate
Ingredients
salad
1

cabbage

small, finely diced

3

cucumbers

small, finely diced

3

cups

kale

finely chopped

2

cups

quinoa

cooked according to package instructions
dressing
¼

cup

lemon juice

¼

cup

olive oil

2

tbsp

red vinegar

1

shallot

½

cup

fresh basil

½

cup

fresh parsley

½

cup

fresh dill

1

cup

fresh spinach

⅓

cup

pumpkin seeds

1

tsp

salt
Instructions
Wash your salad vegetables and chop them finely. Add everything into a large salad bowl.

Add the dressing ingredients to a blender. Blend until you obtain a smooth texture. Store in a glass jar if using later.

You may serve immediately or chill for an hour in the fridge (more flavorful and crisp).

After chilling, pour the dressing over the salad, mix well to combine. 
Notes
how to make it keto
-to make this salad keto friendly, omit the quinoa
leftovers
-keep leftovers in an air-tight container in the fridge for up to 2-3 days, separate from the dressing
Nutrition
Calories:
291
kcal
|
Carbohydrates:
30
g
|
Protein:
10
g
|
Fat:
11
g
|
Saturated Fat:
2
g
|
Polyunsaturated Fat:
3
g
|
Monounsaturated Fat:
6
g
|
Trans Fat:
1
g
|
Sodium:
337
mg
|
Potassium:
785
mg
|
Fiber:
8
g
|
Sugar:
6
g
|
Vitamin A:
3683
IU
|
Vitamin C:
81
mg
|
Calcium:
167
mg
|
Iron:
4
mg
more salad recipes…