A simple superfood copycat Chick-fil-A kale salad, but made right at home with an easy dressing or a store-bought option.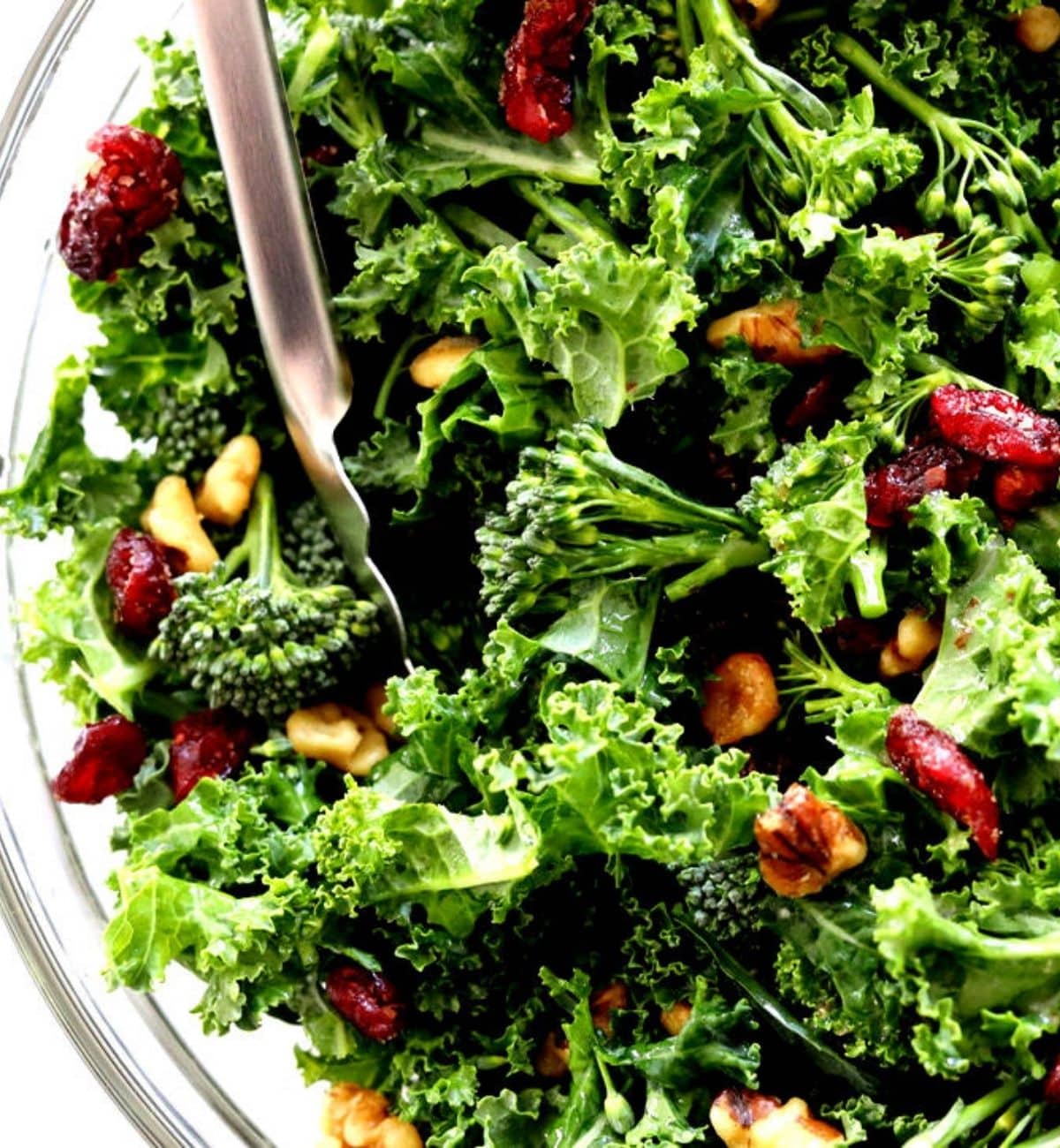 I remember trying kale years ago, and I absolutely hated it. Sometimes things change.
Fast forward many years, I decided to give it a go at my local Chick-fil-A.
Turns out, their kale side salad tastes amazing and it's keto friendly.
So, I set out to make a copycat recipe of a full-size portion I could enjoy at home with my family. This healthy green salad is great as a side or the main event.
How do I prepare kale?
To prepare a kale salad is easy.
I prefer to use my hands to grab the leafy portion and rip from the stalk, but you may use a knife.
From there, roughly chop the kale or continue tearing into smaller bits with your hands.
Give the kale a good rinse in a colander.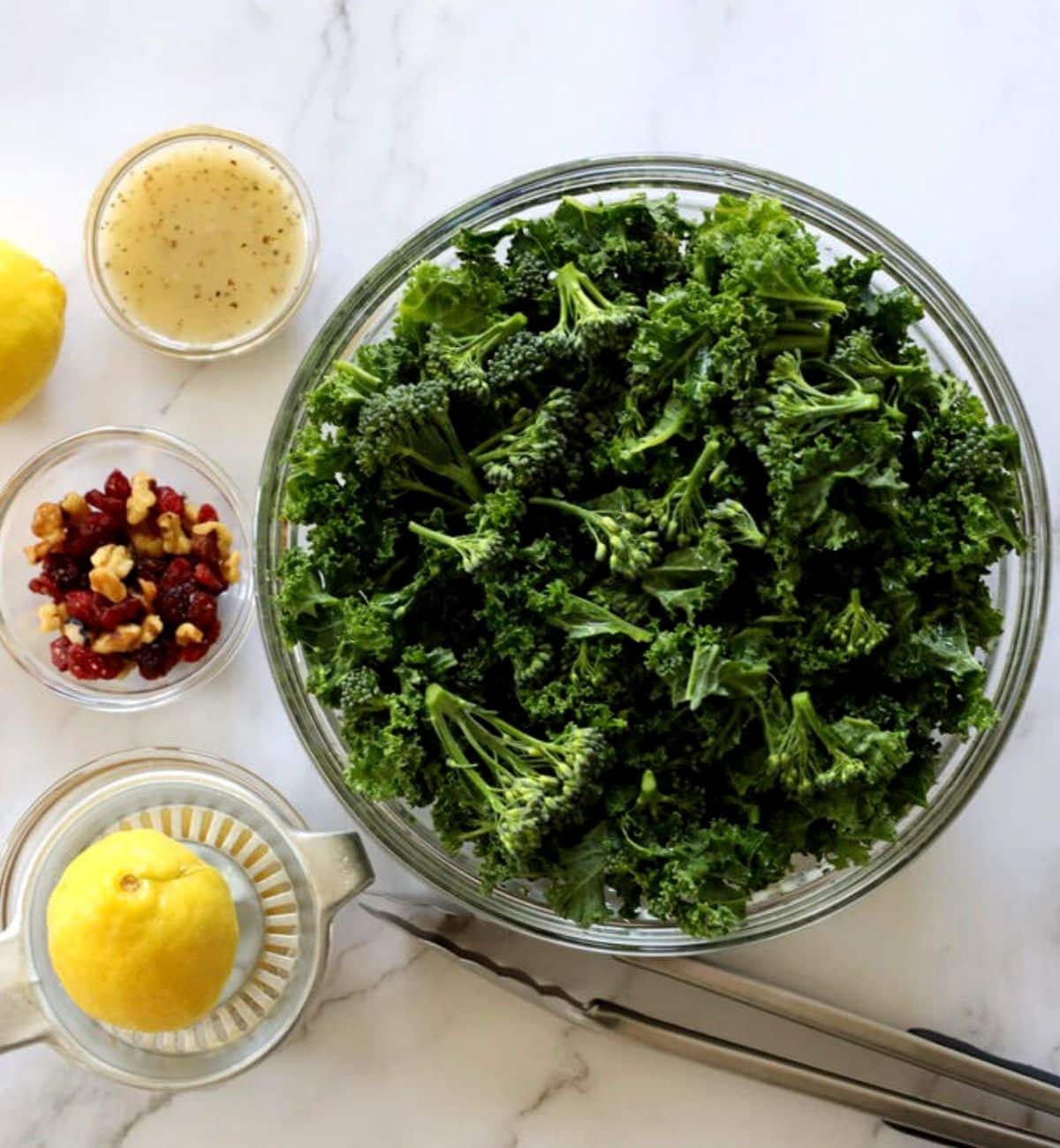 Why you'll want to 'massage' kale for your copycat Chick-fil-A kale salad
Turns out, your kale needs to be massaged, or crunched, between your hands.
According to Bon Appetit, the trick is to not over-massage the leafy greens.
A good crunching between your hands will do the trick.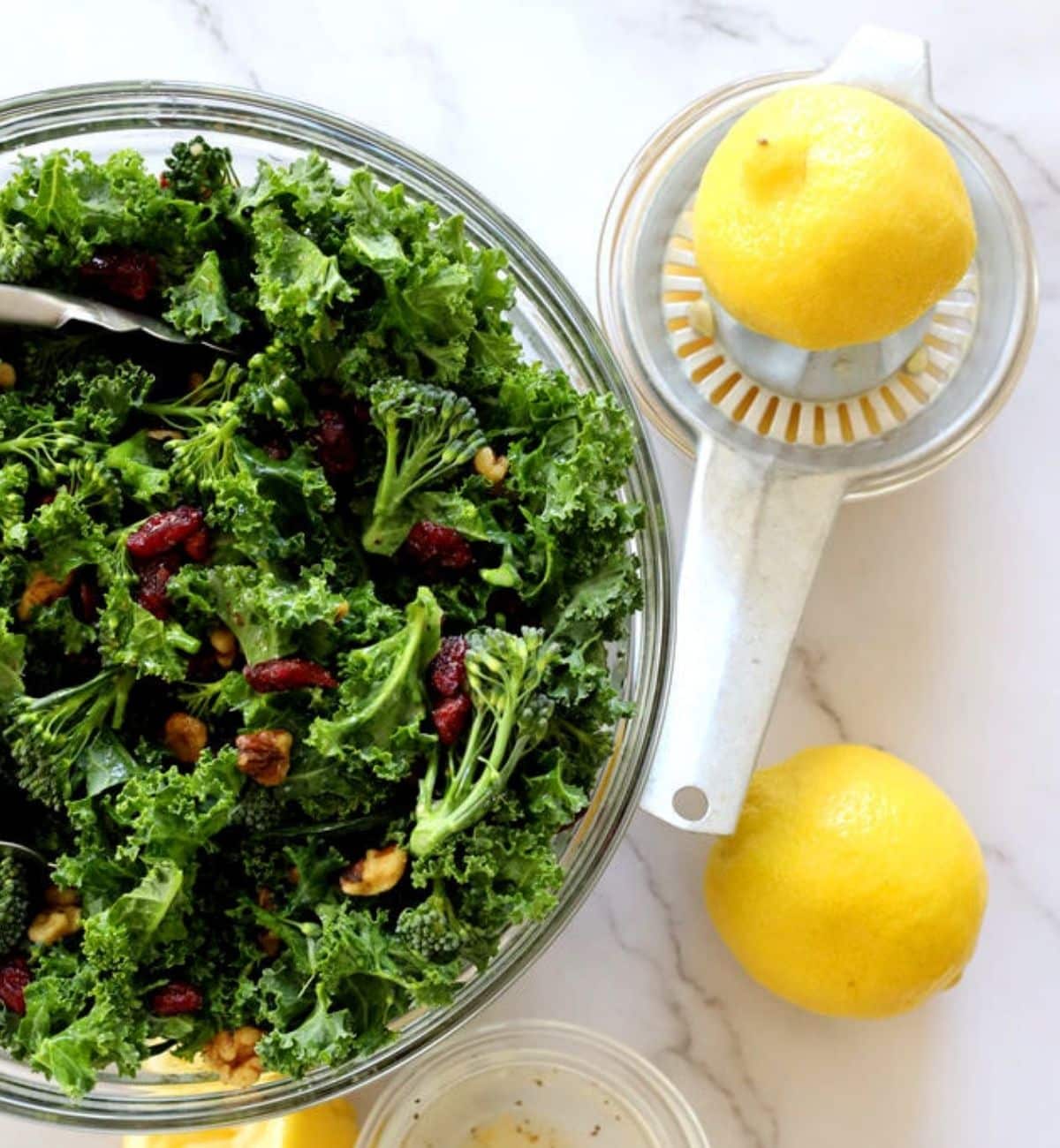 How many calories/ carbs are in Chick-fil-A's kale crunch side salad?
According to their nutritional information, Chick-fil-A's version has 8 carbs and 120 calories.
Kale crunch salad: is it keto?
Chick-fil-A's kale side salad easily fits into the keto/low-carb lifestyle. Just be sure to stay within your macros.
Ingredients in Chick-fil-A's salad include: kale, roasted almonds, and apple cider/dijon mustard vinaigrette.
How do I prepare baby broccoli?
To prepare the baby broccoli, chop the florets from the stalk and rinse.
No need to pre-cook the baby broccoli before adding to your salad.
However, if you prefer a tender broccoli, you can boil for 5 minutes and allow cooling time prior to chopping.
What can I substitute for kale or baby broccoli?
You may use any green-leaf lettuce.
Arugula and baby spinach make great alternatives to kale.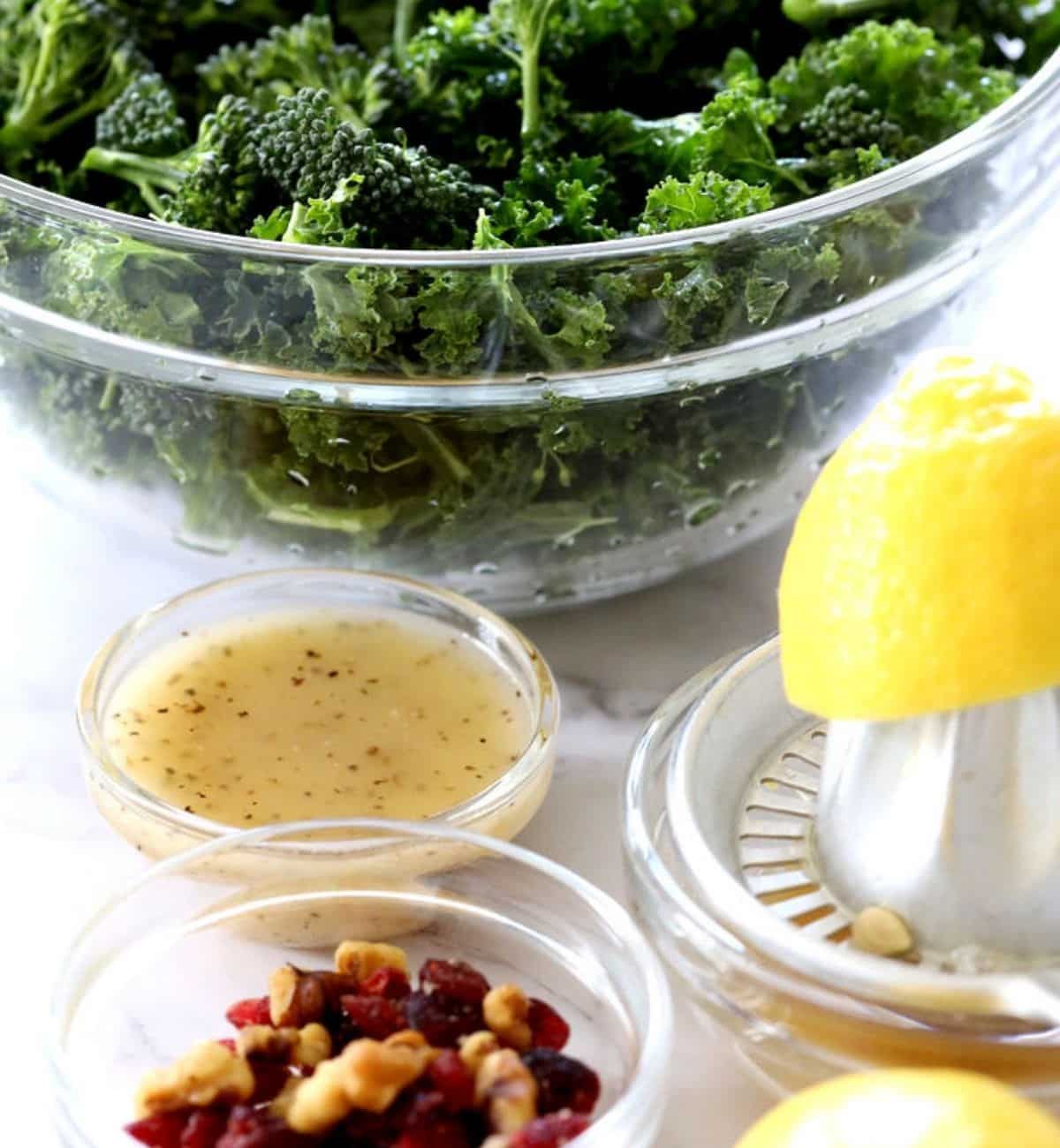 How to prepare the copycat superfood kale salad
Toss in all ingredients (including nuts and cranberries) after thoroughly rinsing and draining.
Add on some homemade or store bought dressing to top it off!
How many calories and carbs does kale have?
One cup of chopped kale only has 33 calories and 6 g. carbs.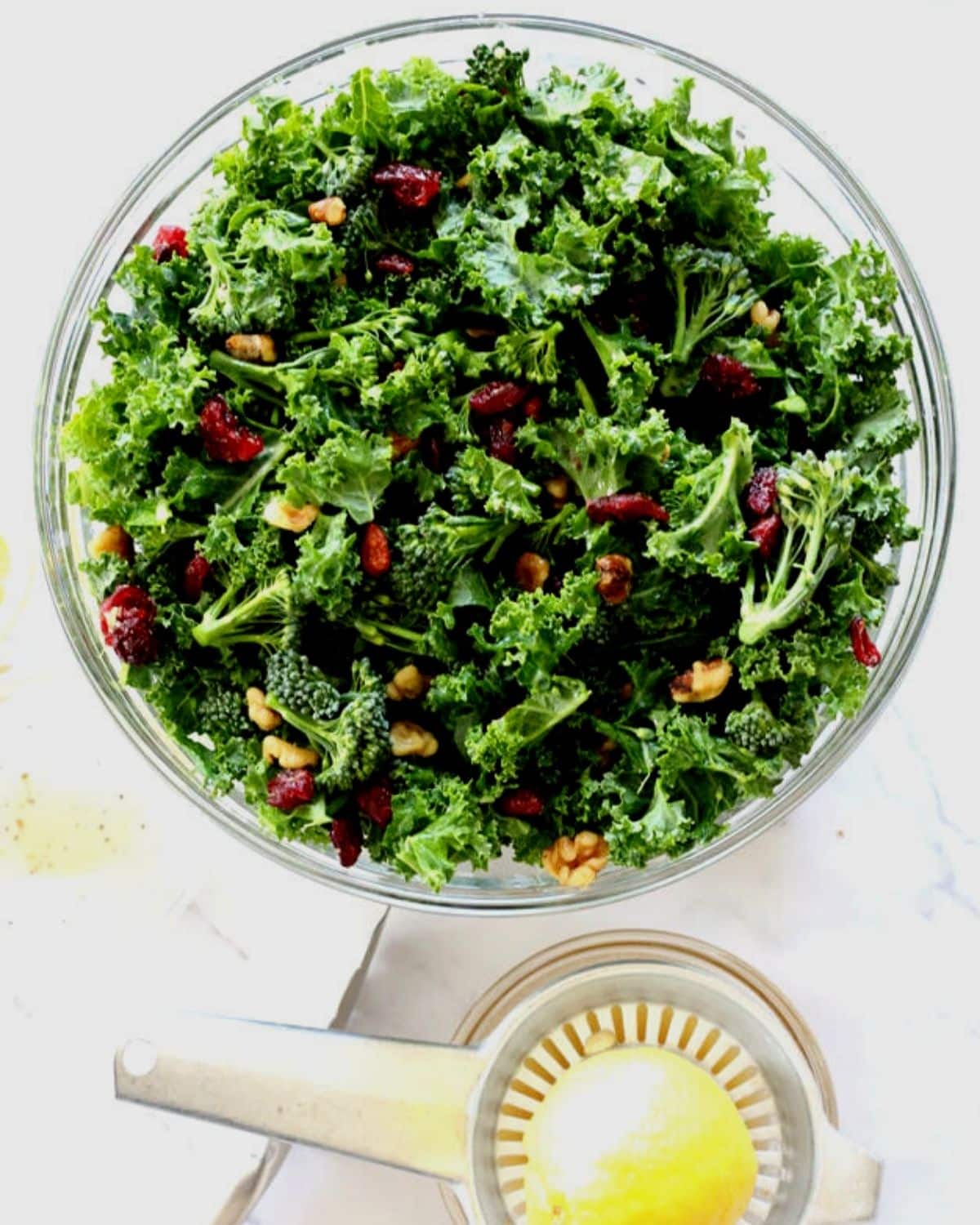 What makes kale a "superfood"?
Kale is a healthy superfood because it contains fiber, vitamins C and K, iron, antioxidants, calcium, and tons of other nutrients.
How long will kale keep in the fridge?
Fresh kale should keep for up to a week in the refrigerator.
You'll want to store in a supermarket plastic bag or a zip-top plastic bag in the refrigerator crisper drawer and reduce moisture.
What are some low carb / keto salad toppings for a copycat Chick-fil-A kale salad?
Parmesan crisps, nuts, and seeds are perfect for low carb salads.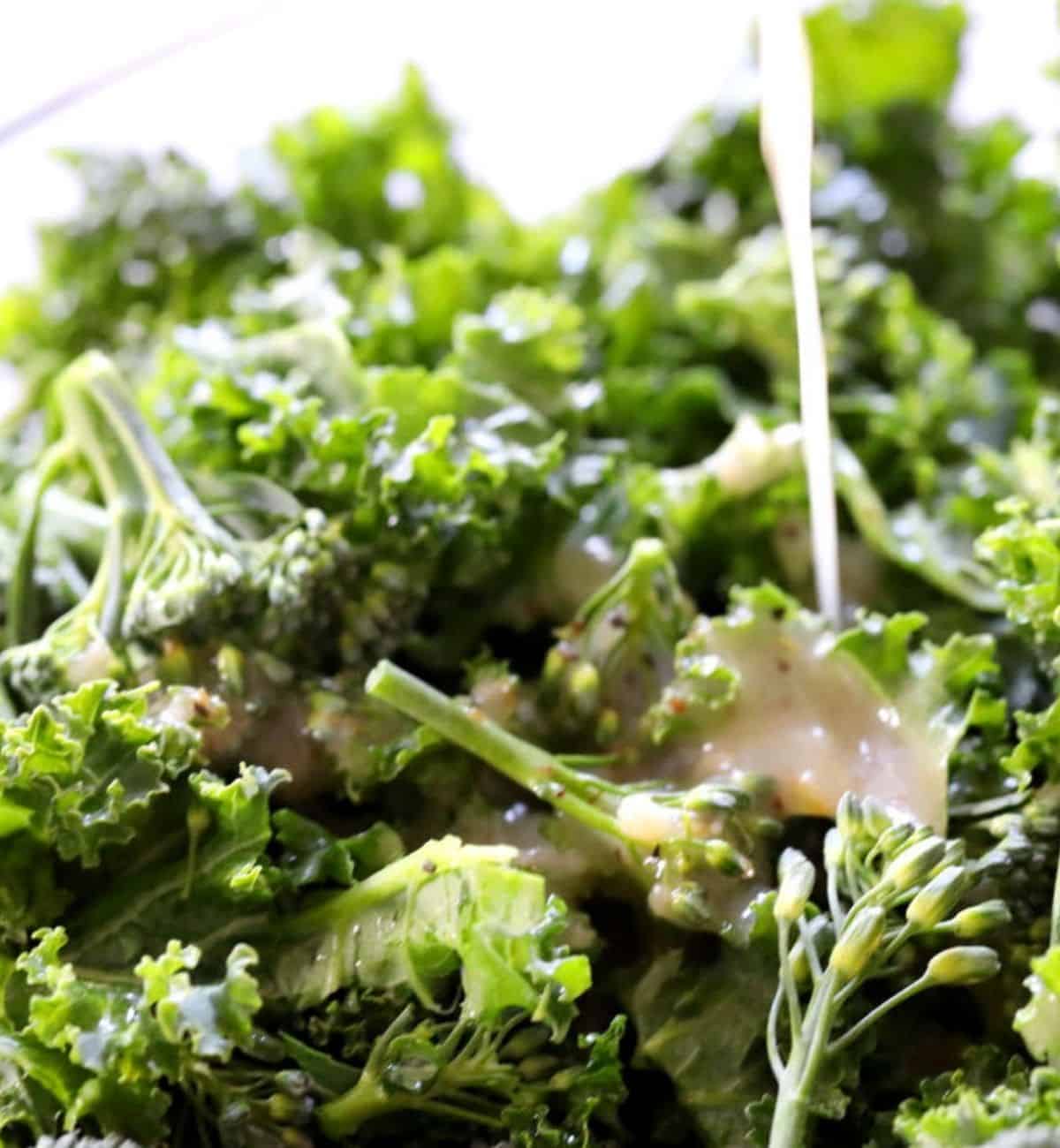 How do I make homemade lemon-dijon-vinaigrette salad dressing?
Combine:
1/4 cup white wine vinegar (or lemon juice)
1/2 cup olive oil
2 tablespoons Dijon mustard
1/2 teaspoon coarse salt
1/4 teaspoon black pepper
1 tsp garlic powder (optional)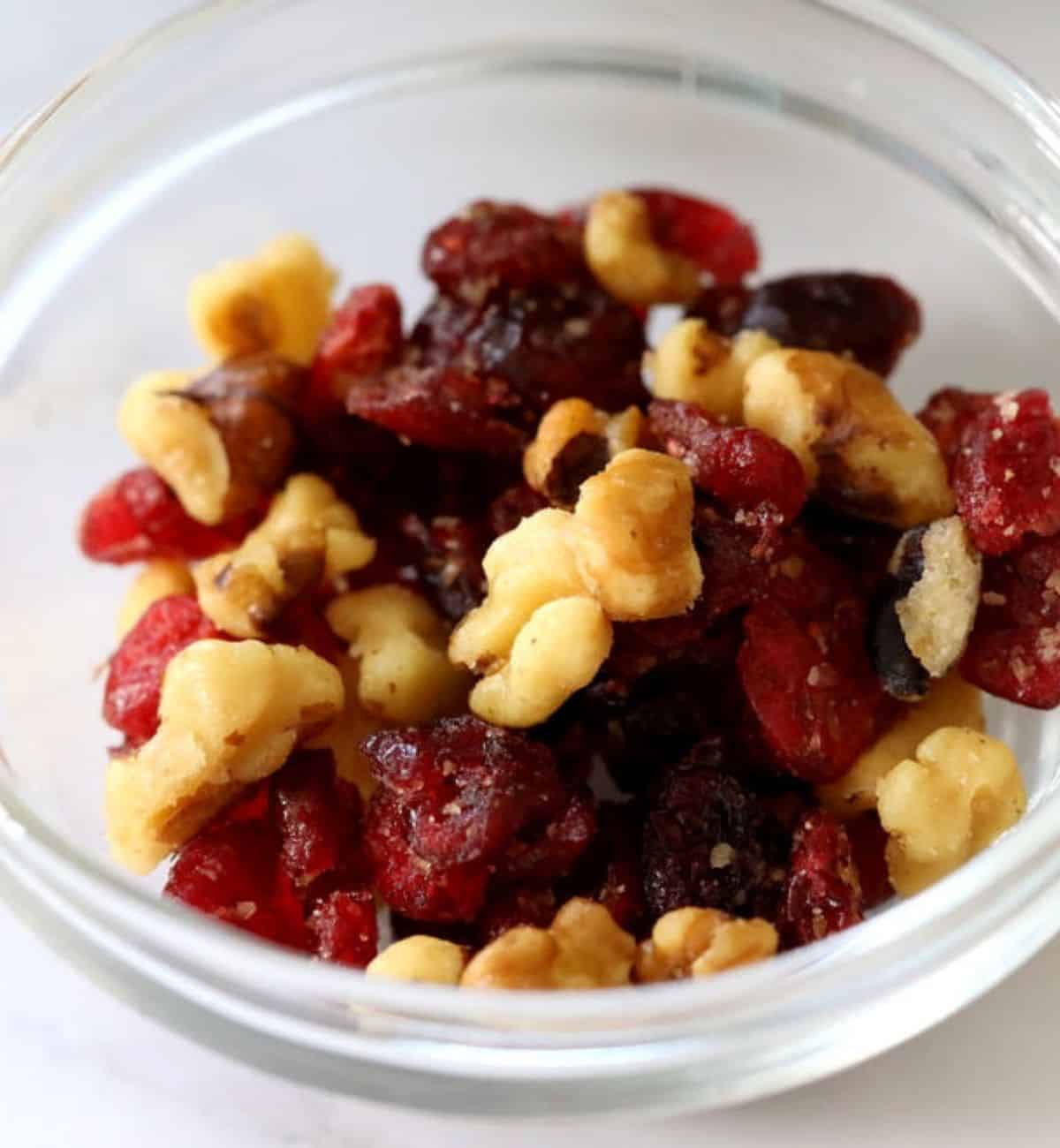 What can I substitute for almonds?
Depending on your preference, you may use any kind of roughly chopped nut, including pecans and walnuts for the copycat Chick-fil-A kale salad.
What can I substitute for dried cranberries?
If you cannot find sugar free dried cranberries (healthier), try some fresh or dried blueberries.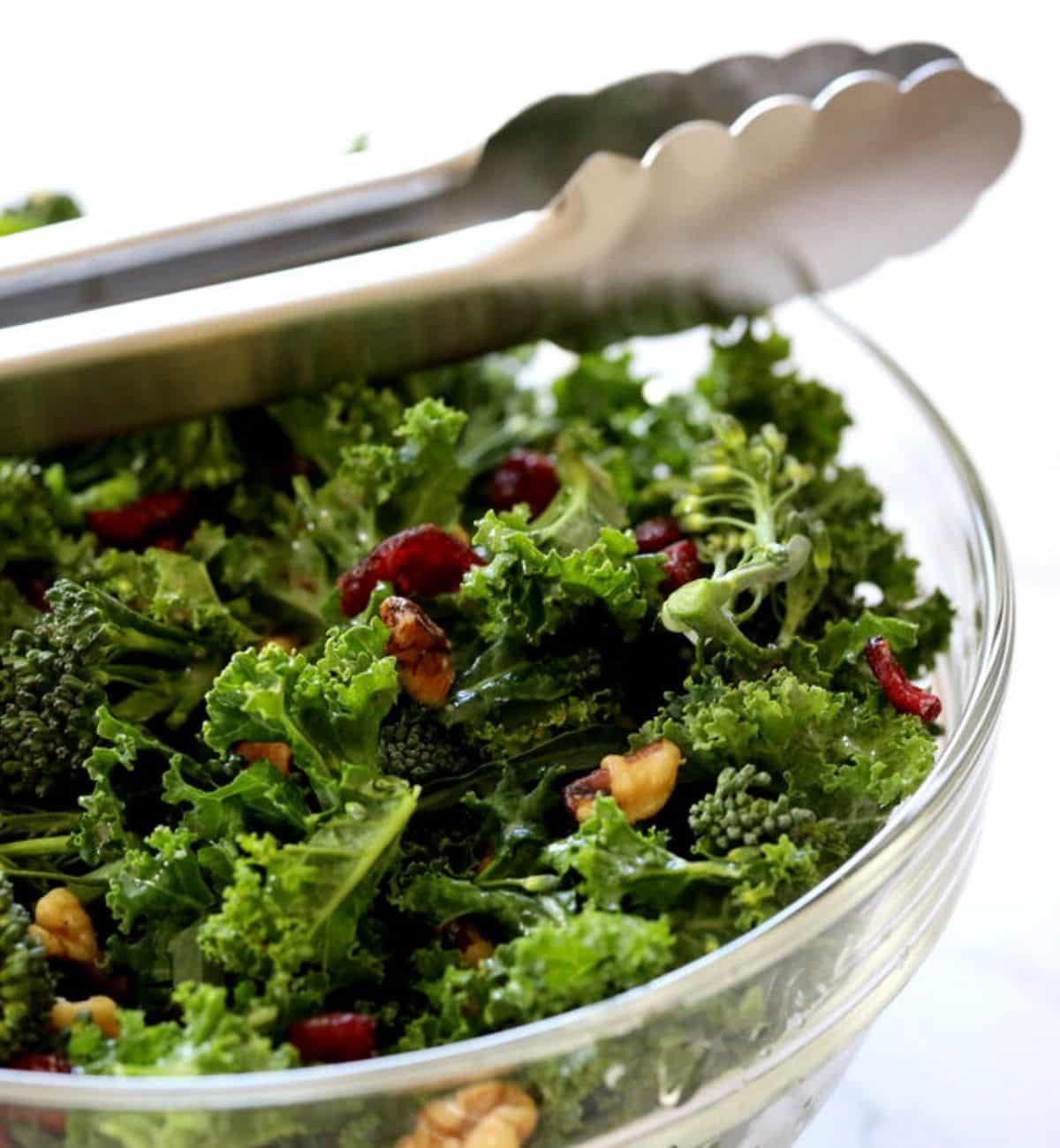 What should I serve with kale salad?
Kale salad is versatile and pairs well with anything from soups to bun-less burgers, chicken, and more.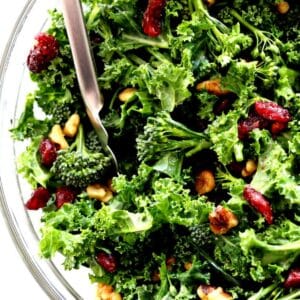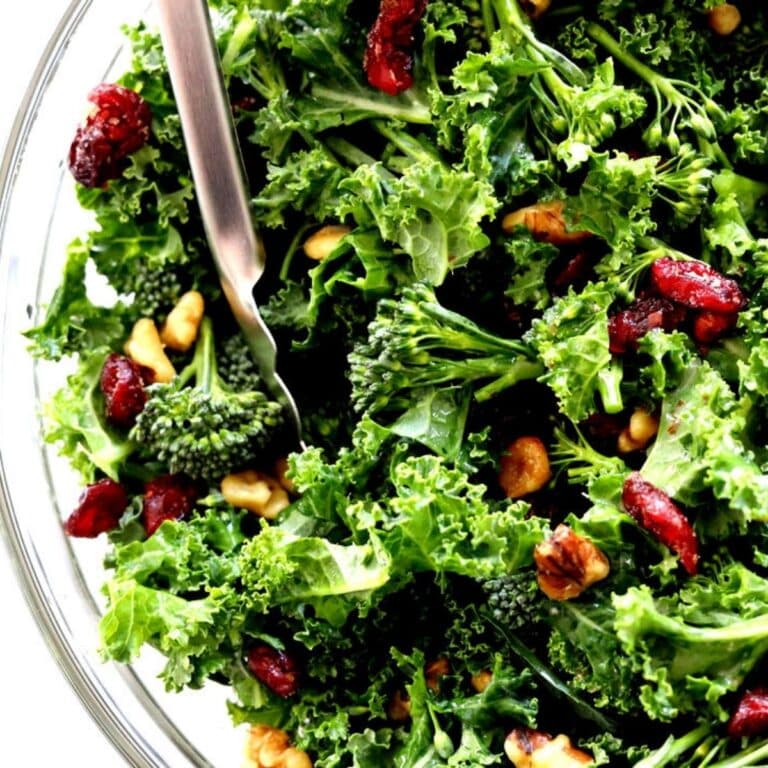 Copycat Chick-fil-A Kale Superfood Salad
Easy and delicious full-salad size copycat recipe for Chick-fil-A's Kale crunch superfood salad. The perfect recipe for health, low in carbs and simple to make!
Print
Pin
Rate
Ingredients
Salad Ingredients
5

cups

kale

removed from stem, washed and massaged

1

cup

baby broccoli or arugula

chopped

¼

cup

nuts

chopped almonds, pecans, or walnuts

¼

cup

dried cranberries

without sugar added
Store-bought Dressing Recommendation
Instructions
Rinse and drain kale and broccoli in coriander. Dry on a paper towel.

Massage kale and add salad ingredients to a large bowl.

Mix salad ingredients together.

Top with your preferred amount of dressing.
Nutrition
Calories:
318
kcal
|
Carbohydrates:
8
g
|
Protein:
5
g
|
Fat:
32
g
|
Saturated Fat:
4
g
|
Trans Fat:
1
g
|
Sodium:
38
mg
|
Potassium:
381
mg
|
Fiber:
1
g
|
Sugar:
1
g
|
Vitamin A:
5674
IU
|
Vitamin C:
81
mg
|
Calcium:
113
mg
|
Iron:
1
mg
Soup favorites for salad…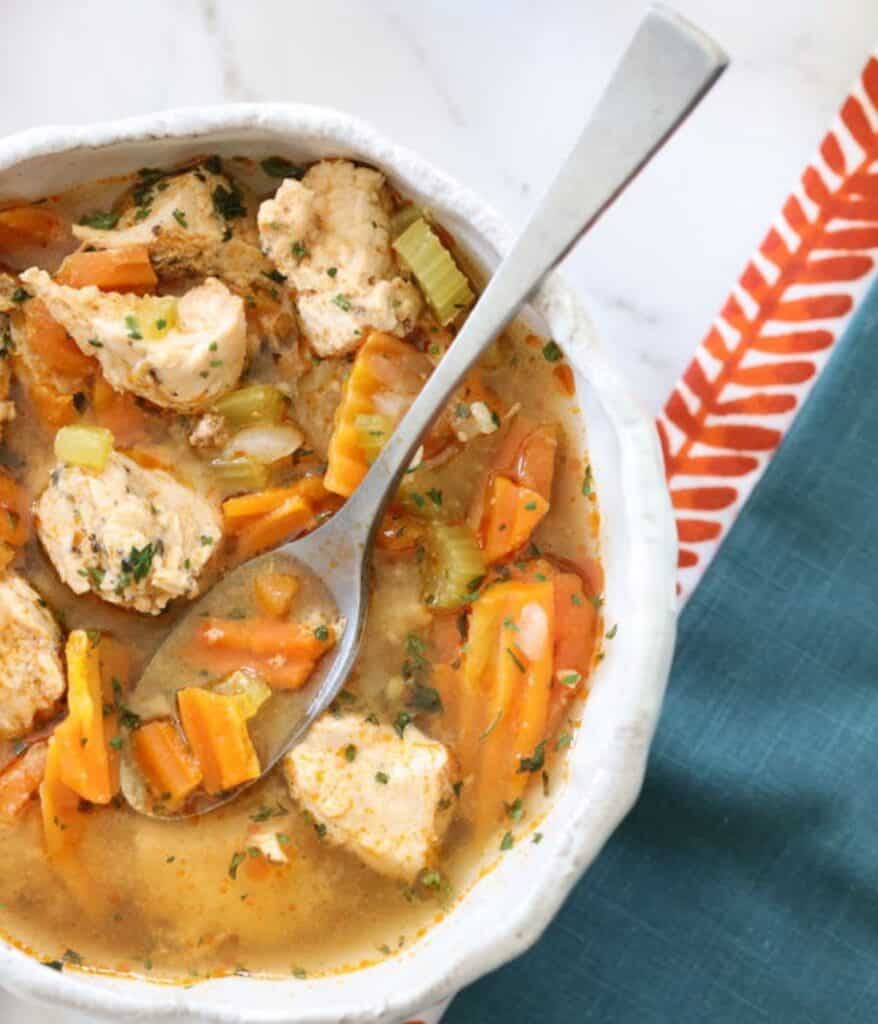 Best Keto Soup Recipes