Shrimp Stir-fry with Shirataki Noodles (keto and low carb)
This healthy shrimp Stir-fry with Shirataki Noodles is an easy low-carb and keto friendly go-to for my family on busy weeknights.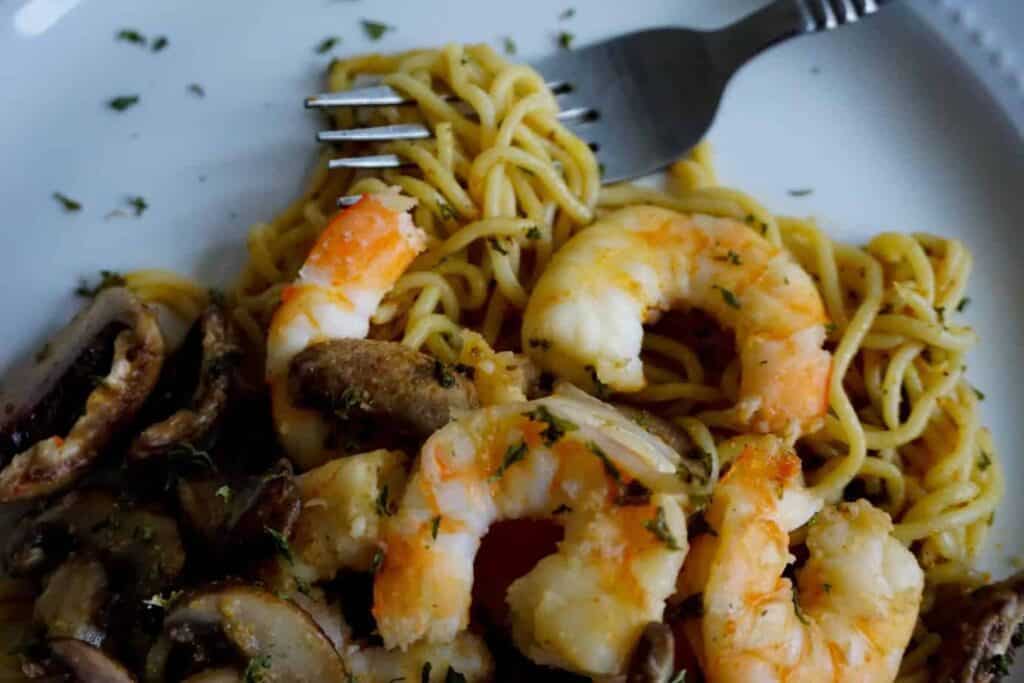 What are shirataki noodles?
Love the lo mein, but hate the carbs? Look no further than our old pal Shirataki noodles. The tofu kind (my fave) are made from the konjac yam and tofu.
Where can I find shirataki noodles in Wal-Mart or Kroger?
I live in a rural area, so finding them can be quite the challenge at times.
If you're shopping at Kroger, you'll typically find them in the health food aisle next to the vegan items and organic yogurt.
If you're shopping at Wal-Mart, you'll find them next to the packaged fruit and salad mixes.
No luck? If you STILL can't find them, try Amazon:
This is my go-to for a pasta fix and they're super adaptable to a variety of recipes and ingredients—-> Tofu Shirataki Noodles Spaghetti Shape 10- 8oz Bags
How Many Carbs are in Shirataki noodles?
The tofu version only has about 1 gram net carbs and 10 calories and incorporates all the flavors surrounding them.
How do I prepare shirataki noodles?
To prepare shirataki noodles for stir fry, I place them in a colander and give them a toss under cold water for a few minutes. Not bad for prep time, eh?
Do shirataki noodles smell?
Yes, that is their natural aroma from the konjac plant they're made from.
I cannot stress this enough- you must wash them in a coriander for a couple of minutes before the smell dissipates.
Not to worry though, whatever sauce they're cooked with with soon attach to the noodles and they'll taste just like the real deal.
Easy shrimp stir-fry with shirataki noodle sauce
For this recipe, I wanted a creamy, buttery mushroom sauce to really bring out the flavor of the shrimp. If you are not a mushroom fan, you can easily sub in broccoli or zucchini.
This recipe is as easy as it gets, with minimal prep and filling comfort. Enjoy!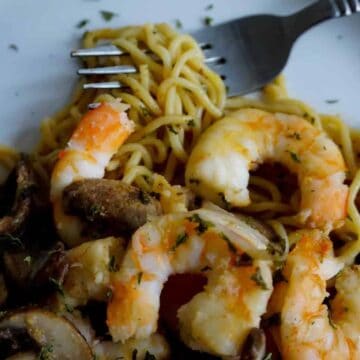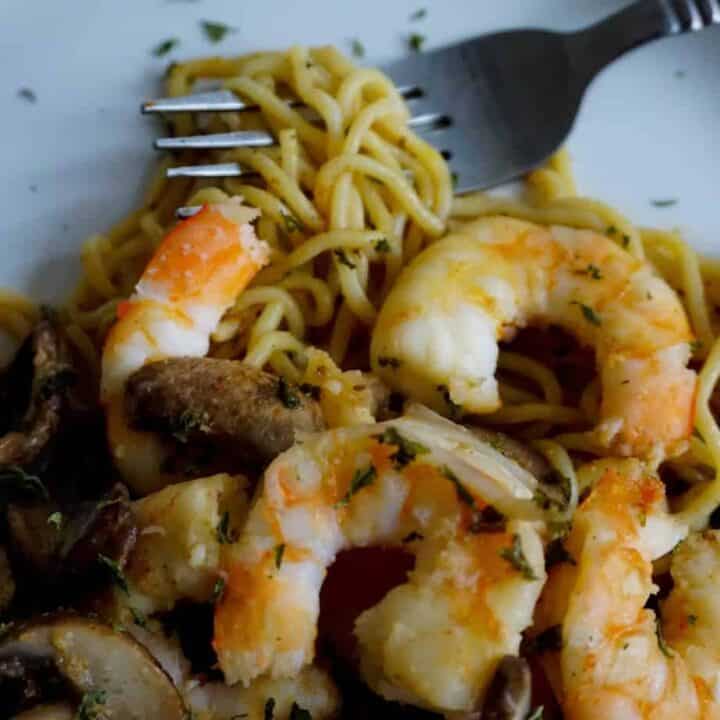 Low Carb Shirataki Shrimp and Mushroom Stir-Fry
A one-pan shrimp and shirataki noodle stir-fry. Easy, quick and delicious keto-friendly recipe for busy weeknights.
Print
Pin
Rate
Ingredients
1

cup

chopped mushrooms

3/4

cup

heavy whipping cream

2

tbsp

butter

1

tsp

parsley

3

tsp

garlic powder

3/4

lb

cooked shrimp
Instructions
Heat butter, shrimp, and mushrooms in wok.

Add butter, parsley, garlic powder.

Rinse shirataki noodles thoroughly and add to wok, mixing in the seafood seasoning and cream.

Cook for 5-10 minutes
Nutrition
Calories:
395
kcal
|
Carbohydrates:
8
g
|
Protein:
28.6
g
|
Fat:
19.5
g
|
Saturated Fat:
9.3
g
|
Cholesterol:
225
mg
|
Sodium:
480
mg
|
Fiber:
15.9
g
If you like low carb shrimp stir-fry with shirataki noodles, you'll love: