This delicious keto chicken noodle soup is just as comforting as the original, with few ingredients and delicious flavors.
Can I have pasta on a keto diet?
No, but you there are foods you can substitute for noodles if you're craving a delicious low-carb chicken noodle soup.
My favorite is cabbage because it has a similar texture to noodles and really absorbs the full flavors of the chicken broth.
How do I make keto chicken noodle soup?
This soup is so easy, made with chicken bouillon cubes. If you prefer a traditional soup, you can always use chicken stock instead.
I used chicken breast cutlets in this recipe, but for a bit more flavor, add in cubed chicken thighs instead.
Low carb chicken noodle soup without cabbage
If you like cabbage, great! However, if you're not a fan of cabbage, you can try: 
zucchini noodles in your chicken soup 
peppers in your chicken soup (poblano peppers are delicious in soups and stews) 
cauliflower or broccol
stewed tomatoes
spaghetti squash 
Don't be afraid to use your creativity to create alternatives when it comes to stews and soups!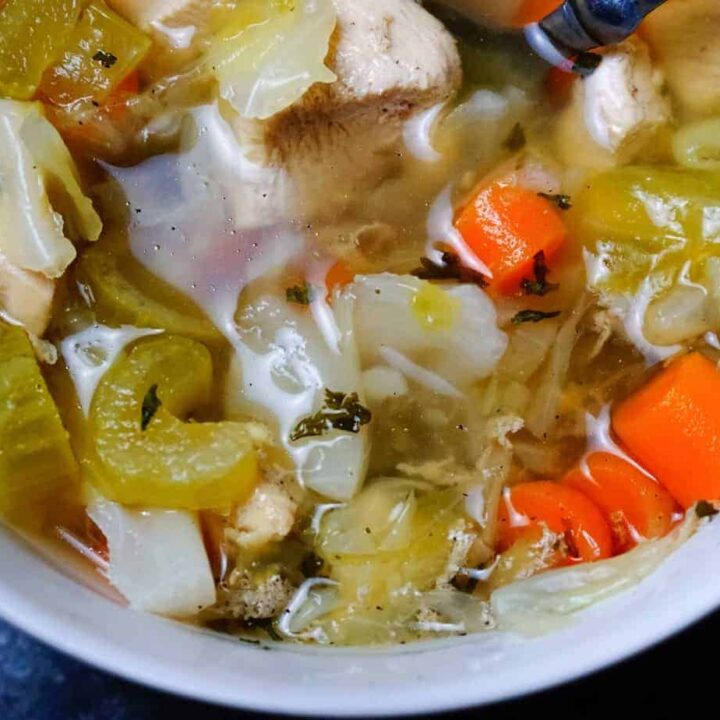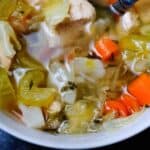 Low Carb Chicken "noodle" Cabbage Soup
Just like mom used to make! This low-carb chicken noodle soup is a hearty, warm, perfect pick-me-up for those long, cold winter days.
Ingredients
3

chicken breasts

2

stalks of celery, chopped

1

tsp

pepper

1

tsp

salt to taste

1

cup

carrots, chopped

1

medium cabbage, chopped

1

chicken bouillon cube
Instructions
Bring 8 cups of water to a boil with 1 chicken bouillon cube, carrots, and celery.

Cut chicken into ½ inch cubes and add to boiling water. Cook on low-medium for 20 minutes.

Add chopped cabbage and cook until cabbage is soft. Add salt and pepper to taste.
Nutrition
Calories:
213
kcal
Carbohydrates:
5
g
Protein:
26
g
Fat:
1.7
g
Cholesterol:
75
mg
Sodium:
1073
mg
Fiber:
4.3
g
If you like low-carb chicken noodle soup, you'll love: 
A hearty, rich, traditional recipe, but remixed for a low-carb diet. This recipe was inspired by Dinner then Dessert's recipe, but less the noodles.