The inspiration for these easy keto seafood foil packs came to me after visiting one of my favorite restaurants in Kentucky, the Seafood Lady.
However, I realized I had just ate way too many carbs as that version included corn on the cob and potatoes.
By adding more kielbasa and zucchini, the low-carb version tasted great. You can even add in more seafood, like crawfish.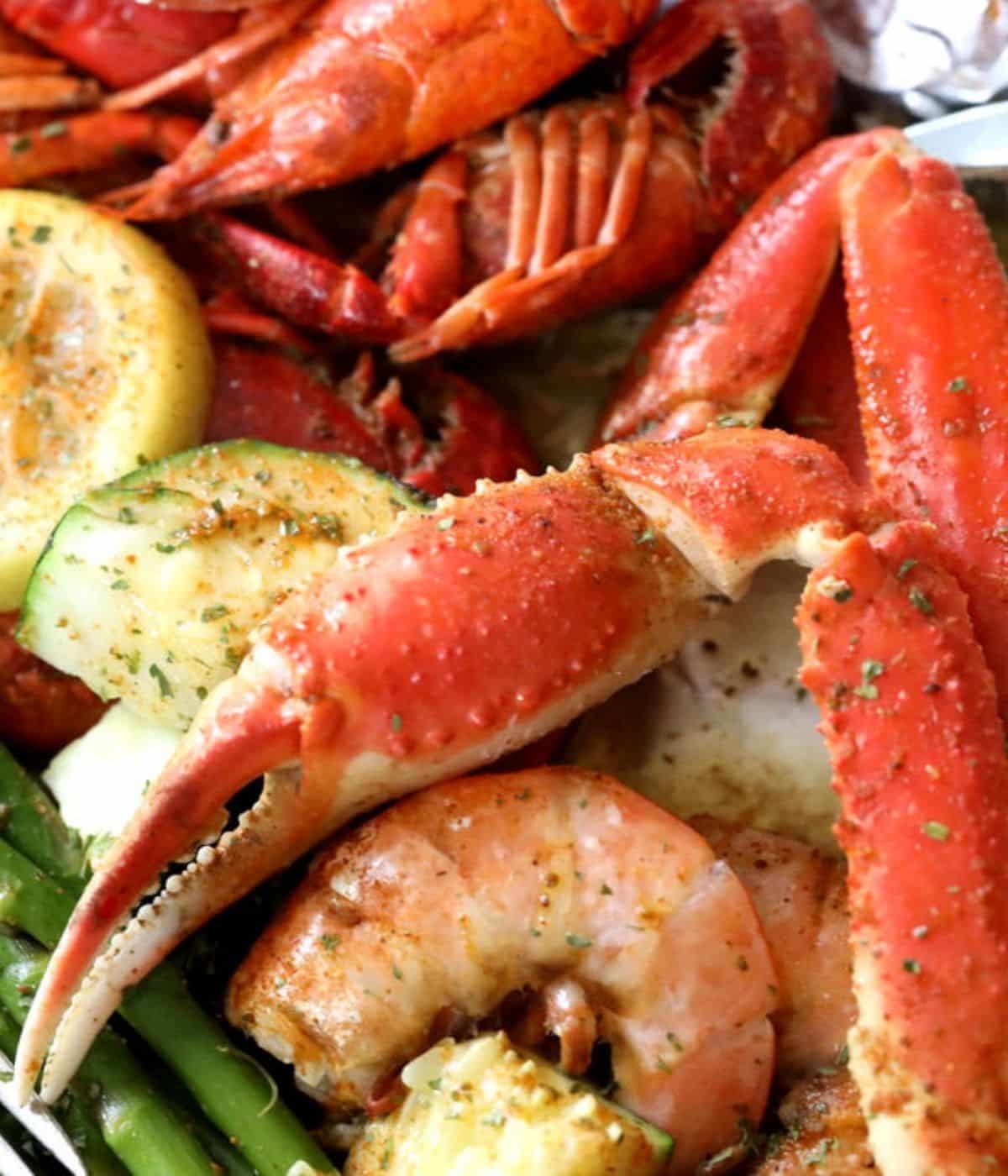 Seafood foil pack = buttery, cajun deliciousness
The real winners of this one-pan dish are butter and the seasoning.
The seasoning has a cajun kick, so use according to your taste preferences. This dish is equal parts easy and classy.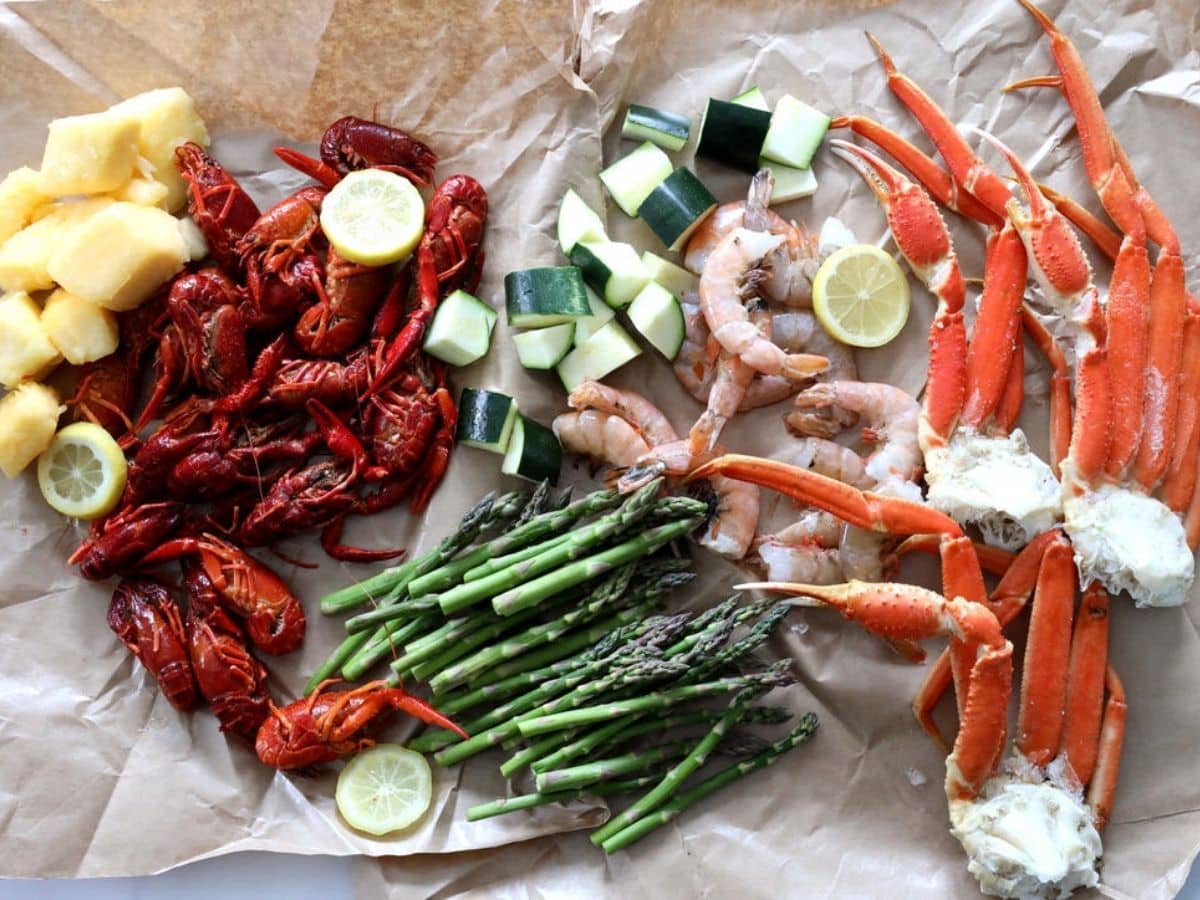 How do I prepare shrimp and crab before cooking?
The day before I make my foil packs, I take my shrimp and crab out of the freezer (if frozen).
It should just take a day to thaw out completely and you won't have to worry about quick thawing later.
If you are in a pinch and have frozen crab and shrimp, allow them to sit in cold water for about an hour or two to thaw out.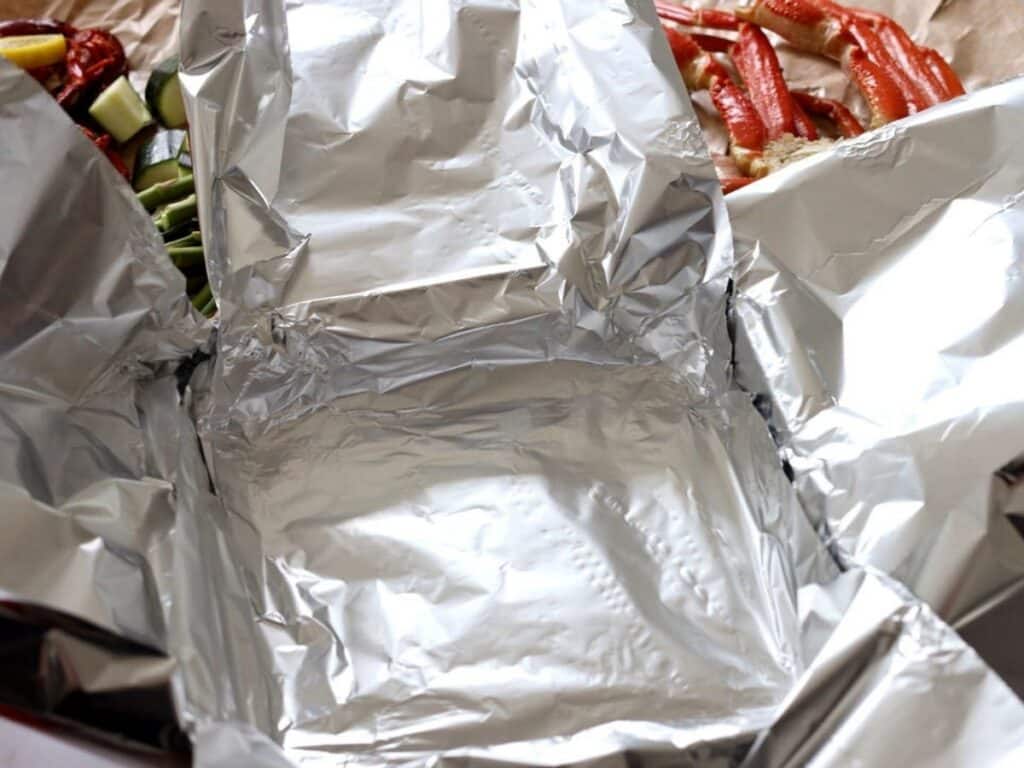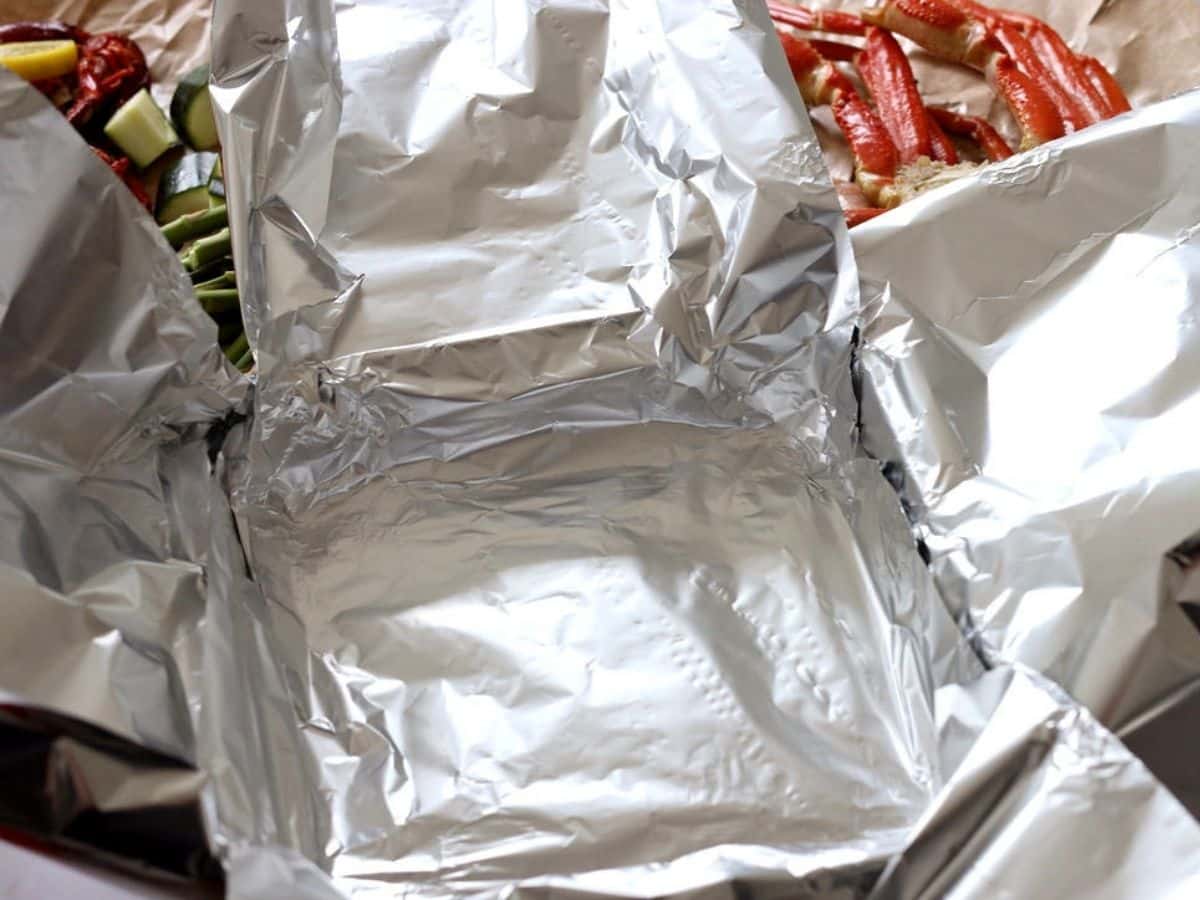 How do I make keto seafood foil packs?
Easy. All you need is sturdy aluminum foil, a large pan and some delicious seafood and cajun spice.
This easy recipe is made with the following ingredients:
Tony's creole seasoning
kielbasa sausage
zucchini
crab
shrimp
parsley and butter
other veggies, such as spaghetti squash or asparagus
Simply add them to your foil pack and bake.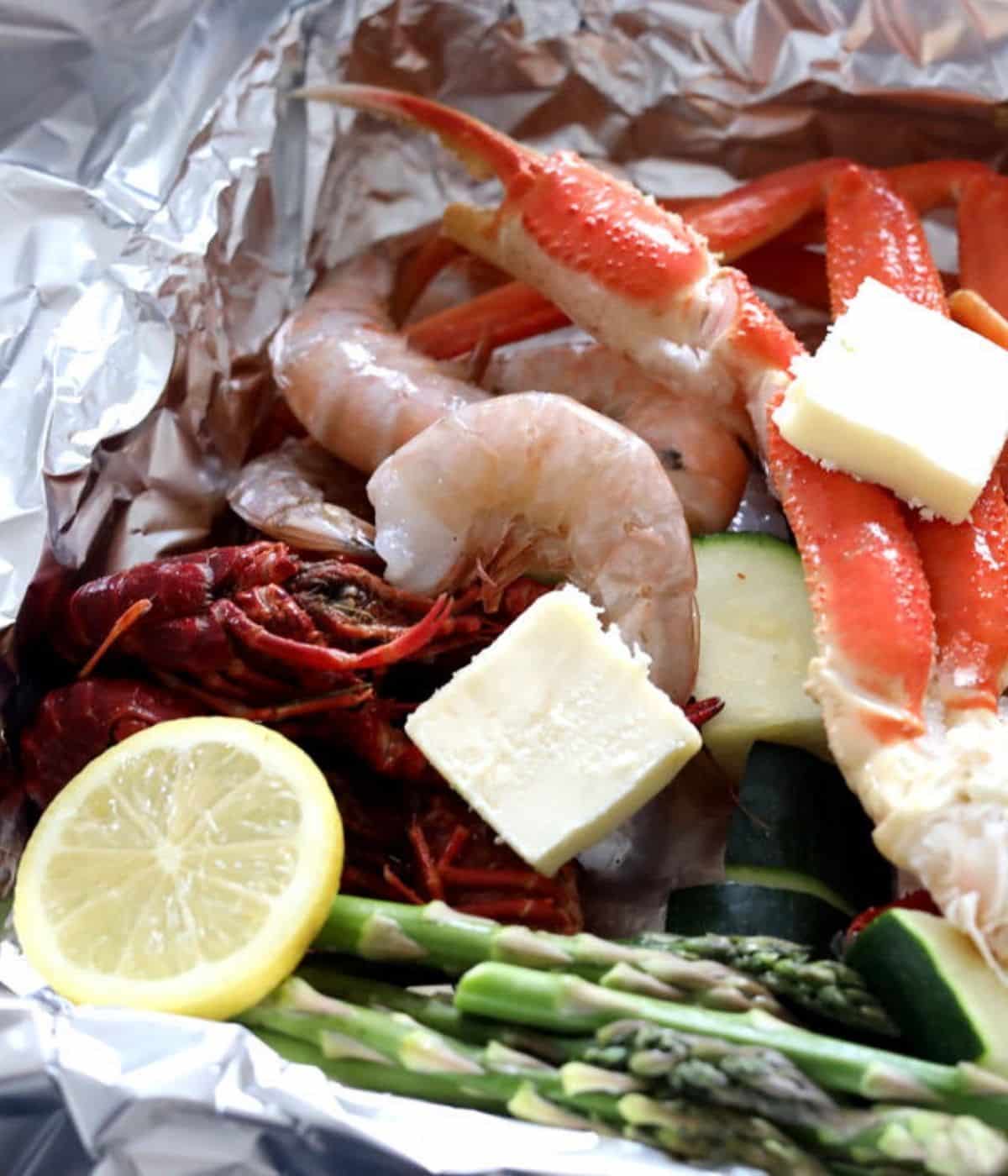 How to make seafood foil packs on the grill
With summer right around the corner, this is an easy recipe that'll please your cookout crew.
To make this recipe on the grill, double up on the foil and add to your grill.
Grill until shrimp is pink and ready, about 15-20 minutes on med-high heat.
How do I make shrimp in a foil pack?
I like my shrimp uncooked and frozen, with the tail intact.
You can use precooked shrimp, however, if that's your preference. Just know that sometimes pre-cooked shrimp can take on a rubbery texture.
What is the best cajun seasoning for seafood foils?
My favorite seafood seasonings are Tony's Creole and Old Bay. I frequently use them with calamari.
Either will work, but Tony's tends to have more spice.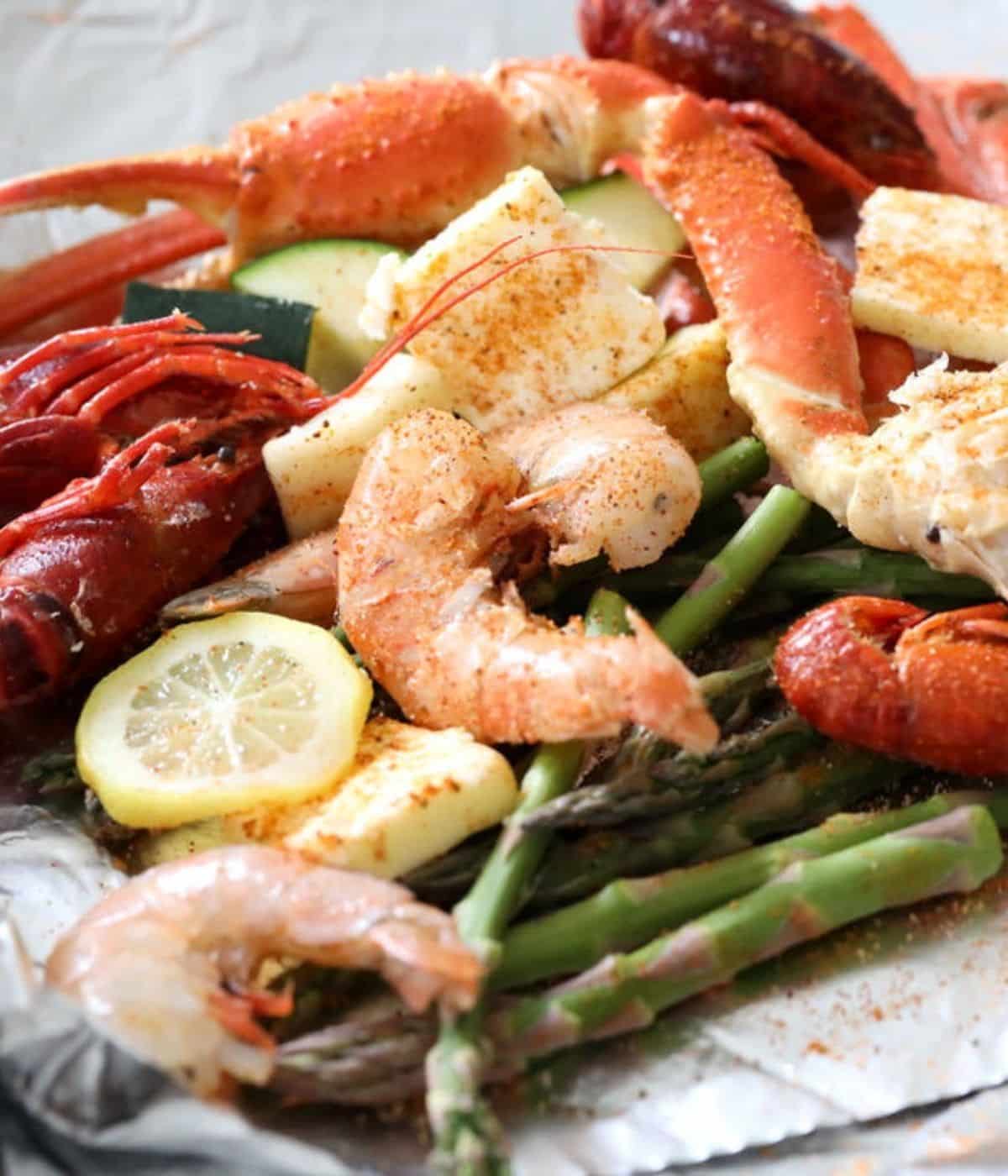 Keto seafood bake/boil with crab legs
Instead of potatoes, I use spaghetti squash chopped into 1-inch cubes.
No corn in this recipe. Instead, sub it for asparagus or a healthy, green veggie (like broccoli or zucchini).
All other seafood, like crab legs or shrimp, have no carbs!
This recipe bakes rather than boiling to seal in all the juicy goodness.
Can I make seafood foil packs with pre-cooked shrimp?
I recommend using fresh, uncooked shrimp.
However, if you use pre-cooked, add it into the foil packs during the last 5-7 minutes of cooking. Otherwise, it will get overcooked and become too rubbery in texture.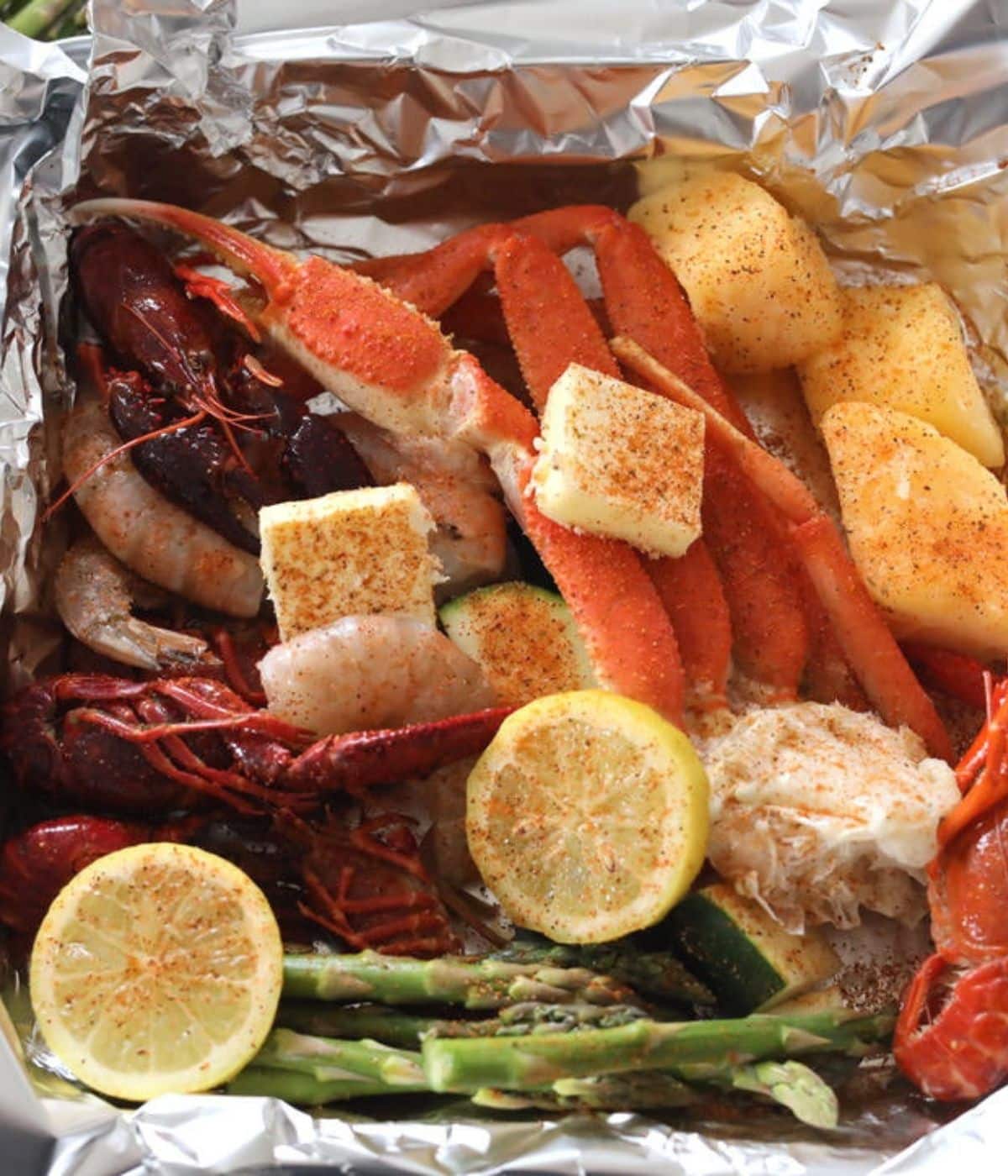 Can I use frozen shrimp/crab legs in my foil pack?
Yes, if you're making this foil pack from frozen, you can cook in the oven for approximately 30 minutes.
I recommend cooking for 22-25 minutes if using fresh seafood.
How do I make Cajun shrimp foil packets in the air fryer?
For healthy, clean eating, you can air fry this seafood medley for 3 to 5 minutes on 380°F in your air fryer.
You'll still want to wrap your seafood in aluminum foil packs to keep an all the buttery cajun flavor.
How many calories do shrimp have?
Per 3 ounce serving, roasted shrimp has 84 calories.
Do shrimp or crab have carbs?
Yes, but it's a negligible amount, .2 g. Of carbs per 100 g. shrimp, and, crab legs have no carbs.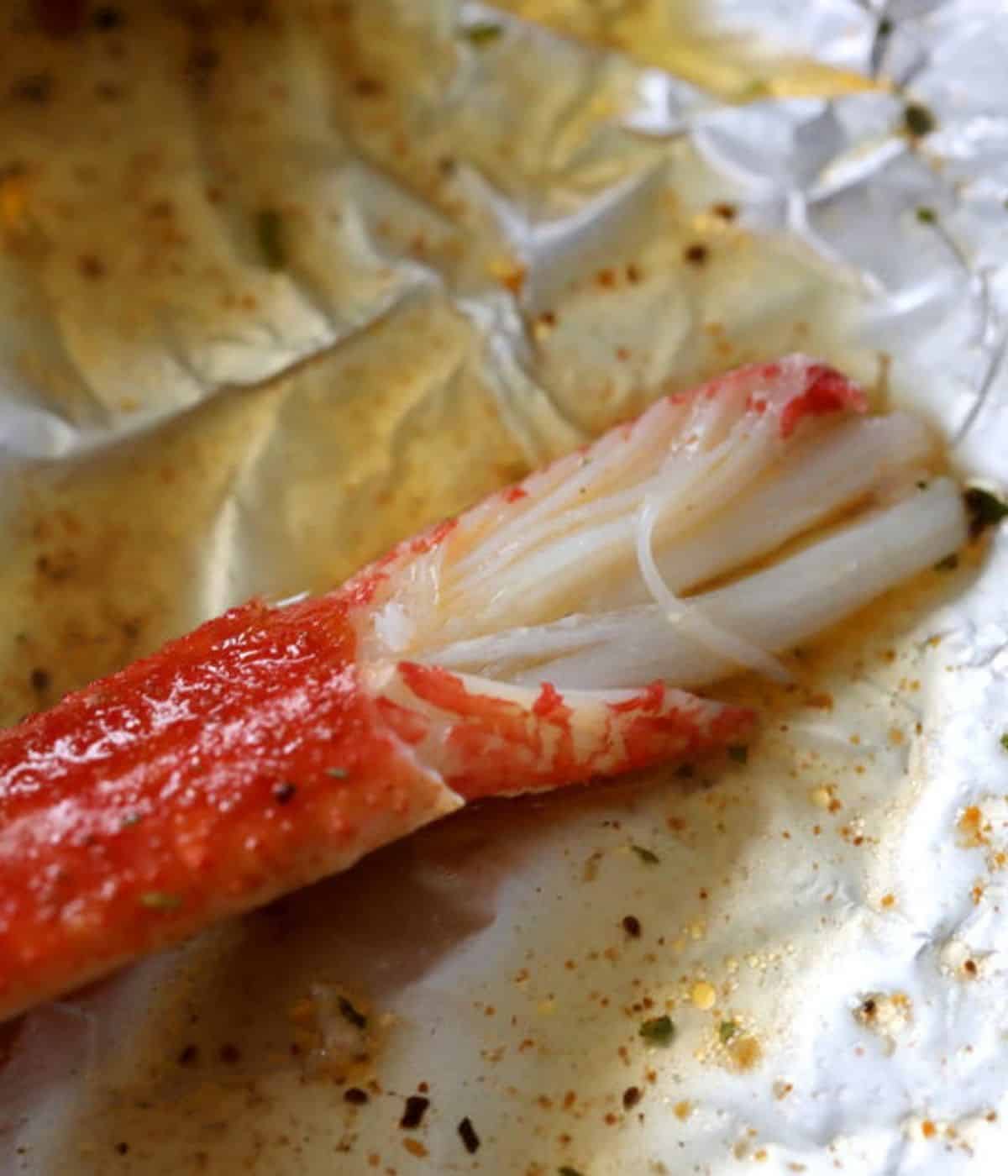 How long will seafood foil leftovers keep in the fridge?
This seafood boil leftovers should keep in the refrigerator for up to three days.
Simply reheat in the microwave or oven at 350° for about eight minutes.
Can I freeze leftovers?
I do not recommend freezing leftovers from this recipe, as it is best when it's fresh from the oven.
What can I substitute for shrimp or crab?
If you don't have shrimp, you may use calamari, clams, scallops, squid, or muscles in your aluminum foil seafood bake.
You can also add scrumptious crawfish to the mix. Speaking of cajun shellfish, here's the proper way to eat a cajun crawfish.
What can I substitute for kielbasa?
Andouille, smoked, or summer sausage may be used for this seafood foil pack recipe.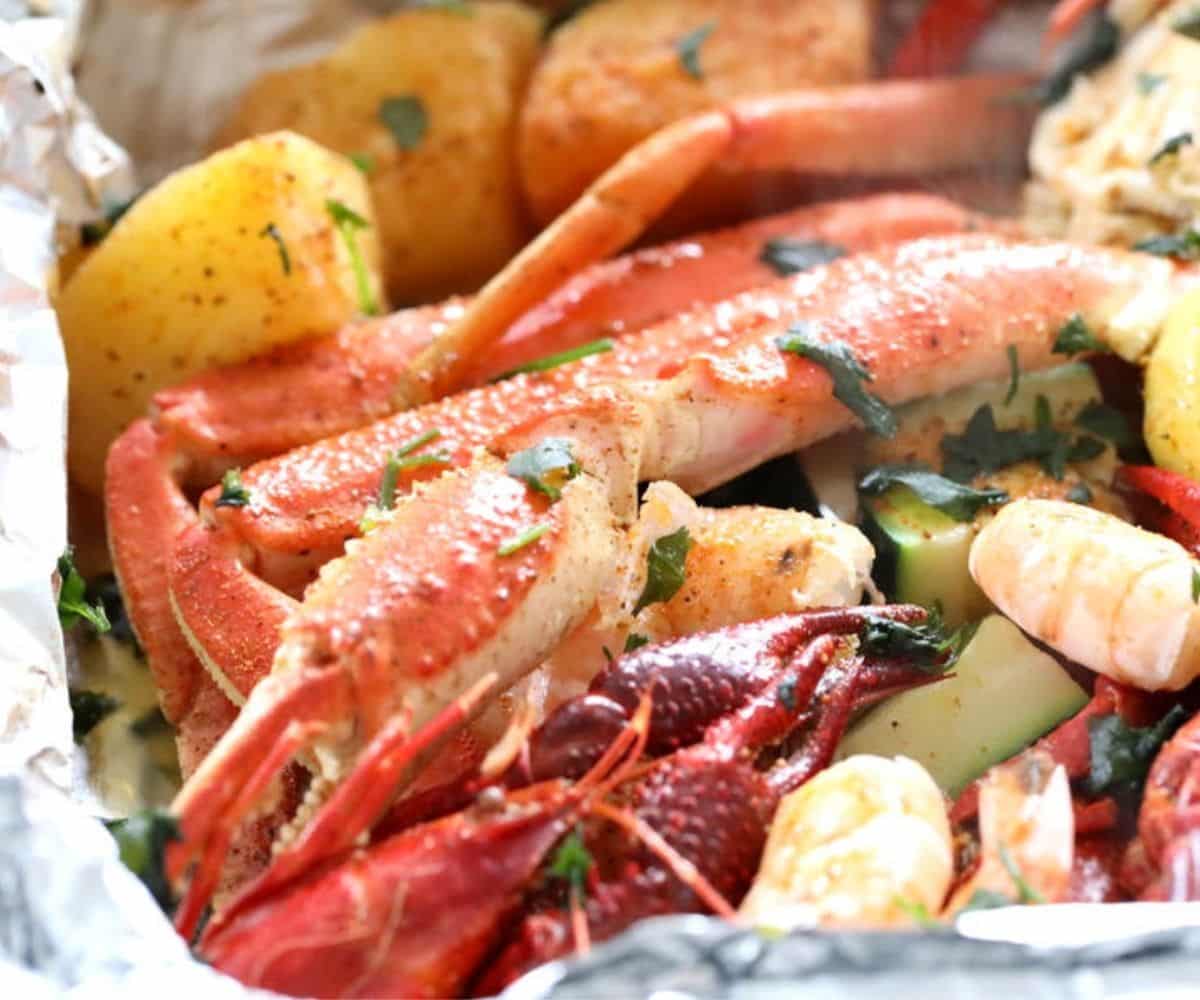 What can I substitute for cajun seasoning?
If the lemon-butter-Cajun seasoning in this recipe is too much heat, substitute it for:
Lemon pepper
Garlic and smoked paprika
Rosemary, basil and lemon juice with butter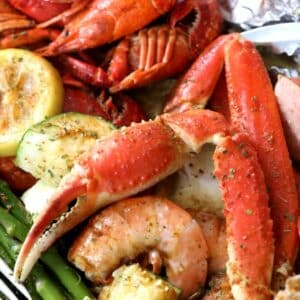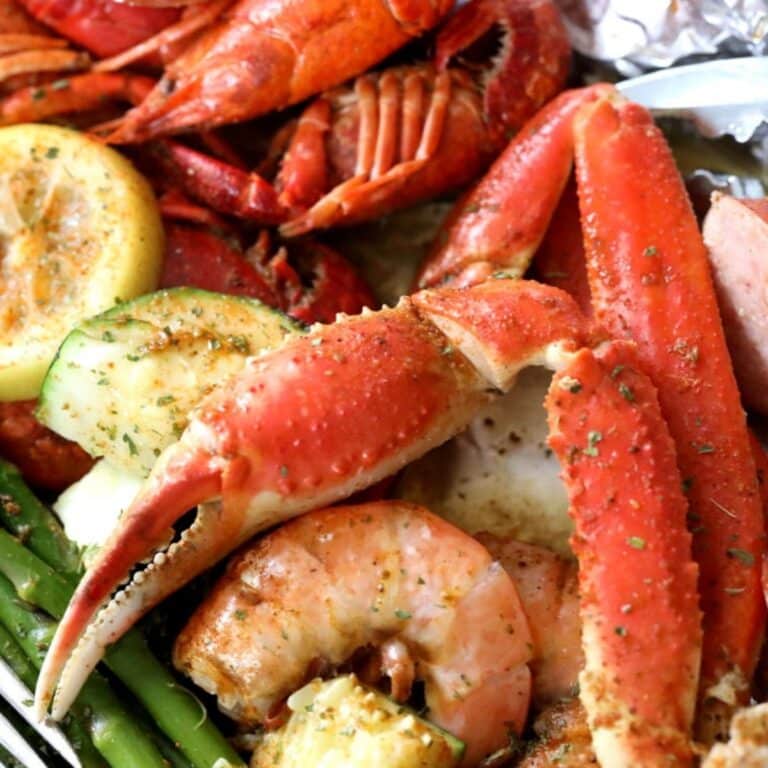 Keto Cajun Seafood Foil Packs
A cajun-inspired shrimp and crab foil so good you'll think you're in New Orleans.
Print
Pin
Rate
Ingredients
1

lb

crab legs

1

lb

shrimp

uncooked

1

large zucchini

1

kielbasa sausage

2

tbsp

parsley

2

tbsp

Tonys Creole Seasoning

2

tbsp

butter
Instructions
Preheat oven to 420 degrees. Thaw shrimp by placing in cold water, if frozen. Rinse.

Place aluminum foil in five separate bowls to create "foil" bowls.

Chop kielbasa and zucchini. Add meat and zucchini to form airtight foil "bowls." Top with parsley and butter. Add Tony's Creole seasoning.

Bake for 30 minutes.
Nutrition
Calories:
607
kcal
|
Carbohydrates:
6
g
|
Protein:
60
g
|
Fat:
33.5
g
|
Saturated Fat:
13.4
g
|
Cholesterol:
404
mg
|
Sodium:
1983
mg
You may also like…