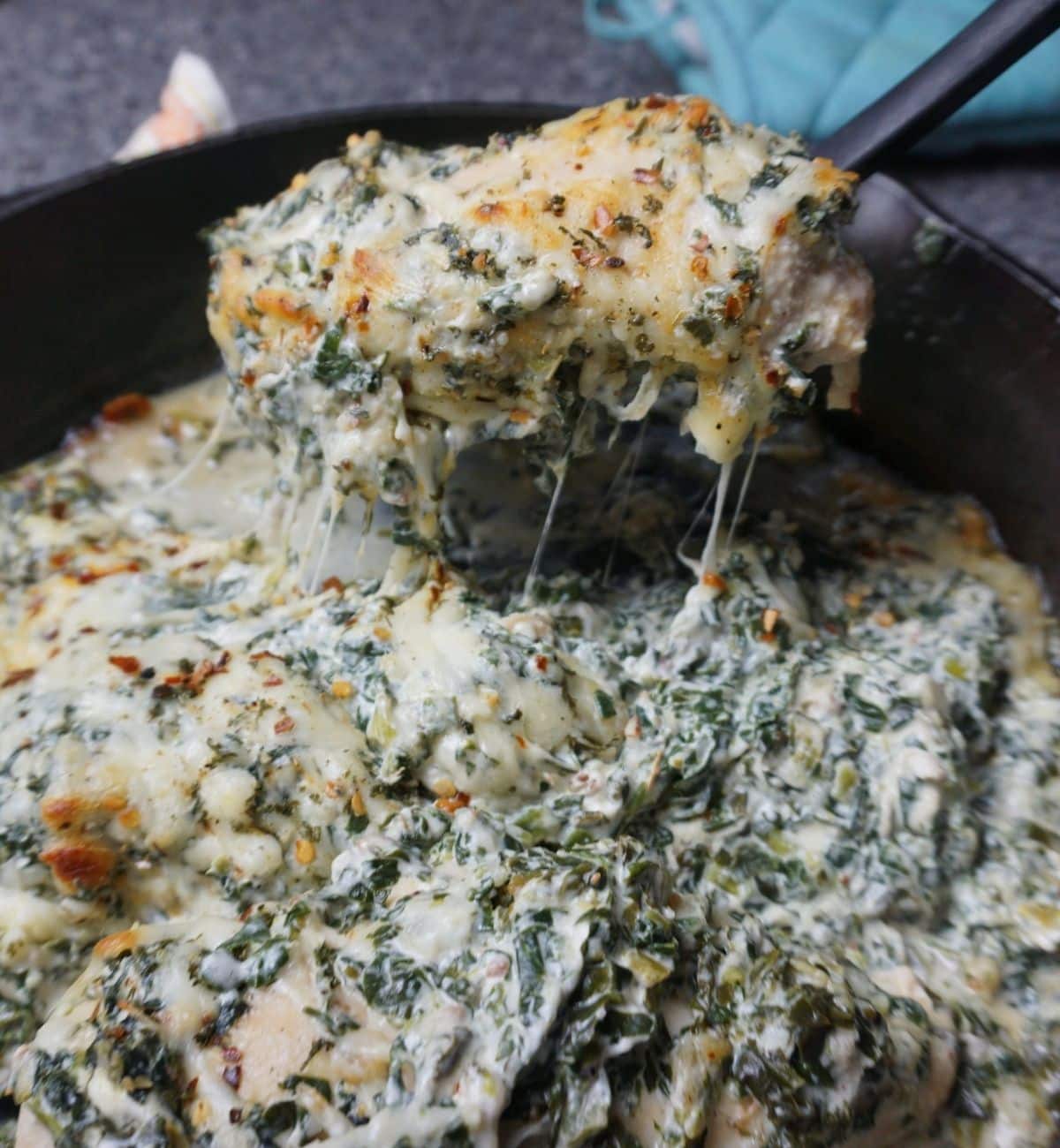 This healthy one pan creamy spinach chicken dinner is my absolute go-to for dinner in a pinch.
Looking for a spinach and chicken recipe for dinner? Introducing, creamy spinach chicken casserole made with cream cheese and mozzarella. This spinach chicken dinner idea is not only easy, but it is keto and low-carb friendly.
There's only a few ingredients and turns out perfectly every time. A true comfort food to be reckoned with and only minimal prep.The spinach and cream cheese mixture for this recipe is super easy to prepare, making this keto recipe a no-brainer.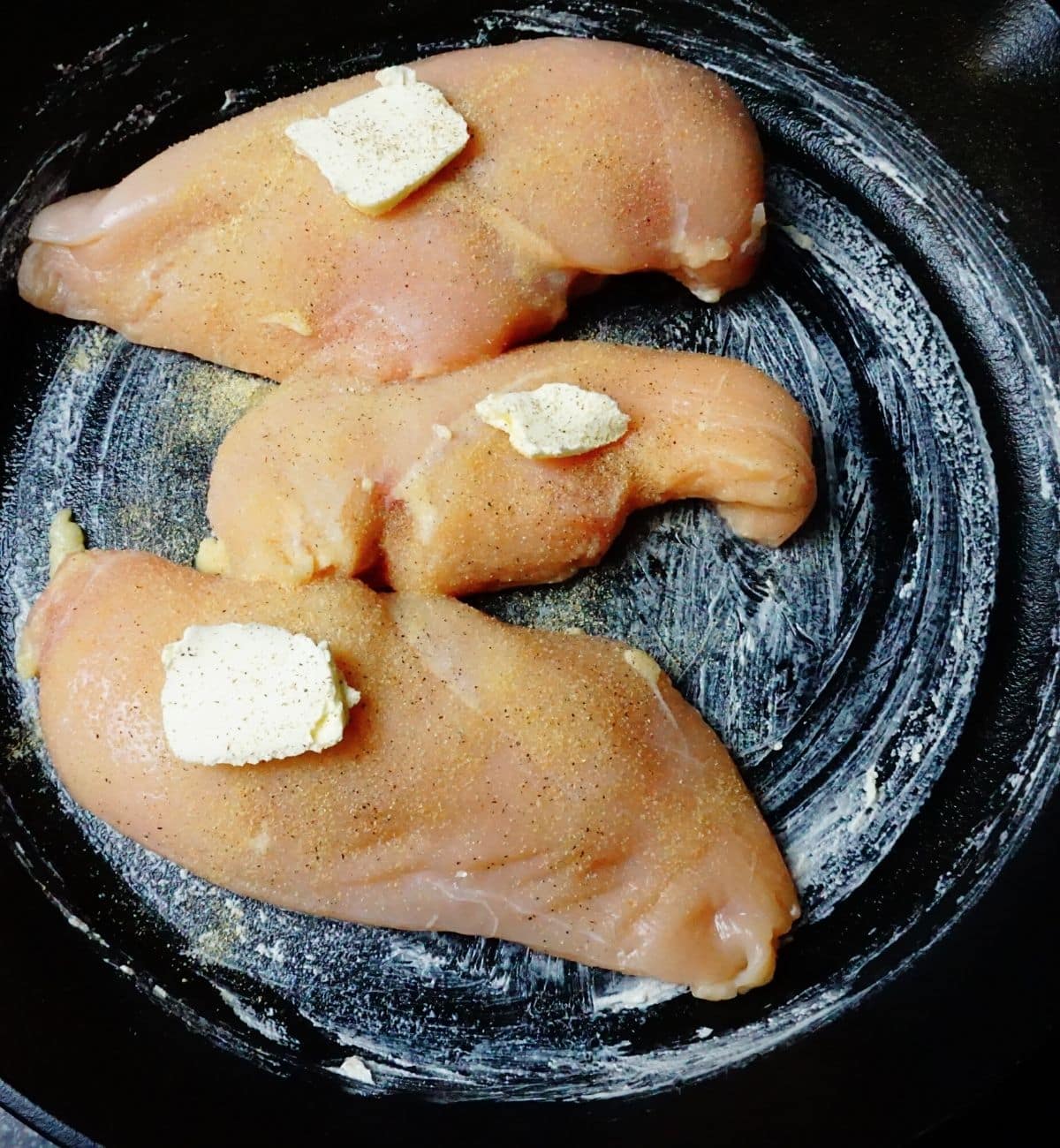 How do I make a spinach chicken casserole?
Baked chicken breasts can be difficult to perfect. You'll want them juicy enough, without drying out.
First, you'll want to bake the chicken with a bit of butter and garlic powder for half of the time.
While the chicken breasts are baking, mix up your creamed spinach mixture. You can use any of the following options:
10 ounce frozen block of spinach
1 or 2 cans of drained spinach
1 bag of fresh spinach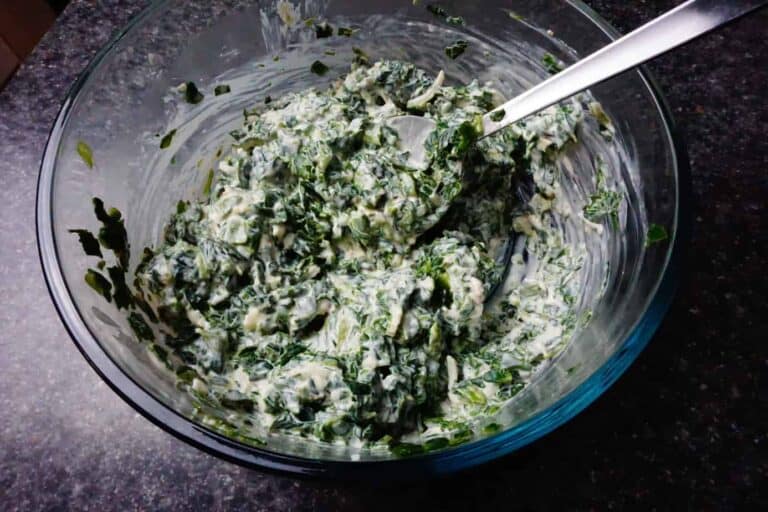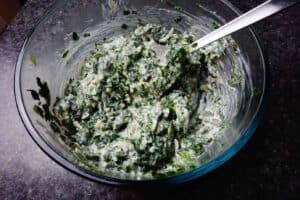 Next, add your spinach to 6 ounces of warmed cream cheese.
Speaking of creamed spinach, this recipe was inspired by Martha Stewart's easy creamed spinach.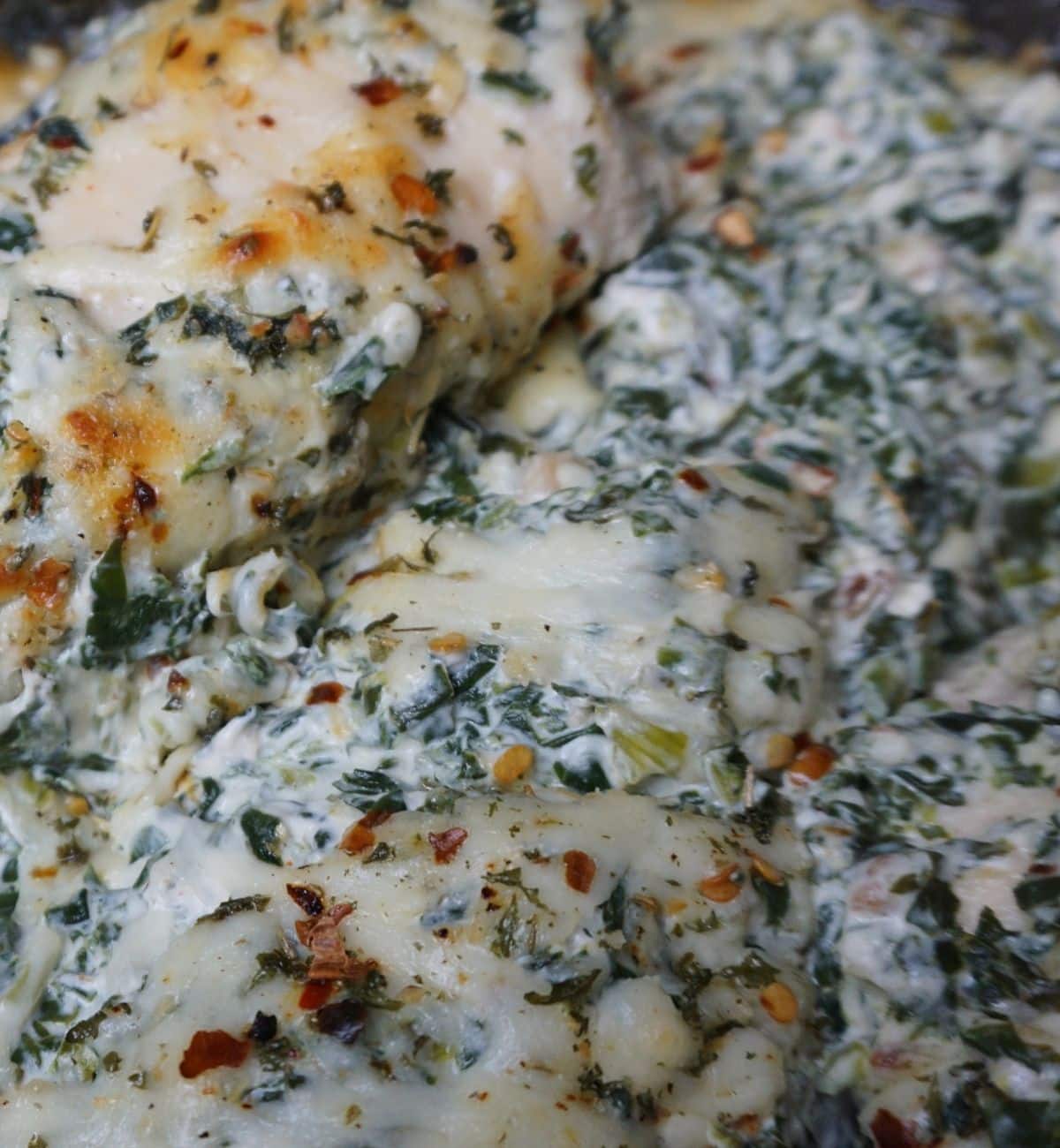 How to add extra flavor to your creamy spinach chicken casserole:
mix in a bit of Italian seasoning
add peppers
add cajun spices
For the remaining time, you'll want to add the spinach mixture over them, along with the a bit of extra mozzarella to top off your casserole.
Next, bake for an additional 15-20 minutes and remove from the oven.
How do I get my mozzarella cheese to brown in a casserole?
Broil your casserole for 2-3 minutes, checking frequently
Lastly, only salt your chicken after it's out of the oven, so it won't dry out too much.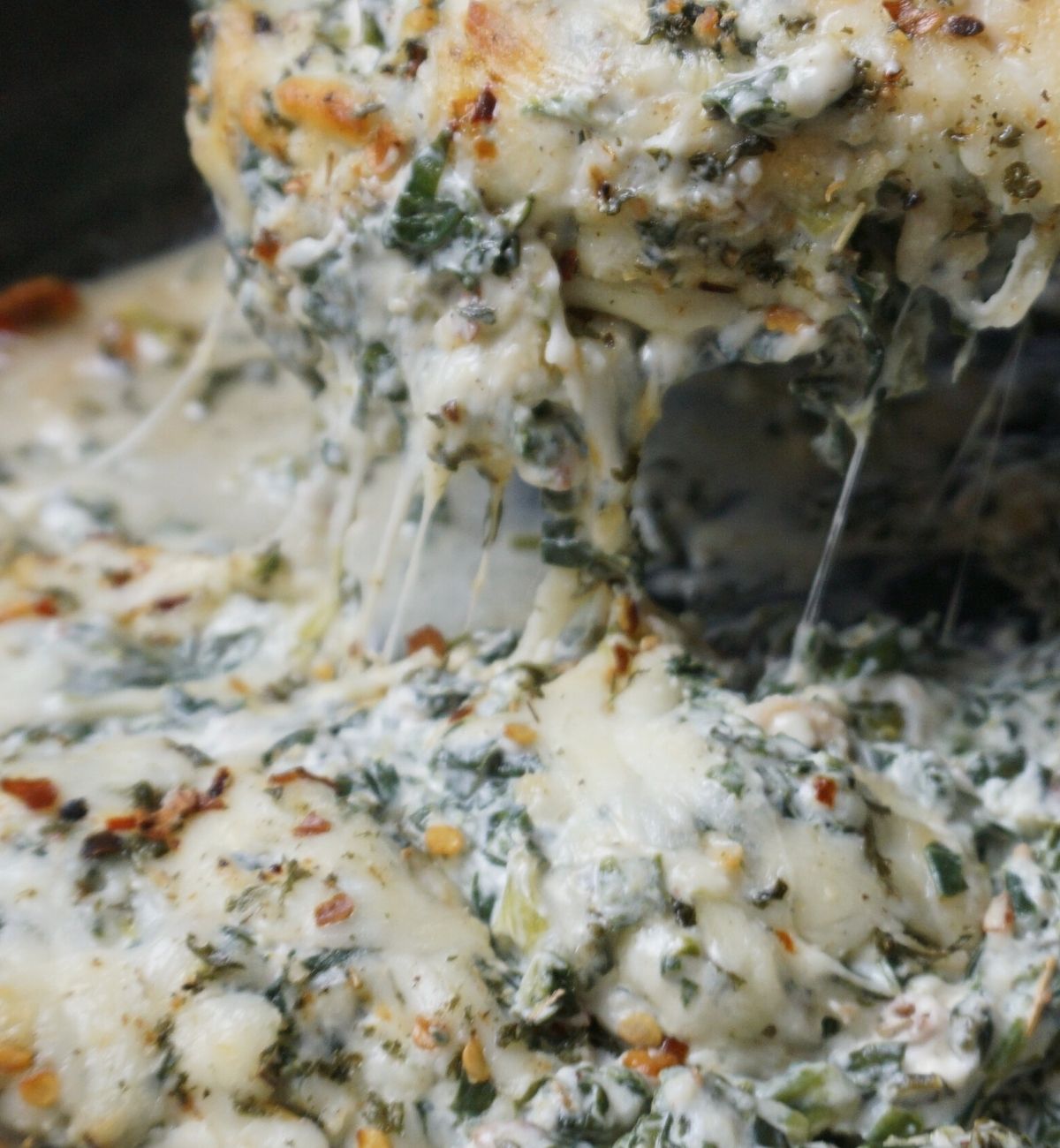 What are other ways to make creamy baked chicken?
Instead of using spinach and cream cheese, you may want to try:
broccoli, cauliflower and cream cheese chicken casserole
poblano peppers, cream cheese and bacon with baked chicken
sautéed onions added to creamed mushrooms atop baked chicken
Don't have chicken right now? Here's some other cream cheese casserole ideas:
Seafood lover? Make spinach and tuna cream cheese casserole instead of using chicken
Make this recipe using pork instead
No meat in the fridge? Make a veggie cream cheese casserole with whatever vegetables you have topped off with cheesy goodness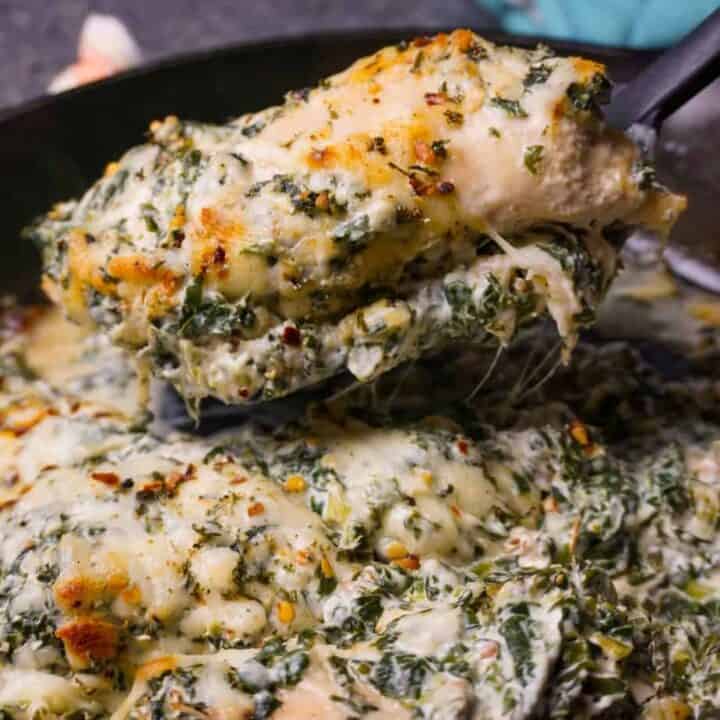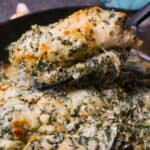 Creamy Spinach Chicken Casserole
It doesn't get easier than this Italian-inspired Keto casserole. One pan in the oven and minimal prep time is a lifesaver.
Ingredients
4

chicken breasts

6

oz

cream cheese

2

tbsp

butter

½

cup

mozzarella cheese, shredded

2

tbsp

bacon bits, optional

10

oz

frozen spinach (one block)
Instructions
Preheat oven to 350 degrees. Defrost spinach, either in boiling water or place in fridge the night before.

Heat cream cheese in microwave for 30 sec. to soften and mix with drained spinach.

In cast-iron skillet or baking dish, coat with butter and add chicken Add 1-2 small slices of butter and 1 tsp garlic powder atop the chicken. Bake for 15 minutes.

Mix cream cheese and spinach.

Remove chicken. Add cream cheese & spinach mixture on chicken. Add red pepper flakes, Italian seasoning, and a sprinkle of mozzarella cheese if desired. Bake for another 10-15 minutes, or until cheese is completely melted.
Nutrition
Calories:
444
kcal
Carbohydrates:
2.6
g
Protein:
37.3
g
Fat:
31
g
Saturated Fat:
16.2
g
Cholesterol:
151
mg
If you like creamy spinach chicken casserole, you'll love: