Sweet meets spice in this keto sweet & spicy calamari recipe
I have to admit, I was hesitant about using coconut flour with this recipe as I didn't want the calamari to be overpowered by the coconut flavor. Simple use some spices with the ground pepper and you won't be disappointed in this sweet and spicy keto calamari.
How do I prepare the calamari?
When it was time to cook, remove the bits from the packaging and drained the water completely.
? Pat-dry the calamari rings and tentacles with a paper towel before placing them in the whisked egg mixture. Otherwise, the coconut flour spice mix will not fully stick to the pieces and will crumble in the oil.
Where can I buy calamari?
I live in a semi-small town, so the only place I was able to get ahold of come calamari was Meijer. And it was frozen. So, I left it in the fridge overnight to thaw.
? Let's just say I had never purchased calamari before and my options here are limited. But, I do love some lightly fried calamari any day of the week so it was definitely worth the extra effort to make some delicious low-carb squid.
Tip for frying keto sweet & spicy calamari
A quick note about the oil: you'll want to heat the oil thoroughly before placing the calamari in the pan. If the oil isn't hot enough, the coconut flour mixture will just melt right off the tentacles and rings.
What can I serve with fried calamari?
Think keto-friendly Red Lobster, here. I like my seafood with any of the following:
buttery green beans
buttery broccoli
mashed cauliflower
fried cabbage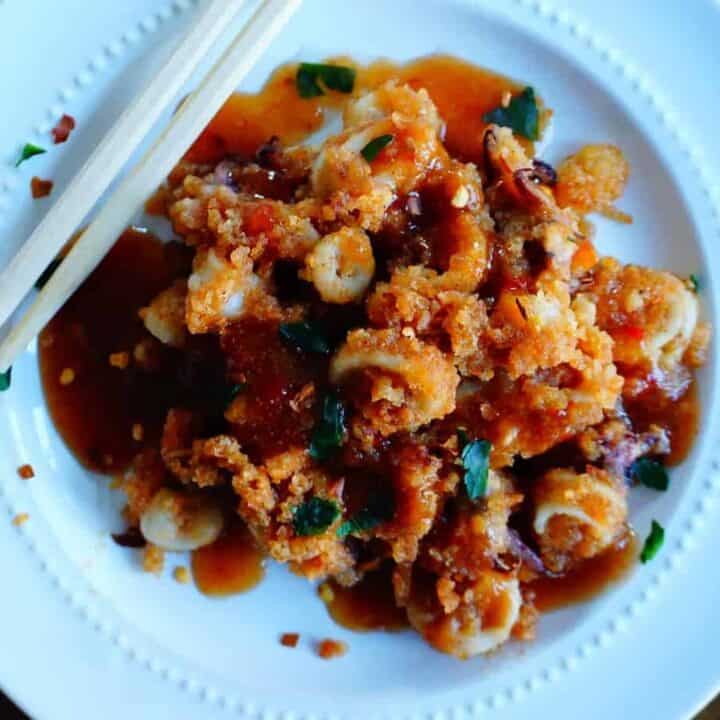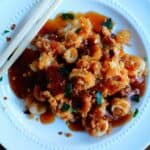 Keto Calamari with a Kick
Keto-friendly calamari, lightly breaded in coconut flour. These crisp calamari rings go perfectly with our sweet and spicy chili sauce.
Ingredients
Sweet & Spicy Chili Garlic Sauce
Instructions
Mix all dry ingredients in a large bowl. In a separate bowl. whisk egg.

Rinse calamari rings and tentacles and pat dry with a paper towel.

Heat sesame oil on high heat in saucepan. Make sure oil coats entire pan.

Dip calamari pieces in egg and dredge in dry ingredients. Fry each side for 2-3 minutes in oil, leaving space between calamari pieces.
Nutrition
Calories:
581
kcal
Carbohydrates:
7
g
Protein:
24
g
Fat:
28.4
g
Cholesterol:
629
mg
Sodium:
1268
mg
Fiber:
6
g
If you like this calamari recipe, you'll love:
This recipe was inspired by Fifteen Spatula's Fried Calamari recipe.