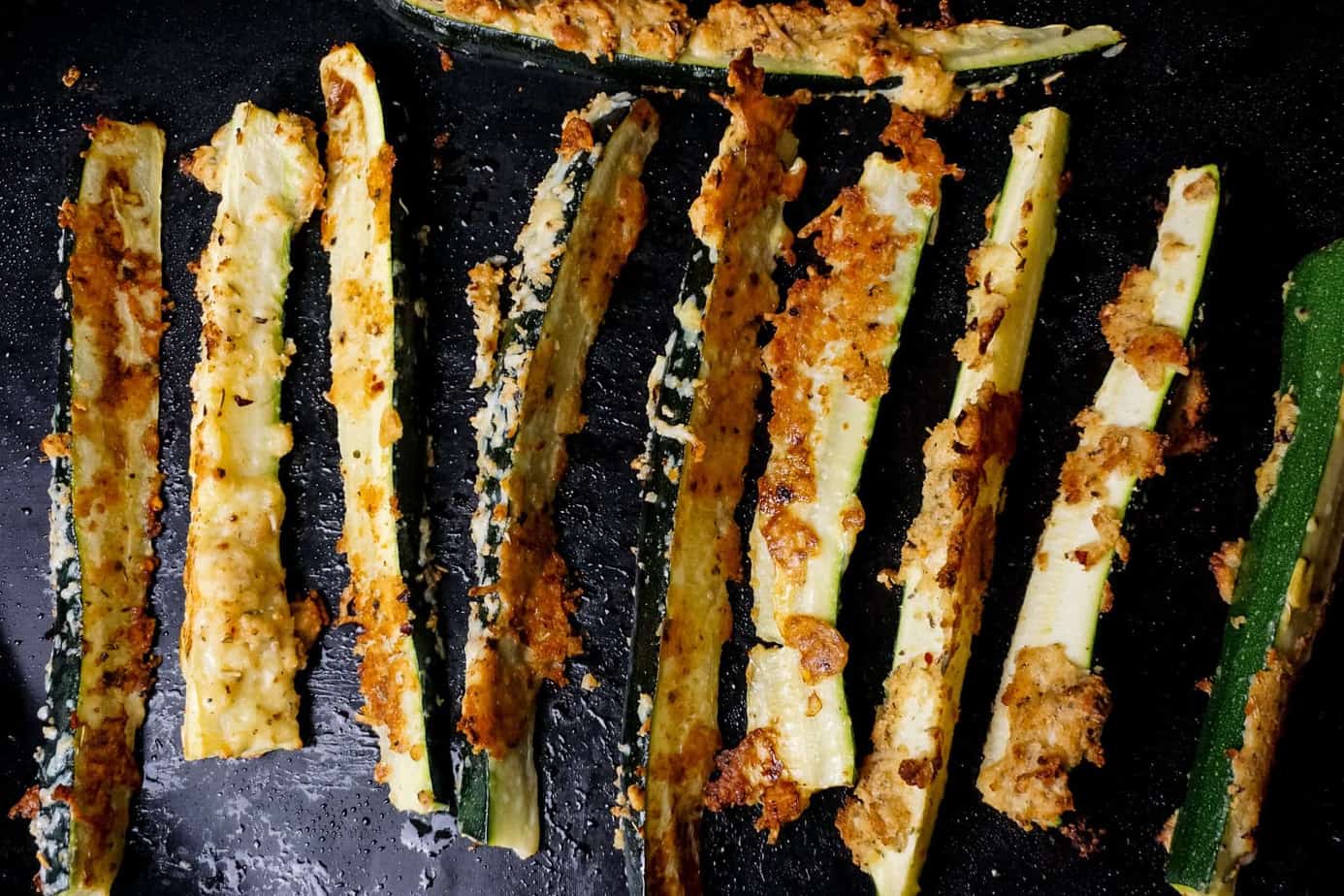 These crisp zucchini "fries" are a crisp, healthy side or perfect as a snack!
Zucchini is a great low-carb substitute for french fries
One of the hardest things to give up on my low-carb journey was potatoes. I grew up with fried potatoes, indulged on the frequent order of french fries, and loved a loaded baked potato. It's still my favorite vegetable, but I know they are loaded with carbs. These crispy baked zucchini fries do it for me.
Zucchini is much healthier and a great potato alternative!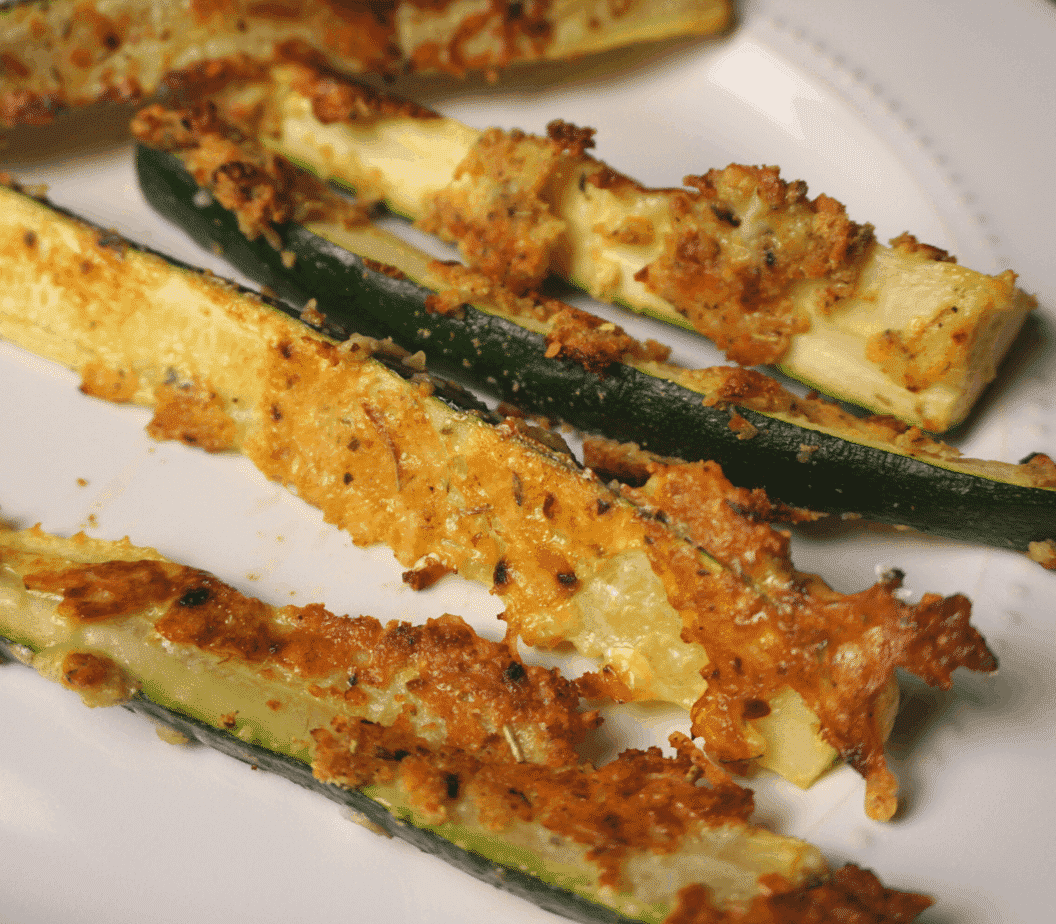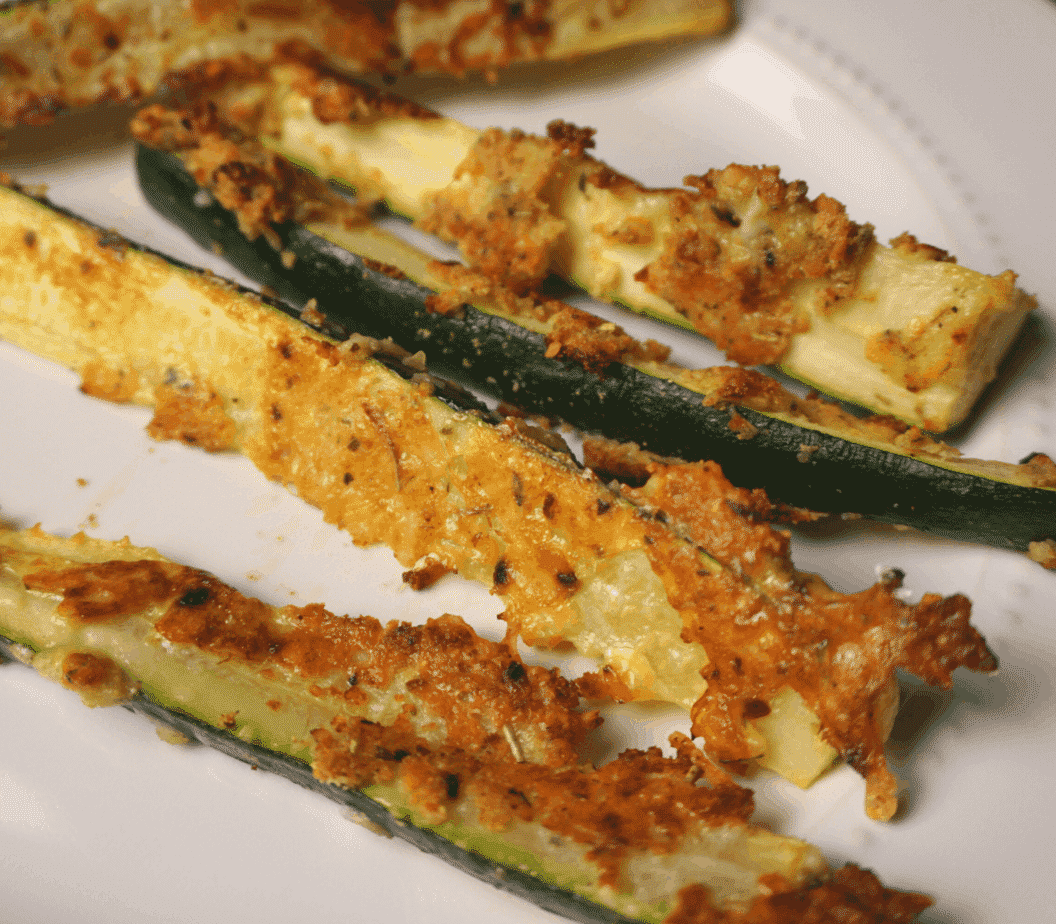 How many carbs are in zucchini?
Did you know?
Zucchini is much lower in carbs  (about 4g per zucchini)
you can load Zucchini with the same toppings as potatoes
It works great in baked casseroles and are delicious with cheese, so long as they're not overcooked
Zucchini fries are amazing for dipping sauces (bye, bye Mr. Potato Chip and Ms. Tortilla chip!)
How do I make crispy zucchini fries?
The first time I tried to make zucchini fries, they turned out so-so. I've been making them for years now, and the secret is getting them good and dry before their egg wash and dipping.
Prior to dipping them in the cheese mixture, make sure to pat the zucchini dry with a paper towel to prevent sogginess. You'll want to serve these immediately after removing from the oven, as to preserve their crisp.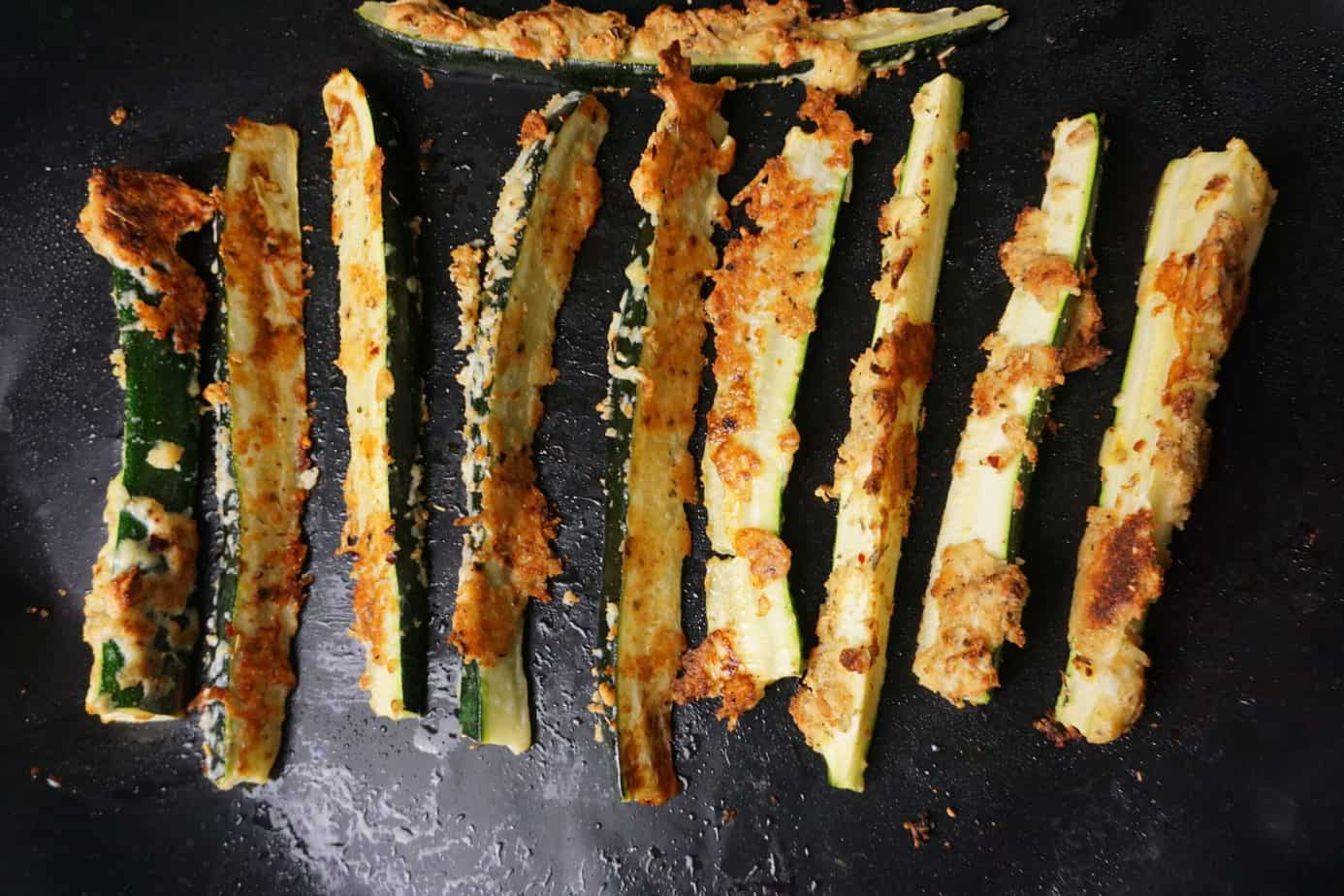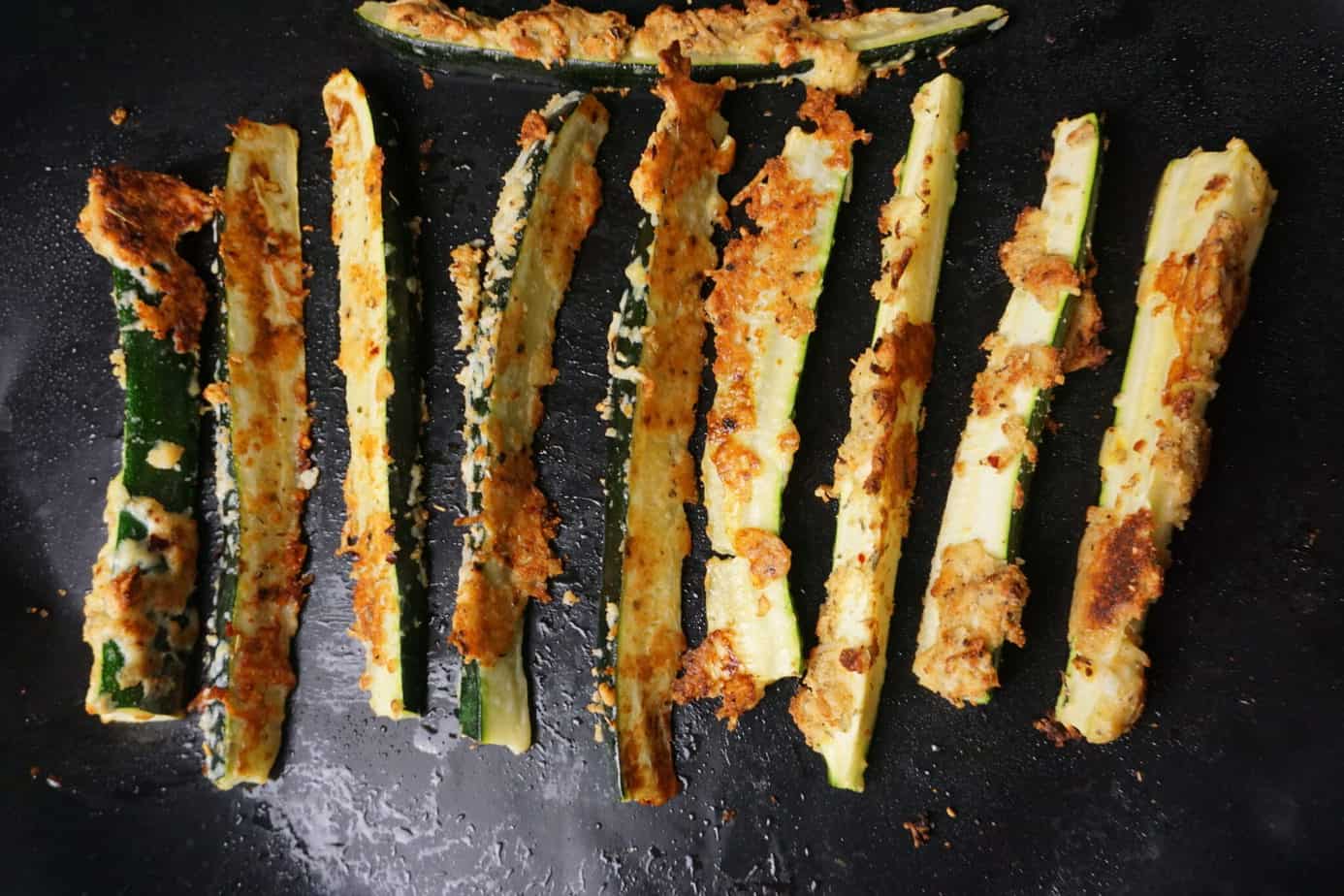 What cheese do I use for baked zucchini fries?
I went with a combo of Pecorino Romano cheese and Parmesan cheese here, but feel free to experiment according to your favorite sharp cheese. It adds a punch of flavor to the whole mix and tastes super yummy.
Tips for making zucchini fries
Be sure to keep an eye out for your spice/cheese mix, as the dipped zucchini tends to take up a bunch. If that's the case, you'll be replenishing your blend of spices before they're all dredged. Keep the cheeses and spices near by just in case.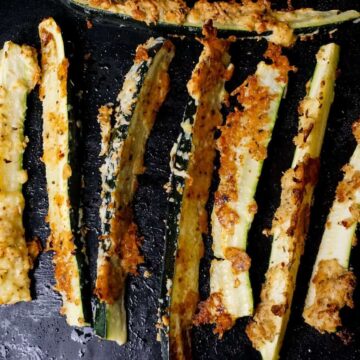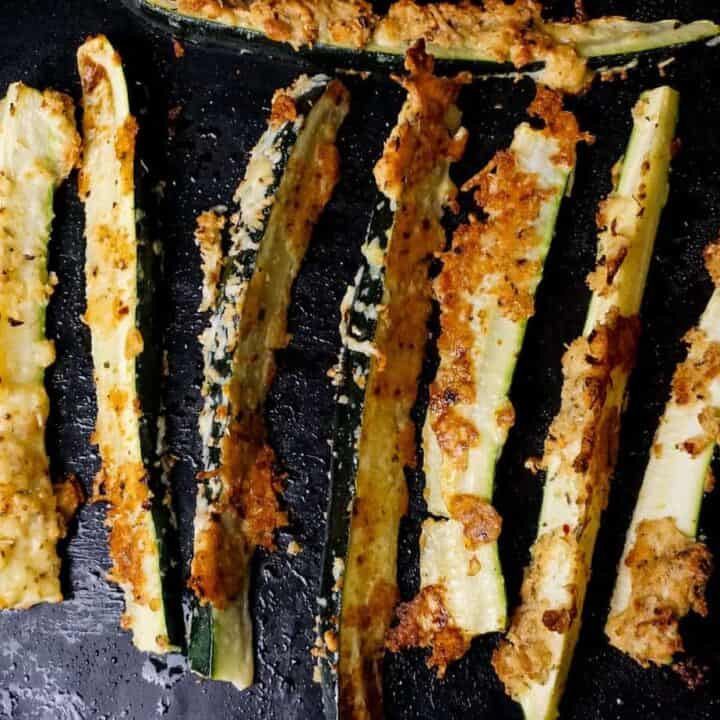 Crisp Baked Zucchini Fries
Keto friendly, baked zucchini fries made with Pecorino Romano cheese and parmesan cheese.
Print
Pin
Rate
Instructions
Preheat oven to 420ºF.

Cut zucchini in half, then those halves in half (lengthwise) until each zucchini yields 8 pieces. Pat dry with a paper towel and set aside.

In a large bowl, mix together cheeses and seasonings.

Coat pan with cooking spray. Dip zucchini into egg, then seasoning mixture, and add to pan.

Bake for 20-25 minutes flipping half way through.
Nutrition
Calories:
252
kcal
|
Carbohydrates:
8
g
|
Protein:
16.9
g
|
Fat:
13.8
g
|
Saturated Fat:
23.1
g
|
Cholesterol:
94
mg
|
Sodium:
449
mg
|
Fiber:
2
g
If you like crisp baked zucchini, you'll love:
This recipe was inspired by a Parmesan-Crusted Chicken recipe from AllRecipes.com.