A Healthy Keto Sloppy Joe Recipe
Like Manwhich, but gluten free and keto friendly. An easy and cheesy sloppy Joe casserole without all the carbs! This is by far the BEST keto sloppy Joe recipe out there.
I remember the sweet and savory sloppy joes my mom used to make as a kid. Alright, they were straight out of the can, but still tasted like heaven.
I wanted to mimic that comfort food here, but without all the added sugar and unpronounceable ingredients. This cheesy keto friendly sloppy Joe casserole is delicious.

Are sloppy joes keto?
They can be! I'm always on the lookout for new and exciting ways to remove the buns and bread from my diet. My usual go-to is zucchini, but that just didn't fit here.
Mushrooms and beef go tougher like peas and carrots, so shrooms were the obvious choice for a keto-friendly, low-carb and sugar-free sloppy Joe recipe.
Sloppy Joe with cheese!
Monterey Jack cheese is oh so creamy and delicious atop the sloppy Joe mix of mushrooms and beef.
The dijon mustard and sweet/savory seasoning of the green bell pepper-onion mixture are just mouth-watering.
How to make the sloppy Joe casserole:
Even on the keto diet, this cheesy sloppy Joe casserole is easy and delicious.
First, remove the stems from your mushrooms and set aside.
Next, brown your ground beef and add all other ingredients, including the mushroom stems.
Now, set your mushroom caps in a buttered baking dish, adding your ground beef mixture on top.
Finally, add on some delicious Monterey Jack cheese on top. Bake until the cheese is golden and you're all set!
What can I have instead of buns on keto sloppy joes?
Try the following alternatives to make sugar-free keto sloppy joes:
Serve on baked fathead dough or make fathead keto sloppy Joe pockets
Make keto sloppy Joe mix and bake inside peppers
Pour the keto sloppy Joe sauce over pork rinds
Add keto sloppy Joe mix to lettuce wraps
Make a keto Philly cheesesteak recipe by adding in caramelized onions and extra peppers with white American
Can I freeze sloppy Joe casserole?
Simply seal in a air-tight freezer bag for up to a few months time if you're meal prepping!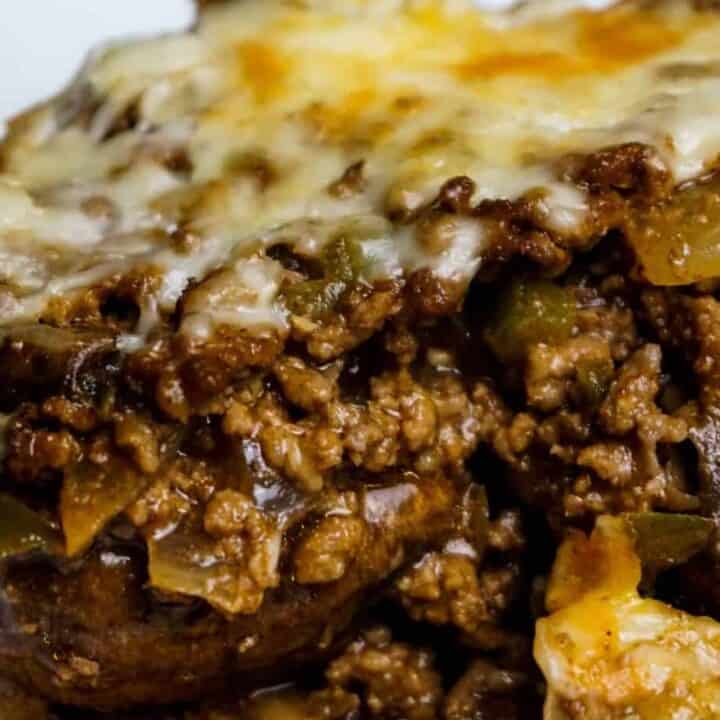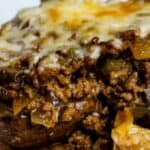 Cheesy Sloppy Joe Casserole (keto)
Sloppy joe covered mushroom casserole with Monterey jack cheese topping. Low-carb and keto friendly, a healthy and easy weeknight dinner idea.
Ingredients
1

lb

lean ground beef

8

oz

baby bella mushrooms

½

cup

tomato sauce

1

yellow onion, diced finely

½

large green bell pepper, diced finely

2

tbsp

Worcestershire sauce

2

tbsp

dijon mustard

2

tbsp

powdered erythritol

1

tbsp

xanthan gum

(to thicken, optional)

2

cups

monterrey jack or pepper jack cheese
Instructions
Preheat oven to 350º F. Remove stems from mushrooms and set aside.

Brown ground beef on med heat. Drain thoroughly. Add all other ingredients, including mushroom stems (except mushroom caps). Stir occasionally.

Spray baking dish with non-stick spray or butter. Place mushroom caps in baking dish. Add ground beef mixture on mushroom caps.

Layer Monterey Jack cheese on casserole and bake for 15 minutes or until cheese is golden.
Nutrition
Calories:
264
kcal
Carbohydrates:
8
g
Protein:
37
g
Fat:
7.6
g
Saturated Fat:
2.7
g
Cholesterol:
101
mg
Sodium:
411
mg
Fiber:
2.4
g
If you like these easy low-carb sloppy joes, you'll definitely enjoy some of my other casseroles, including: