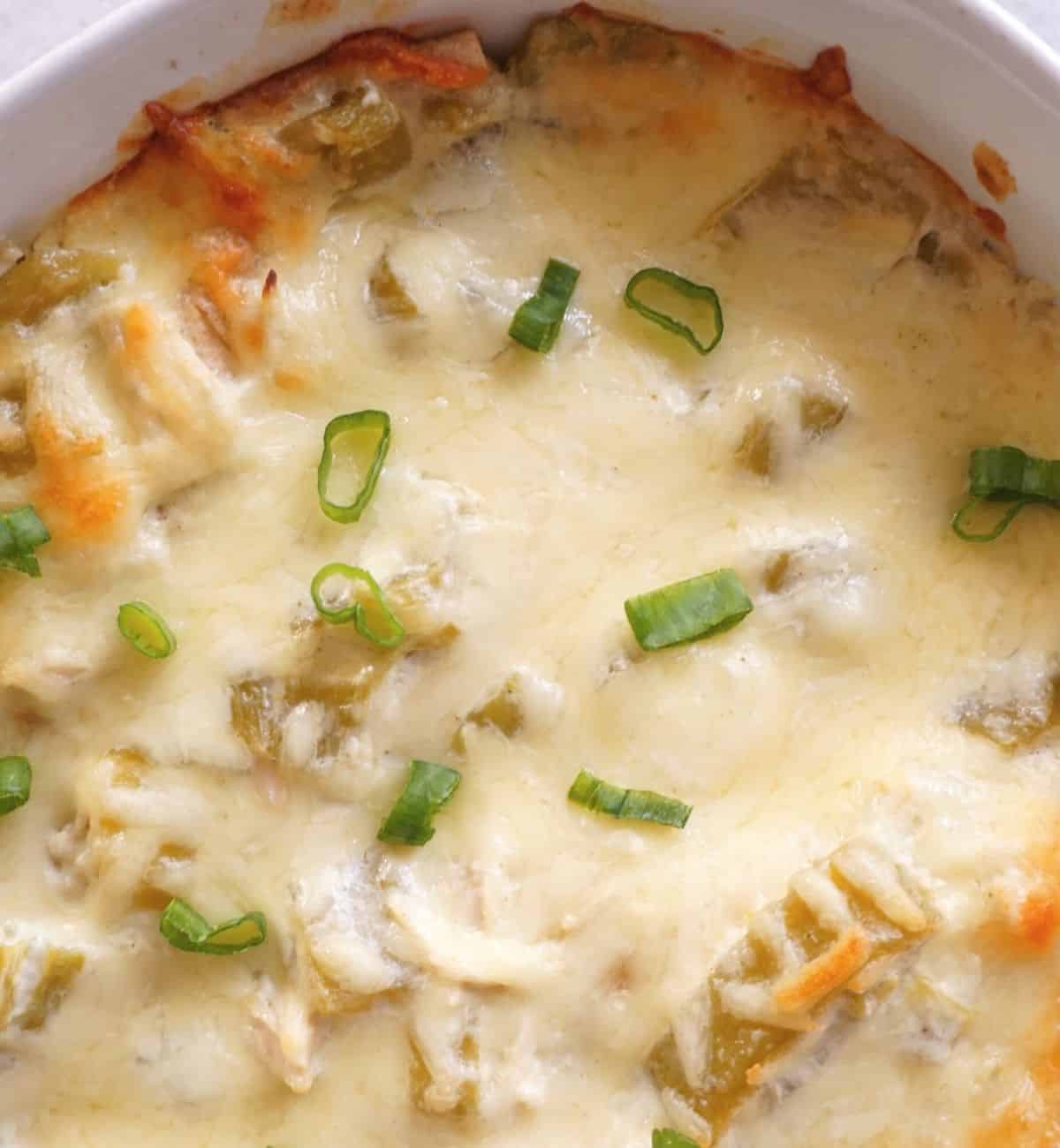 These Cheesy Chicken Enchiladas (with chiles) are a perfect one-pan dish and make great leftovers for a packed lunch the next day!
The Cheesiest & Creamiest Enchiladas
I love cheesy chicken chile enchiladas with sour cream. Back when I used to eat a ton of carbs, I would just throw on a can of Campbell's cream of chicken soup with some sour cream and call it a day.
Now, I really have to think about what I'm making, but I still love easy shortcuts.
How do I make low carb chicken enchiladas?
To make these low carb, I really didn't want to sacrifice the taste of tortilla. The next best thing was to find a low-carb tortilla. I searched Kroger and found Mission low-carb tortillas. About 5 g. net carb per tortilla, not too shabby.
If you can't find a low-carb tortilla near you, I recommend any low carb tortilla under 5 g. net carbs.
How can I make cheesy chicken chile enchiladas for the keto diet?
If you're strict keto, don't fret. You can still have your enchiladas. I recommend adding in extra peppers to take place of the tortilla. Maybe even a bit more cheese and sour cream too.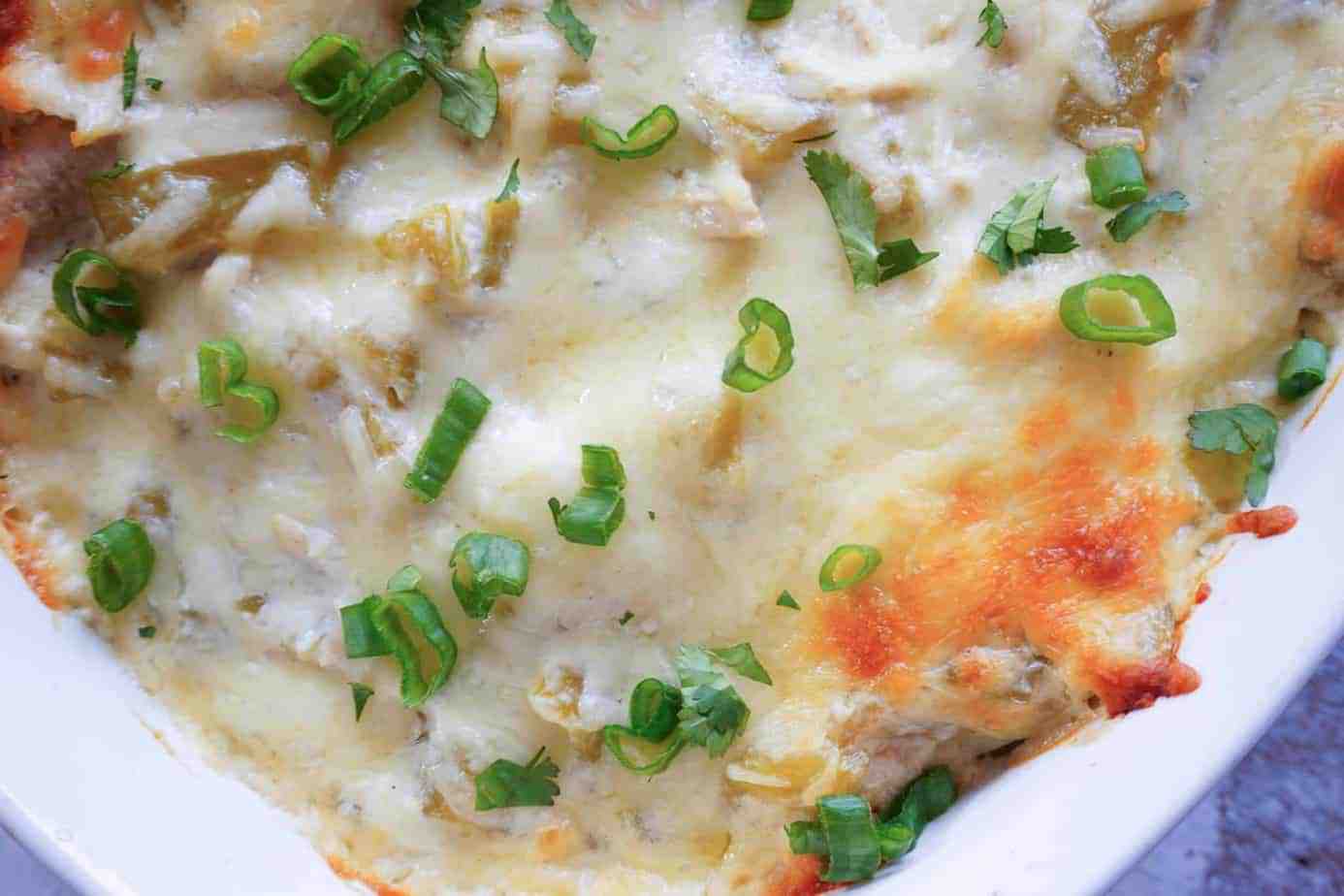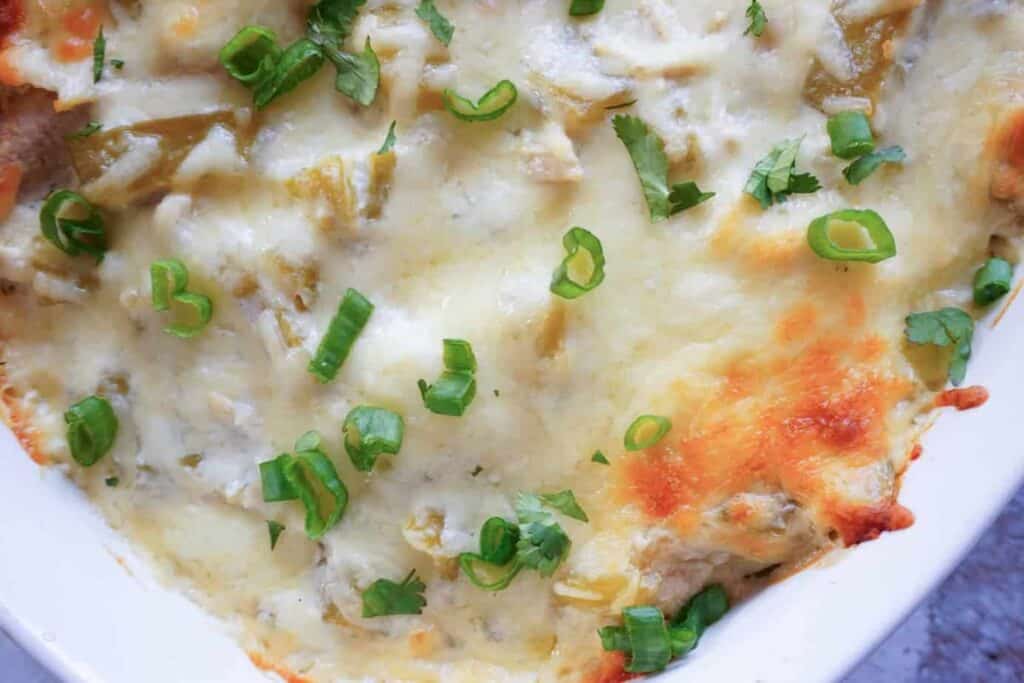 Other low carb ways to make baked enchiladas
Some other ideas for kets-friendly versions: zucchini, cabbage "tortillas", stuffed peppers, or your enchiladas just as is with the chicken and delicious, creamy cheesiness over a bed of lettuce.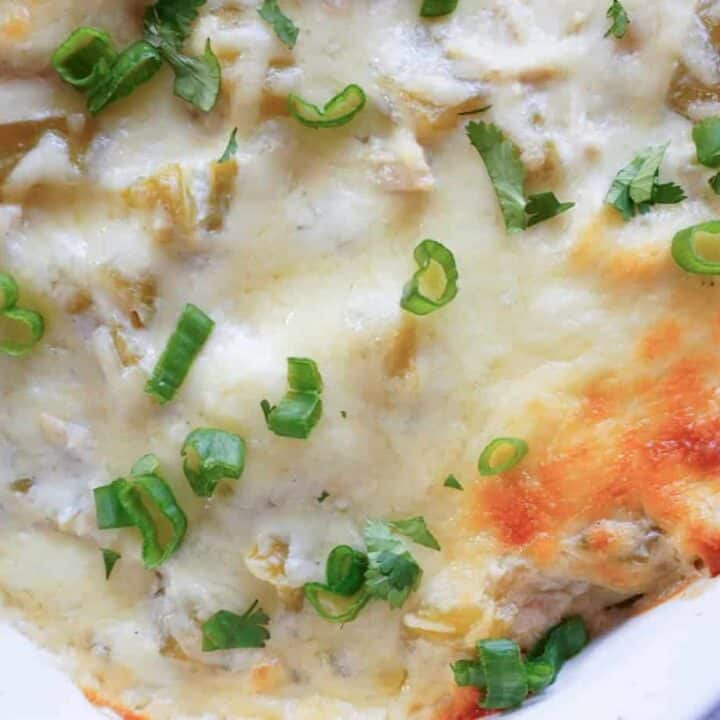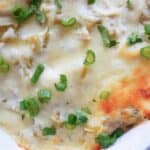 Cheesy Chicken Chile Enchiladas
Cheesy green chile chicken enchiladas will create a fiesta in your mouth. Low-carb and keto friendly options for this recipe; fast and easy deliciousness!
Ingredients
2

large chicken breasts

8

oz

cup can green Chile peppers

½

cup

chicken broth

1 ½

cup

sour cream

1

cup

Monterey Jack cheese, shredded

½

cup

salsa verde

5

low carb tortillas (optional)

2

tbsp

cilantro

2

scallions, chopped finely
Instructions
On med-high heat, boil chicken breasts. Remove and set aside.

Preheat oven to 350ºF. In a bowl, combine chicken broth, chopped can of green chiles (with juice), sour cream and ½ c. of the Monterey Jack cheese.

Fill tortillas with shredded cooked chicken, laying seal-side down in a large baking dish. Pour cheese mixture on top, coving all tortillas. Add remaining cheese to top.

Bake on 350ºF for 15-20 minutes. Remove and add scallions and cilantro. Serve with salsa verde.
Nutrition
Calories:
431
kcal
Carbohydrates:
9
g
Protein:
28
g
Fat:
27.9
g
Saturated Fat:
14.5
g
Cholesterol:
101
mg
Sodium:
691
mg
Fiber:
7.5
g
If you like Mexican-inspired dishes, you'll love:
This recipe was inspired by Isabel Eats.